The return of the Monster Energy MXGP of the USA will take place on September 2-3 at WW Motocross Ranch in Jacksonville, Florida. The race will feature matchups of the best riders on the FIM Motocross World Championship circuit with some of the top AMA-based riders on a completely neutral track. In looking forward to the event, we're going to count down the days to the new race by looking back at some of the most memorable U.S. Grand Prix races. Today we're looking at Carlsbad 1977.
By 1977, the luster and appeal of the 500cc U.S. Grand Prix of Motocross had started to wane. The massive crowds the event had seen the first few years had given way to smaller crowds, likely because Gavin Trippe's earliest races there were so packed and the weather so hot in Southern California that it made for a long day at the races. Still, a large crowd was on hand for the '77 race, now sponsored by Bel-Ray.
There was also a growing sense that Roger DeCoster, the man the race was basically built for, may never win it. The Man was a five-time FIM 500cc World Champion by 1977, yet he had not been able to win Carlsbad even once. By '77 his old rival Heikki Mikkola was back, only now he was on a works Yamaha and not the less-powerful-and-dependable Husqvarna he'd been on in '75. Now it was DeCoster's bike that kept having mechanical problems, and the only race he'd won all season was the opening round in Austria.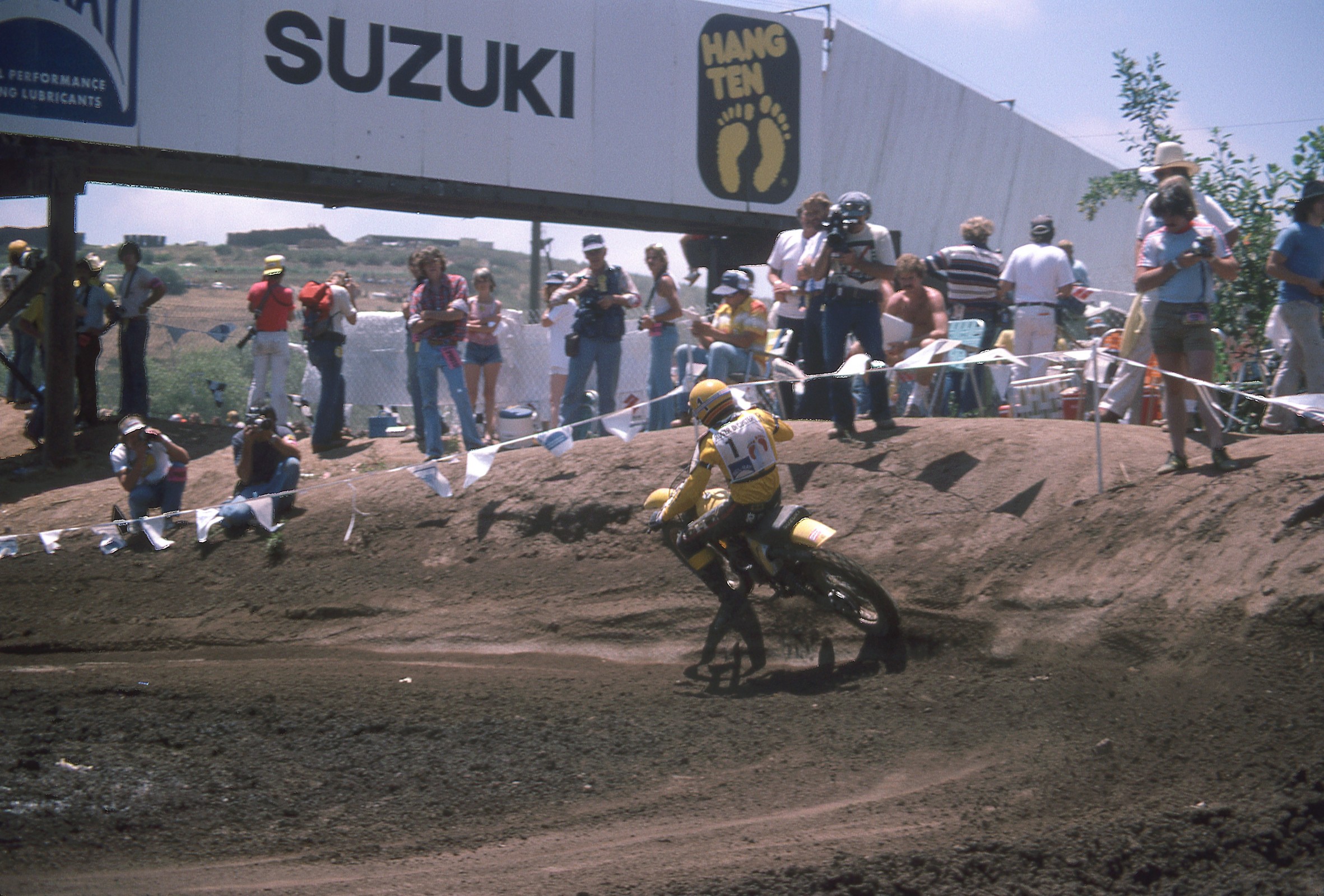 There was also the fact that no one American had managed to win even a moto at the USGP, as the Europeans also came out on top on the hard-packed, blue-grooved freeway that was practically the epicenter of American motocross at the time. For 1977 "Bad" Brad Lackey, the one American on the 500c World Championship circuit, would be on a 400cc factory Honda, joined by former 250cc Grand Prix racer Jim Pomeroy, now back in the States and riding for Honda. Reigning AMA 250cc and 500cc Champions Tony DiStefano and Kent Howerton were also going to line up at Carlsbad, all with hopes of being the first American to break through and win.
Of course Gerrit Wolsink won. The Dutch dentist would do what he always seemed to be able to do, which is navigate the treacherous Carlsbad track with more consistency and speed than anyone, his good luck apparent while everyone else suffered bad luck. That helped him to win in 1974, 1975, 1976, and it would help in 1977 as well.
But it didn't start that way. Instead, the first moto ended with a thrilling chase where Pomeroy was able to hold off the charging DeCoster to earn another place in the history books. Already the first American to win a GP moto and overall (Spain '73) and a moto at the Motocross des Nations (Italy '75), Pomeroy was able to notch a first-American USGP moto win at Carlsbad. Wolsink was a distant third with Mikkola fourth, despite some gear box trouble.
When the second moto went off the start Pomeroy and Wolsink went down together in the first turn. Pomeroy wouldn't get back in the race, giving him a DNF. It seemed like someone was finally going to break out of their Carlsbad curse. Lackey and DeCoster, the two men with seemingly the worst luck at Carlsbad over the years, were running 1-2. But then it happened: Lackey lost control of his Honda in a tricky section and went down, and Roger couldn't avoid him. He crashed too, and in the process bent his fork legs. He rode into the mechanics' area to try to get them sorted, but then ended up calling it quits, another DNF.
In 1977 Jim Pomeroy became the first American to win a moto at the Carlsbad 500cc USGP.

Racer X Archives

The Flying Finn himself, Heikki Mikkola, thought he had won the overall with a 4-1 score.

Racer X Archives
Mikkola quickly inherited the lead and motored off to the win with 4-1 moto scores. Wolsink and DiStefano both rode with abandon and made it to second and third respectively. That gave Wolsink a 3-2 tally. At that point, everyone thought Mikkola would be named winner since he had more points (23 to 22) and a better second moto finish if they scored it the American way. But the FIM was still using a total elapsed time formula, adding up how long it took each rider to finish their two motos, and once the times were added Wolsink had the better time. He was given yet another USGP win—his fourth in a row.
As far as the '77 World Championship goes, Mikkola had more than 40 points on DeCoster now and was well on his way to the title. DeCoster's career would end in 1980 without him ever winning Carlsbad; Lackey's would end in '83 without ever winning Carlsbad either. Wolsink would somehow win again in 1979, giving him a career total of five Carlsbad wins (out of just 12 total career GP wins). And first American would have to wait a couple more years as well. More on that later.