The return of the Monster Energy MXGP of the USA will take place on September 2-3 at WW Motocross Ranch in Jacksonville, Florida. The race will feature matchups of the best riders on the FIM Motocross World Championship circuit with some of the top AMA-based riders on a completely neutral track. In looking forward to the event, we're going to count down the days to the new race by looking back at some of the most memorable U.S. Grand Prix races. Today we're looking at Unadilla 1983.
During the peak of summer in 1983, Team Honda rider David Bailey was in the title fight of his life. On a dreary Sunday afternoon inside Foxboro, Massachusetts', Schaefer Stadium, Bailey was able to win the Miller High Life Supercross main event, and as a result, move into a tenuous three-point lead in the chase for the Wrangler Super Series Supercross Championship over Team Suzuki's Mark Barnett. With only one round remaining, the Miller High Life Superbowl of Motocross, the two title combatants would have to wait for the showdown, set to run inside the Rose Bowl in Pasadena on August 6.
It certainly seems laughable in this day and age of very long and tough schedules and tired and worn out riders that before the 1983 AMA Supercross Championship could be decided, some of America's very best riders (by then the world's best riders) would be dispatched to New Berlin, New York, to fight for U.S. motocross pride and glory at the Unadilla 250cc United States Grand Prix. Certainly a different period in time, because that's exactly where Team Honda sent David Bailey to line up on Sunday, July 31, just six days before the AMA Supercross final. Waiting there for him was fellow American Danny LaPorte, the reigning 250cc World Champion, who at that point in the globetrotting season was beating back the advances of Belgian rider Georges Jobe, who was out to take LaPorte's #1 plate away.
Although not a championship contending racer by any means that summer, a Honda "B" team rider named Brian Myerscough was also entered to race at Unadilla. A former minicycle and 125cc sensation, Myerscough had left the sport during the 1981 season, taking a year and a half off to sort out medical issues he was experiencing with both depression and hypoglycemia. Back to racing for the '83 season, he was hired to ride for Greg Arnett's Honda "B" team, which then provided its riders bikes, parts, salary, and a box van. Running in the highly competitive 125cc Nationals that summer, Myerscough received a phone call from Honda shortly before the GP at Unadilla.
"Johnny O'Mara was supposed to ride the USGP, but he was in the midst of a serious run at the AMA 125cc National Championship, so they threw me on the works bike at the last minute," Myerscough explained. "I wasn't completely prepared to ride the class, but I was going to give it my best shot."
In what had become tradition at Unadilla, race promoter Ward Robinson had seeded the slopes, hills and valleys of his 1.2-mile track prior to the event, the results being a majestic, grass covered venue. A massive crowd of spectators collectively roared when Bailey and Myerscough leaped out of Gravity Cavity while running one-two on the opening lap of the first 40-minute plus two-lap moto. Four laps in, Bailey, with Myerscough in his draft, had pulled clear to a 30-second lead over the rest of the pack, never to be contended with. When the checkered flag flew to signal the end of the moto, Bailey crossed the finish line 15 seconds ahead of the hard-riding Myerscough.
"When the first moto started, Brian and I just took off from everyone," Bailey recalled. "I led the whole way but Brian wasn't that far behind. We just kept an eye on each other. You see, back then, they didn't score GP overalls by who won, but rather by whoever had the fastest time in both motos combined, so we kept going hard."
Although Bailey was arguably the most physically fit rider in the world at the time, the first moto on Unadilla's notoriously rough and nasty natural-terrain circuit had taken its toll on him. "I was so tired and thirsty after the moto that I drank way, way too much water," he said. "It made me sick."
Third, some 56 seconds back, was Jobe. LaPorte placed fourth.
When the gate dropped for the final moto, Bailey, LaPorte, and Myerscough all found themselves up front at the sharp end of the field. But then, a few laps in, Bailey bonked. "I just faded," he admitted. "LaPorte blew past me, then Myerscough went by me, and I just rode around for 20 minutes until I could regroup."
At the 25-minute mark of the moto, Myerscough and his #42 Honda went by LaPorte and into the lead. The semi-privateer was approximately 15 minutes away from winning the biggest race of his life. But as the seconds slowly clicked away, Bailey grabbed his second wind, spooled up a charge and reeled in LaPorte, who, in turn, had crept up on the tiring Myerscough. Then, when the two-lap sign flashed, LaPorte reached for another gear and passed Myerscough for the lead. Seeing LaPorte's move, Bailey also went after the fast-fading Myerscough.
"I had to get Brian. I didn't even care about LaPorte because he was fourth in the first moto," Bailey explained. "I was riding as hard and as fast as I could. I kept telling myself to dig deeper and deeper…"
Out front and being the veteran that he was, LaPorte was aware of the drama going on behind him. "There was a personal thing going on between David and me to see who was the best—the World Champion or the National Champion—and Brian just got caught in the middle of that. I guess he had some things on the line for himself at Unadilla, but we couldn't think about that. I mean, we were like lions, we had to eat him up."
"He hit the wall," added Bailey of Myerscough's downward spiral with less than four minutes left to go. "He wanted to win that race too much. He should have played it smart and paced himself. He just didn't have anything left. He was a rag doll."
LaPorte went on to win the moto over Bailey, who, in placing second, claimed the 1983 USGP. A spent Myerscough limped across the line to finish fifth.
"I was out in front in the lead, but I lost my stamina and folded at the end," lamented Myerscough. "I was just dead. After the race, I got sick and so did everybody else. I didn't win, but to this day I feel good about running with those guys. I should have won the USGP, but I just got too tired."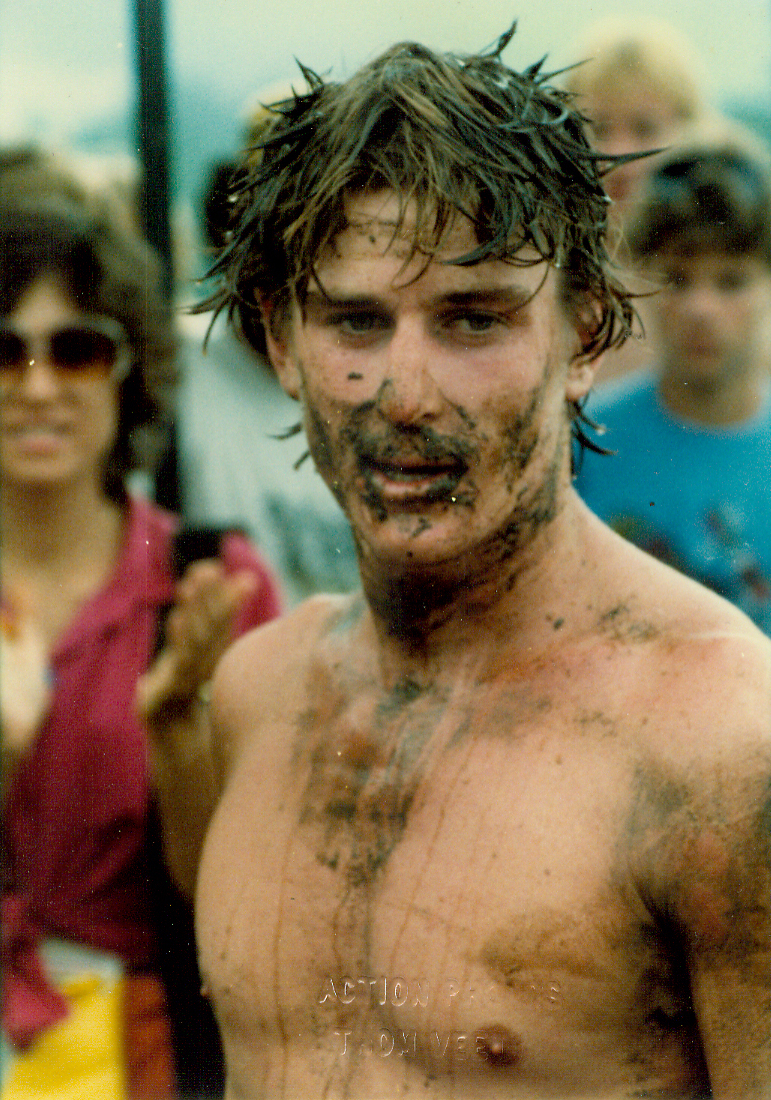 Later, sitting in a lawn chair outside of his Team Honda box van, a drained, but smiling Bailey recounted the drama he had played the lead role in.
"It's about the most exciting race that I've ever been in," he offered. "I was charging so hard and tried everything I could to catch Danny and I'm whipped. I had just enough energy left to win the overall and it's all gone now."
Explained Danny LaPorte to Cycle News writer Tom Kolnowski: "It was one of those races where you felt like you were going to lose your stomach in the rougher sections. You would get so tired that after a while you couldn't get yourself up off the seat—then it got even worse. I'd have to say it was one of the hardest races I've ever had."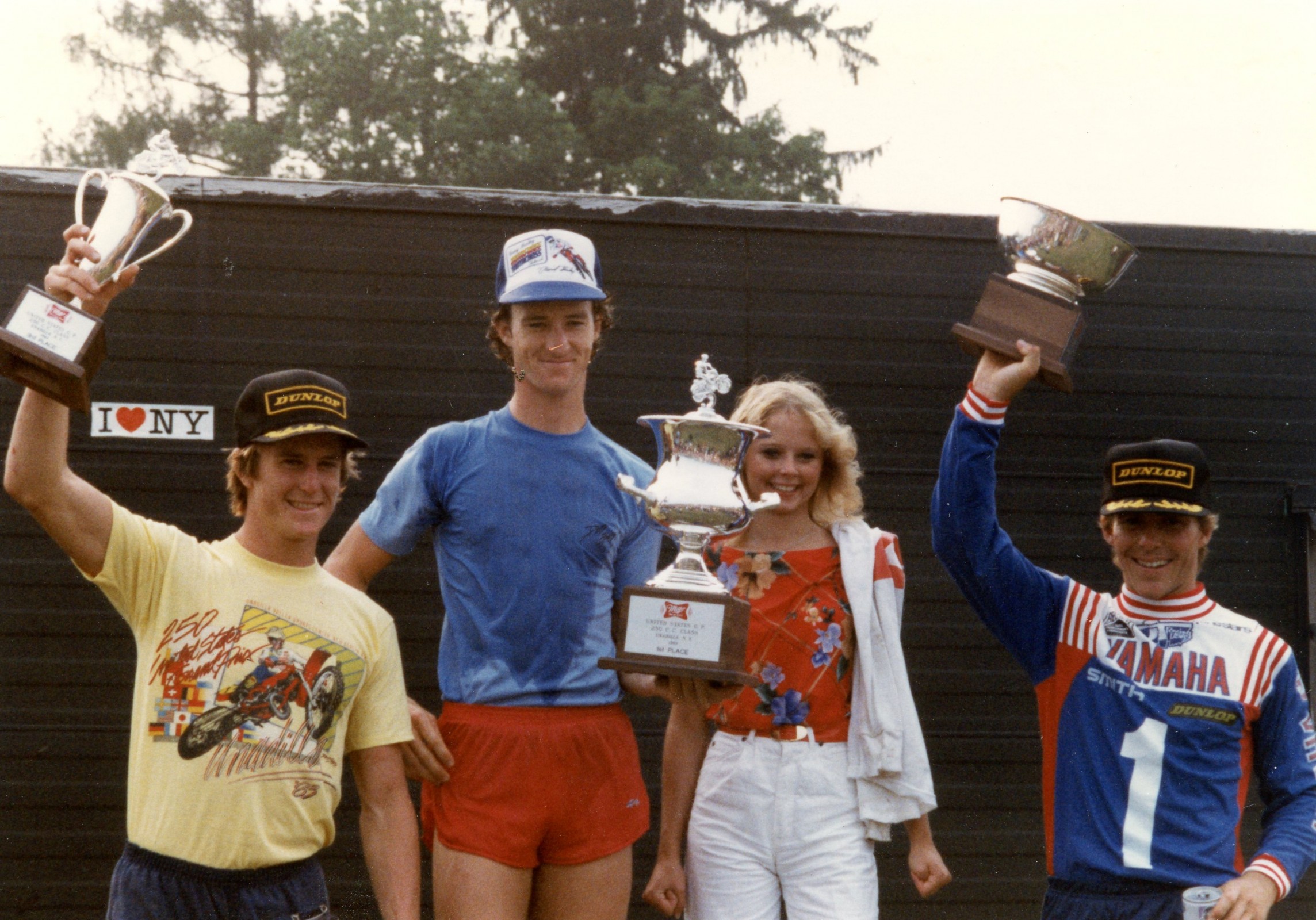 In the end, LaPorte would lose his 250cc world title defense to new World Champion Jobe.
Just six days after his big GP win and before 67,000 fans in the Rose Bowl, David Bailey placed sixth in the final main event of the season, thus winning the Wrangler Super Series Supercross Championship over Mark Barnett by a mere two points.
And one more note on Unadilla '83. Danny "Magoo" Chandler was also there to race the 500cc Support class for Team Honda. With "Road Hog" on the back of his pants, the wild man Chandler entertained the 'Dilla faithful lap after lap with his trademark one-handed flat whips out of Gravity Cavity. He also took a moment at the finish to make a statement about an AMA penalty he had received for riding backwards on the race track by literally riding backwards on his motorcycle across the finish line, spinning his body around on the pegs and facing the other direction on his motorcycle!