The return of the Monster Energy MXGP of the USA will take place on September 2-3 at WW Motocross Ranch in Jacksonville, Florida. The race will feature matchups of the best riders on the FIM Motocross World Championship circuit with some of the top AMA-based riders on a completely neutral track. In looking forward to the event, we're going to count down the days to the new race by looking back at some of the most memorable U.S. Grand Prix races. Today we're looking at Mid-Ohio 1980.
What played out at the Valvoline 125cc United States Grand Prix at Mid-Ohio Motocross Park on Sunday, July 27, 1980, was actually all put into motion a year earlier when two men, Hirotoshi Honda and Al Baker, opened Mugen USA Co., Ltd in Southern California.
Hirotoshi Honda was the son of Soichiro Honda, the man who brought Honda Motor Co., Ltd. to life in the October of 1946, and he loved motocross. So much so that he created Mugen, a small, independent performance company that put a strong emphasis on motocross. Not long after, Hirotoshi met Al Baker, an American off-road racer and businessman who had strong connections to the U.S. motocross industry. Honda wanted to organize and operate a motocross team in the U.S., and Baker, in the role of director of U.S. operations, made it all happen.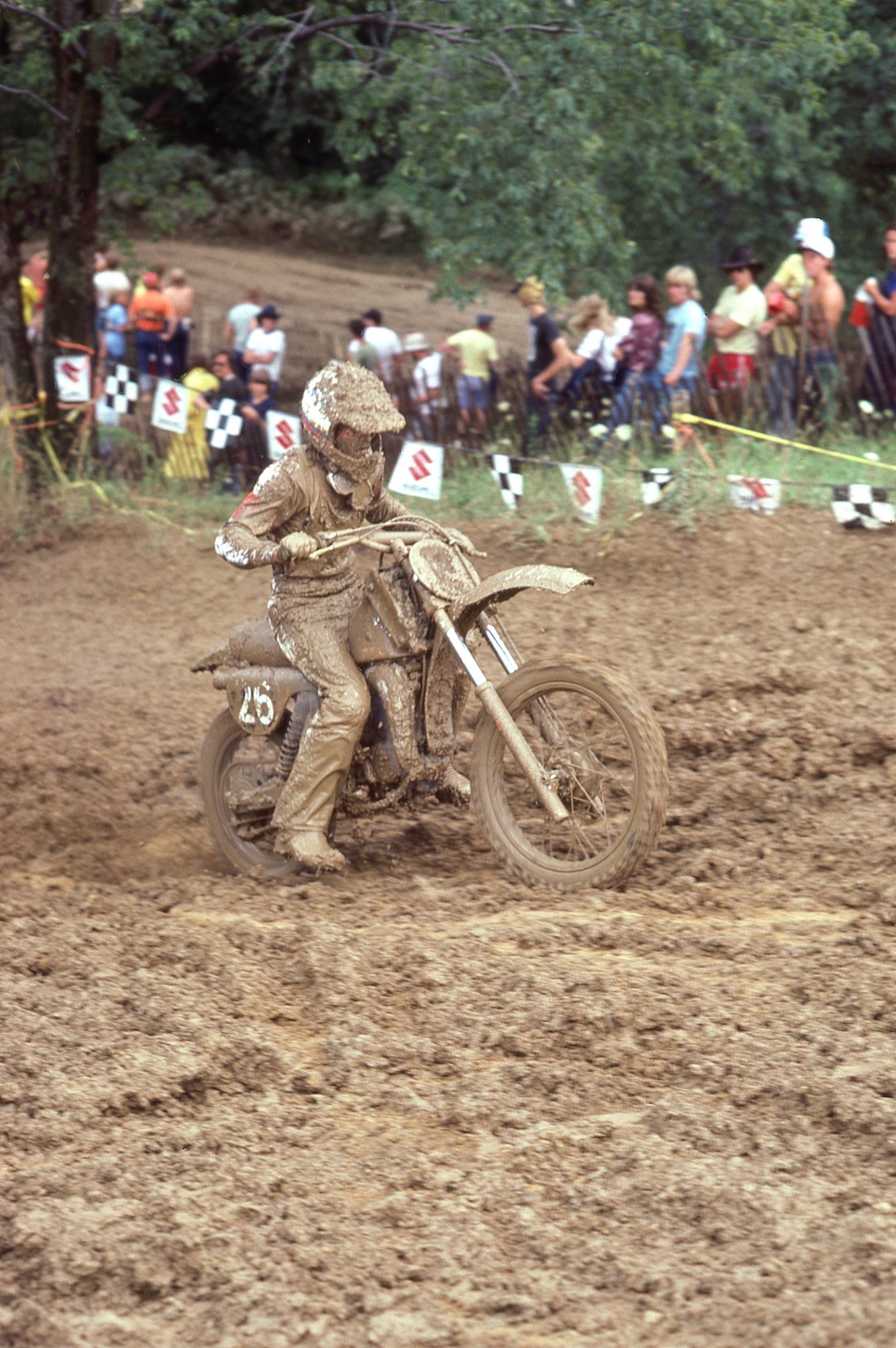 Enter Johnny O'Mara of Van Nuys, California. A 17-year-old racer who had been befriended by Baker a few years earlier, O'Mara was tapped to be the startup effort's rider.
"Mugen happened through one of Al's connections," O'Mara told me a few years back. "He developed a four-stroke in Japan and got to know the Honda family. He and Hirotoshi Honda became friends and developed a real good relationship. Hirotoshi told Al he would love to have a race team in America. At that time he had a race team in Japan that did the Japanese Nationals and a few GPs. Al made it happen and ended up managing the team in the U.S., and I rode the bike. I was a 17-year-old kid who was in the right place at the right time."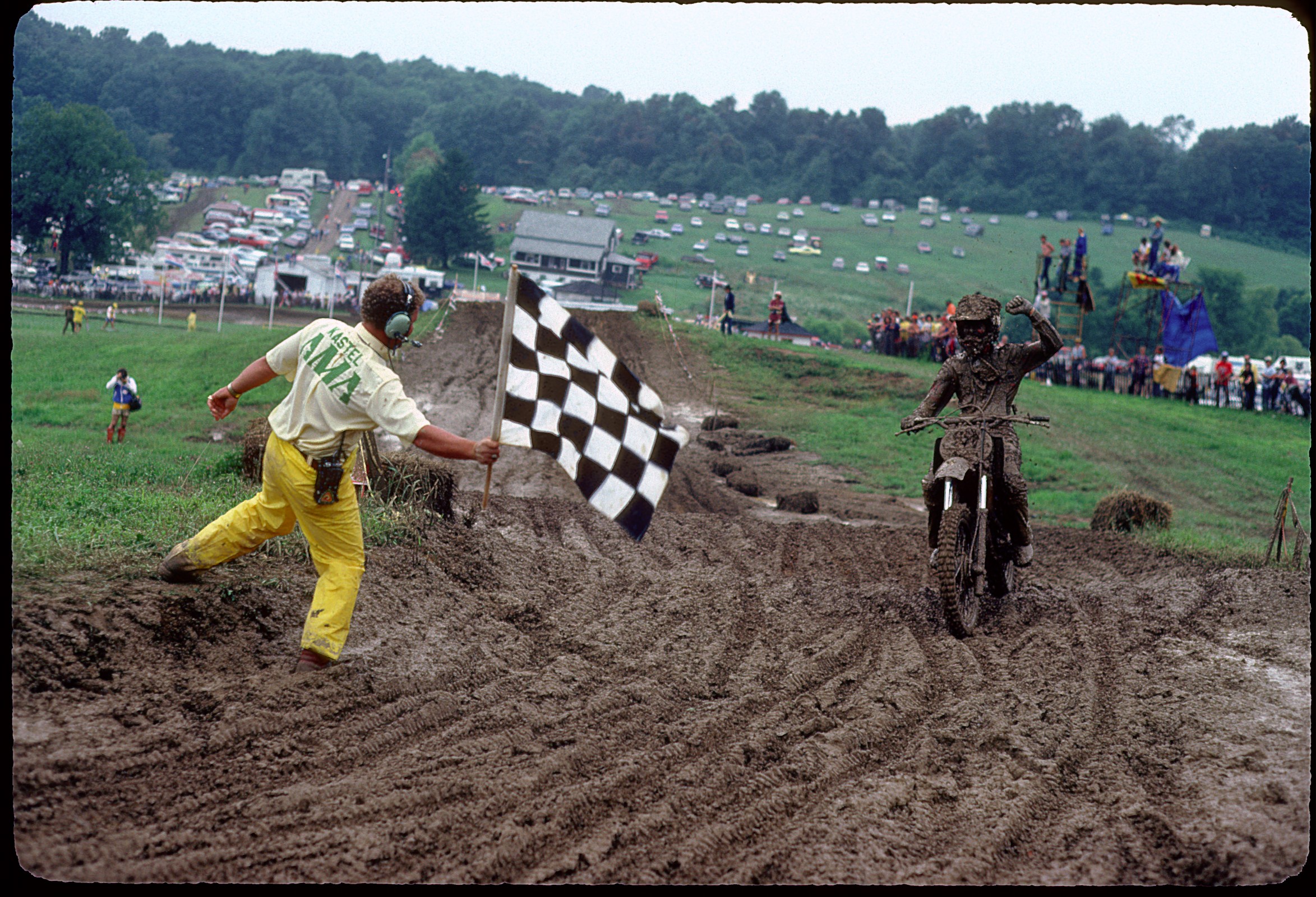 That March, the Team Mugen box van rolled into the pit area for the 12th Annual Hangtown Motocross Classic at the Prairie City OHV Park and unloaded. Hoisted up atop a bike stand, the No. 101 Mugen ME125W1— graced with a Mugen-produced left-side case and water pump, a water-cooled cylinder and head, as well as a handmade frame, swingarm and other bits—immediately drew a crowd around it.
"The Mugen generated so much interest," said O'Mara. "The bike was unique and had a lot of style and flair. It was all white with a blue seat, and it was so trick, it looked like the Space Shuttle. It was just unbelievable, because I had the best bike. That bike was better than the Honda works bike!"
The opening round of the AMA 125cc National Championship MX Series—not to mention the first career National for the 5' 8", 140 lbs. rookie—O'Marar fared quite well against then-125cc tyrants Mark Barnett and Broc Glover.
"I finished fourth in the first moto," recalled O'Mara. "Then, in the second moto, I led for 30 of the 45 minutes and I had a big old lead, and I couldn't believe that Barnett and Glover hadn't run me down. I kept thinking, 'Where are these guys?' Eventually they caught me, but I hung on to finish third."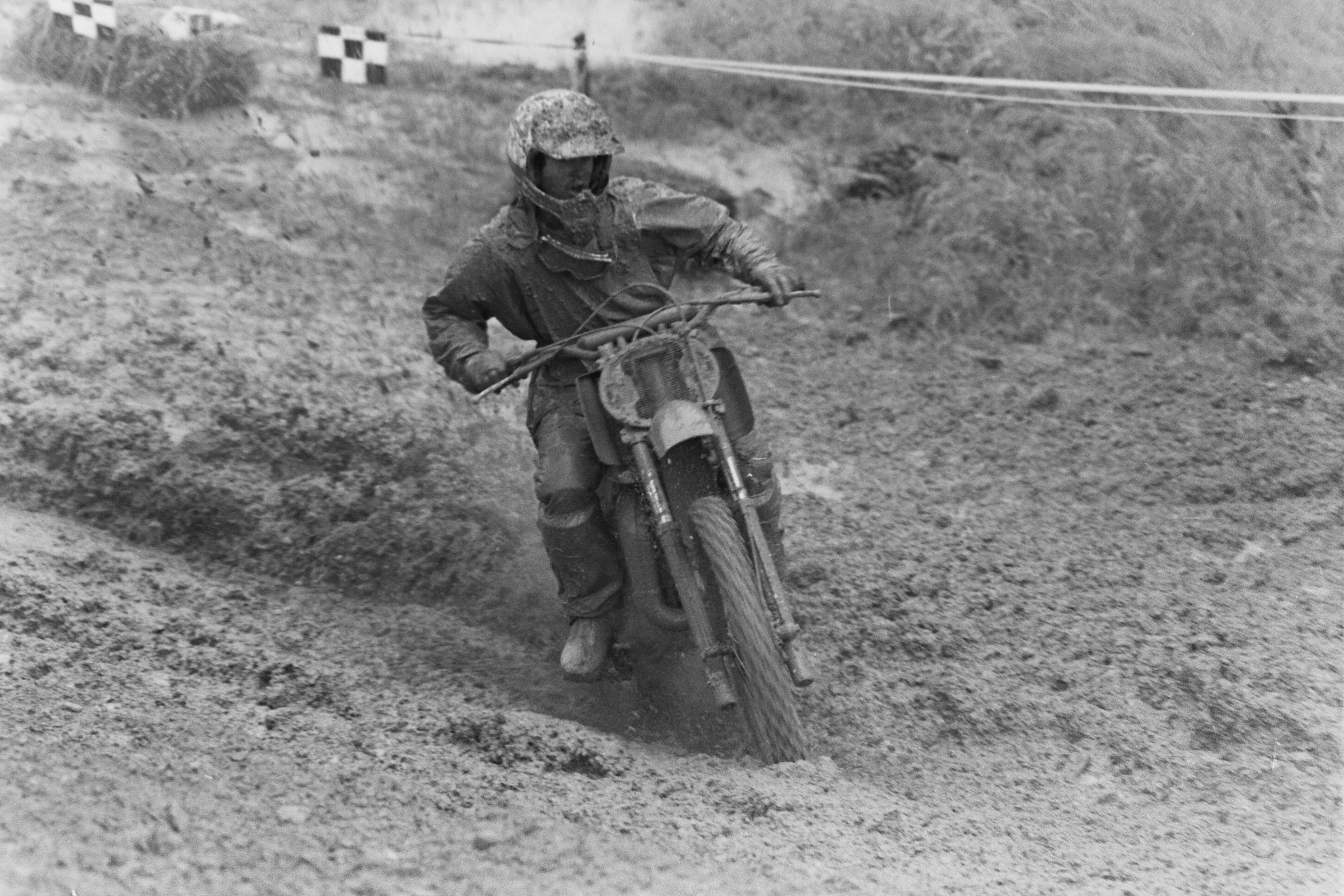 Shortly thereafter, in a bizarre traffic accident, O'Mara's '80 125cc National Championship run came to an abrupt halt when he fell asleep at the wheel of his pickup truck and flew off the freeway. Breaking vertebra in the accident, O'Mara was sent to the sidelines for most of the summer.
In late July, O'Mara and the Team Mugen outfit made a collective decision to make a run at the Valvoline 125cc USGP held at Mid-Ohio. In what was the penultimate round of the 1980 125cc World Championship series, all title combatants were all present: Team Suzuki's Harry Everts (reigning champion) and Eric Geboers knew the USGP was important, as did eight-liter standouts Michelle Rinaldi and Marc Velkeneers. Furthermore, Yamaha sent out Broc Glover, while American Suzuki was represented by Mark Barnett, the previous year's winner.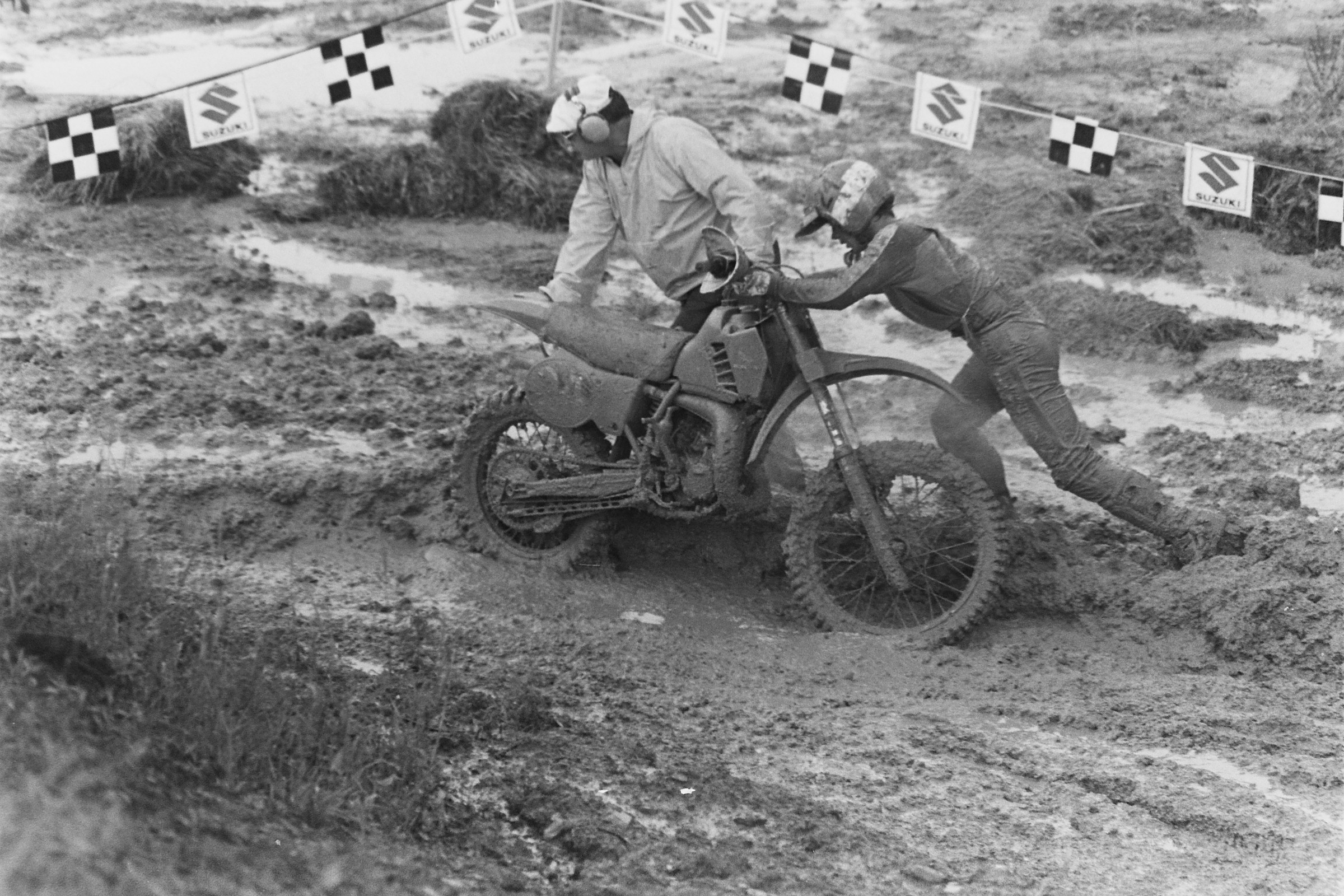 As can be the norm for Ohio in the later phase of summer, the rains came, and slowly but surely, began to turn the Mid-Ohio circuit into something of a swamp. As a result, there was some talk of apathy setting in with a few of the big-name Yankee racers. "There's really no reason for me to ride," said America's then premiere 125cc rider Broc Glover. "Yamaha didn't really want me to ride here. There's only two National rounds left."
But Glover was there, and so was Barnett—and so were all of Europe's best 125 riders. Nobody was fooling anybody—they all wanted to win the USGP.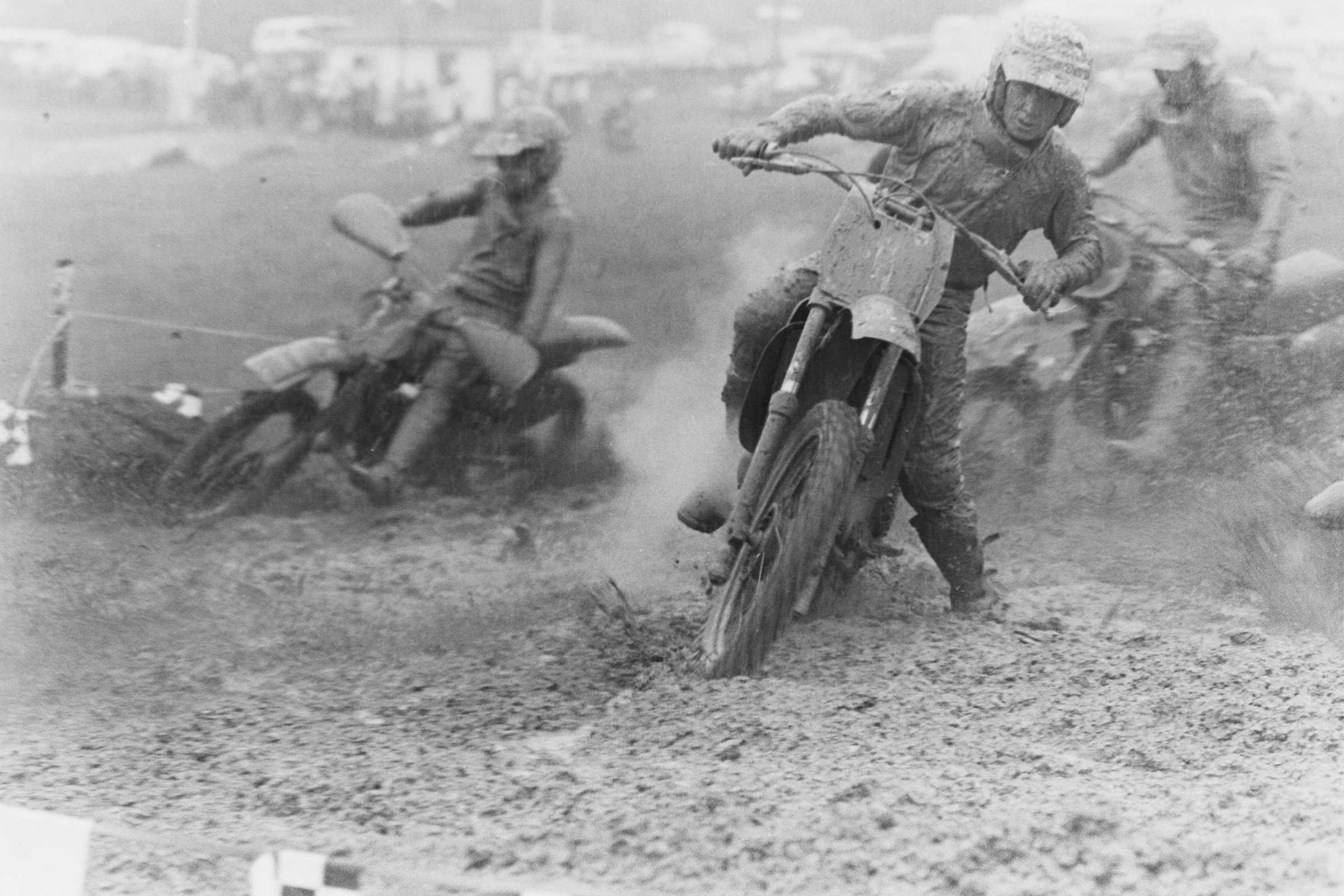 Jeff Ward, yet another Californian, was the fastest rider in timed qualifying, stopping the clocks with a lap at 3:12 in horrid conditions. As the rains continued to wreak havoc on the track, and talk in the pits started to center upon the rumored horsepower advantage the American Honda 125s had when their riders Ron Sun and Rich Coon blitzed the opening moto holeshot in the deep, power-robbing mud and all. Sun would lead for two laps before his Honda sucked in too much water and coughed its metallic innards up. His race was run. Barnett took the point, hounded by the surprising O'Mara. It all came down to the two-lap sign where O'Mara, seeing some daylight (for lack of a better term), sloshed Barnett out of the way.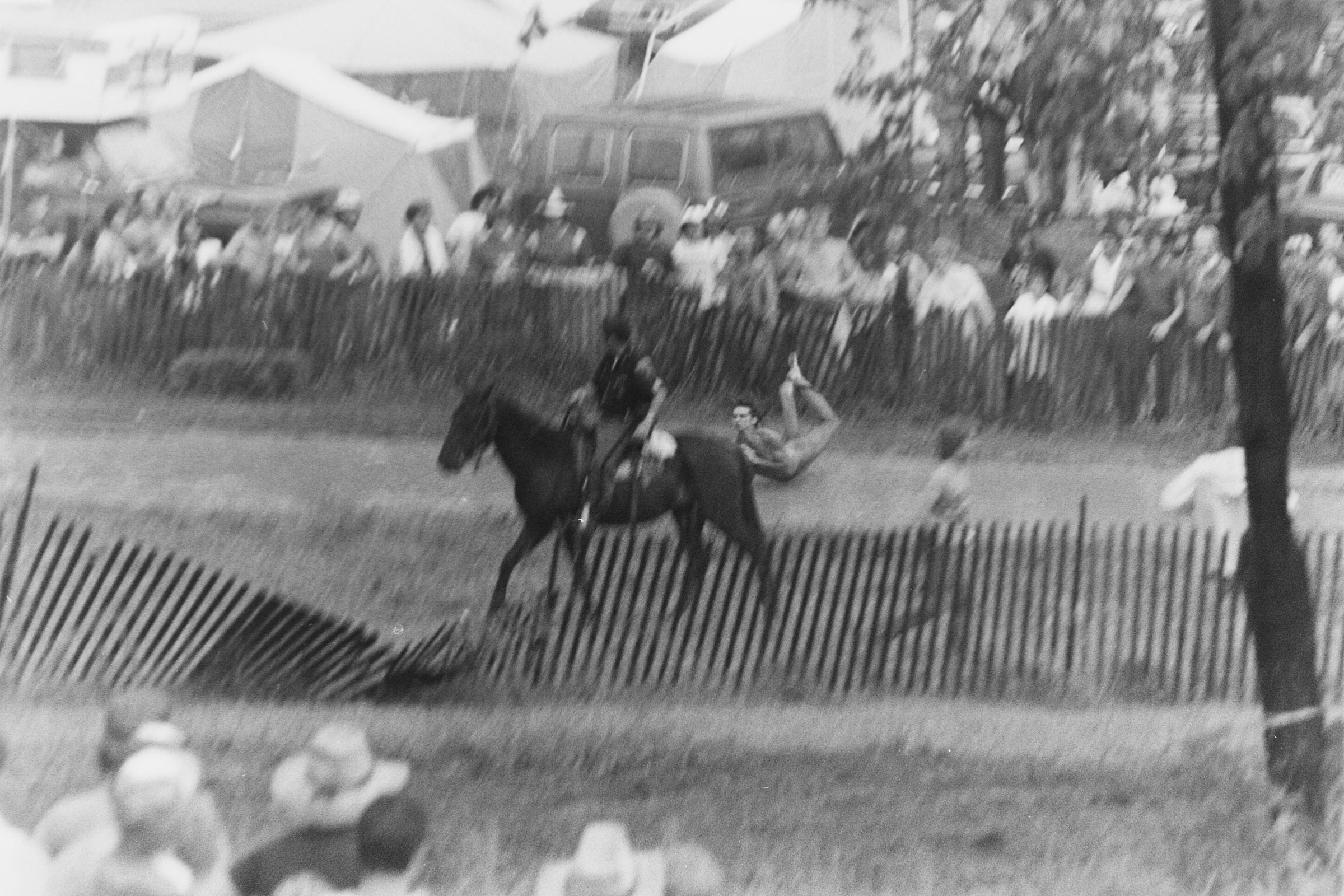 "Barnett sort of went outside over a berm and I got inside and pushed him over," said a jubilant O'Mara after the moto. "My throttle grip was coming loose, but it didn't really bother me."
Meanwhile, across the ankle-deep-in-mud pit area, Barnett just shook his head. "I didn't slow towards the end, the engine did," he said while his mechanic tried to wash his eyes out with water. "I guess I had mud packed all over the radiator. My eyes feel like they're scratched up."
Moto two proved to be a torrid affair with Sun, Glover, Velkeneers, and O'Mara up front, trying to save their goggles (and eyes). World Championship contenders Everts and Geboers were way back, virtually unidentifiable as they absolutely covered in Midwestern mud. Ultimately, both riders would DNF. Sun, who hailed from Oregon like his older brother Chuck and certainly knew how to ride in the wet stuff, would hang on to win the moto ahead of teammate Coon, who was from New England. O'Mara slithered across the finish line in third, good enough for the overall.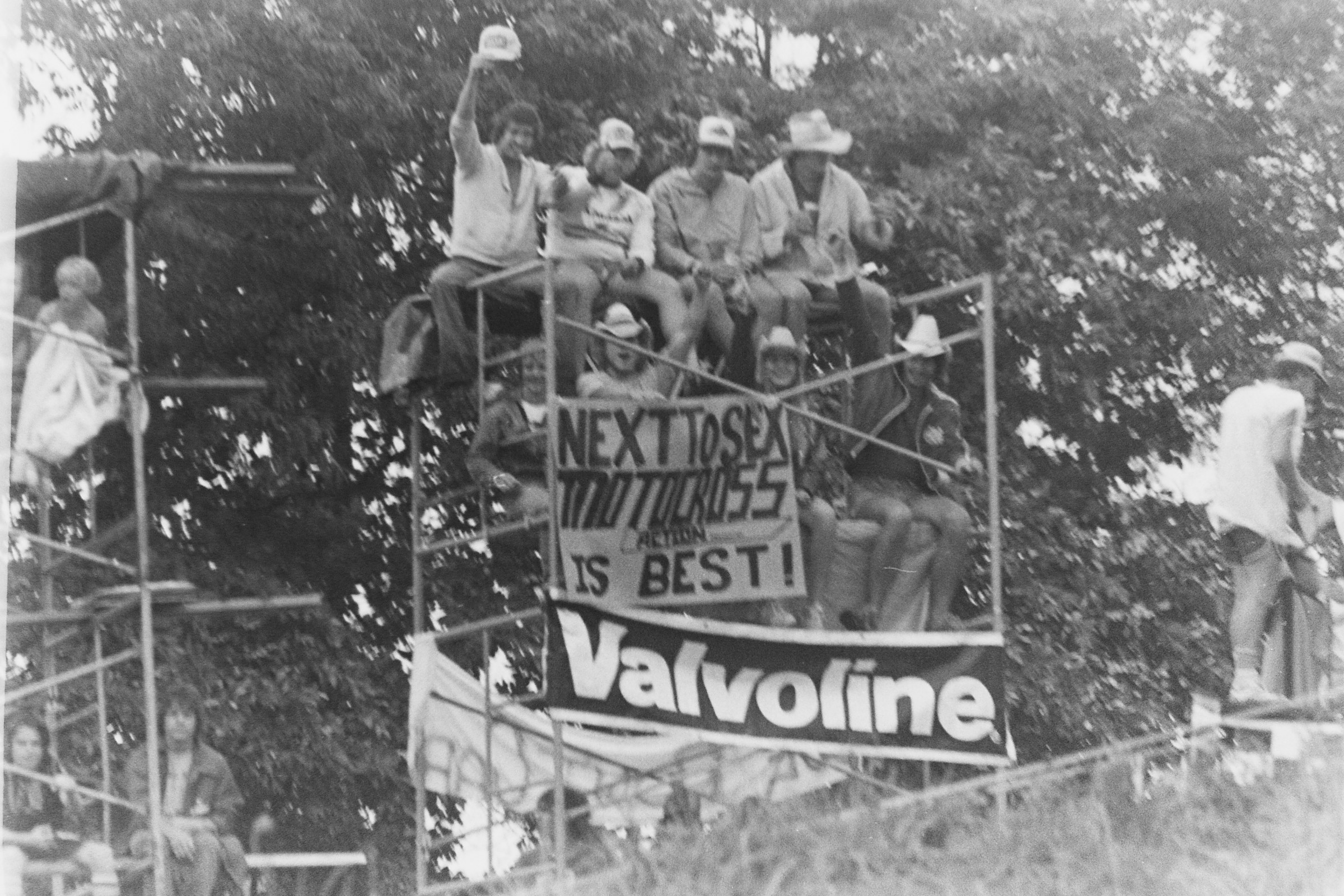 "The last couple of laps I could hardly make it up the hills," O'Mara told Cycle News journalist Tom Muller afterwards. "I have to thank Ohlins, Dunlop, Tsubaki, Bosch, Electro, Scott and Bill Walters—without them I just couldn't ride."
Explained Geboers of his dreadful day in America, "I had engine trouble. In the first moto I crashed three times, but I don't believe anyone who finished didn't crash. This was not a race, it was a luck game."
Added O'Mara later that evening, still feeling the afterglow of winning such a prestigious and high profile race, "I thought they were a lot faster. I'd been reading about them and stuff how fast, like, Harry Everts and those guys are. They're no better than the Americans. I think the Americans will always beat them at this race.
"Oh, and after the race I looked over and saw Harry Everts having a cigarette. I couldn't believe it! Like, none of us Americans would ever do that; just seeing that sort of blew my mind. How could they do that and race?"
I was at the 1980 Mid-Ohio 125cc USGP, and 37 years later, Johnny O'Mara, now a very good friend of mine, reflected upon both it and the significance it would have on his still nascent career.
"Winning Mid-Ohio was a huge upset because no one in Europe knew who I was, and to win something like that was a big break," he explained. "I was stunned to win it, but by then I had success in my mind—I expected it. I felt like I belonged at the front. I'd made it there at Mid-Ohio; I'd beaten the guys I had looked up to in the magazines. Winning at Mid-Ohio was a big motivation, and now I knew that I belonged up there. I had experienced a lot of success early in my amateur career and had built up a lot of confidence, but Mid-Ohio put me on another level."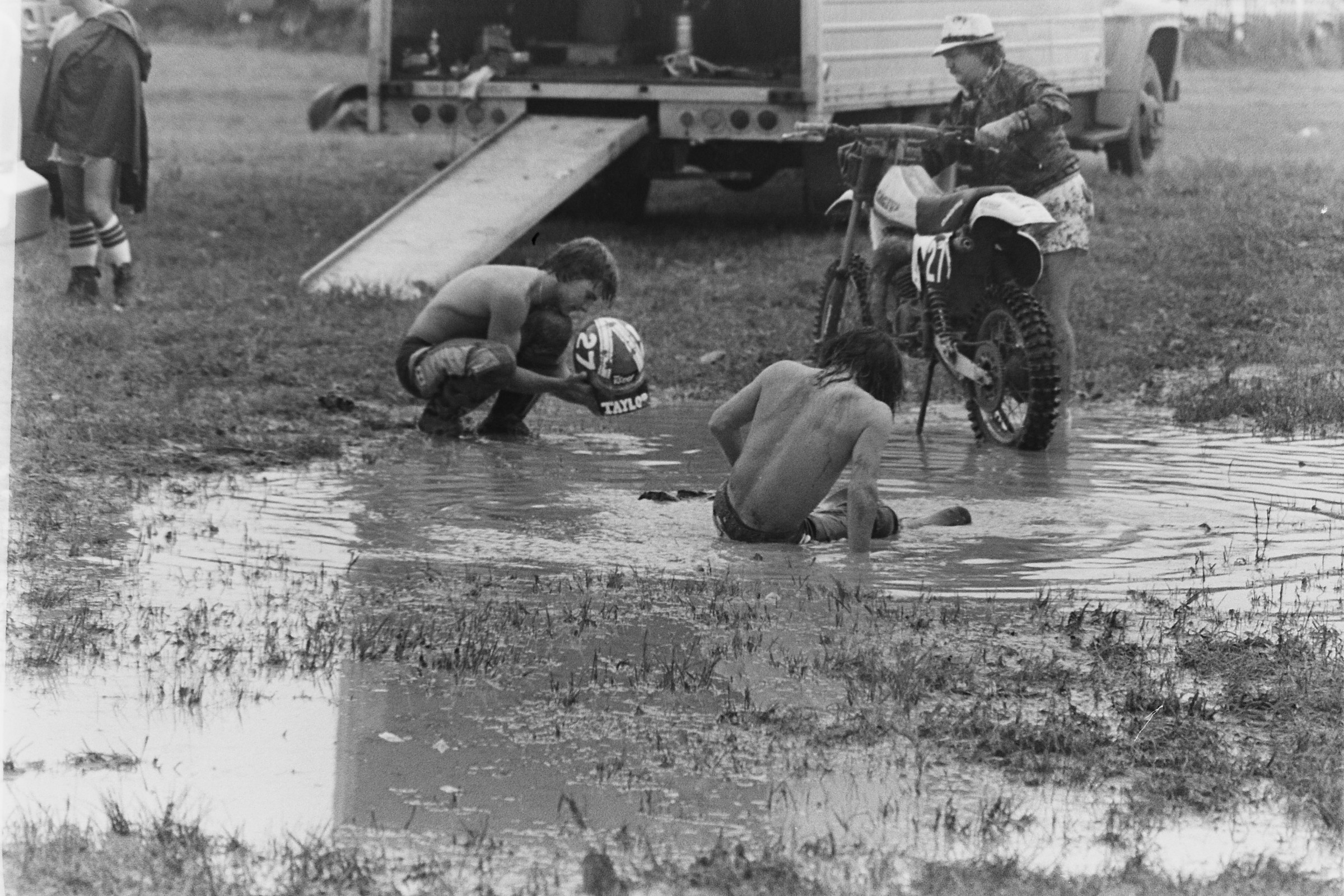 Coincidentally, Racer X publisher Scott Wallenberg was also at the 1980 Valvoline 125cc USGP and his father Wally Wallenberg shot the race with his home movie camera. It is the only footage that we've been able to find, and it's in five parts. It's like a time capsule of what Grand Prix motocross looked like nearly four decades ago, with occasional commentary from young Scott himself: Enjoy!
Part 1: