Eric Johnson's "1992" ran in the October issue of Racer X Illustrated. Subscribe today to read this full feature and for more in-depth stories about Americans racing the Canadian Motocross Nationals, a behind the scenes look at Blake Baggett, what a dozen top riders and circuit coordinator John Ayers think about the ruts, bumps, and mud of Lucas Oil Pro Motocross, and much more.
I was packing my bags for a trip over to the island of Maui in Hawaii and was wondering what I was going to do keep my sanity in a place where you often see window stickers declaring, SLOW DOWN, THIS AIN'T THE MAINLAND! Then my phone rang.
"Hey, I have a story idea for you," said Davey Coombs. "It's been 25 years since that 1992 World Championship season where the Americans packed the 250cc Class and pretty much dominated. You know all the guys who raced that year: Bob Moore and Micky [Dymond] and [Mike] Healey and all the guys that raced over there in Europe that year. Bader Manneh, Trampas Parker … obviously, Donny Schmit isn't with us anymore, but we'll figure out something there."
I hung up and I was off—to the 50th State and the start of my assignment.
Flashing back to 1992 … as far as motocross went, it was another time, it was another planet. In the United States, racers such as Jeff Stanton, Damon Bradshaw, Mike Kiedrowski, and Jean-Michel Bayle were the head of the class. And as talented and dominant as these riders were, the difference between them and everyone else was massive. Good rides were hard to come by in the early 1990s. The U.S. motorcycle market was hobbling along and with the exception of cigarette (Camel) and beer (Coors Light) sponsors, outside money was virtually non-existent. A type of natural selection process materialized in which only the very strong survived and had possession of the equipment it took to make a run at an American-based championship. A vacuum formed in which a host of fast and talented racers where left with basically nothing.
During this same period of time the FIM Motocross World Championship became something of a land of opportunity. In many cases, great racers with nowhere else to go found competitive and reasonably lucrative job opportunities on the Grand Prix circuit. Bob Moore went over in 1986, followed by 500cc rider Billy Liles in '87. Liles brought Trampas Parker with him, and then Mike Healey followed in '88, Schmit in '90, and more.
My second day in Hawaii, after I had gone snorkeling with my two daughters Natasha and Eleanor, I found some time and dialed up Bob Moore. I've known Bob since the very beginning of my travels as a motocross story teller and I always enjoy speaking with him. Bob told me he went to Europe for one crystal clear reason: He wanted a World Championship.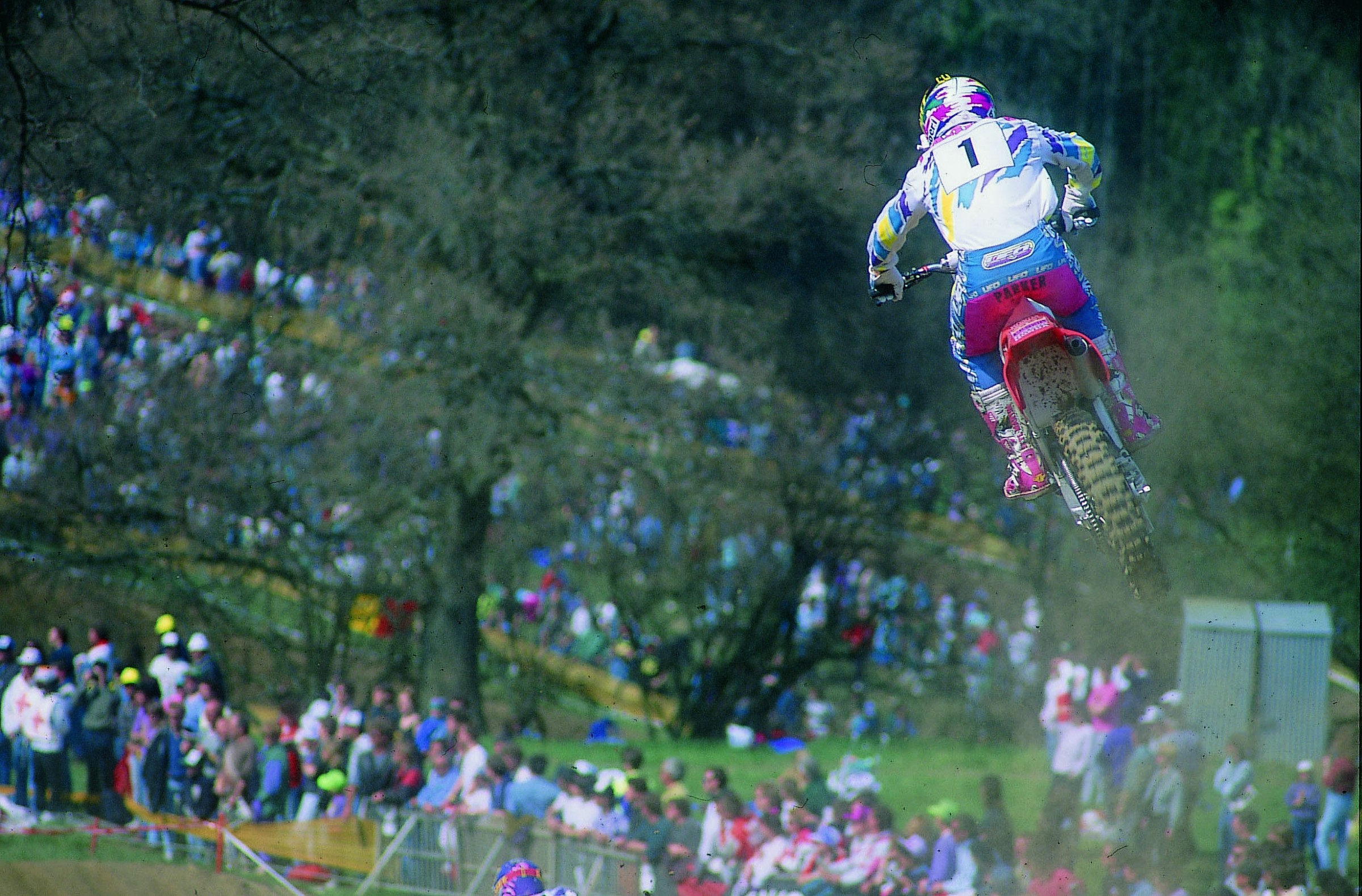 "I was 18 and I didn't think twice about going to Europe," he explained on going abroad all by himself as a teenager. "For a while there it was really just Trampas Parker—who was Chad Parker at the time—racing over there and I didn't even know where he was or where he came from. I remember him racing back at Ponca City, but then I guess he just kind of went over there and did his own racing thing. I had some semi-okay success the first year and I think that kind of sprung some interest in some of the other guys like Mike Healey to give it a shot. So, slowly but surely, more guys started coming over."
A day later, I phoned an all-time favorite racer of mine, Micky Dymond. Californian to the core, Dymond was in the twilight of his career when he decided to give racing one last shot in 1992.
"Every American that lived over in Europe had to sort of build some type of a routine," he explained. "You had to get comfortable in your location whether it was under the umbrella of the team or if you were locked down in one little town. You'd go to the tracks and then you'd go home. You'd eat, go to the tracks, and go home ... Donny made it work. He spoke a little Italian, a little French, a little German, but he was the hardcore racer. And then there were guys like Bader [Manneh] and Trampas who pretty much became Italians and just lived there. They could make it work. I didn't adapt to it much."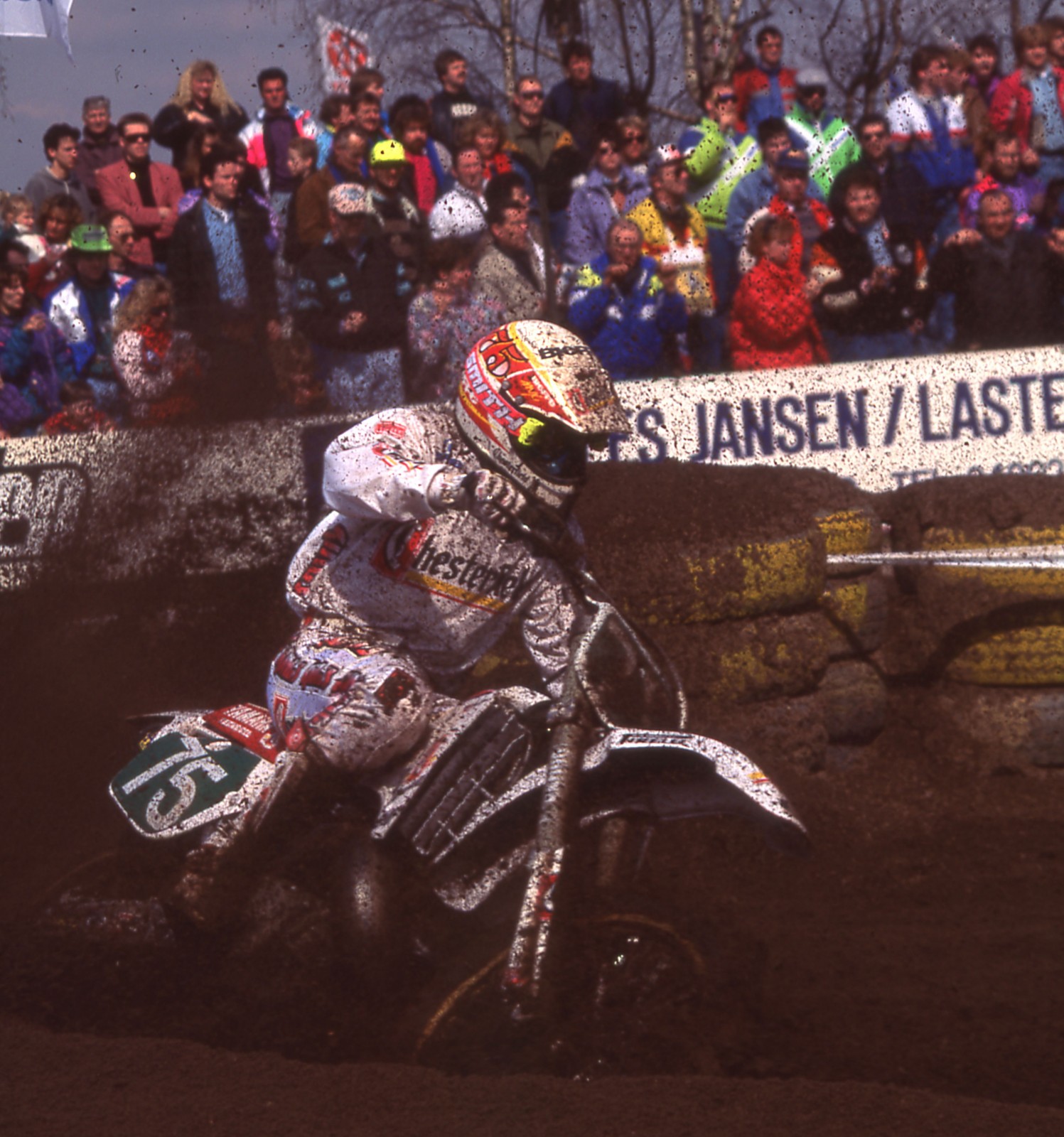 More calls followed from the islands, and everyone had a story or 10 to tell about their time overseas. Well, everyone but Trampas Parker—he didn't really want to talk about the season, which turned out to be a tough one for his Honda team and their title defense.
As for Schmit, who passed suddenly in 1996, I found an interview in the Cycle News archives from August of '92, when he was well on his way to the title. Donn Maeda did the interview, and he asked Schmit all kinds of questions about the season in particular, and racing in Europe in general. It was a perfect fit and a great way to include the late legend.
In the end, the entire 1992 story was a labor of love that was both fulfilling and enjoyable. There were thousands of words involved and, as always, DC did a miraculous job of editing them down. The whole project really did make me realize how cool it is to not only know all the racers I worked with on the piece, but to also consider them friends. That means a hell of a lot to me. Hopefully, the travels and adventures they all experienced that summer come through in the words all of us at Racer X Illustrated put into print.