The return of the Monster Energy MXGP of the USA will take place on September 2-3 at WW Motocross Ranch in Jacksonville, Florida. The race will feature matchups of the best riders on the FIM Motocross World Championship circuit with some of the top AMA-based riders on a completely neutral track. In looking forward to the event, we're going to count down the days to the new race by looking back at some of the most memorable U.S. Grand Prix races. Today we're looking at Budds Creek 1999.
Truth be told, the battle that would ultimately be the 1999 FIM United States Grand Prix at Budds Creek, Maryland—located in Mechanicsville, a mere 45 miles from the capital of the United States, Washington, D.C.—actually started two weeks earlier with a salvo of words fired by then four-time World Champion Stefan Everts of Belgium. A few minutes after winning the German Grand Prix at Gaildorf on August 30, Everts spoke with Cycle News reporter Andrew Clubb who asked the rider about not only his German triumph, but the approaching USGP set for Budds Creek.
"I could not be happier," exclaimed the son of another four-time World Champion, Harry Everts. "Of course I'm happy to win, but to me it feels like one event too early, as my main goal was to win the final round in the USA. It is there that I wish to prove a point that the European GP riders are still the best motocross riders in the world. No longer do the Americans come to Europe to race motocross, so I really believe they are real cowards, and that European riders are the best in motocross."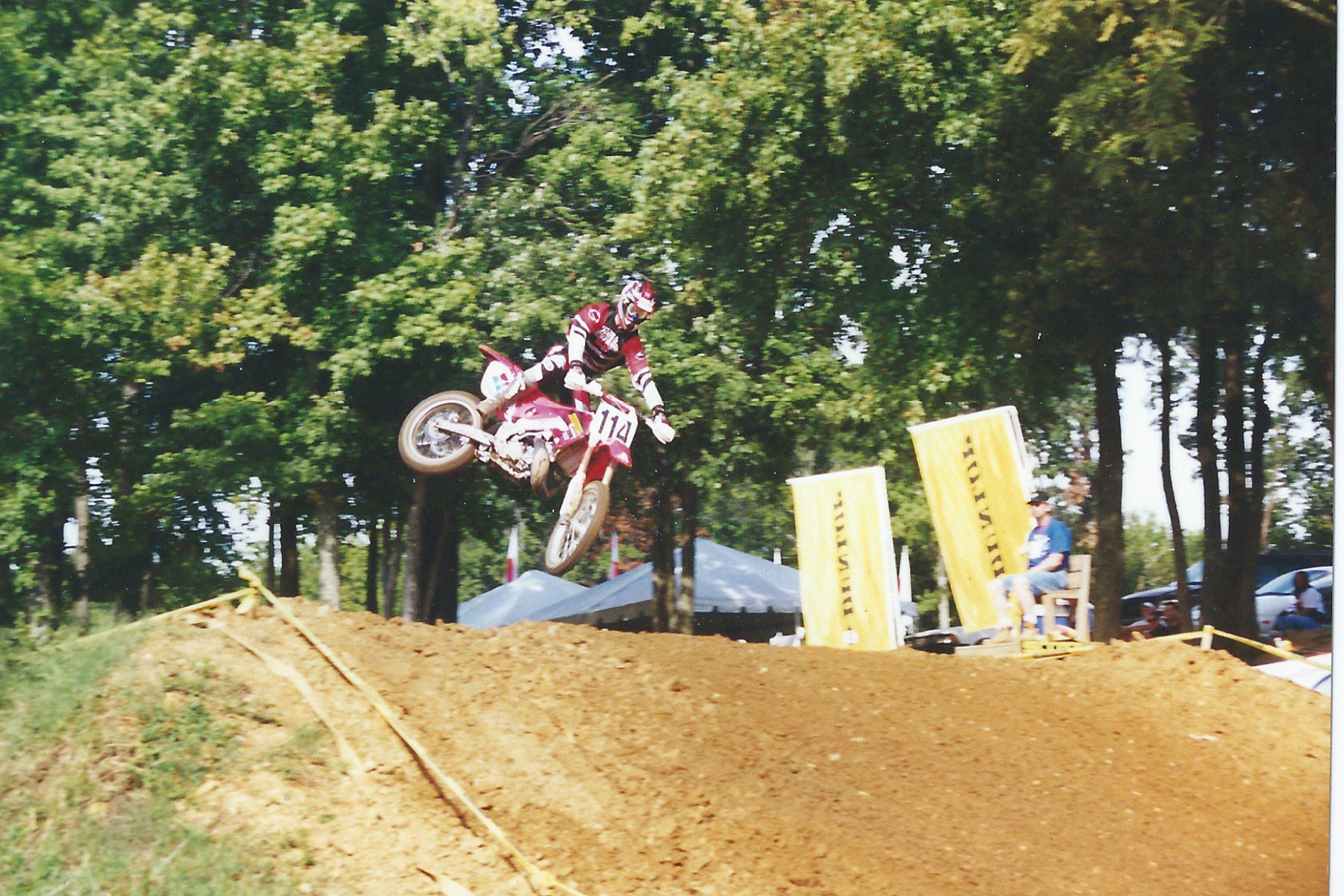 When American motocross fans opened up the September 8, 1999 section of Cycle News, leafed to the In the Wind section and read what Everts had to say—the word "cowards" leaping out in particular—well, it truly was a shot over the bow of U.S. motocross pride. Setting of something a firestorm in the American motocross community, Cycle News asked me to call him up for a bit of clarification.
"Yeah, probably people don't like it when you say those things, but what kind of word can I use that is a different form—maybe not so harsh?" Everts said to me a handful of days before the USGP. "You know, I used to come to the Unadilla USGP and got my ass kicked, but I had the guts to do it. Budds Creek could have been the best race of the year—even better than the MX des Nations.
"I know the guys had a long season here in the States, but this kind of race that should motivate you," he continued. "We've got all the best riders from Europe against all the best riders in America—in America. Most of the time the guys come in Europe, race des Nations and then they say, 'Yeah, the track is a little disadvantage.' Now we're here, now they have the track. Everything is here, and most of them pull out. That kind of disappoints me."
Although it sure as hell came out the wrong way, Everts did have a valid point or two when it came to the Yankees not wanting to line up at the USGP. Yamaha did not want to send out injured (and soon to retire) Doug Henry, while Kawasaki did not want to dispatch a still young Ricky Carmichael to such a 250cc race after he clinched his third straight AMA 125 Motocross Championship. On the flipside, Team Suzuki's Roger DeCoster saw to it that new AMA 250 Motocross Champion and former World Champion Greg Albertyn would compete, and Honda signed up the ever-competitive Kevin Windham. Throw in Robbie Reynard and American GP journeyman Ryan Hughes and Budds Creek had a respectable roster of talent to present to the American fans who would show up for the race on Sunday, September 12.
Promoter Jonathan Beasley had his fingers crossed that the USGP just might work out this time. Off the FIM schedule from 1995 through '98, Beasley, a promoter with a deep passion for FIM Motocross World Championship (perhaps almost even to a fault as a businessman) truly wanted an international race to take hold in the States. To that end, the backlash Everts ignited was serendipitous in that a whole lot of American fans wanted to see the Belgian eat his words.
As advertised, Stefan Everts was persona not grata at Budds Creek and the man who made it a personal vendetta to take him down in front of the homeland crowd was Kevin Windham. Urged on by friend and mentor Jeff Stanton—a moto-patriot if ever there was one—KDub was ready to go come moto one. But in a classic example of letting his riding do the talking (which is probably how he should have handled his USGP journey), Everts raced to an uncontested drop-of-the-gate-to-checkered-flag victory in the opening moto. Booed and jeered the entire way around the Budds Creek circuit, the No. 2 L&M Honda rider was impervious to it all, putting in a masterful performance. Following him home were Honda riders Ryan Hughes, who had put in an exceptional moto, and Windham.
When the pin was pulled and the starting gate slapped into the Maryland grass, it was French racer David Vuillemin firing into the lead with Windham, Hughes, Everts, and Albertyn in his draft. Windham, on his No. 114 Honda, threw everything he could at Vuillemin and his No. 99 Yamaha, but for a number of circuits, the tall, lanky Frenchman was not giving way. Finally, in a sketchy, greasy off-camber, left-hand turn, Windham made it happen and shot off into the lead. Behind, Everts, who was a bit slow to get going, couldn't make the passes he needed, thus Windham cruised home to the moto win, and most importantly, the overall.
Understandably thrilled with the end result, Windham, American flag in his left hand, did a victory lap for the adoring crowd. Along the way, Everts pulled up and gave him a very sportsmanlike pat on the back. It was a lucid moment of mutual respect.
"It's not really a Windham vs. Everts deal anyway," Windham told Cycle News scribe Chris Jonnum afterward. "I came here to beat everybody, and there are a lot of fast riders here. It was just one of those deals that fueled my fire. I think it was good for me to hear that. There's no hard feelings. I have a lot of respect for the guy."
Before climbing up atop the post-race podium, where he would be heckled and booed at mercilessly, Everts was nevertheless gracious in defeat, stating: "I woke up too late in the moto. I'm not going to give any excuses, because that sounds really silly. We got beat and that's the end of the story."
Years later, Windham would recount his one and only USGP win:
"That was a very important race to me. I was shocked when Everts said that. In hindsight, I have incredible respect for him. He is one of the best riders in the entire world and is ultimately a good person. He's a great guy. So when he stepped up and called Americans as a whole cowards, that was the motivation for me to kind of get up and do one more race, despite all the racing and testing I had already done that year. I just took it as a real personal attack. I went to that race knowing that if I didn't win I was basically going to look like a fool for even attempting and participating. Luckily for us and for me that day we came out victorious. That race took a toll on me as a person as far as preparing and doing that race, but I'm glad that I did it for the fact of winning and the accomplishment and the support.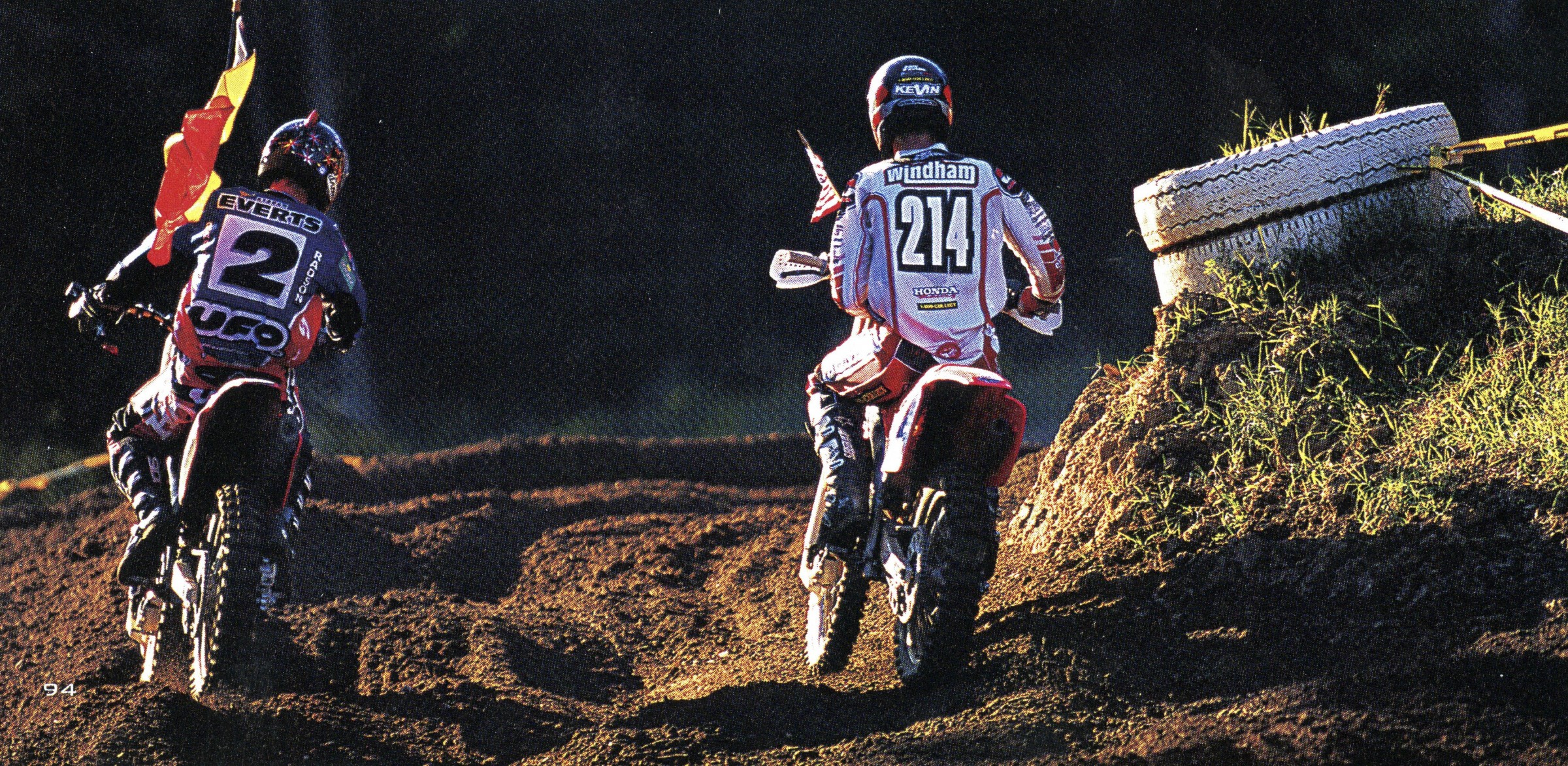 "Everts' words had been let out of the bag and the American fans knew [what he said]," he continued. "Those guys weren't going to come over here on American soil and mess with us. I think that the American pride was all over that track and I think it all kind of landed on my shoulders. The horns and the flags and the waves and the support of that crowd that day was kind of like me against the world. It was kind of cool. It was great how everybody made me feel and to come out victorious was a good feeling."
As fate would have it, the 1999 Budds Creek USGP would be the curtain closer on the great race in this nation for over a decade. And of Stefan Everts? He'd go on to win six more World Championships and string together the winningest records in MXGP history.
---
Previous Entries