The return of the Monster Energy MXGP of the USA will take place on September 2-3 at WW Motocross Ranch in Jacksonville, Florida. The race will feature matchups of the best riders on the FIM Motocross World Championship circuit with some of the top AMA-based riders on a completely neutral track. In looking forward to the event, we're going to count down the days to the new race by looking back at some of the most memorable U.S. Grand Prix races. Today we're looking at Mid-Ohio 1975.
As we countdown the most memorable USGP races of the past, we've tried to provide a history lesson to international motocross racing in the United States and what it's meant over the years. There was one race in particular, the 1975 Jofa 125cc U.S Grand Prix at Mid-Ohio, that has a lot of points of interest, not only in what happened there, but how it even got there in the first place.
Nineteen seventy-five was the first year for an official 125cc World Championship, though there had been various one-off races and European events that were de facto World Championships, though not official. We explained this in a previous history of USGP races, so let us cut-and-paste a few paragraphs here:
In 1973, one year before the AMA began racing 125cc motorcycles in its domestic championship series, and two years before the FIM got its 125cc Grand Prix circuit going, Husqvarna importer/race promoter Edison Dye hosted a stand-alone 125cc "World Cup" in the hopes of showcasing a bike he was bringing to market called the Dye Rebel (made in San Diego). His bikes didn't do so well, but Swedish Husqvarna rider Nils-Arne Nilsson, a part-time factory engineer, did his part by winning the race on a Husqvarna. We asked our resident 1970s pro Scott Wallenberg what he remembered about the race:
"This was one year before the Japanese 125 invasion took place, and a look at the entry list shows some standout riders like Tony DiStefano, Marty Smith, Bob Grossi, and Terry Clark, on brands like Harley-Davidson, Zundapp, Monark, Hodaka, Penton, Bultaco, Noguchi, Aspes … The race was won by Nils-Arne Nilsson, with Husqvarna teammate Bob Grossi in second. Mickey Boone was top Japanese bike on a Suzuki TM in third place, and Tony Wynn from Arkansas made the debut of the Honda 125cc Elsinore in pro competition with a seventh place finish. The top finishing Yamaha was Morris Malone in 13th, and there were no Kawasakis entered.
"One year later, in 1974, the 125cc World Cup was held July 28 at Zoar Motocross Park in New York," added Wallenberg. "None of the real big names from Europe like Andre Malherbe showed up. It was held in conjunction with the Inter-AMA event for 250s."
Meanwhile, over in Europe, the aforementioned Malherbe, a future three-time 500cc World Champion from Belgium, won two "European" titles on 125cc Zundapp motorcycles.
Finally, in 1975, the FIM decided to have a stand-alone, 12-round FIM 125cc World Championship. And the United States, which already had a 500cc Grand Prix at Carlsbad, was awarded a race. It would be held at Mid-Ohio in Lexington, Ohio. Now let us switch to a story that was in the magazine about what exactly happened that day 42 years ago that had a much more profound impact on the future of motocross.
In the early days, there was no such thing as a double jump, let alone triples, tabletops, or rhythm sections. In fact, check out any race before July of 1975 on YouTube and you won't see anyone "doing the doubles"—not at Daytona or even the Superbowl of Motocross at the L.A. Coliseum.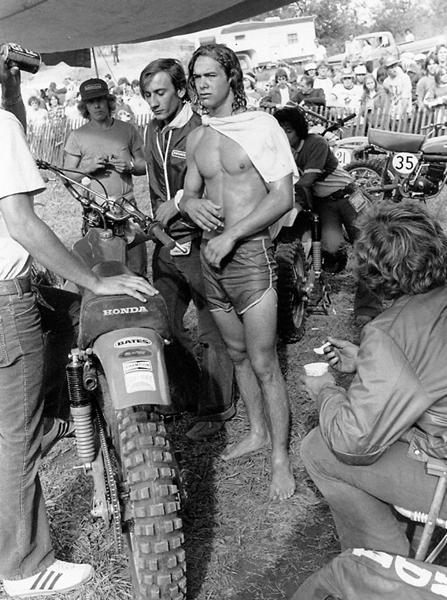 On July 5, 1975, Mid-Ohio hosted its first official FIM 125cc USGP, and while European heroes like Gaston Rahier, Gilbert DeRoover, Jiri Churavy, and Andre Malherbe were on hand, it was California teenager Marty Smith who stole the show. The Honda factory rider not only dominated both motos, he started doing something on the first lap of the race that changed everything. Cycle World's Fernando Belair described it this way:
"Just about the most exciting thing for the spectators to see was a double drop-off jump on the back part of the course. All riders in the 500 class took the obstacles as two jumps. All the 125s did the same except for the leader Smith. He had his fire engine red Honda tapped out in fifth gear as he approached. But rather than shut down like everyone else was doing, he clamped his ankles to the engine cases and literally lofted his machine through 75 feet of air, to land on the downslope of the second jump. Only Jimmy Ellis was able to accomplish the same feat, but then only three times as he played catch-up. Smith cleared it every lap of both motos."
Two weeks later in Los Angeles a similar double jump was added to the Coliseum track for the '75 Superbowl of Motocross. From that moment 42 years ago in Ohio to this day, the double has been the staple of supercross (and, to a slightly lesser degree, motocross) all over the world.
Wally Wallenberg captured the moment of Smith's innovation on Super 8mm Film. You'll see it at the 1:10 mark:
Yoshifumo Sugio of Japan would finish second overall with 3-2 finishes, Gilbert DeRoover of Belgium would finish third with 2-4 scores, and Jimmy Ellis of Connecticut would place fourth overall with 5-3 finishes. The Belgian hero Gaston Rahier, riding on a Suzuki, had an off day, but he would go on to become the first true 125cc World Champion in 1975.
Based on that one race and going 1-1 on the day, Smith would finish 11th in the 1975 FIM 125cc Motocross World Championship standings, and that inspired him to try to go for the world title in 1976, while also trying to defend his AMA 125 National Championship. That would lead to a complicated season, with one very high point: the 1976 Valvoline 125cc U.S. Grand Prix. More on that later on in our 25-Day Countdown to the MXGP of the USA at WW Motocross Park.