Mechanicsville, MD
Budds Creek
Lucas Oil AMA Pro Motocross Championship
Where to begin? Coming into the penultimate round of the 2017 Lucas Oil Pro Motocross Championship it was expected Rockstar Energy Husqvarna's Zach Osborne would clinch his first career 250MX championship. Monster Energy/Pro Circuit Kawasaki's Adam Cianciarulo winning his first career overall certainly wasn't a stretch. But no one could have foreseen the outstanding performance from RCH/Yoshimura Suzuki's Justin Bogle coming. Yet, just outside the nations capital in Mechanicsville, Maryland, it all came together.
First, the champion. You know his story by now. From flaming out in his first run in America, to his detour through the FIM Motocross World Championship, which saved his career, to his return, Zach Osborne has seen it all since making his Pro Motocross debut at this track back in 2006. You know what happened there, too. He led, he faded, he earned the nickname "Snack Pack" from our own David Pingree. Ten years later, in his first season under the Bobby Hewitt ran Husqvarna program, Osborne earned his first career overall here, outlasting Alex Martin with 4-1 finishes. Three hundred and sixty-four days later, Osborne was back in front of his home fans celebrating a championship run.
"It's the same thing as my first year, it's … like I said last year, it's ironic, it's just fitting the bill of my career and the path of my career," the Virginia native said when asked if it held special meaning to clinch at Budds Creek. "It's a track that I really love and enjoy—I don't know what else to say, it's just the way things happen."
It certainly wasn't easy today. Osborne found himself involved in a first turn pile-up when privateer Steven Clarke crashed—his bike actually hitting Osborne in the back. He regrouped from a 36th place start to finish eighth. Although title rival Jeremy Martin finished second, Osborne could still clinch in moto two. He actually started with Martin and the two were close throughout the early portion of the race until lap seven when Martin went down. Although he didn't need it, Osborne still moved into the lead and claimed the moto win. What's next? Fulfilling a lifelong dream of representing the United States at the Motocross of Nations. As for 2018, Osborne announced he will defend his 250SX title, but will move up to the 450 in Lucas Oil Pro Motocross with the team.
This isn't the easiest of times for Justin Bogle. His team, co-owned by Ricky Carmichael and Carey Hart, will shut its doors at the end of the year, putting Bogle's prospects for 2018 in limbo. Yet, with only two races left in the team's history, they continue to fight. Bogle and his teammate Matt Bisceglia, who is filling-in for Broc Tickle, have consistently grabbed great starts. While they haven't been able to finish them a lot of times, there was certainly still a ton of fight in the team and its riders entering the 11th round of the championship at Budds Creek.
Bogle, who earlier this year uprooted his life and career and moved to Florida to train with Carmichael, showed he could run with the best of the best earlier this season at Thunder Valley, winning his first career moto. This day was different. Red Bull KTM's Marvin Musquin has been unstoppable, knocking off six consecutive moto wins to get back in the championship fight. But it was Bogle who jumped out to the early lead over Martin Davalos in the first moto. Bogle led for 14 consecutive laps after, but as the time started to tick away his lead was no longer a certainty, as Musquin was closing. Bogle upped his game, though, and finished the deal with less than a second win.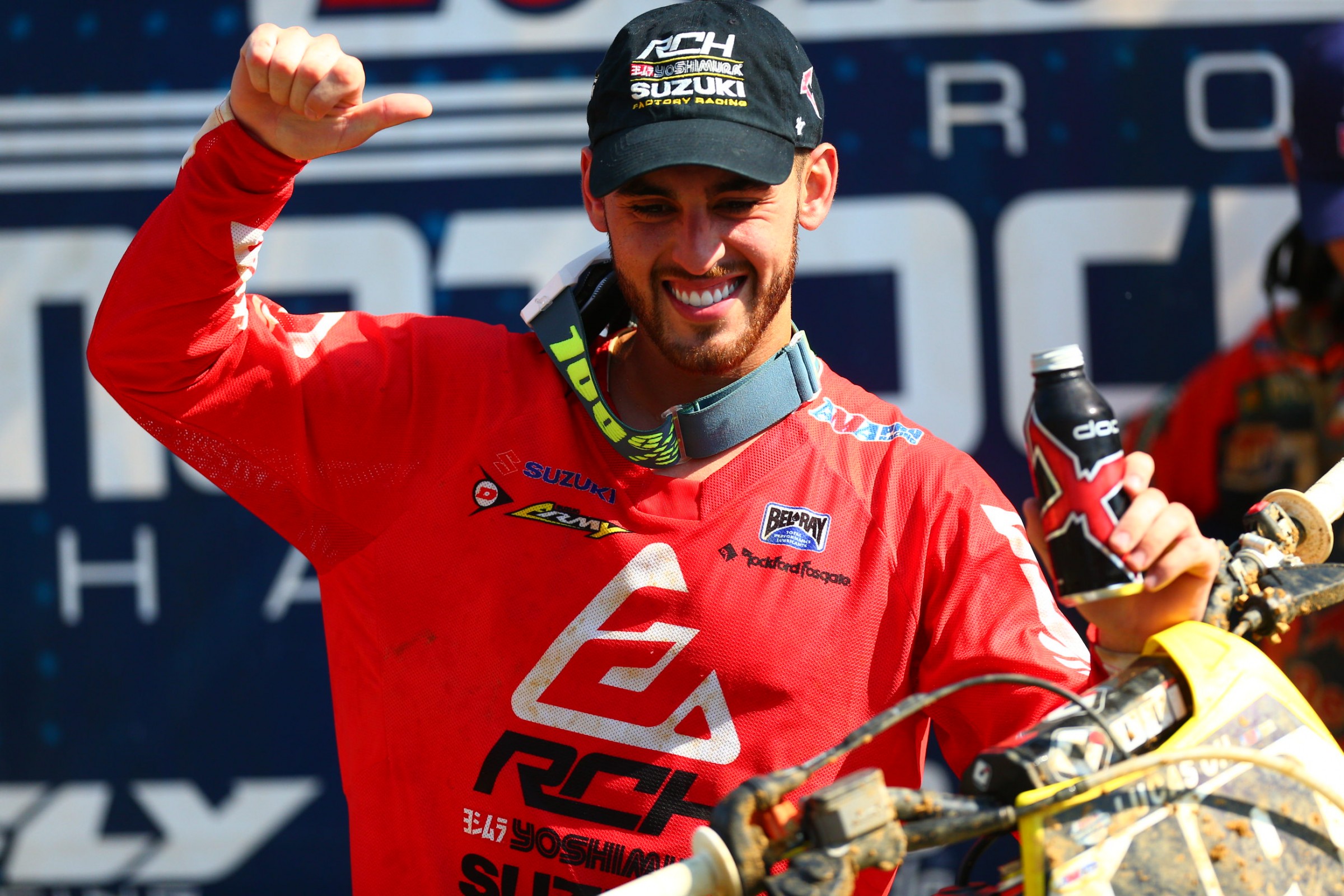 "I could see him coming and I definitely felt him at the end," said Bogle in the post-race press conference. "I struggled so bad with lappers. I know we all did, but when the track is a little more one-lined it makes it so difficult to get around a lot of those guys. No excuses, we all have to pass the same guys. He was riding really good at the end and I'm glad I was able to pick it up there at the end and hold onto it."
The second moto Bogle was up front again. Although he led just four laps of that moto, eventually giving way to Eli Tomac and Blake Baggett, it was enough for his first career AMA Motocross overall—in any class!
"Honestly, it really isn't on my mind," said Bogle when asked if results were on his mind the last couple rounds due to upcoming contract negations. "In years past I've let it kind of bug me too much. This season I've kind of completely changed my entire life, so there's no stoned unturned. So there's not much I can do differently at this point."
Adam Cianciarulo, who, like Osborne, also made his Lucas Oil Pro Motocross debut at Budds Creek, his coming in 2013, returned four years later and earned his first career overall. In the post-race press conference, the two joked who had the worse debut (Osborne did). Post-race Cianciarulo was transparent about how tough the last few weeks—and years—have been mentally.
"Before Washougal … I was just in a bad mindset. I'd had a few bad races in a row, I think it was RedBud and Southwick, [and] I was just doing bad. Getting bad starts and just wasn't myself and I was frustrated. I feel like I'm capable. I have the right equipment, the right team, you see my teammate having a lot of success. It was a struggle for me. [I was] Getting mentally kind of down on myself during the week."
His win in the first moto was also the first of his career, as he led wire-to-wire in convincing fashion. The second moto was more troublesome, as he started fourth and had to work his way up. McElrath actually held the overall for much of the moto, and even after getting passed by Osborne, McElrath still held a slim chance at the win, as Aaron Plessinger and Colt Nichols gained on AC. He was determined not to let what happened at Washougal happen again.
"I was done doing math in my head," he said. "I did math in my head at Washougal and [today] I was like, 'I'm not going to let anyone pass me.'"
After the race, Cianciarulo also announced he has agreed to a multi-year deal to stay with Monster Energy/Pro Circuit Kawasaki.
The championship picture in the 450 Class cleared up today as well. In his words, Tomac said he's been in a funk the last couple rounds. That he went into "defense mode" as he nears his first career 450 championship. It continued in the first moto at Budds Creek, as he finished seventh, giving more points away to Musquin and Baggett.
"I was starting to lose my mind there a little bit," he said in the post-race press conference. "Those three motos before the second one today were pretty disappointing and disheartening. I started going into protection mode and it doesn't work. I found that out a lot at Unadilla."
Tomac finally looked like himself again in the second moto, charging to his first moto win since Southwick.
"I got bumped on the start [in moto one] and got shuffled back and we ended up seventh," he continued. "We had to put our head back on straight and we went out there and got er done in the second one. We definitely needed that one to change the momentum."
Red Bull KTM's Marvin Musquin entered the race on fire, having won six consecutive motos. It didn't appear that would change today, as he qualified fastest and hounded Bogle in moto one en route to second. Still in contention for a fourth overall, Musquin didn't get the jump he needed in the second moto and had to fight from 16th up to fourth to secure second overall on the day. After a first moto in which he picked up a ton of points on Tomac, he ended the day just one ahead of the points leader.
"I just messed up the start. I just didn't get a good start," he said regarding the second moto. "After the first, second and third lap we just bottlenecked pretty hard. It was definitely a tough moto, just being in that position where it's hard to get around those guys and you want to get going. A track like today was just really difficult. So that's why I need to be in a better position like first moto."
Troy Lee Designs/Red Bull KTM's Shane McElrath has struggled this summer, but today he looked like a different rider, finishing fourth in the first moto and leading parts of the second moto en route to earning his second moto podium of the season. His third place overall finish was his first overall podium of the year. McElrath wasn't able to attend the post-race press conference as he cut his hand on a champagne bottle on the podium following moto two.
Motocross
Rider
Hometown
Motos
Bike
1
Justin Bogle
Cushing, OK

United States

1 - 3
Suzuki RM-Z450
2
Marvin Musquin
La Reole

France

2 - 4
KTM 450 SX-F
3
Eli Tomac
Cortez, CO

United States

7 - 1
Kawasaki KX450F
4
Blake Baggett
Grand Terrace, CA

United States

5 - 2
KTM 450 SX-F
5
Cole Seely
Newbury Park, CA

United States

4 - 8
Honda CRF450R
6
Weston Peick
Wildomar, CA

United States

8 - 6
Suzuki RM-Z450
7

Cooper Webb
Newport, NC

United States

9 - 7
Yamaha YZ450F
8
Matt Bisceglia
Weatherford, TX

United States

6 - 10
Suzuki RM-Z450
9
Christian Craig
Temecula, CA

United States

10 - 9
Honda CRF450R
10

Dean Wilson
Scotland

United Kingdom

16 - 5
Husqvarna FC 450
11
Benny Bloss
Oak Grove, MO

United States

11 - 11
KTM 450 SX-F
12

Martin Davalos
Quito

Ecuador

3 - 38
Husqvarna FC 450
13

Phil Nicoletti
Cochecton, NY

United States

14 - 12
Suzuki RM-Z450
14

Dakota Alix
Jay, VT

United States

13 - 13
KTM 450 SX-F
15
Heath Harrison
Silverhill, AL

United States

15 - 16
KTM 450 SX-F
16
Fredrik Noren
Lidköping

Sweden

12 - 39
Honda CRF450R
17
Kyle Chisholm
Clearwater, FL

United States

20 - 14
Honda CRF450R
18
John Short
Pilot Point, TX

United States

19 - 15
Yamaha YZ450F
19
Isaac Teasdale
Robbinsville, NC

United States

30 - 17
KTM 450 SX-F
20
Ben LaMay
Anchorage, AK

United States

17 - 23
KTM 450 SX-F
Full Results
Motocross
| Position | Rider | Hometown | Points |
| --- | --- | --- | --- |
| 1 | Eli Tomac | Cortez, CO | 470 |
| 2 | Marvin Musquin | La Reole | 453 |
| 3 | Blake Baggett | Grand Terrace, CA | 451 |
| 4 | Dean Wilson | Scotland | 340 |
| 5 | Cole Seely | Newbury Park, CA | 330 |
| 6 | Justin Bogle | Cushing, OK | 308 |
| 7 | Weston Peick | Wildomar, CA | 268 |
| 8 | Cooper Webb | Newport, NC | 268 |
| 9 | Martin Davalos | Quito | 263 |
| 10 | Christian Craig | Temecula, CA | 216 |
Full Standings
Motocross
Rider
Hometown
Motos
Bike
1

Adam Cianciarulo
Port Orange, FL

United States

1 - 2
Kawasaki KX250F
2

Zach Osborne
Abingdon, VA

United States

8 - 1
Husqvarna FC 250
3

Shane McElrath
Canton, NC

United States

4 - 3
KTM 250 SX-F
4

Jeremy Martin
Millville, MN

United States

2 - 6
Honda CRF250R
5
Aaron Plessinger
Hamilton, OH

United States

5 - 4
Yamaha YZ250F
6
R.J. Hampshire
Hudson, FL

United States

3 - 7
Honda CRF250R
7
Colt Nichols
Muskogee, OK

United States

7 - 5
Yamaha YZ250F
8
Chase Sexton
La Moille, IL

United States

9 - 9
Honda CRF250R
9
Kyle Cunningham
Aledo, TX

United States

6 - 12
Suzuki RM-Z250
10
Mitchell Harrison
Lansing, MI

United States

11 - 10
Yamaha YZ250F
11
Justin Cooper
Cold Spring Harbor, NY

United States

14 - 8
Yamaha YZ250F
12

Luke Renzland
Hewitt, NJ

United States

12 - 11
Yamaha YZ250F
13
Dylan Wright
Courtland, ON

Canada

13 - 13
Honda CRF250R
14
Sean Cantrell
Murrieta, CA

United States

10 - 18
KTM 250 SX-F
15
Lorenzo Locurcio

Venezuela

17 - 15
Yamaha YZ250F
16
Steven Clarke

United Kingdom

20 - 14
KTM 250 SX-F
17
Dylan Ferrandis
Avignon

France

15 - 40
Yamaha YZ250F
18
Nick Gaines
Ringgold, GA

United States

40 - 16
Yamaha YZ250F
19

Joey Crown
Metamora, MI

United States

18 - 19
Kawasaki KX250F
20
Cody Williams
Barneveld, WI

United States

16 - 26
Yamaha YZ250F
Full Results