Hurricane Mills, TN
Rocky Mountain ATV/MC AMA Amateur National Motocross Championship (Loretta Lynn's)
Amateur National Motocross Championship
As we count down the 36 days until the start of the 2017 Rocky Mountain ATV/MC Loretta Lynn's AMA Amateur National Motocross Championship, we are going to look back at each year in the history of the event. Today we look back at 2000.
It's fitting that we end our 36 day countdown to the 2017 Rocky Mountain ATV/MC AMA Amateur National Motocross Championship with the 2000 event, which was effectively halftime between the start of the race in 1982 and what begins tomorrow. It's been a blast counting down all of these years, remembering old names and races, rivalries and conspiracies, and just generally reliving 36 years of the world's greatest motocross vacation. The year 2000 looked like a very big year on the calendar (remember the whole Y2K computer ballyhoo?), but the races at Loretta Lynn's were just another good, fun year, full of exciting motos, general chaos in the campground, and the occasional cautionary tale.
By this point former LL standouts like Jeremy McGrath and Ricky Carmichael were at their best, and RC would soon supplant MC at the top of the professional realm. Travis Pastrana seemed to be the next big thing as a hotshot 125cc rookie, but he would become even bigger than anyone imagined through his X Games and freestyle exploits. But in 2000, he was just a Loretta Lynn's graduate trying to win his first 125cc National motos.
Four-strokes were coming, and by 2000 a stand-alone "Four Stroke" class was a part of the program, just as electric bikes may have their own class someday soon, and then what? It rained some, it was always hot, and the gates were full in every class. Just another year at the ranch.
Bart Lucas won the Senior +40 title over part-time race announcer and one of Indiana's all-time fast guys Larry Witmer. Larry, the familiar voice of RedBud in Michigan, would come to the ranch and camp and race and then go up into the announcer's tower to work other motos. He pulled off three AMA Amateur National Championships over the years, his last coming in 2002 over longtime rivals Fred Vertucci and Johnny Borders. I meant to mention the fact that Larry was the only announcer I ever knew of that also won his class the same week at Loretta Lynn's. The closest we would have now compared to what Witmer did is Jimmy Albertson, who will be here helping out on the mic this week, though he's still a bonafide pro, albeit currently injured.
A kid from Kentucky named Ben Riddle would win both the 125 A and 250/Open A classes en route to the AMA Horizon Award. But he would become something of a cautionary tale for all. Riddle was immediately signed to a big deal with Suzuki, but then lost his way rather quickly. He was soon out of professional racing altogether.
A little younger but seemingly already just as fast as the best A riders was James Stewart, who won the 105cc Supermini 12-15 and 85 (14-15) Modified classes. Many wondered what he might have done against the 125s on his trick Team Green Kawasaki. His laps in 2000 were arguably the fastest ever spun at Loretta Lynn's Ranch on a minicycle.
Another fast Floridian, Jessica Patterson repeated as the Women's Champion, her second of three titles here. Her future husband, Eddie Ray, also had a good year in 2000, finishing second in the Four Stroke class to Bryan Emig, the older brother of another past (and future) Loretta Lynn's champion, Jeff Emig.
And sticking with the Florida line, Ronnie Tichenor returned from his retirement after a long professional career in both the U.S. and Japan to win the Vet A +30 and Junior +25 Classes. It was the first time Tichenor had raced at the ranch since 1985, when he finished second in the 250 A Modified class. Coincidentally, 2000 was Tichenor's last year racing here as well.
How's this for a fast group of kids: The 85cc Stock (7-11) podium was Mike Alessi, Ryan Villopoto, and Davi Millsaps. None of their parents seemed to like one another, as the rivalries that would propel them all for years was already underway. Mr. Millsaps cut a striking figure with a parrot on his shoulder, though it was Davi's mom Colleen that would later on have the most profound impact on amateur motocross, as the idea of a year-round riding compound was just starting to develop. Now, it's a huge thing.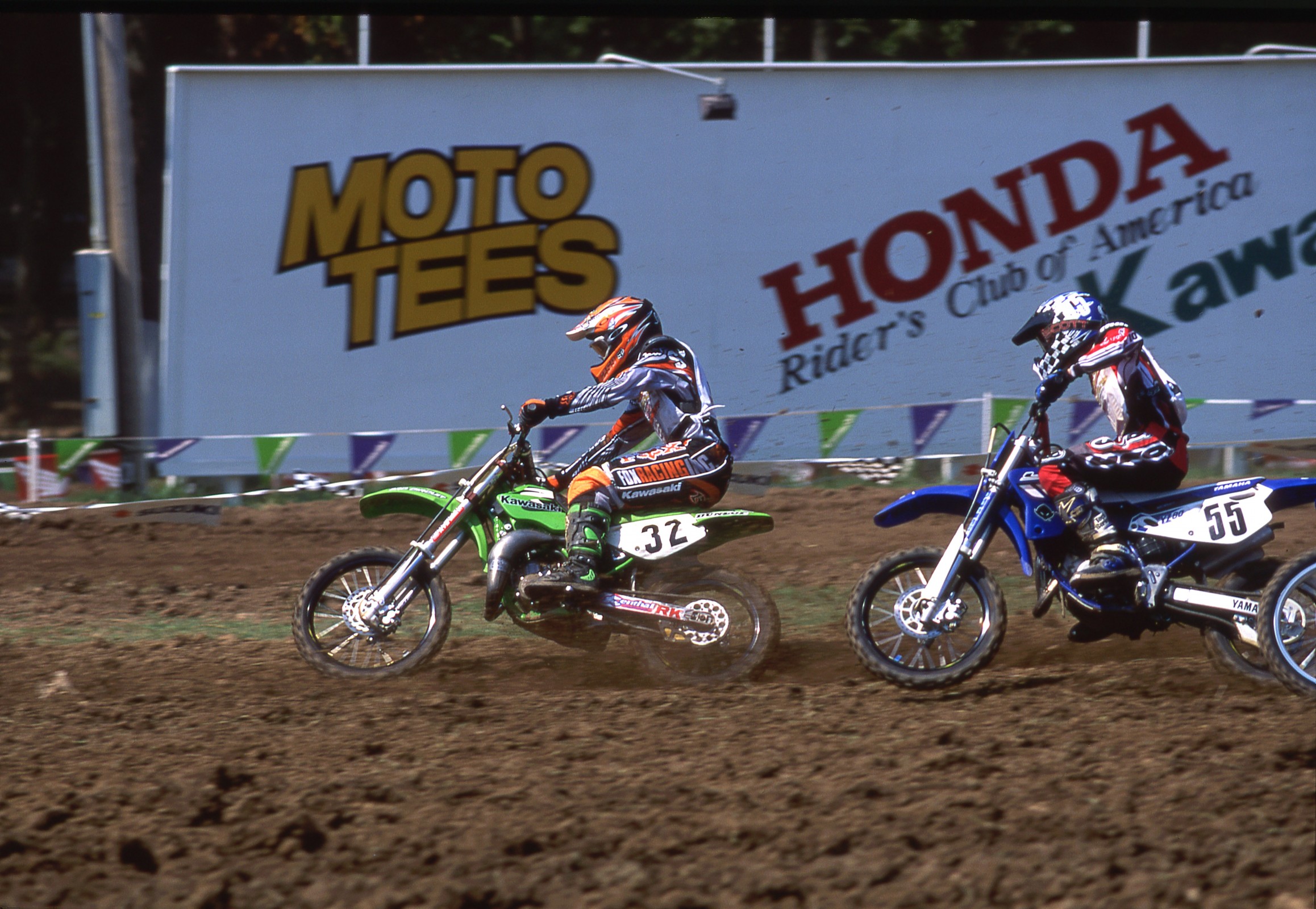 Phil Nicoletti and Josh Hill were in that class too. Millsaps won another class on his Suzuki RM80, the 85cc (9-13) Modified, continuing the brand's long list of super fast kids here that included names like Buddy Antunez (back here racing in 2017), Ezra Lusk, Jeff Dement, Charley Bogard, Branden Jesseman, Broc Hepler, Nico Izzi, Eli Tomac.
And finally, finishing 20th and 31st in his two 65cc classes in 2000 was a kid from Oklahoma named Trey Canard. Last weekend, he announced his retirement from professional motocross. Here's guessing it won't be long before we see him back here again someday, maybe as a dad, maybe as a Vet class racer, maybe both!
The 36th Annual Rocky Mountain ATV/MC AMA Amateur National Motocross Championship presented by Lucas Oil kicked off today with practice. Racing starts on Tuesday, which you can stream for free all week long on RacerTV.com.
---
PREVIOUS ENTRIES