As we count down the 36 days until the start of the 2017 Rocky Mountain ATV/MC Loretta Lynn's AMA Amateur National Motocross Championship, we are going to look back at each year in the history of the event. Today we look back at 2014.
Entering the 2014 AMA Amateur National Motocross Championship at Loretta Lynn's all eyes were focused on the A classes. The class was stacked with futures pros like Aaron Plessinger, Jordon Smith, Colt Nichols, Chris Alldredge, Luke Renzland, Darian Sanayei, Josh Osby, Daniel Baker and more. But one rider stole the show, sweeping both 250 A and Open Pro Sport.
Growing up in Hudson, Florida, R.J. Hampshire wasn't destined to become a professional motocross rider. While he began his career at Loretta's at an early age, competing in the 51cc 4-6 Stock Oil Inj class in 2002, Hampshire's main focus as a youth was baseball. "I was planning on being a college baseball player," Hampshire told us in 2014. "I played baseball my whole life, and I rode motocross for fun and never took it serious."
In 2012, Hampshire started taking racing seriously. Maybe it was inevitable, as his family had deep roots in the sport, as his sister, Marisa, won the Girls (12-15) Championship back in 2003, and went on to a pro career in WMX. A variety of relatives in R.J.'s family competed at the event. Once he put his focus on moto, his results took off. He began working with Tim Ferry and burst onto the scene at the 2013 Monster Energy Cup Amateur All-Stars race where he won in dramatic fashion. He signed with Amsoil Factory Connection Honda soon after and dominated the Mini Os that same year, winning five titles at Gatorback Cycle Park. Despite those accomplishments, Hampshire wasn't considered the favorite entering Loretta's in 2014. His Amsoil Factory Honda teammate Jordon Smith and Plessinger, who came out of the woods—literally from GNCC—the year prior and won both B classes were excepted to win the Horizon Award.
In the first Open Pro Sport moto, Hampshire had the 41st gate pick, which is selected at random, but it didn't seem to matter as he got a decent start and found himself in the lead almost immediately and outpaced Plessinger for the win. The two would lock horns again in the 250 A moto. Daniel Baker grabbed the holeshot, while Hampshire and Plessinger were working their way to the front.
As Hampshire blasted past Baker for the lead, a pivotal moment in the week would come when Plessinger, while running in second, had his bike lock up and endoed badly. He was able to get up and run off the side of the track, but would have to deal with a foot injury the remainder of the week. Hampshire would go on to win the moto with Alldredge coming from way, way back to salvage second.
After sweeping both motos on the opening day, Hampshire came out swinging on day two and captured the win in the second Open Pro Sport moto to push his record to 3-0.
On Thursday, Hampshire grabbed the 250 A holeshot and went unchallenged for his fourth straight win. With Hampshire leading, contenders Alldredge and Plessinger were buried following a big pileup off the start. The battle for second was heating up, though, between Renzland and Smith. Renzland eventually worked his way past Smith for second and soon after Smith crashed and didn't finish Moto 2. His week never got started, as he entered the race with an ankle injury and he finished 6-DNF-DNS in 250 A and DNF-DNS-DNS in 450 A.
Hampshire entered the final day of racing with a perfect 4-0 record, but still had a moto left to run in 250 A and Open Pro Sport. He dominated the Open Pro Sport moto over Colt Nichols and entered the final 250 moto with a load of confidence. But Renzland nearly spoiled the day. In attempt to end Hampshire's perfect record, Renzland dug deep in Moto 3 and applied heavy pressure . The two battled nearly to the end, with Hampshire coming out on top to cap a perfect week. He was the first rider since Shaun Perolio in 1995 to go a perfect 6-and-0 in the pro class and was named AMA Horizon Award winner.
"I wasn't trying to go 6 for 6; I was just trying to win championships. That's what the team wanted me for," he told Racer X after the race. "It just happened to be that way."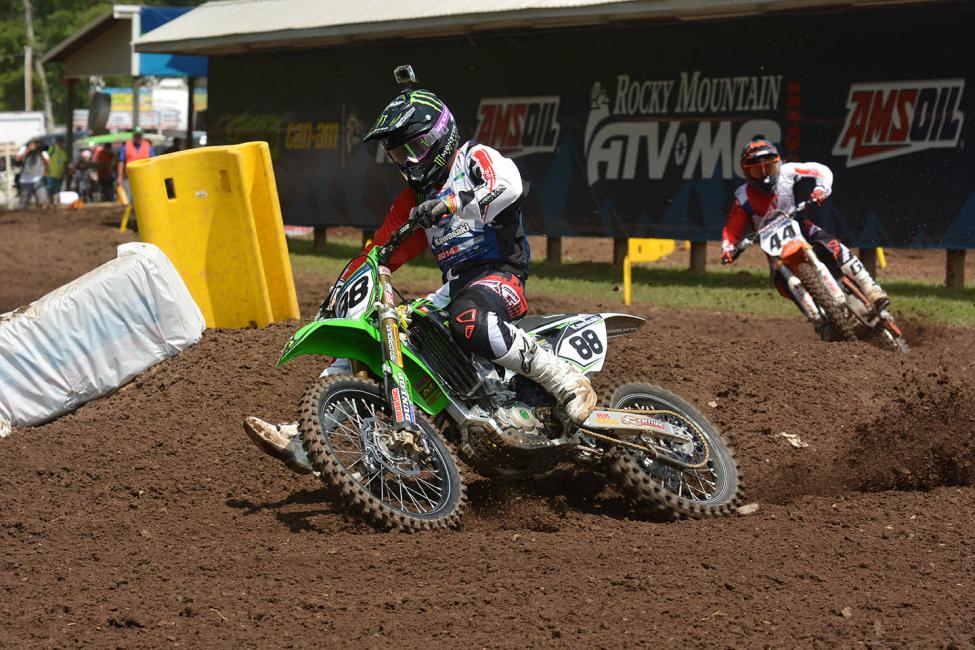 Hampshire was scheduled to be a starting pitcher on his high school baseball team. Before he knew it, he was back in the family trade, racing motocross. The week after Loretta's, Hampshire would make his pro debut with GEICO Honda at the Unadilla National. While he didn't set the world on fire, he was consistent, putting in 11-16 scores for 13th overall. Chris Alldredge also made his debut with Monster Energy/Pro Circuit Kawasaki and finished eighth overall. And Luke Renzland finished 17th overall in his debut with CycleTrader.com/Rock River Yamaha. Nichols, Plessinger and more would wait to make their debuts, but it's interesting to see how many riders battling at Loretta's three years ago are still going bar to bar with each other as pros in the 250 Class now.
---
Previous Entries