Hurricane Mills, TN
Rocky Mountain ATV/MC AMA Amateur National Motocross Championship (Loretta Lynn's)
Amateur National Motocross Championship
As we count down the 36 days until the start of the 2017 Rocky Mountain ATV/MC Loretta Lynn's AMA Amateur National Motocross Championship, we are going to look back at each year in the history of the event. Today we look back at 1995.
Nineteen-nighty-five was a mudder—at least at the end of the week. The rain came down so hard and the mud got so deep that only two motos ended up being run, which is exactly what happened 10 years earlier in 1985.
It was also the year of the 1-1 finish. With a total of 30 national championships on the line, 19 of them ended up being won by a rider who swept both motos. And a lot of those winners were just getting started on careers that would take them to success in the professional ranks. Mike Alessi (51cc Stock 4-6), James Stewart (65cc Stock 7-9), Travis Pastrana (85cc 7-11), Justin Buckelew (85cc Stock 12-13), Ernesto Fonseca (85cc Mod 12-13), Ricky Carmichael (85cc Stock and Mod 14-15), Shae Bentley (105cc Super Mini), Brock Sellards (125 B Modified), and Casey Lytle (250 B Mod) would all someday win AMA Supercross or Motocross races and, in some cases, major titles.
There were a few other champions that year would see a different kind of success. Tennessee's own Kevin Walker, who had a very brief professional career, rode in the Junior +25 class for the first time and won the first of 14 AMA Amateur National Motocross Championships, all of them aboard Yamahas, and still the all-time record. Walker's titles all came between 1995 and 2010, the last year he raced at Loretta Lynn's Ranch.
Jason Abbott won the 250 C Mod class aboard a Suzuki. It was the one and only appearance on the starting gate at Loretta Lynn's for the Chino, California, rider, but he's been back since—and he will be back in 2017 in a different capacity: Abbott works in American Honda's marketing department and will be on hand as the company introduces their all-new 2018 Honda CRF250R for the public at the ranch.
Larry Evener won the Masters +50 Class, and Bill Van Vugt Sr. finished second. Van Vugt's daughter Jolene also raced, and she eventually joined the Nitro Circus with the aforementioned Travis Pastrana and is also a stuntwoman. And the ninth place finisher in that +50 Class was none other than Erv Braun, then a part-time race announcer, soon to become the Voice of Supercross. Erv also announced at the ranch, though he never won his class like another race announcer, Larry Witmer, did—and three times! Sadly, Erv Braun passed last year, but both of his sons still work in the motorcycle industry.
Another motorcycle industry staple who raced Loretta Lynn's in 1995 was Kevin Foley, though he didn't have his best year that time out. He's won 10 titles over the years at the ranch, and he's now an executive at American Suzuki.
And the same goes for Vet A +30 winner Dennis Hawthorne of Texas. He was a multi-time AMA National Arenacross Champion before he reached a certain age. He's still with Kawasaki Motors Corps.
Another winner was Gene Stull in the 65cc Stock 10-11 Class, topping Shane Bess and David Whitcraft. Stull still rides today—he was the guy on the sweet RM125 during Ryan Villopoto's 2-Stroke Happy Hour at the recent Red Bull High Point National. He also rides Segways around Pittsburgh—Stull started a touring company called Segway Pittsburgh where you get to see the City of Three Rivers from two wheels.
Ronnie Renner finished ninth in the 125 B Stock class won by Charley Bogard. Renner would earn greater fame in the X Games where he became a prohibitive Step Up favorite, as well as some extraordinary Red Bull stunts. He tied for bronze at the 2017 X Games in Minneapolis in Step Up.
Robbie Horton beat Nick Wey for the 125 B Stock 12-15 title. We all know Wey went on to a very long and illustrious career as a pro, and just a few weeks ago came out of retirement to earn a point in the RedBud 450 National. In that same class in 1995, Ohio's Mark Burkhart finished seventh; years later he would be AMA Supermoto Champion and an X Games gold medalist like Renner. He also still works in the motorcycle industry as a regional rep. And so is 10th place Jason Thomas, who also had a long pro career and now contributes to this magazine and website—he wrote the 1996 entry for this series.
In the 85cc Mod 14-15 class won by Carmichael, Michigan's Randy Valade finished third. Years later he would become a 125cc Champion in Canada, then he went to work with Answer, where he is the brand manager. And in the 85cc Stock 14-15 class, also won by Carmichael, Kelly Smith, another member of the Michigan Mafia, placed third. He would go on to carve out a couple of places for himself in motocross history when he won both the first AMA National and the first AMA Arenacross for the KTM brand (and he was half a lap away from winning the first 125 SX too before he crashed with Ernesto Fonseca!).
Kansas rider Andy Bowyer finished seventh in the 125 A Stock class won by California's Shaun Perolio. Bowyer now works with Feld Motor Sports, and before that he worked right here at Racer X. Third in that class was future 125 AMA Supercross Champion Travis Preston, and sixth was John Grewe, who was practically a veteran in 1995, and is now one of the fastest vet riders on the planet—he's won five Vet class titles here, including last year's Masters +50 class.
Ivan Tedesco came from Albuquerque, New Mexico, to race in the 85cc (9-13) Mod class, and he finished fourth behind Fonseca, his neighbor Justin Buckelew, and New York's Paul Carpenter. Later, he would become a two-time AMA 125 SX Champion and a 125 Pro Motocross #1, as well as a winning member of Team USA at the Motocross of Nations.
Florida's Matt Goerke finished seventh in the 51cc Stock 7-8 class and is now a factory Yamaha rider in Canada, where he leads the CMRC Rockstar Canadian National points standings right now over Christophe Pourcel.
That year marked Paul Perebijnos' first visit to the ranch and while he only scored 18th in the 85cc 7-11 Stock class, he would come back for many years to come. He never won the title until 2015, when he topped the Vet +30 class, having taken the week off from his real job as brand manager for Pro Taper.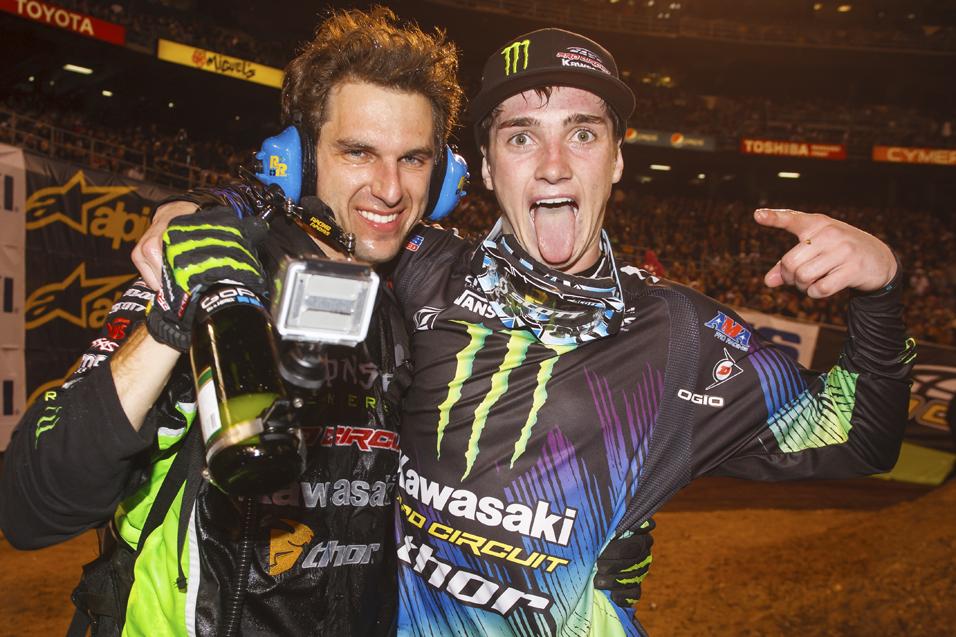 Jessica Patterson was also visiting the ranch for the first time and she finished 14th in the Women's 85-125 Class. In the years to come she would win multiple titles and become one of the all-time greats of the WMX. She's also up on the billboard as one of Loretta Lynn's all-time greats. Jessica McConnell finished 25th in the Women's class, her twin sister Melanie finished seventh. Jessica is now Jessica Coombs—she married another rider from the ranch that year, Tim Coombs, who finished seventh in the Junior +25 Class. She's now an executive assistant at Racer Productions and MX Sports, who run the whole Loretta Lynn's program!
Tenth place in the 51cc Stock 7-8 class was Davi Millsaps. Yes, the Davi Millsaps. And his sister Brianna Millsaps finished 35th in the same class—and she's now a nurse.
Twenty-fifth place in the 65cc 10-11 Stock class went to Ryan Sipes, future factory rider, multi-time 250 SX winner and all-time ISDE star as the first American ever to win the individual overall in the world's biggest off-road race.
Finally, Andy "Regis" Harrington finished 19th in the 125 B Mod class. He now runs a Hollywood stunt production company and rode/doubled as Cameron Diaz in the Charlie's Angels movie!
The point of 1995 isn't all of the mud or the 1-1 finishers. Rather, it's just plain cool to see how many folks that didn't win went on to do work that kept them in and around the motorcycle industry in the years to come, or just ended up being faster in the future. And if you check 1995 in the Loretta Lynn's Vault, disregard the "Moto 3" column, as it was only a two-moto format due to the rain, and the third column in the Vault is only a place-saver; we will be erasing it soon.