Hurricane Mills, TN
Rocky Mountain ATV/MC AMA Amateur National Motocross Championship (Loretta Lynn's)
Amateur National Motocross Championship
As we count down the 36 days until the start of the 2017 Rocky Mountain ATV/MC Loretta Lynn's AMA Amateur National Motocross Championship, we are going to look back at each year in the history of the event. Today we look back at 1984.
"For your 1984 LL story … just found this unpacking my garage from our move." That was the note Jimmy Button sent me along with a picture of a small trophy that he won at Loretta Lynn's in 1984 as part of "Team Arizona." It was his little version of the Loretta Lynn's National Cup State Motocross Championship trophy that the AMA presents each year to the state that has the best overall finishes at the AMA Amateur National Motocross Championships. It is a revolving trophy that first appeared in 1983, the second year of Loretta Lynn's, and the names of the riders on the winning state are added each year by Winner's Choice/Race Awards, a trophy company owned by the motocross racing Martin family (Logan and Brian, not Jeremy and Alex) in Fairmont, West Virginia.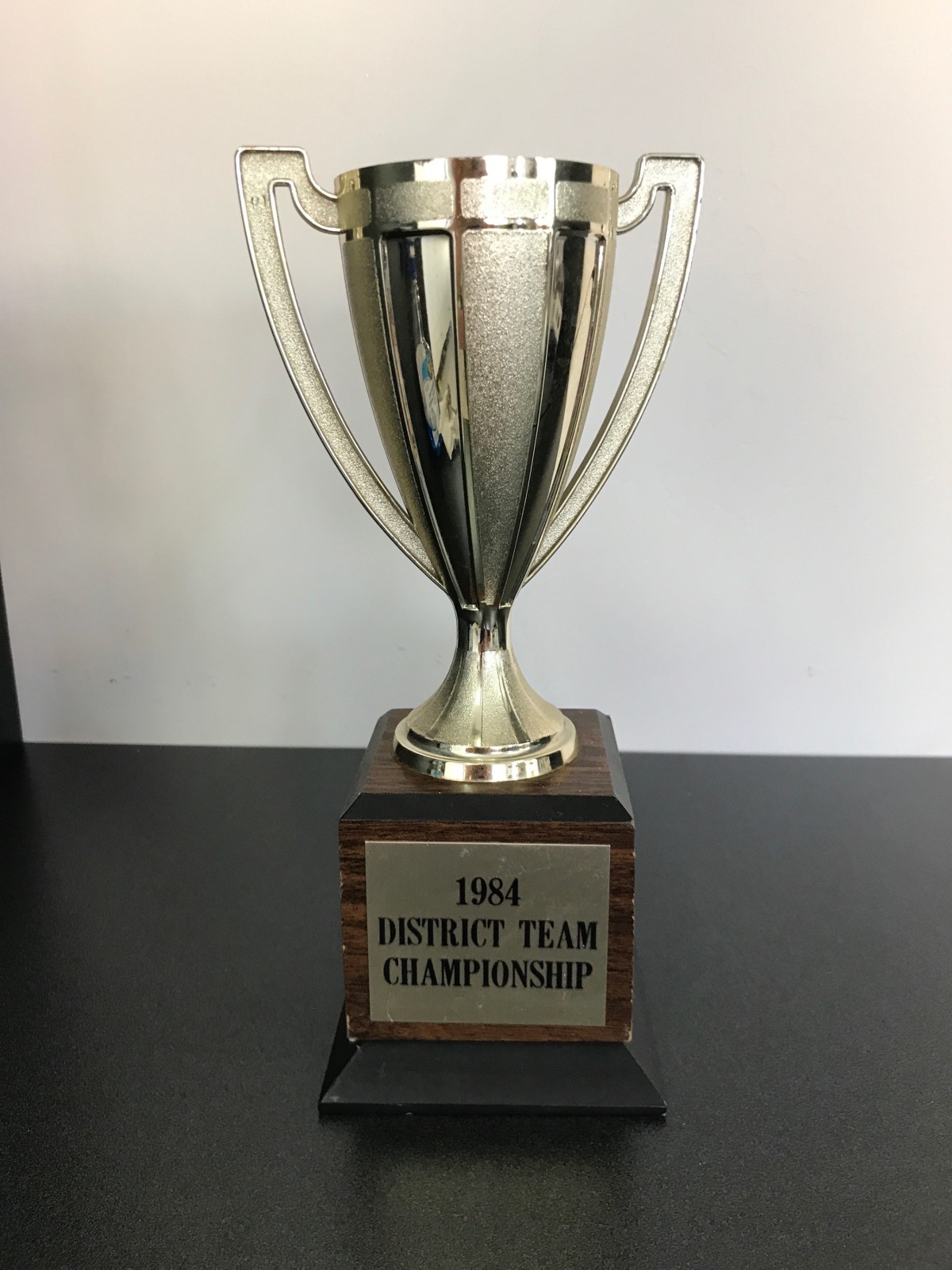 Had the trophy been around for the first Loretta Lynn's in 1982 it almost certainly would have gone to the Michigan Mafia, which boasted class winners Eddie Warren (two titles), Keith Bowen, Greg Bowen, Mark McLaren, David Tambling, Sanford Buchalter, and Lisa Wagner. Michigan was the same state that cleaned up at the 1981 AMA Amateur National Championship that was held at RedBud in Michigan itself, so it was no surprise that the state known for the Team Dynamic juggernaut would dominate the first Loretta Lynn's.
The first year for the trophy was '83, and it was won by Ohio, which included future GNCC Champion Fred Andrews, Jeromy Buehl, Bryan Smith, Todd Gephart, Tina Clary, and John Kurtz. The second year it went to Button and friends from Arizona.
In order for Arizona to win in 1984, Button won the 85cc (7-11) Stock class on his factory Honda, while his teammate Shaun Kalos won 85cc (12-13) Stock and the 125cc Schoolboy (12-15). Bruner was second and Naughton fourth in the 125 B Modified. Finally, Mason finished fourth in the Pro-Am class. It was the one and only time Arizona ever won the AMA National State Cup.
Michigan would win for the first time in '85, by which time Eddie Warren and Keith Bowen were factory pros at Kawasaki and Yamaha, respectively. But Greg Bowen was still there, as was Lisa Wagner, and they were joined by Brian Swink, Jeff Beckington, John Kitsch, and Andy Michner.
In '86 North Carolina and South Carolina were somehow united as one team (no idea why) and that meant Damon Bradshaw (NC) and "Hammerin'" Hank Moree (SC) would be teammates and winners, along with Robbie Neeley, Timmy Barnes, and Patrick Slate.
The '87 California team that won included two guys that would win multiple professional championships—Jeremy McGrath and Mike Kiedrowski—and one that would win on both AMA Pro Motocross and FIM World Championship levels, Tallon Vohland. In fact, Tallon and his brother Tyson (already a pro by this point) made up the '91 Houston 125 Supercross podium with McGrath, Tallon on top.
The '88 Michigan team that won included the married couple Robert Wagner and Lisa Akin-Wagner, with Lisa winning the Women's class and Robert getting a runner-up in the Junior +25. Coincidentally, the next year (1989) saw California win again, and Akin-Wagner's lifelong rival Mercedes Gonzalez was on that team with the Women's win, as well as her future husband Derek Natvig, who won the 125 B Mod class. That team also included future two-time AMA 125 Pro Motocross Champion Steve Lamson, Four-Stroke Champion Spud Walters, Suzuki factory rider Craig Decker, Ryan Carlisle, and Ray McIntosh.
Florida finally won the 1990 State Championship, showing a trend in the future balance of power in amateur and soon professional motocross. Among the winners here was Tim Ferry, Kevin Foley, Todd Gardner, TJ Brantley, and 65cc rider Ricky Carmichael. In fact, Florida would also lead in 1991 and 1992, as Ferry, Foley, and Carmichael were often at the front of both of their classes.
California got the trophy back in 1994 with young phenom Bobby Bonds, future 125 SX winner Casey Johnson, future pros Chris Wheeler and Shaun Perolio, and Women's Champ Cindy Cole. The Golden State would hold on to the trophy for three years, with Mike Alessi, Casey Lytle and Jason Abbott joining he lineup in '95, and Billy Payne and Bryan McGavran in '96.
The 1997 Florida lineup was a good one—they needed just three riders' finishes to outdo everyone else. Those three riders were James Stewart, Davi Millsaps, and Costa Rican transplant Ernesto Fonseca. All would become 125cc Supercross Champions, and in Stewart's case, AMA Supercross and multi-time Pro Motocross Champion.
The 2000 Florida lineup was also strong: Stewart, Millsaps, Ron Tichenor, Jessica Patterson, Ricky Renner, and Ryan Davis.
Florida would go on to win several more times, most recently in 2007, when young Adam Cianciarulo was just getting into the junior minicycle mix, and the state claimed two top girls in Tarah Gieger, and Kiara Fontanesi, though Gieger is actually from Puerto Rico and Fontanesi is Italian. That was Florida's last win—or anyone else's, for the matter, other than California.
California has practically had a lock on the trophy for much of the last 10 years, having taken the State Championship in 2002, 2003, 2008, 2009, 2010, 2011, 2012, 2013, 2014, 2015, and 2016. Being packed with current young stars like Jett Reynolds, Maximus Vohland, Stilez Robertson, Ryder DiFrancesco, Carson Mumford, and Aiden Tijero has helped California, not to mention recent graduates like Thomas Covington, Sean Cantrell, Ryan Surratt, Justin Hoeft, and Jon Ames, plus Vet class standouts like Doug Dubach, Michael Sleeter, and Kevin Foley. Yes, the same Kevin Foley who used to regularly appear in the Florida lineup has since moved to California, where he works in the motorcycle industry. His name first appeared on the State Champions trophy in 1990, and then again in 2013, 23 years apart!
But that's not the record Foley is most known for. Instead, the 10-time champion has the record for most years apart in championship wins. He first win as a rising star from Florida in 1983 in the 250 A Modified and Open A classes; his most recent win came three decades later in the Masters +50 class. That's a record that's going to be tough to beat.
Finally, last year's California State Champions: Mitchell Falk, Ryan Surratt, Arik Swan, Terry Bostard, Hunter Yoder, Jett Reynolds, Dilan Schwartz, and Joe Shimoda. All told, in the 35-year history of the Loretta Lynn's National Cup State Team Motocross Championship, California has won 22 out of 35 times.
---
PREVIOUS ENTRIES