Hurricane Mills, TN
Rocky Mountain ATV/MC AMA Amateur National Motocross Championship (Loretta Lynn's)
Amateur National Motocross Championship
As we count down the 36 days until the start of the 2017 Rocky Mountain ATV/MC Loretta Lynn's AMA Amateur National Motocross Championship, we are going to look back at each year in the history of the event. Today we look back at 2001.
The Cycle News coverage for the 2001 AMA Amateur National Motocross Championship at Loretta Lynn's in 2001 started out like this:
"Team Green's James Stewart went to the Tennessee home of country music legend Loretta Lynn for the 20th Annual AMA Amateur National Championship and proceeded to break some of her most prized records. Stewart, the 15-year-old prospect from Florida won his 10th and 11th career titles…"
That was how James Stewart graduated from Loretta Lynn's, winning the 125 A Class and the 125 Modified (12-15) Class on Kawasaki KX125s. He put a beat down on the field in all six of his motos that week, blowing minds with his speed on a 125, just one year after doing likewise on minicycles. With it, he left the event with the all-time title record (at the time) and it was clear that he was going to turn pro as soon as possible, which he did after his 16th birthday on December 21 of that year. Two weeks later he finished second in his 125SX debut at Anaheim. The following week at San Diego, he won his second-ever professional race. Needless to say, pretty much everyone in the sport—and especially at the ranch that week—saw it coming.
What we didn't see coming were some of the other young stars that would be overshadowed by the sheer speed and charisma of the young Stewart. Take Andrew Short, for instance. Another Team Green rider, he won the 125 A Pro Sport class over Ryan Morais—the same Ryan Morais who was beaten by Stewart in the 125 A class. Shorty, who hailed from Colorado, was a going to public high school at the time and didn't really seem like someone who would end up having a long and successful career as a professional, but that's exactly what happened. In fact, there was more buzz about California's Morais than Short, as he was headed to Jeremy McGrath's Chaparral Yamaha team to be his pupil. Unfortunately, Morais broke his wrist in practice at the first supercross race of 2002 and the injury stuck with him for some time.
The 250/Open Pro Sport winner was Josh Woods of Michigan, who took two of three moto wins, losing only to Short. He would go on to a factory ride with Red Bull KTM. Other kids who would win titles that ended up as factory riders from the ranks of the 1,344 that attended Loretta Lynn's that year included Josh Hill (85cc Stock 7-11), Mike Alessi (85cc Mod 9-13), Broc Hepler (85cc Mod 14-15), and Josh Hansen (250/Open B Mod).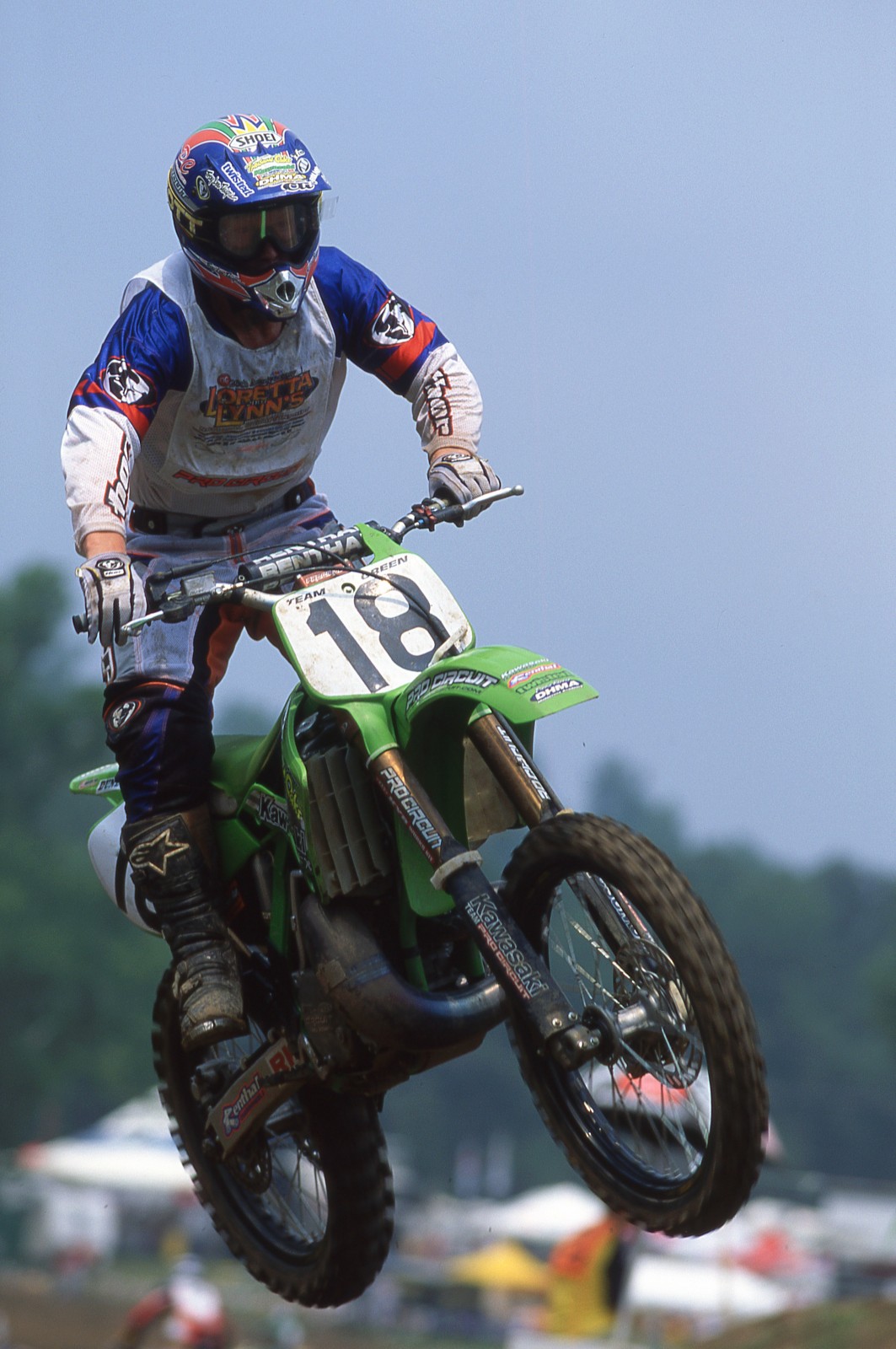 There were some kids who didn't win at the Ranch that year but would end up winning races as professionals, including Ryan Villopoto, Josh Grant, Eli Tomac, Blake Baggett, Josh Grant, Davi Millsaps, Broc Tickle, Austin Stroupe, Will Hahn, Ryan Sipes, Tommy Hahn, Justin Hill, Malcolm Stewart, Zach Osborne, Matt Goerke—all of them would win either an AMA National or AMA Supercross main event.
And then a result that's one of those one-liners in the Loretta Lynn's Vault that's just really cool to spot:
125 B Modified
13.) Kurt Caselli (14-10-18).
14.) Ryan Sipes (5-37-5)
The two would go on to become the highest-finishing American riders in the history of the International Six Days Enduro, with Caselli setting a standard by finishing second, and then Sipes becoming the first American ever to win the overall in 2015, then dedicating that win to the late Caselli, who died in November of 2013 while racing the Baja 1000 in Mexico.
(Also of note, Taylor Robert then won the ISDE as an American last year—he also raced Loretta's from 2001 through 2006).
Because this marked the 20th year for Loretta Lynn's, it's also interesting to look at how much things were changing in the sport. Four-strokes were getting into the race, with New Jersey's Brian Carroll winning the now ironic Four-Stroke Class over Chad Lough and Eddie Ray. Vet Class racing was on the rise, with five different divisions compared to just one in 1982. Among the winners were eventual all-time record-breaker Kevin Walker, and John Tomac, Eli's father and already a mountain-bike god. There were two women classes instead of one, with wins by Leah Cantrell (Women 80-105 12-15) and Stefy Bau (Women 105-125 and up). And for the first time ever, a girl was on the cover of the event program, and not Loretta Lynn: it was Jessica Patterson. Gone were the 100cc classes—people had quit making those models long ago—replaced by 105cc Superminis. And 250F motorcycles were just starting to come online.
And here's a fun comparison: Take a look at the first names of the top 10 riders in the 51cc (7-8) class, 20 years apart and notice how they have evolved just like the event. And 10 years later in 2011 we would see names like Ryder DiFrencesco, Jett Reynolds, and Axl Jones on the entry sheet.
| | |
| --- | --- |
| 1982 | 2001 |
| Butch | Shawn |
| Davey | Blake |
| Jeff | Luke |
| Michael | Grant |
| Brian | Landon |
| Jason | Cody |
| Todd | Frank |
| Eric | Tyler |
| Chad | Eli |
| Gary | Justin |
Two-thousand-and-one was definitely a year for transition at Loretta Lynn's Ranch, but the star above it all was James Stewart, for the last time as an amateur.
---
PREVIOUS ENTRIES