Hangtown Motocross Classic
Rancho Cordova

,

CA
Hangtown
Lucas Oil AMA Pro Motocross Championship
We're counting down the days to the start of the 2017 Lucas Oil Pro Motocross opener at Hangtown on May 20, with a look back at some of the most memorable motos in AMA Motocross history. This summer, you can watch all 24 motos on all of your devices on NBC Sports Gold. Today, we're looking back at the day the Stewart/Reed rivalry began.
It's the motocross version of trash talk, and the start of the greatest rivalry in the history of the sport. The 2002 125 National Motocross Championship was billed as a four-way battle between 2001 rivals Grant Langston and Mike Brown, and newcomers Chad Reed and James Stewart. Stewart was the much-hyped rookie, but Reed had finished second in the '01 250 GPs—the premier class—and would race the potent Yamaha YZ250F four-stroke, while everyone else was on 125s. Reed won the 125SX East Region Championship in dominant fashion, while Stewart was plenty fast in 125SX West Region, but crashed the title away, allowing Travis Preston to grab the championship. Still, when the Dave Coombs. Sr. East/West Shootout kicked off, it was Reed vs. Stewart that everyone wanted to see. At that race, Stewart got the start and won, while Reed had to come from behind, and took second.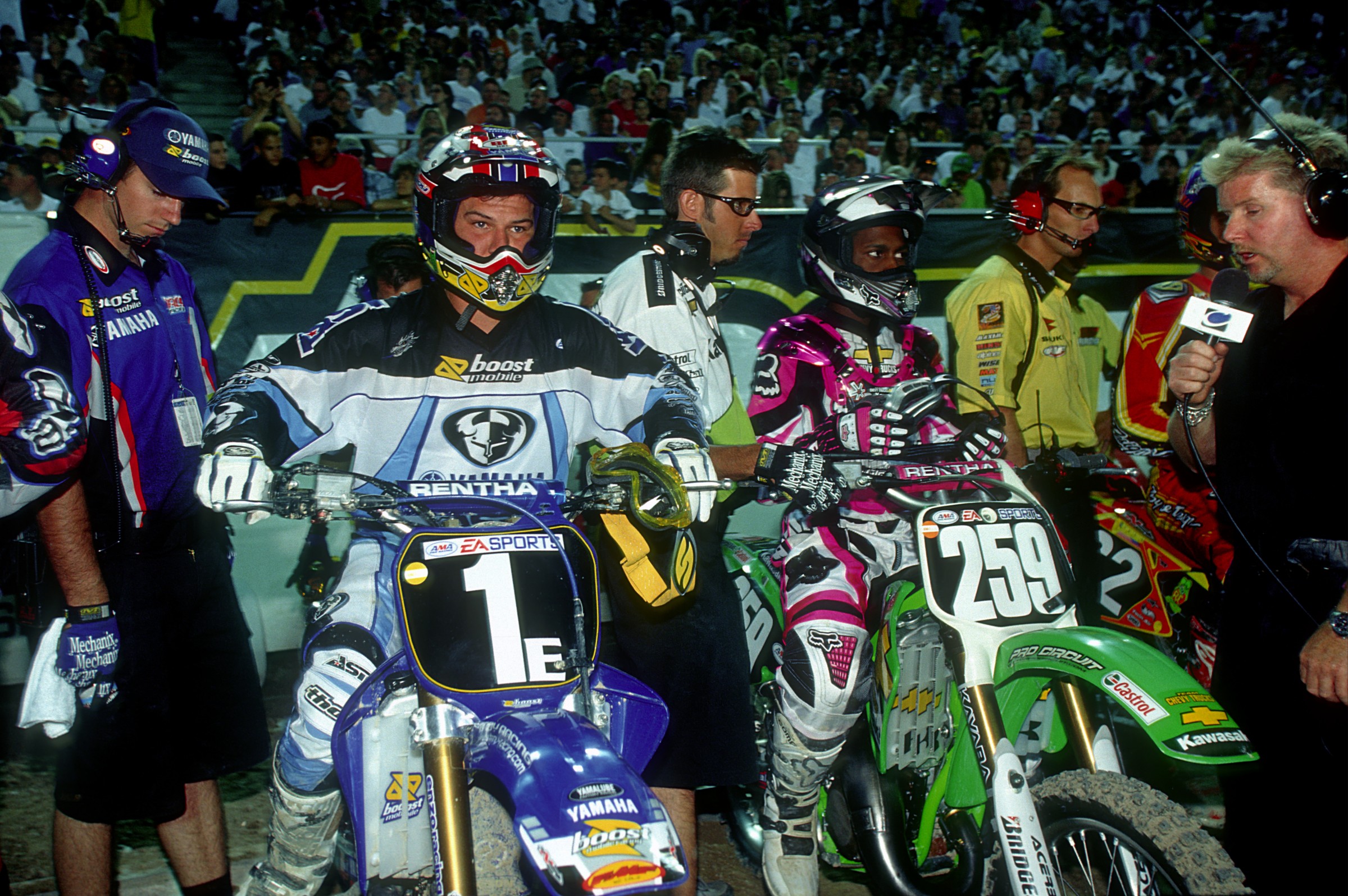 Langston and Brown soon went out of contention in the Nationals with knee injuries, which left Reed and Stewart to battle outdoors. Stewart had a bad race at High Point due to his own knee problem, and Reed took the overall, but then Reed crashed and busted his shoulder at Southwick. Stewart soon got on a roll, winning Budds Creek, RedBud, and Kenworthy's. By the time the series reached Unadilla, Stewart had a big points lead and was establishing some dominance. Somewhere along the way, though, Reed commented that he needed to just start with Stewart to battle with him.
Stewart, apparently, disagreed.
Recommended Reading
So in the first Unadilla moto, Stewart quickly jumped to the front again, while Reed had to clear Eric Sorby to take over second. Then Stewart, oddly, started slowing, and Reed started to close the gap.
"Yeah, he was doing 2:14s earlier and Bubba's doing 2:17s now, so obviously he's slowing down for something," said Stewart's mechanic Jeremy Albrecht to ESPN pit reporter Cameron Steele. "I can't really tell why. I don't know if he has arm pump or something."
Stewart kept slowing and Reed kept closing, and then Stewart practically waved Reed into the lead on the landing of Unadilla's Gravity Cavity jump. A few turns later, Stewart wicked it back up, closed to Reed's fender, then repassed him and took off with the lead again.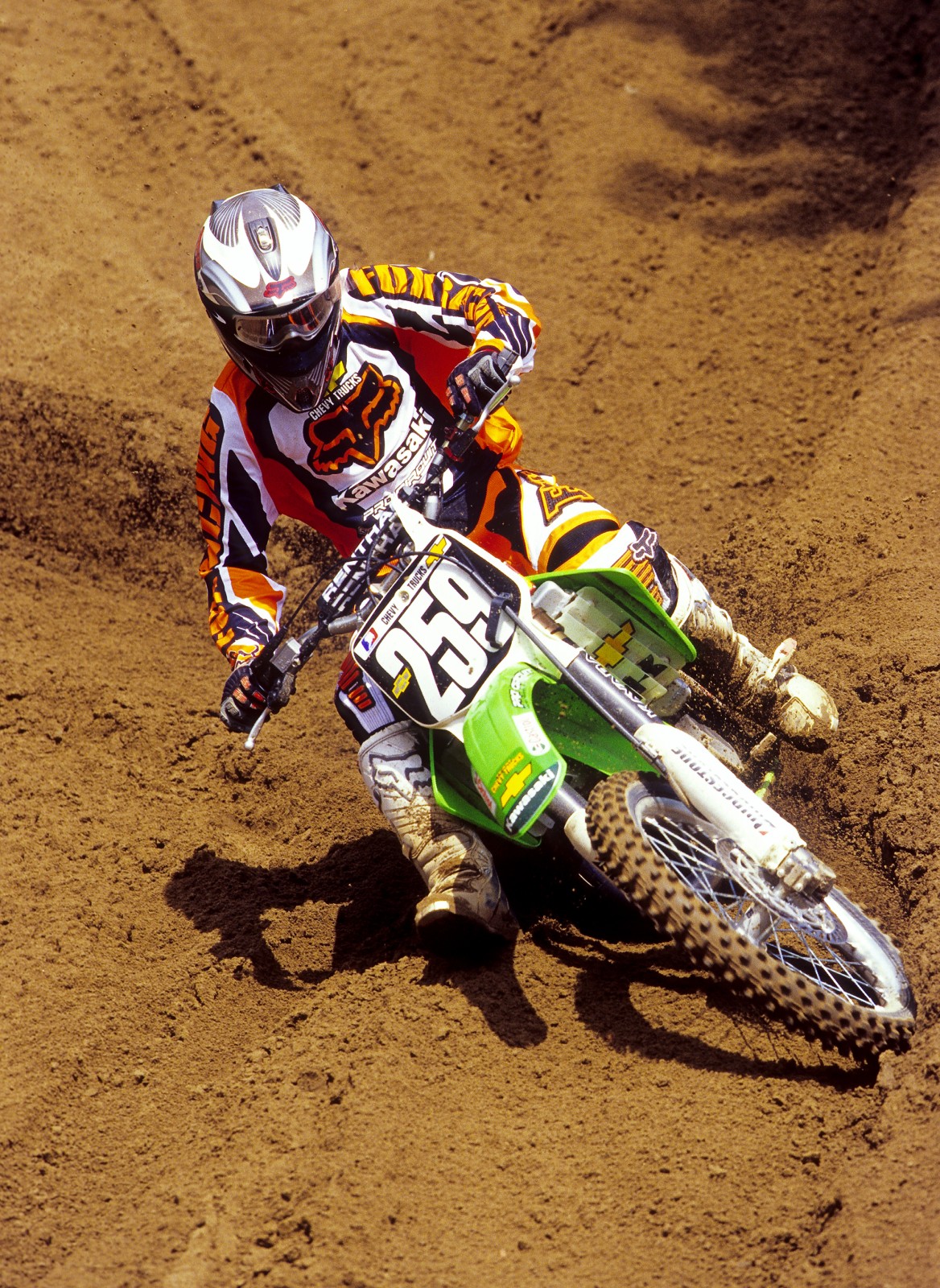 Stewart had purposely let Reed catch him, just so he could repass him and prove he was faster.
"Chad Reed must be like 'What the…?'", said ESPN color commentator David Bailey. Stewart made his point, pulled back away from Reed to win by a comfortable margin.
"Stewart's just saying 'Go ahead. Go ahead,'" continued Bailey. "You're bad? All I keep hearing about is how you're going to beat me if you get the start. They're way ahead of third right now, maybe Stewart is saying 'Go ahead, we'll see.' That can be looked at as cocky or condescending, but you know what? It's racing. It's a war."
"I've been getting really good starts and everyone has been saying that Chad Reed can beat me straight up and I just wanted to prove to everybody that he can't do it," said Stewart. "I was having a good time out there!"
It was a remarkable display of confidence from Stewart, especially considering he was still a rookie. It was such a victory from a mental standpoint that many predicted it would be the last word on a Stewart/Reed rivalry. "If he pulls away and he beats him and he wins this moto, Reed will never beat Stewart again," Bailey said.
Bailey, and the rest of the world, wasn't aware yet that Reed was one of the proudest and most stubborn athletes to ever rider a dirt bike. In fact, somehow in his post-moto interview, Reed managed to perform his usual mental gymnastics and still blame getting stuck behind Sorby at the start.
"We were running about the same lap times," Reed said of he and Stewart, just moments after being passed and dropped.
Reed's stubbornness would pay off, though. The next weekend the series visited Millville, Minnesota, and Reed beat Stewart straight up in the first moto. Reed had taken his beating, but just when it seemed like Stewart finally had broken him, he found a way to scratch out a win. Stewart won moto two for the overall, but Reed proved he could take a punch and come back swinging.
Thus Unadilla started the longest-running rivalry in the history of the sport. Fifteen years later, we're still not sure if we've seen the last of it!
Unadilla Motocross - 125MX
Full Results
---
Previous Entries