Hangtown Motocross Classic
Rancho Cordova

,

CA
Hangtown
Lucas Oil AMA Pro Motocross Championship
We're counting down the days to the start of the 2017 Lucas Oil Pro Motocross opener at Hangtown on May 20 with a look back at some of the most memorable motos in AMA Motocross history. This summer, you can watch all 24 motos on all of your devices on NBC Sports Gold. Today, we're looking at the 2003 Budds Creek National and the beginning of the Bubba Scrub.
"One of those orange bikes cut me off and I went off the course," said Team Chevy Trucks Kawasaki's James Stewart after he crashed just off the starting gate at the start of the 2003 Budds Creek National. It was the fifth round of the AMA 125cc National Motocross Championship, but the first time Stewart had appeared—he crashed spectacularly in the Las Vegas SX finale and broke his collarbone. Seven weeks later he was back on the bike, and he was incredible. In an astonishing turn of events, Stewart went from dead last to the lead, and he did it well before the moto was over.
"I'm just so pumped. I didn't expect this," said Stewart after his masterpiece of a moto to Cycle News contributor Pat Schutte. "Coming back for my first race I was just hoping to get into the top five, maybe salvage the overall, and next thing I know I just started clicking off laps, never got tired or nothing."
And along the way he put a new jumping technique on full display, his game-changing "Bubba Scrub" that left no less an authority than David Bailey speechless. It may have been the ride of his life. And this was only his second season as a professional rider.
In the first moto that afternoon, which Stewart absolutely dominated, color analyst and all-time great David Bailey turned to host Todd Harris, "He's going so fast, Todd, it's to the point where the track won't even allow him to do what he wants to do out there." At the halfway point in the moto, Stewart was a ridiculous 35 seconds ahead of everyone—and this was his first outdoor appearance since the previous September. Even after slowing down at the end of the moto, he was 47 seconds ahead of KTM's Grant Langston at the finish on his Jeremy Albrecht-tuned KX125.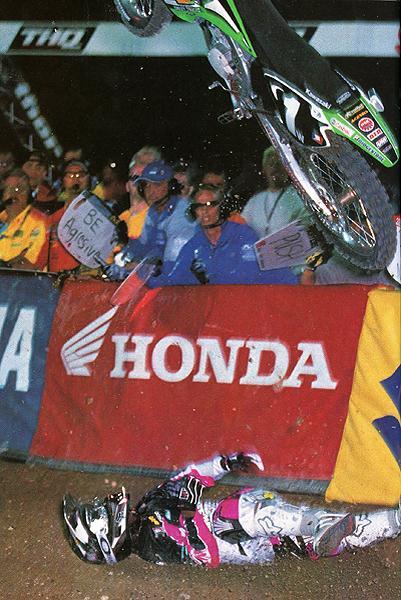 But it was the second moto that was truly one for the ages. At first it seemed like another disastrous crash like the one that he ended supercross with, but after dusting himself off for a few seconds, he got to his feet and then his bike and got going. Suggested Bailey: "He will turn this into a challenge, like a video game, see how many guys he can pass…"
The answer would come within 15 minutes: All of them. In a mind-boggling display of speed, aggression, and just pure fun, Stewart blitzed the field so quickly and convincingly that those of who were there had our collective minds blown. "This kid is special," added Bailey. Among the guys he was picking off in seemingly twos and threes were very fast riders like Mike Brown, Andrew Short, Michael Byrne, Brock Sellards, Steve Boniface, and more.
"He goes wherever he wants on the racetrack because his balance is so good," observed Bailey, who almost laughed when Stewart executed a ridiculous pass on then-Motoworld Suzuki rider Andrew Short as they exited a hairpin corner.
"You see the way he approached that jump, laying the bike over, almost dragging the footpeg? You lay the bike over like that off the takeoff and you don't get any height. He stays lower than anyone else."
Responds Harris, "There's things he does you can't teach!"
"I know our producer is like, 'Okay, he's in seventh!' and by the time those (cameramen) find him he's already passed three more. I'm amazed that we have this much footage of him right now because you usually follow the lead of the race, but he's moving up through the pack faster than anything I've ever seen." That's David Bailey talking, and that's saying a lot.
It's at the 40:13 mark that Bailey, the four-time AMA Supercross/Motocross Champion and arguably the most stylish rider in American motocross history, is stunned by Stewart's new jumping technique, which he deploys atop Henry Hill, which was running backwards on this day.
"If that was Mike Brown making that pass there might have been a touch of contact, and when James passes you he's so … OH!" Bailey shouts when he sees Stewart scrub the apex of the steep hill and land halfway down the backside of it. "All right, I gotta, what?! I've got to see that again!"
"You said this earlier, that was fun to him like a video game," laughs Harris. "Well, if this video game is for sale I think most of America is going to buy it!"
"You know what?" responds Bailey. "I don't even know what I was saying … the crowd's not even making noise; they are in shock."
David was right, everyone was in shock. And if they didn't believe their own eyes they could believe the stopwatches: On a steep, hilly track Stewart's lap times were the fastest of anyone, including the 250s and 450s in the other class, which included Ricky Carmichael, Kevin Windham Chad Reed, David Vuillemin, Stephane Roncada, and more.
The last man that Stewart passed was the leader from the start, Yamaha of Troy's Ivan Tedesco. It didn't take long. Said the future champion Tedesco of Stewart, "He was riding unbelievable. He's on another level than everyone else. He's in a league of his own."
James Stewart was 17 years old at this point in his career. In the June 25, 2003 issue of Cycle News, which covered the Budds Creek event, contributor Pat "Shoots" Schutte closed a sidebar interview with Stewart by asking what he had learned from his injury experience in Las Vegas.
"I've learned (that) crashing sucks," responded Stewart. "Learned to focus better. I think I'm a lot more focused mentally now. When I was hurt I had a lot of time to think about it, so we should see the new James Stewart back out there, just trying to ride smart."
Motocross
| | Rider | Hometown | Motos | Bike |
| --- | --- | --- | --- | --- |
| 1 | James Stewart | Haines City, FL | 1 - 1 | Kawasaki |
| 2 | Grant Langston | Durban | 2 - 3 | KTM |
| 3 | Ivan Tedesco | Albuquerque, NM | 6 - 2 | Yamaha |
| 4 | Mike Brown | Gray, TN | 5 - 5 | Kawasaki |
| 5 | Eric Sorby | Corona, CA | 7 - 6 | Kawasaki |
| 6 | Steve Boniface | | 3 - 12 | KTM |
| 7 | Brian Gray | Saint Augustine, FL | 11 - 7 | Suzuki |
| 8 | Daryl Hurley | | 14 - 7 | Suzuki |
| 9 | Andrew Short | Colorado Springs, CO | 9 - 14 | Suzuki |
| 10 | Brock Sellards | New Philadelphia, OH | 38 - 4 | Yamaha |
Full Results