Rancho Cordova, CA
Hangtown
Lucas Oil AMA Pro Motocross Championship
We're counting down the days to the start of the 2017 Lucas Oil Pro Motocross opener at Hangtown on May 20 with a look back at some of the most memorable motos in AMA Motocross history. This summer, you can watch all 24 motos on all of your devices on NBC Sports Gold. Today, we're looking at 1999 season opener at Glen Helen.
It was one of the most epic weekends at the races for one rider—but surprisingly, it never happened again.
For 1999, Team Honda readied a massive attack on the AMA Supercross and Motocross scene, determined to return to the top of the sport, which is where it stood before Jeremy McGrath left before the 1997 season. The brand added 125 supercross champions Kevin Windham and Mickael Pichon to the team, as well as Sebastian Tortelli, the Frenchman who had beaten Stefan Everts for the '98 250 Motocross World Championship.
The Frenchman made his name over here as the surprise winner of the muddy LA Coliseum race the year before on a Kawasaki and the red riders quickly snatched him up after some epic battles with Everts.
But as with most GP riders, supercross wasn't fun for Tortelli as he finished 12th in the series. He couldn't wait to show the American fans what he was all about when it came to motocross. The opening round of the '99 season was held at Glen Helen Raceway and you could definitely say that the #44 Honda rider felt a tad more comfortable there than he did indoors.
The opening moto of the year took off with Tortelli getting a poor start and then getting caught up in a second turn melee. Windham led with Yamaha's McGrath in second. Jeremy was riding his only outdoor race of the year as he announced he was soon going to a supercross-only deal.
From way, way back, it only took about two laps for Tortelli to appear just outside the top 10. In front of him sat the usual "stacked field" we always see at the opener. None of those riders could hold him back, though. Another couple laps and he was sixth. After another couple of passes, Seb was up to second, and seven seconds back of the leader, McGrath.
Two more laps and he was by McGrath and gone around the 20 minute mark. One moto in America and one win in front of some stunned fans.
"He had never started on a concrete [start] pad before!" his mechanic back then Shane Drew told me recently. "He was for sure outside the top 30. We had just finished getting our ass kicked in the supercross series but all the outdoor testing with the team he was going fast. But you never know where you stand.
"I remember he carried so much more momentum than anyone else. He passed Jimmy Button on the four-stroke up a hill, he blew by riders down the hill and caught McGrath at the end in both motos."
Yes, the second moto might have been even more impressive. First, another poor start for Tortelli as he was just inside the top 20 with McGrath in front again. Tortelli's moto went from bad to worse as he was caught up in a crash with Suzuki's Greg Albertyn and had to wheelie over the downed bike. Tortelli was in 19th going up the first uphill, and commentator David Bailey said, "It's going to be really tough to get to the front for him now."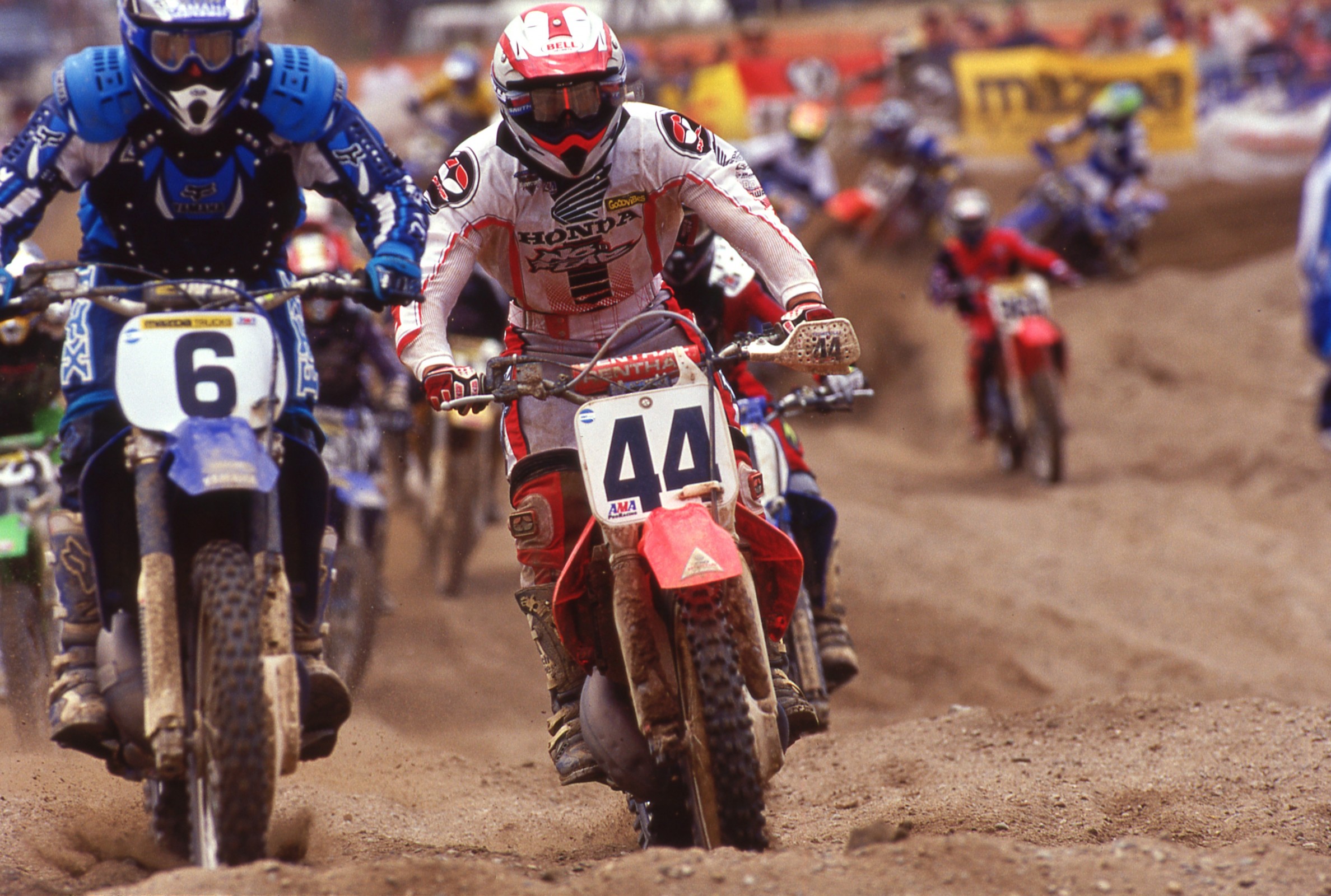 But in a repeat of moto one, the Honda rider started getting busy, carrying speed and finding passing lines around the track. Bailey said, "I don't know if he can catch the leaders, but what a ride."
He did just that yet again. McGrath was out front but developed some bike problems and slipped backwards which helped, but Tortelli's pace from the back was incredible, and he found himself in front again real quickly. It was a tour de force ride and one that this author, who was a mechanic for Tim Ferry that day, won't forget. Tortelli was on another level.
"I have to give 100 percent and try to find some good lines out there," Tortelli said after his 1-1 ride. "I had a hard time with the start, but I've got to work and get better there. I hope I can stay here and all the tracks are different, but I'll try to keep my speed and learn from there."
"He was very happy (after the race) and said 'See this is more me!'" says Drew, who today works for the Monster Energy Factory Yamaha team of Cooper Webb and Chad Reed. "He got terrible starts all year but there were no other tracks like Glen Helen that he could pass that well. He was an animal. Of all the guys I've worked with, that ride stands out as an all-time. I think it was on the level of Tomac rides in 2015 before he got hurt."
Despite repeated bad starts, Tortelli would lead the series points for a lot of that summer, until he collided with Doug Henry at Unadilla and broke his wrist. It was the best chance that Tortelli would ever have over here to get a premier class championship, although he did provide Ricky Carmichael's toughest test outdoors for a couple of years.
That day at Glen Helen, an ESPN pit reporter named Davey Coombs (whatever happened to him?) said of Tortelli before the first moto: "Some say he's the fastest motocross racer in the world. I guess we're about to find out."
Safe to say we did that day.
Motocross
Rider
Hometown
Motos
Bike
1
Sebastien Tortelli

France

1 - 1
Honda
2
Mike LaRocco
La Porte, IN

United States

9 - 2
Honda
3
Mickael Pichon

France

3 - 7
Honda
4
Ezra Lusk
Bainbridge, GA

United States

8 - 3
Honda
5
Ryan Hughes
Escondido, CA

United States

5 - 6
Honda
6
Damon W Huffman
Saugus, CA

United States

10 - 4
Kawasaki
7
Jeff Emig
Independence, MO

United States

7 - 8
Kawasaki
8
Greg Albertyn
Johannesburg

South Africa

6 - 9
Suzuki
9
Robbie Reynard
Norman, OK

United States

4 - 13
Suzuki
10
Jeremy McGrath
Sun City, CA

United States

2 - 19
Yamaha
Full Results