Rancho Cordova, CA
Hangtown
Lucas Oil AMA Pro Motocross Championship
We're counting down the days to the start of the 2017 Lucas Oil Pro Motocross opener at Hangtown on May 20, with a look back at some of the most memorable motos in AMA Motocross history. This summer, you can watch all 24 motos on all of your devices on NBC Sports Gold. Today, we're looking at the day Bob "Hurricane" Hannah took American motocross by storm.
When the 1976 AMA 125cc National Motocross Championships were starting up, it was a foregone conclusion that Team Honda's Marty Smith was going to win. At the time the San Diego-born rider was the best 125cc rider ever seen in America, having won the first two 125cc titles in 1974 and '75, including the last six rounds of 1975. Smith was going for three in a row in '76, as well as an overly ambitious 125cc FIM World Championship in Europe—Honda would fly him back and forth between Nationals and Grand Prix races in an attempt to win both the national and world titles.
But as the opening round of the '76 series at Hangtown approached, a buzz was starting to pick up about another young rider from California, this one practically unknown until that winter. Bob Hannah had been racing for less than two years when Yamaha signed him to a development deal in the fall of '75. Before that he had graduated high school and then began working as a welder in Los Angeles. A former BMXer, Hannah had competed in exactly two Nationals to that point, finishing sixth at the '75 Texas round aboard a DG Racing Yamaha YZ125, but then suffering heat exhaustion and collapsing after the first moto of the New Orleans finale.
"One thing was for sure—I had learned my lesson when I got heat exhaustion in New Orleans and passed out and ended up at the hospital," wrote Hannah in his autobiography Hurricane. "I would never again use air-conditioning in a hotel or rental car; I lived in the elements, no matter how tough. I trained in every type of weather condition. I was never going to get laughed at again. Never!"
Now Hannah was going to be Team Yamaha's number two rider in the 125cc class for 1976, behind Danny Turner. He was dispatched to the Florida Winter-AMA Series in January to prepare for the upcoming AMA Nationals, though he would be riding a 250 there. Hannah blew some minds in Florida, dominating the once prestigious series on a production bike. It was in Florida that Hannah picked up his nickname "Hurricane" from legendary moto scribe and photographer Jim Gianatsis.
When the '76 AMA Supercross Championship started up there were three rounds that preceded the outdoor opener, and Hannah had modest success, finishing 10th at Daytona and then fifth twice at Houston and Dallas. He would ride into Hangtown's old sandpit track at Plymouth, California, with exactly four AMA races under his belt. There he would go up against the mighty Smith, as well as his teammate Turner, Suzuki riders Billy Grossi and Danny LaPorte, Can-Am's Tim Hart, Kawasaki's Steve Wise, Husqvarna's Nils-Arne Nilsson, and more. But everyone knew Marty Smith was going to win.
It was long after the start that Smith established a short but safe lead over Grossi and Turner on the #1 Honda. Hannah wasn't even inside the top 30. What happened over the course of the next nine laps would tip the balance of power in American motocross and resonate for years to come. Deep in the pack, Hannah started picking off riders at will on his water-cooled OW27 works Yamaha. As the dark sand of the Plymouth track grew rougher by the lap, Hannah seemed to get faster and faster. He was bouncing off ruts and berms, feet off the pegs, wide open practically everywhere. Soon he was in the top 10, and then the top five. On the ninth lap, with the crowd going wild, Hannah finally caught and passed Smith—a pivotal moment in motocross history. The surprised Smith tried his best to stay with Hannah, but then a late-race spill foiled any chance of retaking the #39 Yamaha rider. It was a shocking development.
"Within nine of the most amazing laps in AMA 125 history Bob Hannah had his Bill Buchka-tuned liquid flyer in the lead," wrote Cycle News race reporter Jody Weisel in the next week's newspaper. "The crowd was stunned, many had never heard of Hannah, most were programmed to believe in the invincibility of the mighty Marty, and no one, but no one, comes from the back to win against the Pros."
The second moto followed a similar script, only Hannah got a better start. And once he passed Smith for the lead, they began a 20-minute duel during which Smith couldn't get back around Hannah. Then Marty's exotic works RC125 broke down on the far side of the track, leaving the defending champion to walk back through the crowd to the pits after a day of stunning disappointments while Hannah disappeared with the win.
Marty Smith would never win another 125 National. In fact, he was shut out completely in 1976, in part because of Hannah's meteoric rise, and also in part because Honda was afraid his works bike would be claimed by a former teammate, Mickey Boone, so they kept changing the bike he rode to less a expensive one. There was also the going back and forth to Europe thing that was much more of a grind than the rider and the team realized, though Smith did win two GPs that year, Denmark and the 125cc U.S. Grand Prix at Mid-Ohio.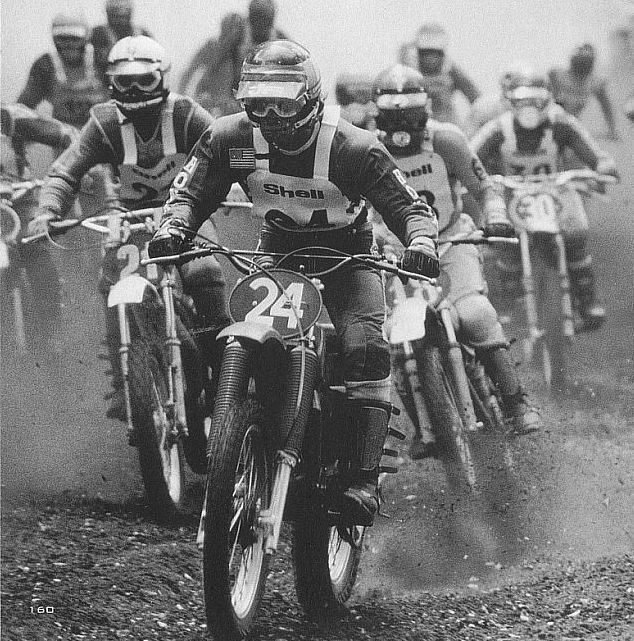 Smith would win the 1977 AMA 500cc National Championship, after another feverish battle with Bob Hannah, but that would be it for America's first motocross idol. Hannah would win the '76 AMA 125cc National Championship, then add five more titles in his own Hall of Fame career, smashing every record that existed up to that point and changing the way riders attacked the track during races and trained during the week. Because in order to keep up with the talented and driven Hurricane, you had to be all-in as a professional motocross racer.
Motocross
Rider
Hometown
Bike
1
Bob Hannah
Whittier, CA

United States

Yamaha
2
Dan Turner
Placerville, CA

United States

Yamaha
3
Billy Grossi
Santa Cruz, CA

United States

Suzuki
4
Mark Tyer
Garden Grove, CA

United States

Yamaha
5
Bruce McDougal
Orange, CA

United States

Honda
6
Mark Gambetta
Santa Barbara, CA

United States

Honda
7
David Williams
Riverside, CA

United States

Yamaha
8
Steve Wise
Mcallen, TX

United States

Kawasaki
9
Marty Smith
San Diego, CA

United States

Honda
10
Marty Moates
San Diego, CA

United States

Suzuki
Full Results