Hangtown Motocross Classic
Rancho Cordova

,

CA
Hangtown
Lucas Oil AMA Pro Motocross Championship
Welcome to the Racer X Race Day Feed from the opening round of the 2017 Lucas Oil Pro Motocross Championship, coming to you from the Red Bull Hangtown Motocross Classic. As with any new season, there are plenty of questions leading into today's racing, which we've been discussing at length all week here at Racer X Online. Today, we'll finally start getting answers to those questions as the 2017 Championship begins shaping up. And right here is where you can follow everything. We'll be updating this page regularly as the action unfolds, so be sure to check back frequently. We'll post in chronological order, so scroll down to the bottom for the latest. For even quicker updates follow us on Twitter, @Racerxonline.
Morning Report
Race day is underway here at the Red Bull Hangtown Motocross Classic, and even though the morning is still relatively young, the temperature is already starting to spike. Standing in the direct sun is enough to make you look around for the nearest shade, and with temperatures expected to peak in the low to mid-nineties, the riders are going to take a beating out there.
The track itself is sure to take its toll on the guys too, as the hills of Hangtown are always notoriously rough and choppy. The layout is generally the same as it always is, and the massive Fly 150 uphill triple jump is back too, although not a single rider (at least none this reporter saw) opted to launch it during practice. Josh Grant did it on press day (Thursday) but came up a little short and ripped his hand off the bars on the landing. He didn't attempt it again. We'll see if anyone opts to hit it during today's motos.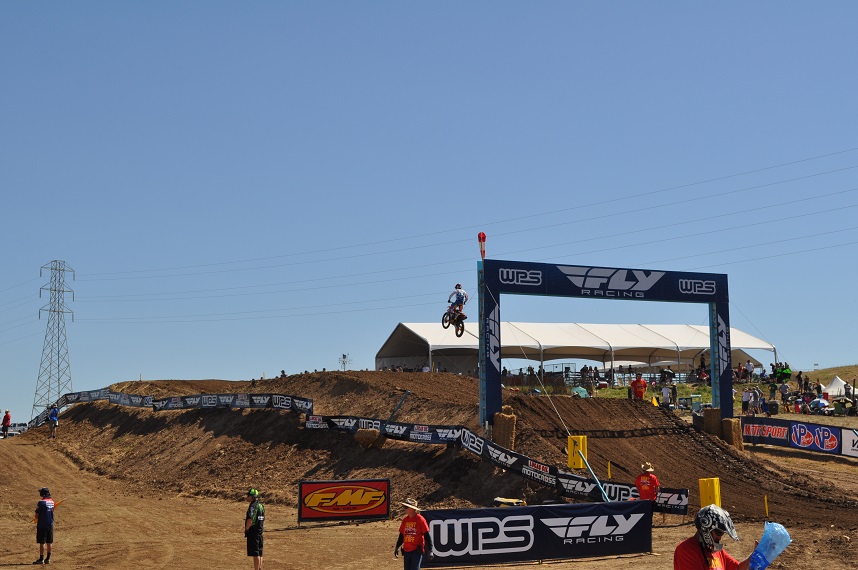 On the injury front we're missing Jordon Smith, who had a big crash at the supercross finale in Las Vegas two weeks ago. Smith tried to ride press day but was experiencing too much pain and made the decision not to race here at Hangtown. On a positive note, we've got a whole bunch of riders, such as Weston Peick, Broc Tickle, Cole Seely, Alex Martin, Jeremy Martin, and more, all returning to racing after suffering injuries during supercross. For a complete list of who's in and who's out, go here. We'll also be missing Ryan Dungey, who announced his retirement from racing last week.
Finally, today marks the first time in quite a while we won't have a defending champ on the line. 450 Champ Ken Roczen is out with injury, and 250 Champ Cooper Webb is making his 450MX debut today.
Practice Report
With Dungey retiring last week, there were plenty of people who seemed ready to hand Tomac the title, but don't worry, there are plenty of riders out there who aren't willing to give Tomac the crown without a fight. We saw a bit of that in the first practice when Marvin Musquin topped the field, besting Tomac by about a quarter of a second. Tomac got him back in the second practice though, dropping his own time by nearly three seconds. Jason Anderson topped Musquin too, notching a time roughly three-quarters of a second slower than Tomac. Webb looked good as well, and although he was off Tomac's pace, he was still fourth fastest overall in his first day of 450MX qualifying.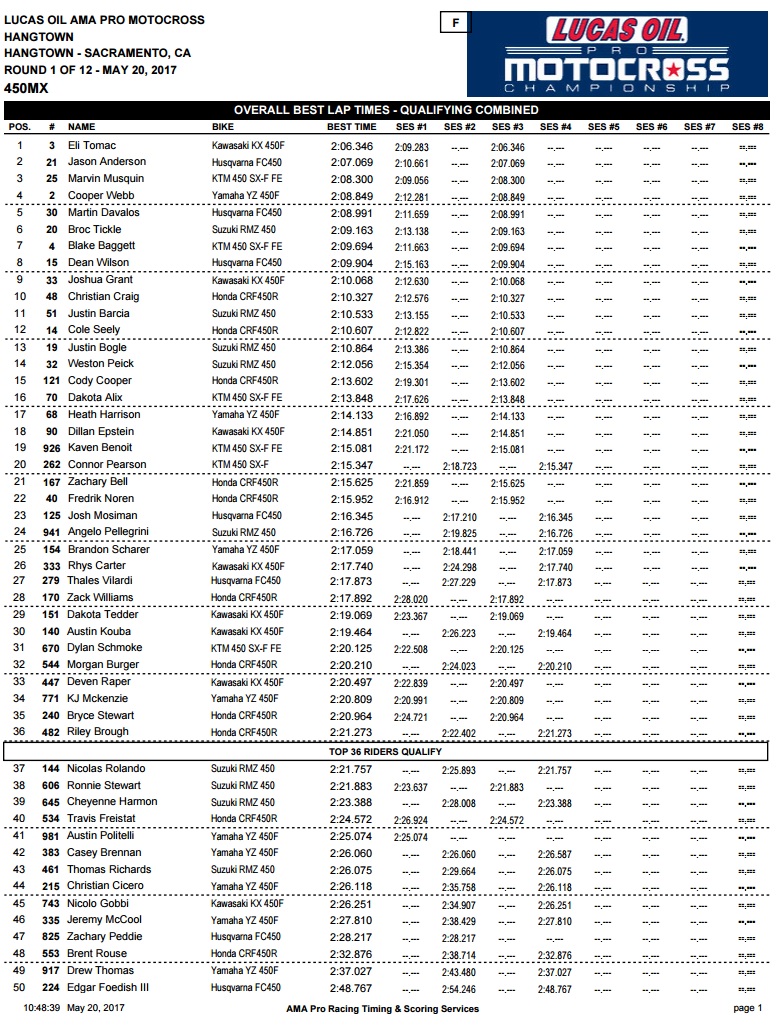 In 250 action it was all Zach Osborne in both sessions, but Joey Savatgy was only 0.166 seconds behind in the first qualifier and Dylan Ferrandis was only a tenth off Osborne in the second. We expected Osborne, who's fresh off a 250SX East Supercross Championship, to be strong, but if qualifying times are any indication of how close the racing is going to be today we're in for quite a show.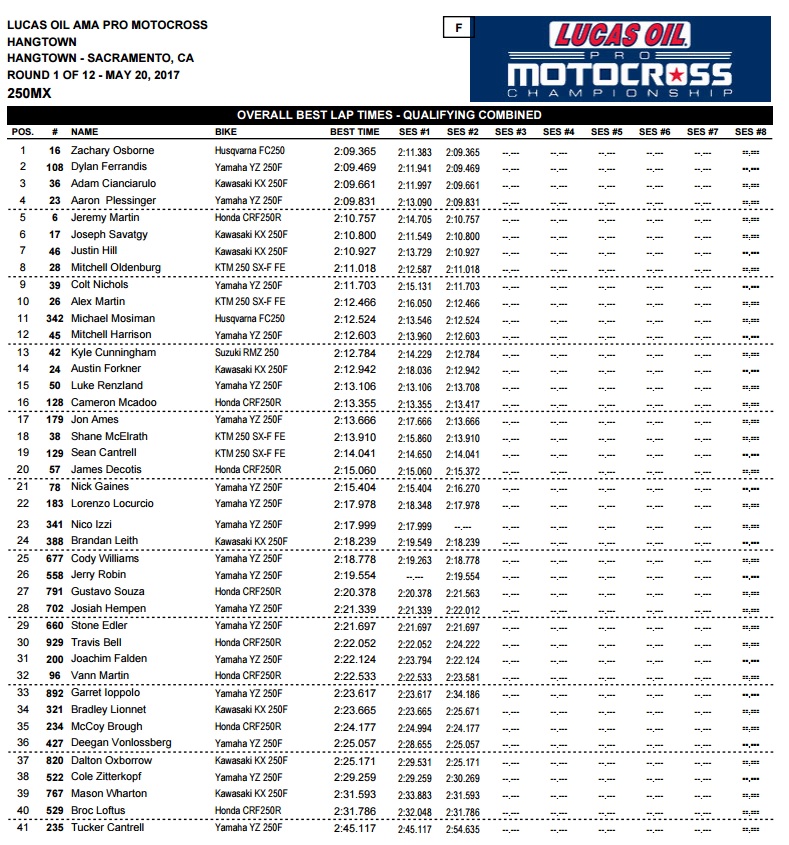 250 Moto One
In the past we've seen some pretty explosive motos at the opener. This particular race doesn't fall into that category, although at least one thing happened that could have a big impact on the rest of the season.
When the gate dropped it was Cianciarulo who shot out of the gate to take the first holeshot of the summer. Behind him was rookie Sean Cantrell, with Osborne not far behind. Joey Savatgy, meanwhile, was buried in about fifteenth and under fire from Kyle Cunningham, who eventually passed Savatgy only to crash late in the race while running tenth. Cunningham wasn't able to get his bike going again and just like that, his moto was ruined.
Back up front Osborne was making moves. He sliced his way past Cantrell early, caught and dogged Cianciarulo for a while, then finally motored by at roughly the halfway point. He'd go on to win the race with a comfortable margin. Aaron Plessinger, who'd worked up to third, started putting a bit of pressure on Cianciarulo, but Cianciarulo was able to stretch it back out and finish in a lonely second, while Plessinger finished third all by himself. Cantrell, who started so well, faded back to tenth. Still not a bad result whatsoever for the rookie.
The biggest news from this moto was generated when Jeremy Martin's bike stopped running. No word yet on what happened, but Martin was visibly, and understandably, frustrated as he walked back to the pits while the race still went on around him.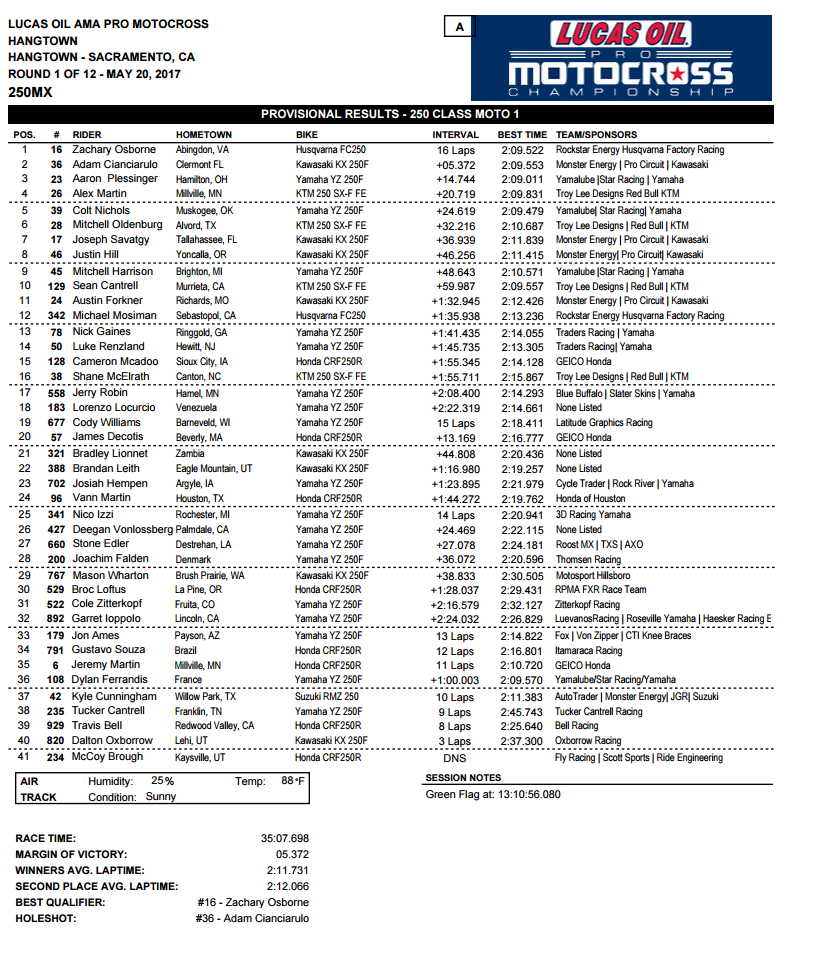 450 Moto One
Christian Craig kicked this one off with a holeshot but his lead didn't last long. In the early stages of the moto Musquin and Craig were battling for the lead and Craig ended up going down when he got cross-rutted. Craig remounted way back and was able to salvage ninth.
Musquin, meanwhile, continued to lead but it wasn't long before the menacing number three of Eli Tomac was stalking him. Tomac didn't wait long before pouncing, and before you knew it, he had a huge lead. He ended up crashing later all by himself, but his lead was so big it didn't matter and he still had fifteen seconds on Musquin when he crossed the line.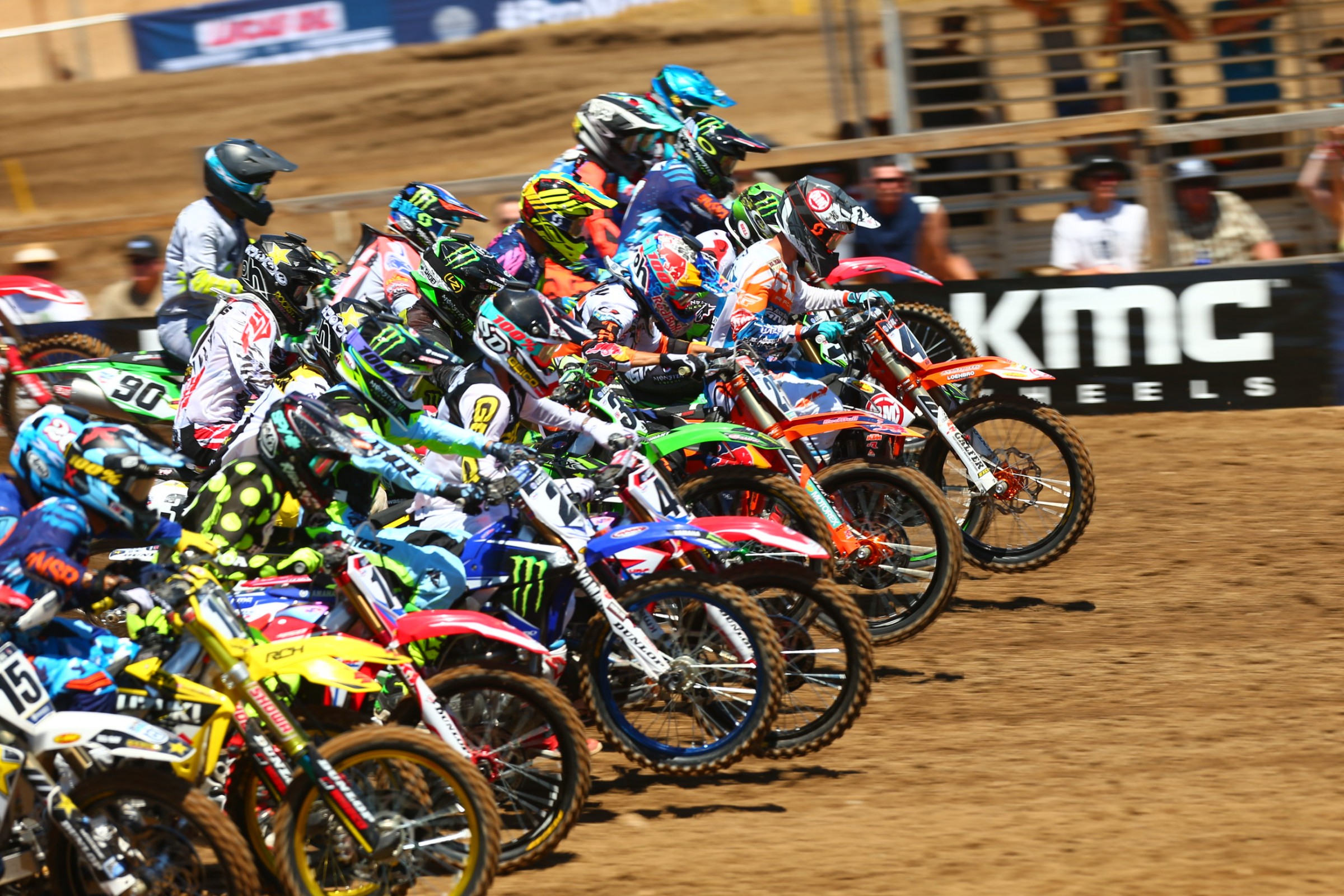 Elsewhere plenty of riders were having trouble early on. Several riders went down twenty feet out of the gate, Justin Barcia went down early, and Dean Wilson had problems and was buried way back in the pack. Credit to Wilson for putting his head down and making his way back up to tenth. Jason Anderson took some roost to the facial area early that somehow opened up a cut, filling his eye with blood and blinding him. He had no choice but to pull out of the moto. We're hearing he's fine and will be good to go for the second moto.
Webb ran third early, but Josh Grant and Cole Seely were able to hunt him down and pass him. Still, fifth isn't bad for your first National on a 450.
250 Moto Two
If you wanted an intense battle for the win in this one, sorry, it didn't happen. Osborne took the lead from Savatgy very early and took off for the uncontested win, authoritatively stamping perfect, 1-1 Husqvarna dominance on the first 250 race of the year.
If you wanted a quiet, slow-building race for second between three racers that mushroomed into a roar toward the end of the race, you're in luck. After motoring by Savatgy, Alex Martin rode alone in second for most of the race until Forkner and Jeremy Martin, who'd both ripped through a sea of Pro Circuit and Star Yamaha riders, caught him late in the race. Alex did his best to hold them both off, but when Forkner, whose broken rear fender was flopping around, got by him with two to go he significantly fell off the pace, leaving Jeremy to chase Forkner. Jeremy was just about within striking distance with one lap to go, but he either got tired or bobbled, which allowed Forkner to stretch out a comfortable lead and take second.
Aaron Plessinger had a good race going early, but after running third for most of the race he seemed to fade slightly and slid back a few spots.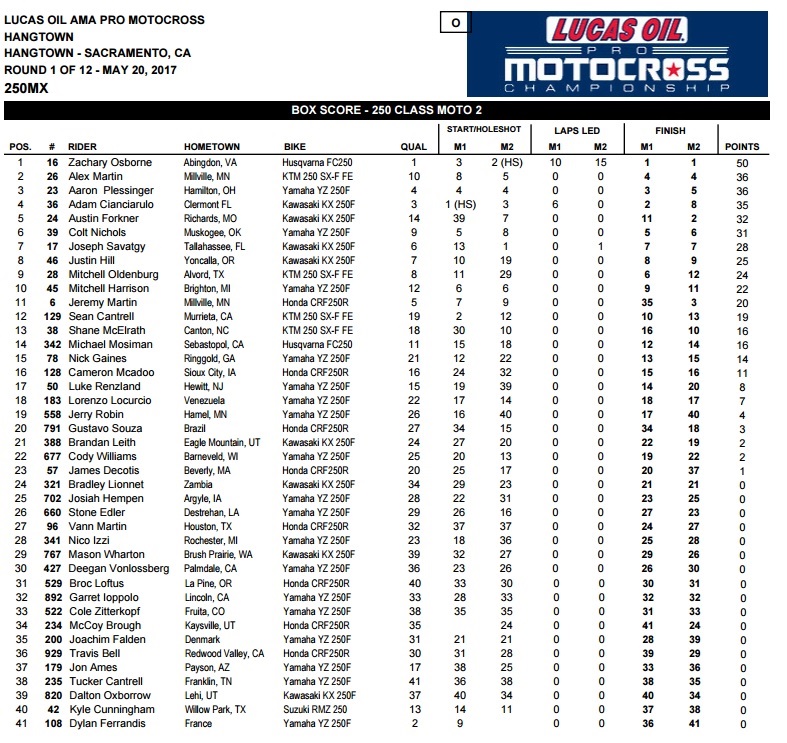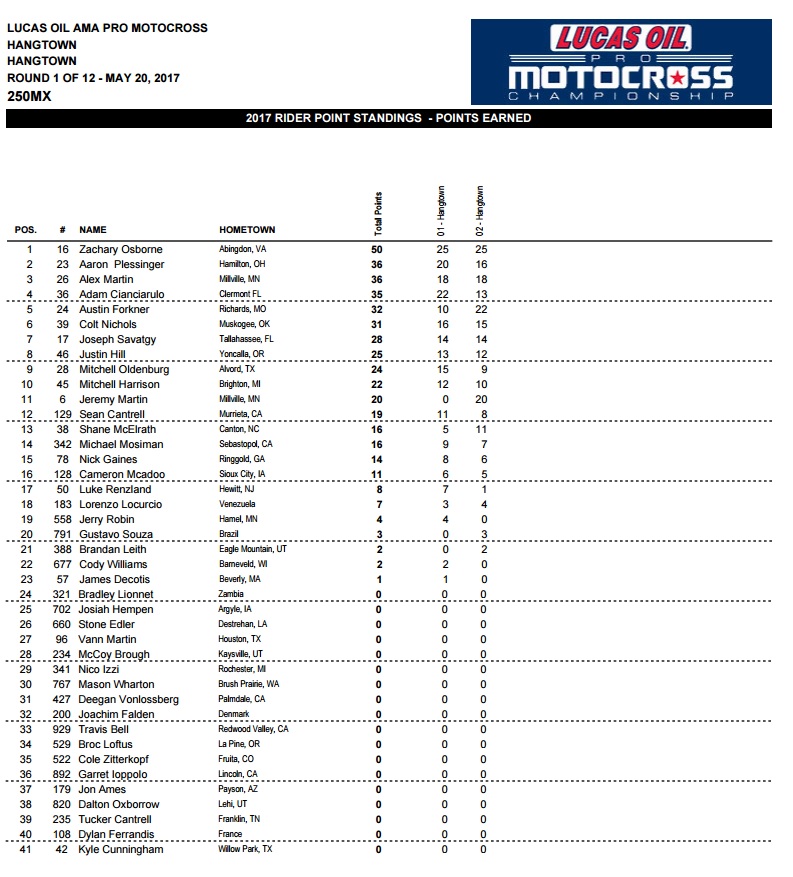 450 Moto Two
If you thought anyone was going to get in the way of Tomac going 1-1 today, you thought wrong. Despite getting a mediocre start and finding himself in about seventh, Tomac dropped the hammer and went to work going after the leaders. Just before the halfway point he was in third, about ten seconds back of Josh Grant, who was leading after nailing the holeshot. As the laps clicked off Tomac continued to take chunks out of the lead, while second-place Musquin steadily reeled in Grant. Musquin nipped Grant and tried to take off, but Tomac would have none of it and when he caught Musquin you just knew he was going to make quick work of him. That didn't happen though, and Musquin fought hard and hung in there for several laps before Tomac finally railed the outside on a left-hander to make the pass. When the two came back into view, the crowd erupted when they saw Tomac had finally passed into first. He checked out and beat Musquin by about nine seconds.
Barcia, Wilson, and Anderson all rebounded from troubles in the first moto. Barcia got a good start and ran fourth for much of the moto, while Wilson came from about seventh to pass Barcia and finish fourth, knocking Barcia back to fifth. After Anderson's bloody eyeball incident in the first moto, he came from a ways back in the second to nab sixth.