When Tom Vialle crossed the line in the first MX2 Race of last Wednesday's MXGP of Pietramurata, he completed the transition Red Bull KTM had envisioned when they signed the then 18-year-old Frenchman just two years ago. At the time, KTM was in the midst of Jorge Prado's back-to-back MX2 Motocross World Championship title runs, and they were already keen to look to the future.
That foresight on the part of Dirk Gruebel, Pit Beirer, and everyone making the decisions at KTM, has built a recipe of success that is unheard of. Since the inception of the MX2 class in 2003, KTM has claimed 15 of the 18 championships available. If not for an untimely Jeffrey Herlings injury and a late-season surge from Tim Gajser in 2015, we'd be looking at the 13th straight occasion of a KTM rider taking home the crown.
In a way, Vialle was one of the biggest surprises of the many champions that have now come through the camp. When KTM signed him in late 2018, it was a bit of a shock. That year, Vialle had raced all but one EMX250 race and only managed eighth in the championship with a sole moto victory. But KTM still saw the potential to button up a few issues with inconsistency and optimize his performance elsewhere.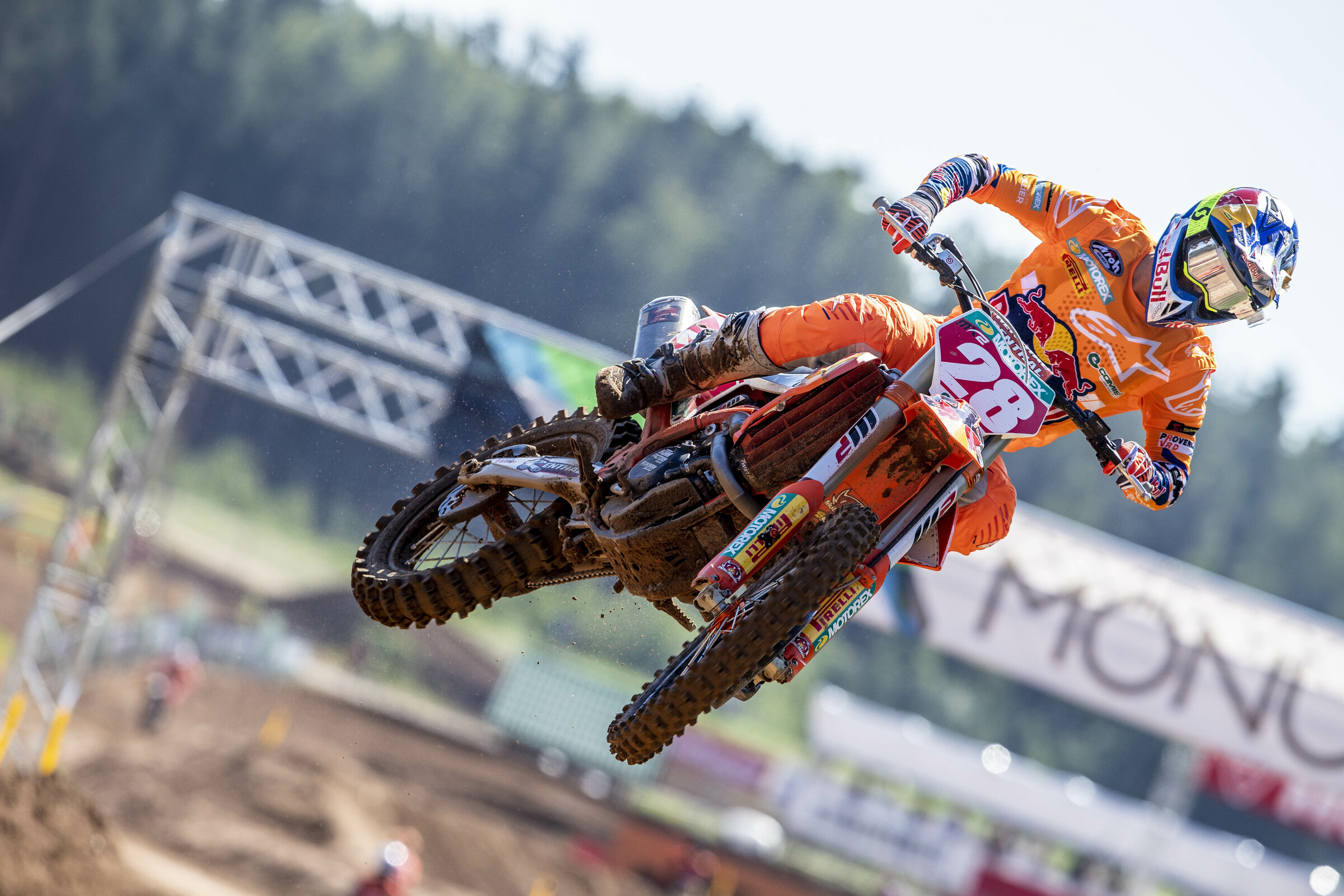 Sure enough, his rookie season began with consistent finishes inside of the top 10 and slowly built to an overall win in Sweden late in the year. Now, in just his second season, he has asserted himself as the man to beat in MX2 after racking up 14 race wins and seven Grand Prix victories on the way to his first World Title. In doing so, he joined a list comprising of Steve Ramon, Ben Townley, Tyla Rattray, Marvin Musquin, Ken Roczen, Jeffrey Herlings, Jordi Tixier, Pauls Jonass, and Jorge Prado as riders to deliver the goods for KTM in the MX2 class.
"I was almost crying on the last lap. There was so much emotion. It was really special," said Vialle on his title clinching victory. "I want to say a big thanks to the whole team and everybody who worked together to make this happen. It was tiring to have a lot of races so close together and also keep the concentration through the training. I think we did it pretty good."
It's not as though Tom Vialle was a total unknown. The son of former Grand Prix star, Frederic Vialle, Tom's upbringing was sure to set him on a great path for success when you have someone who has been there guiding you along. But these success stories are piling up for KTM and it doesn't seem like there's conclusive evidence that another team in the paddock will stop them any time soon.
Sustained championship success like this doesn't happen overnight and it's easy to see when that transition really began. On the heels of Alessio Chiodi's three 125cc titles in a row for Husqvarna from 1997 to 1999, KTM ramped up their program for the dawn of the new millennium. With it, they were rewarded with back-to-back 125cc titles from Grant Langston and James Dobb, respectively. KTM's two-stroke engines were known as big power houses back in those days, but the brand successfully kept that rep going during the switch to four strokes.
The sustained success is not just that of one magical rider coming along every couple of years either. Of those 15 MX2 World Titles, seven of them featured a KTM 1-2 finish in the championship. Often in the USA, we talk of the success Monster Energy/Pro Circuit Kawasaki had while transitioning into the four-stroke era, as they claimed a truckload of 250 Class titles from 2005-2012. Now it seems that Monster Energy/Star Racing Yamaha has fully taken their place as that next great 250 team stateside. Impressively, Red Bull KTM has ruled the 250cc four-stroke division on the world stage for that entire time.
"We are known for having a fast 250—also a 450!" said Dirk Gruebel, Red Bull KTM Factory Racing Team Manager. "But I still think we have the benchmark in MX2 for everybody and Tom is another rider who knows how to make starts with it. It's a really good motorcycle and we've been winning since 2004 with that concept. Tom being the ninth world champion shows its quality."
Earlier this year, KTM's fresh-faced 18-year-old, Rene Hofer, finished second in just his second moto with the team behind Vialle at the British Grand Prix. Unfortunately, the young Austrian would fall to injuries early in the season and not return to action, but the seed has been planted. Now that Vialle has his first championship, the clock is ticking on the next man up for KTM. It appears that weight will land on the shoulders of Hofer.
With a streak this big, it's becoming a matter of "how long will this continue?" rather than an "if they can do it again?" scenario. For KTM, Hofer presents a unique opportunity for an Austrian motorcycle brand to carry an Austrian rider to glory for the first time in the sport's history. At this point, there's no reason to believe that they can't make that a reality. They have not only taken obvious talents like Roczen and Herlings to the top of the MX2 ranks, they've also taken riders who might be considered longshots and have found the same success.
If anyone or any team is going to dethrone them in the coming years, it appears that Monster Energy Factory Yamaha's MX2 squad has the best shot. With riders Jago Geerts, Maxime Renaux, and rookie Thibault Benistant, they have the talent to do it. But they still all have to go through Vialle again next year as the young Frenchman looks to become just the fourth rider to go back-to-back for KTM.
For KTM, the success has been earned as much as it appears like a given. And for Vialle, his dedication to the KTM program has already paid off. When the calendar flips away from 2020 into 2021, the story continues.