Sam Boyd Stadium
Las Vegas

,

NV
Las Vegas
Monster Energy AMA Supercross Championship
When the time comes to write the postmortem on the 2017 Monster Energy AMA Supercross Championship, there will be a lot of second-guessing and armchair quarterbacking about what exactly happened at the top. In a nutshell, did the veteran Ryan Dungey, the two-time defending champion, finally start slowing down a little, or did the streaking Eli Tomac find a higher gear that allowed him to take control of things from pretty much February on?
That's how we led Racerhead off last Friday afternoon, on the eve of the East Rutherford race in MetLife Stadium. What a difference a week can make!
So this time we will lead off with what was mentioned next: "But you can never count out an athlete like Ryan Dungey, nor can you erase the risks involved for any rider out there." And now, when the postmortem is written on the 2017 season, it may be about the thing of which Ricky Carmichael was the absolute king: managing a championship. We'll hear from Ricky a little further down, as well as someone with a very unique perspective on what Eli might have been going through after his unforced error while leading in New Jersey turned into an extraordinarily costly mistake—Damon Bradshaw.
But let's begin with congratulating all of the riders and racing teams that are about to hit the finish line on the 2017 Monster Energy Supercross season (and Amsoil Arenacross tonight). The grind of this tour is huge, and anyone who makes it all the way, start to finish, deserves to light the candles tomorrow night. Along the way we saw some great races, some dramatic moments, some ugly mistakes, and an all-around entertaining series. I can't remember a time in series history when two points leaders lost the red plates at the next-to-last round. What Tomac must have been going through after the race was surely a feeling shared by Monster Energy/Pro Circuit Kawasaki's Joey Savatgy, points leader in the 250 class until he made his own unforced error, then a racing mistake—he started back in the race over in the lane he crashed into, effectively erasing the time and places lost in the crash. The AMA officials docked him five positions, from third to eighth, and all of the sudden Rockstar Husqvarna's Zach Osborne was back in title contention, and so is the new red plate holder, the Troy Lee Designs/Red Bull KTM of Jordon Smith.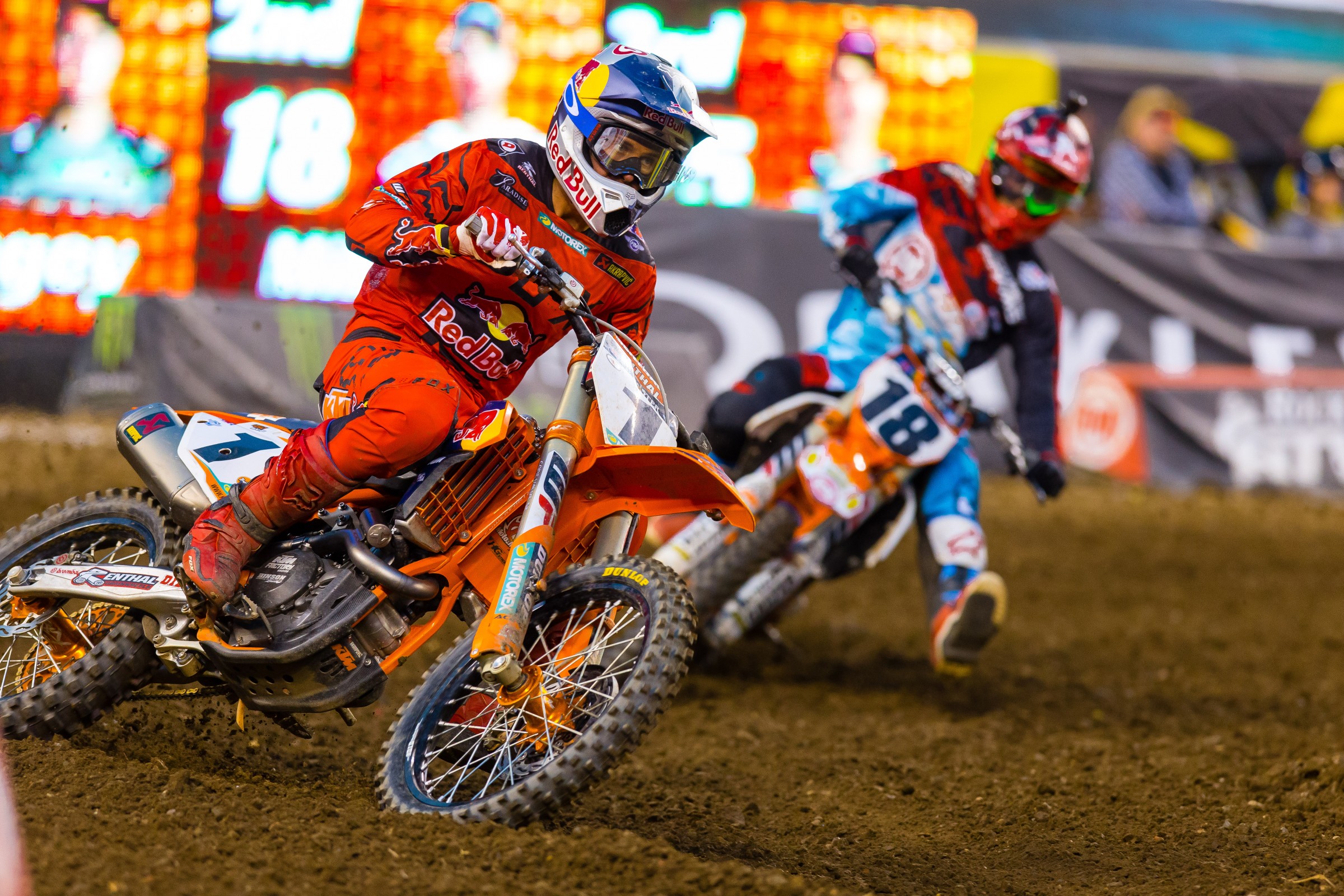 But Savatgy still has a straight shot—he just needs to beat Smith and Osborne. Tomac, on the other hand, will need the help of three others, even if he wins (and a lot folks are expecting him to do just that). Red Bull KTM's Dungey needs only to finish fourth or better to clinch what would be a third straight Monster Energy AMA Supercross Championship, and a the fourth of his career. And with so many top guys out—Ken Roczen, Cole Seely, Broc Tickle, Trey Canard, Weston Peick and more—or riding KTM-affiliated equipment—Marvin Musquin, Jason Anderson, Blake Baggett, Davi Millsaps, Dean Wilson—the math is not in Eli's favor right now.
But that's why they run the race anyway, no matter how obvious the ultimate outcome may seem. In motorcycle racing, it ain't over until it's over....
GOAT SPEAK (Eric Johnson)
Earlier this week I had a chance to talk to Ricky Carmichael about what went down in East Rutherford, and what may happen in Las Vegas.
"A lot of people the last several weeks have been on the Tomac train," began the five-time AMA Supercross Champion. "When I say this, it's not a slight towards Eli and his riding, but I always give the defending champion the tip of the hat first. Ryan Dungey is a three-time Monster Energy Supercross Champion for a reason. Although he hasn't had momentum on his side and he hasn't won very many races this year, he's still in a position to win the championship for a fourth time.
"Regardless of how you do it, and what people think, and just because he isn't super-dominant, this championship is based on consistency—it doesn't really reward wins. And Dungey has made a living on being super-consistent and staying within his zone, and his zone is being just fast enough to get the job done and win when he can. He has a low percentage rate of crashing and high percentage rate of being consistent.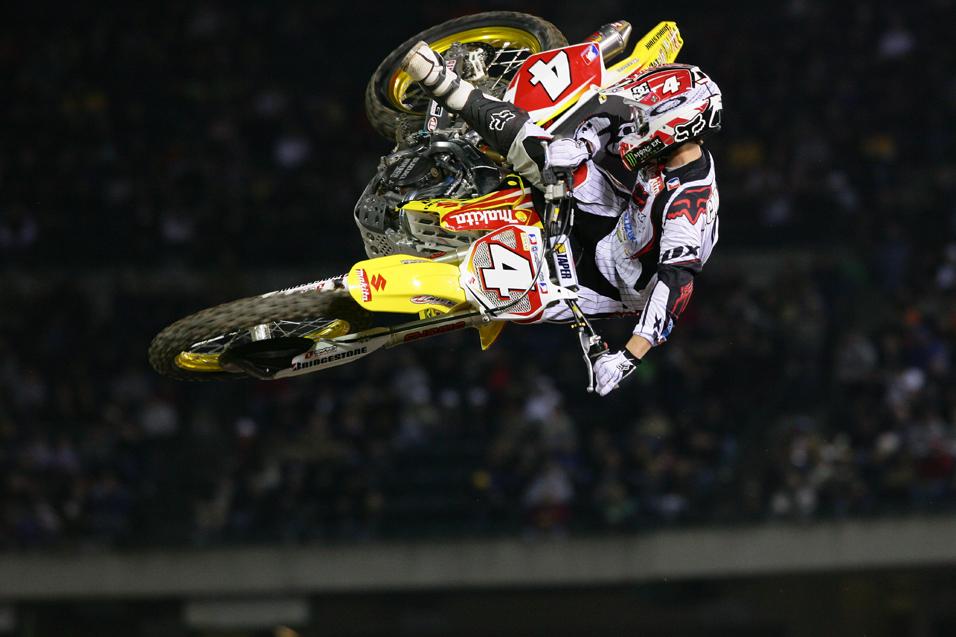 "I won a lot of races by other people's misfortune," admitted Carmichael. "I'll be straight-up: the majority of times I wasn't faster than James Stewart and I knew I wouldn't be faster than James, but I also knew that I was smarter than him. Winning races was important, don't get me wrong, but I also knew consistency was a little higher up there than actually winning races. I would just hedge my bets that I was going to be more consistent. So I was in the same place as Dungey, if you will." "In order to be the man, you have to beat the man. That's not a slight towards Eli Tomac because I have a tremendous amount of respect for him, but he has to prove to me that he can do it," he continued. "He has to be able to close the deal when the opportunities are there."
"People discount the weight and the pressure of the red plate and when you have everything to lose. It's a lot different when you're racing with nothing to lose rather than having everything to lose. I've been on both sides of the spectrum. Most of the time I was racing with everything to lose because, fortunately, I was always in the points lead so I had to learn how to 'points race.' Only one time in my life, Vegas '06, did I have nothing to lose. I had to beat Chad Reed for the AMA Supercross Championship, and I did. So I feel like I know what's going on and it's just people discounting the pressure of being the points leader, and Eli has never really been in that position at this level in supercross and that's a heavy load. Dungey has been in this position many, many times.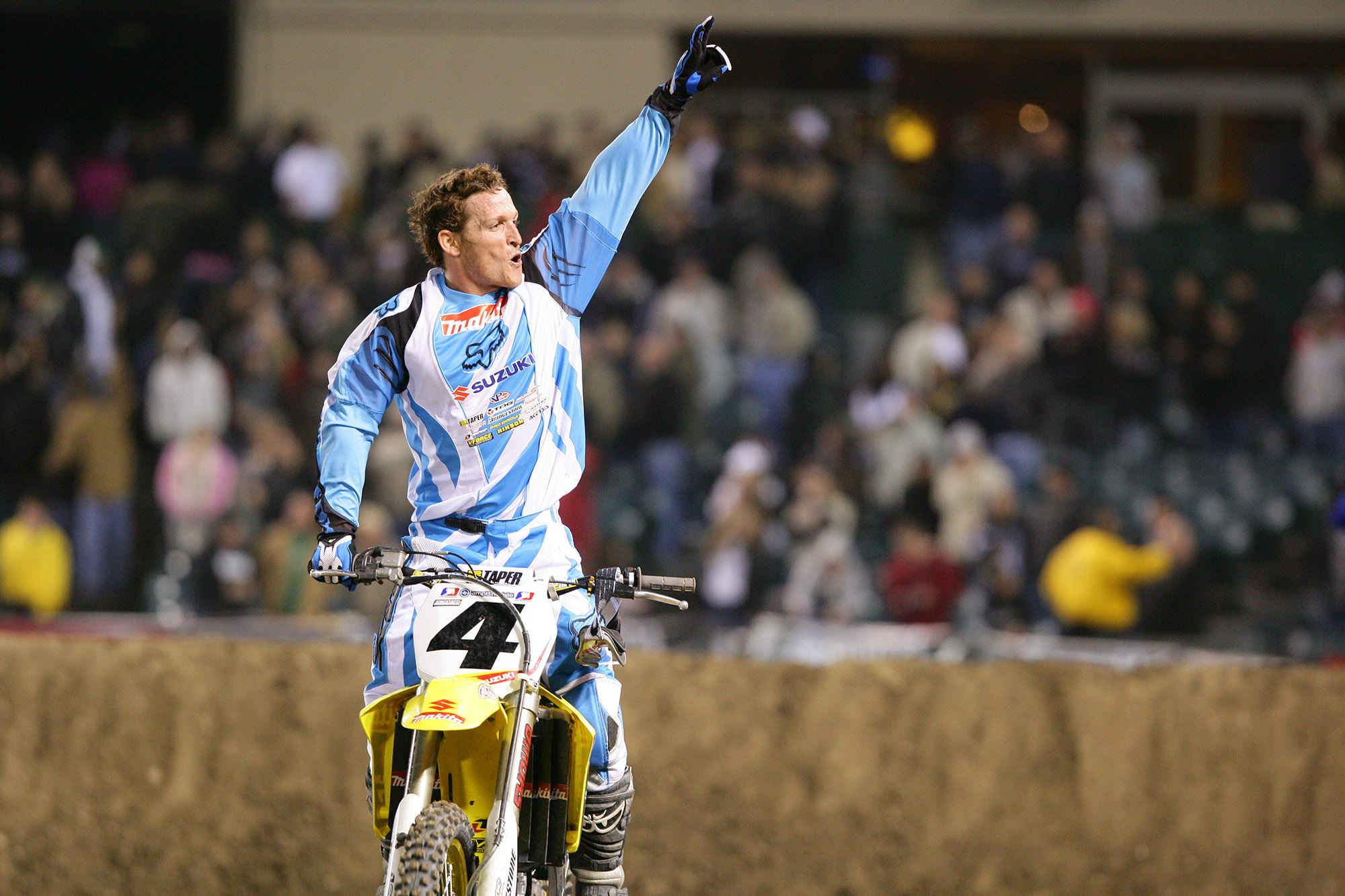 "Eli had a perfect opportunity to win that race and pad his points lead by three more points and go into Vegas with a six-point lead," added RC. "He made the mistake. He got up, he didn't come through the pack as quick as he had in the past and he made another mistake on top of that. It was just a really bad time to have a bad night.
"So what will it take for Dungey not to win? Assuming that Tomac wins on Saturday, because I think he will, Dungey has to get fourth or better. So you get to thinking, if I'm Ryan Dungey, who can realistically beat me in 22 or 23-lap race this weekend? Ryan knows he can pretty much outlast everyone physically. And you know no one on a KTM-branded bike is going to beat him for obvious reasons. This is a business. If I was Roger DeCoster or Pit Beirer from KTM, I'd be telling all my satellite teams that I help, 'Hey, listen, I think you guys know what's at stake here, so we'd appreciate some courtesy to lock this championship up.' I know a lot of fans don't like that, but hey, that's the way it goes. Nobody on a KTM and no one on a Husqvarna, I believe, will jeopardize Ryan's chance at the championship if that scenario happens. But I don't see that scenario happening. No matter, Ryan is obviously in the better spot."
Winner Takes All (Aaron Hansel)
The 2017 Monster Energy Supercross finale is almost here, and like most of you reading this, I can't wait for the gates to start dropping tomorrow night. And with Jordon Smith leading Zach Osborne and Joey Savatgy by a single point, we'll be treated to a true winner-takes-all scenario in the Dave Coombs Sr. East/West Showdown, provided one of those three wins. It's not often we come into the finale with the stage so perfectly set, which got me wondering when the last time something like this happened.
The answer, I believe, was in 2011 when Broc Tickle came into Vegas leading SX rookie Eli Tomac by just two points. If either one of them won, that was the ballgame no matter what, and that was what all the hype was about that weekend. Neither one of them actually ended up winning, although it was still one of the most exciting races of the year. When things got rolling Tomac found himself becoming the filling for multiple Pro Circuit sandwiches, whose outer layers consisted of Tickle, Tyla Rattray, and Josh Hansen, who rode an especially wide bike that night before getting nudged off the track by Tomac.
After finally escaping the swarm of angry green bees (after trading spots with title rival Tickle a few times), Tomac was well on his way to a championship. But when he came up on TLD Honda's Cole Seely (who'd crashed while leading, handing the lead back to Ken Roczen, who'd originally lost the lead by crashing) things started coming apart. Long story short, Seely rode like his life depended on it while Tomac tried absolutely everything to get around him, which allowed Kyle Cunningham and Tickle into the fight. In the confusion both Cunningham and Tickle zapped Tomac, with Tickle making his way past Cunningham and Seely on the final lap to lock in the title.
The race is on YouTube and is highly worth checking out—it was crazy! But tomorrow night's race has the potential to be even better. The 2011 race only had two racers who were realistically in the hunt, while tomorrow's has three. Also, the 2011 race wasn't a shootout and it only featured riders from the West Region. In tomorrow's shootout, 250SX East Region racers Smith, Osborne, and Savatgy will have to deal with additional threats from the gunslingers out West. Seriously, don't miss this one folks, it just might be the best race of the season.
THE NUMBER: 5 (Andras Hegyi)
Last Saturday night was a European motorcycle show at MetLife Stadium. The KTM and Husqvarna combo (KTM owns Husqvarna) played the leading roles in both categories. In 250SX Husqvarna won and KTM was third while in the 450SX the entire top five was owned by the Austrian bikes.
It was only the second time that the European brands were able to get five podiums out of six at the same race, and the first time it's happened in the modern era. The other time came in 1975 at Daytona. In the former 500cc class the European brands occupied all the three steps of the podium, while in the predecessor of the 450 supecross, the two-stroke 250cc class, European bikes got two podiums.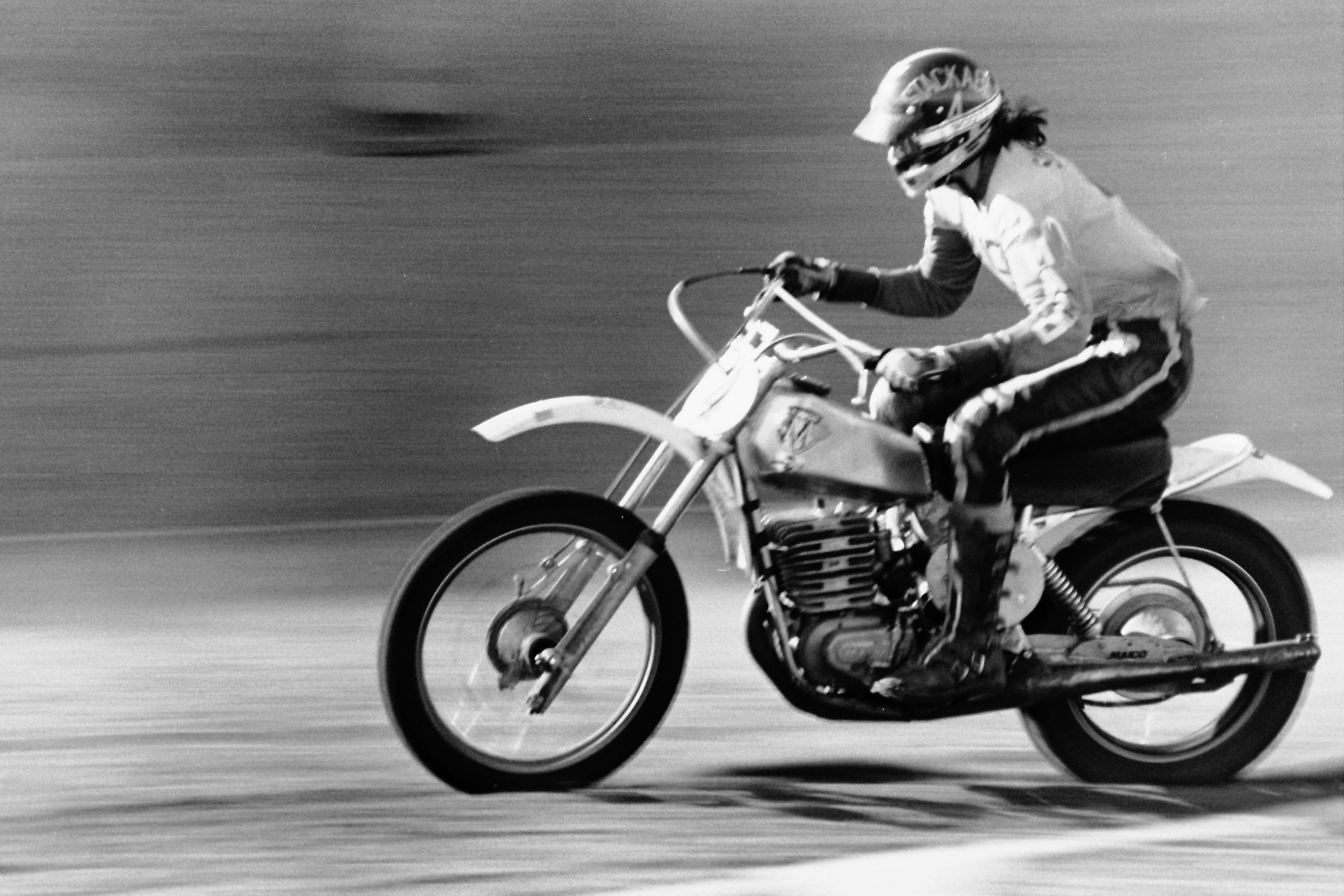 It happened only for the third time in history of AMA Supercross that the European brands could take all the podium steps. The first hat trick was the '75 Daytona 500cc race, when they went 1-2-3-4:
Daytona 1975
1.) Steve Stackable (Maico)
2.) Gary Chaplin (CZ)
3.) Jim West (CZ)
4.) Rich Thorwaldson (Maico)
In 2016 in Detroit the first three positions were taken by the European brands.
Detroit 2016
1.) Jason Anderson (Husqvarna)
2.) Marvin Musquin (KTM)
3.) Ryan Dungey (KTM)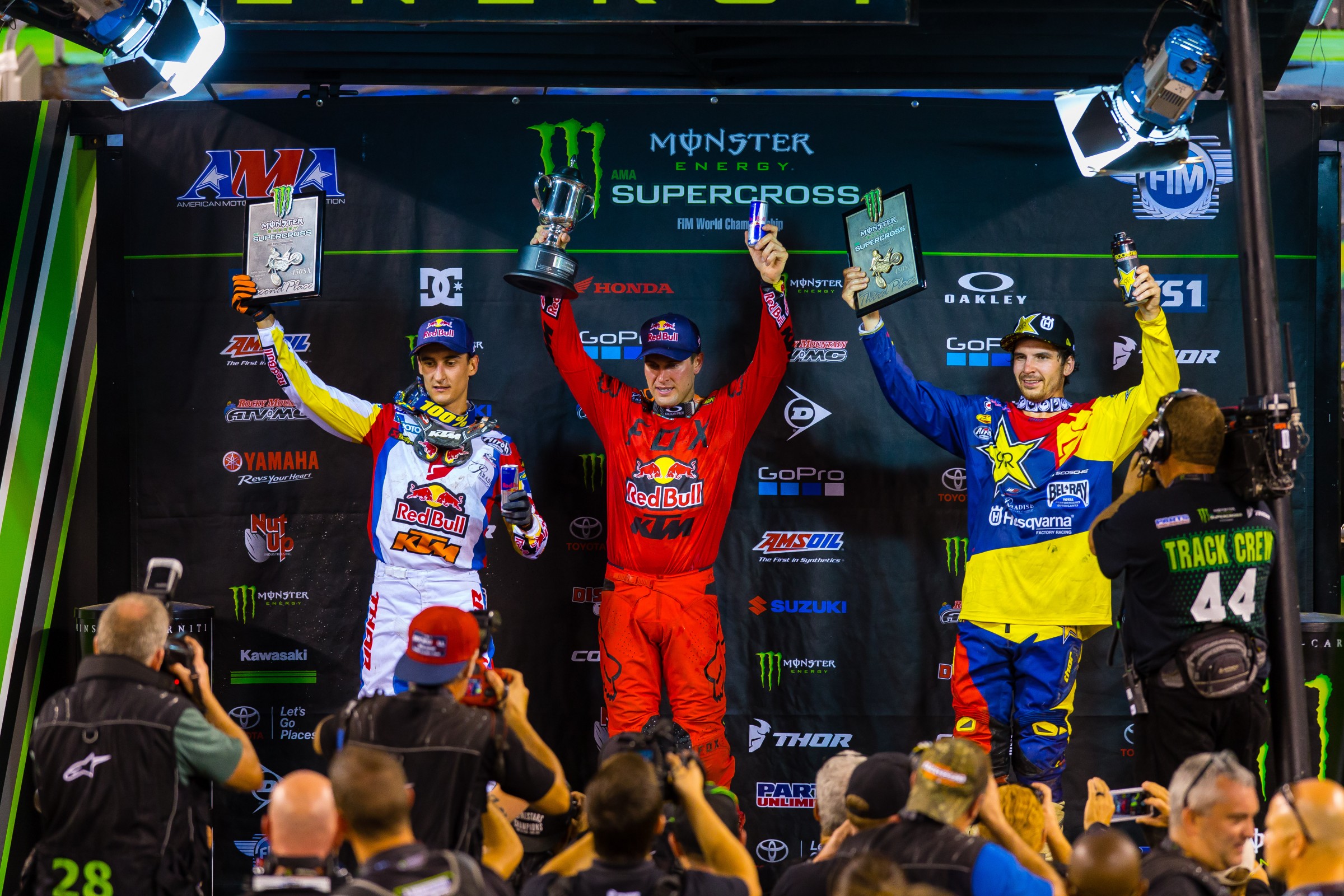 And last Saturday the top five final positions were carried home by the European brands:
East Rutherford 2017
1.) Ryan Dungey (KTM)
2.) Marvin Musquin (KTM)
3.) Jason Anderson (Husqvarna)
4.) Davi Millsaps (KTM)
5.) Blake Baggett (KTM).
BRADSHAW-SPEAK (Eric Johnson)
Ricky Carmichael knows a thing or five about winning AMA Supercross Championships; Damon Bradshaw, on the other hand, knows what it feels like to have a championship slip through his fingers, which is exactly what happened to him in 1992 at the Los Angeles Coliseum. I tracked Damon down to get his take on the closing rounds of this championship.
"Obviously, Eli was on a win streak and then all of a sudden he's got the red number plate and then it is just pressure," offered Bradshaw. "I don't know if he probably thought he had it wrapped up, but I think all of a sudden, the pressure totally changed. Before, he had everything to prove, but then with the red number plate, he was in a different position. I think it all probably compounded and when he fell, it probably was a little bit of an eye opener for him and it probably all just hit home mentally. I don't know how well of a rut rider he is, but I know when you add the ruts, that separates a lot of guys. When you add that in there, I would say it was a mental big problem.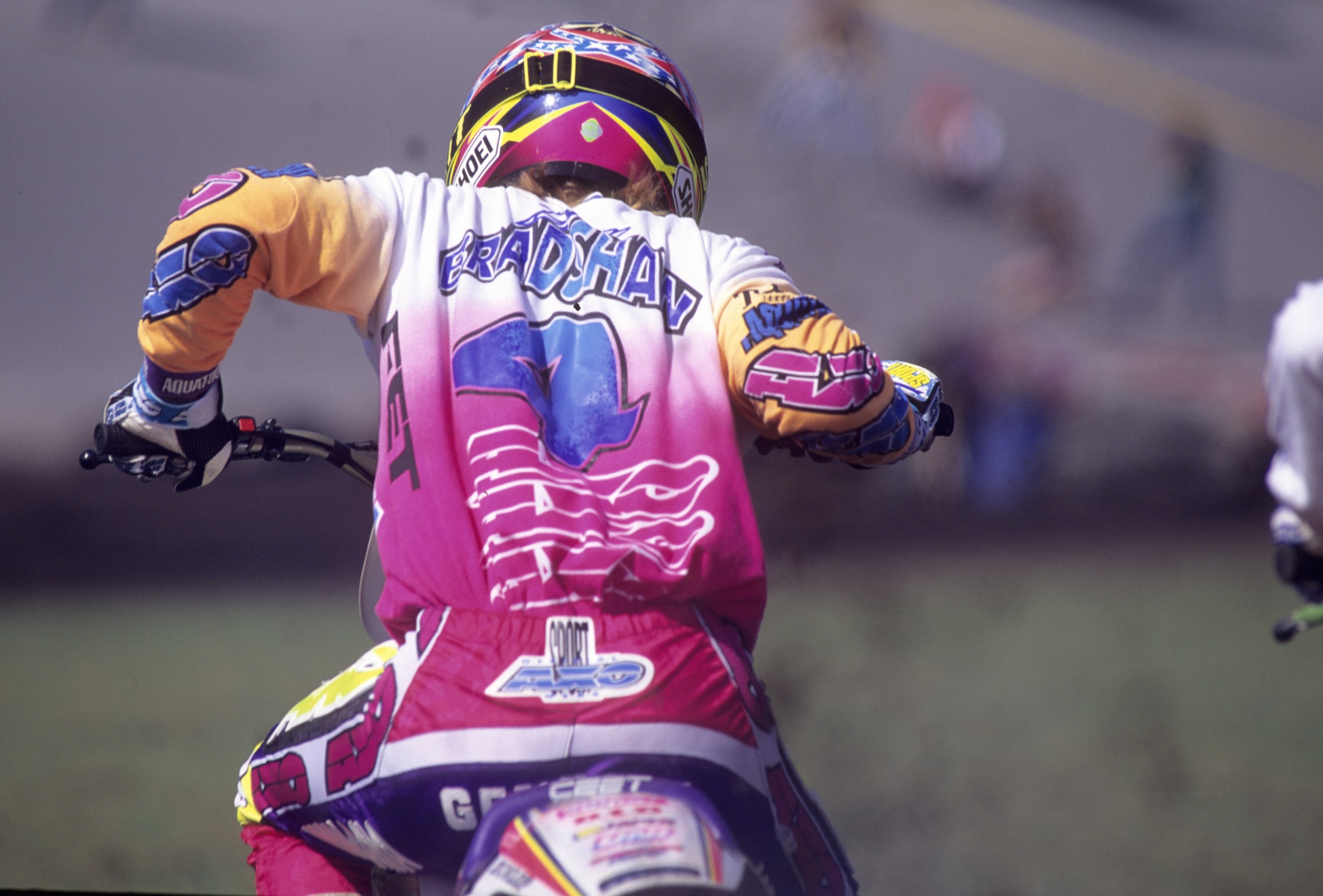 "Now, it's put him back in a position to where he's not favored to win the championship now, so I would say he's going to be back to the guy that he was three or four weeks ago.
"I think the other thing, too, and whether this is true of Dungey's thinking or not, but obviously consistency has paid off for him and he was probably looking at this like, 'Eli is obviously faster than me than me the majority of the time and I'll accept that, but is he smart enough to do this and can he continue this for the next 10 or 12 events?'
"I think Dungey figured out his position and said, 'Okay, what I'm going to do is that I'm going to continue to do the best I can and be on the box. I'm not going to count on it, but I'm assuming that something is going to get thrown away here. He's going so fast and he's taking chances, but everything is clicking. Can he do that for 10 in a row or 12 in a row? Man, there has only been a few guys that have been able to do that. The odds are completely against him.'
"Me, I never would even look at things the same way Dungey does," continued Bradshaw, "but the guy has won championships and I have a ton of respect for him. For me with the way I think, man, I want to win. I want to win, I don't want second, and I don't want third… But I didn't win any championships either. That's just the person that I am. It was like, 'I want to win and this guy is faster than me right now so what can I do to be faster?' The smarter guy right now, obviously, is in the driver's seat. Championships mean a lot to him and to KTM and that's what he's going on and things are falling into place.
"I can also look at Eli's side because I've been there," added the Beast from the East. "I won nine races in 1992 and still lost the championship by a couple of points. It's crazy how you can look at how many supercrosses races there were that year and to win that many and still not be the champion?
"I'm betting Eli's spirits aren't where they once were, but regardless of wanting to win the championship, he's going into Vegas feeling a hell of a lot different than he was going to be going into it if this thing was tighter with the points. It's totally different now. I think you're going to see a guy riding as good or even better than he has all year."
WHAT I LEARNED (Steve Matthes)
Busy week again on the virtual airwaves of the world. Lots to talk about with a lot of different people when it came to the East Rutherford Supercross. Let's dive right into what we learned this week.
First up was the Pulpmx Show on Monday night and we spoke with uber-trainer Aldon Baker about the success his clients had in NYC. His guys swept the 450SX podium and his only 250SX rider, Zach Osborne, won the 250SX class with a great ride. Baker says that he doesn't know if Ryan Dungey is going to retire or not and we asked him to talk about some of the great riders he's worked with. He basically said that Ricky Carmichael worked the hardest because of his body type, James Stewart was the most talented rider he's worked with, Ryan Villopoto was the most driven rider he worked with, while Dungey is the most analytical of his riders.
Dean Wilson was on and talked about how his starts have sucked all year long whether it was on a Yamaha or on a Husqvarna, how he was riding at Chad's but now he'll ride at Baker's place on the "B" track and then a bunch of calls came in about how awesome he is.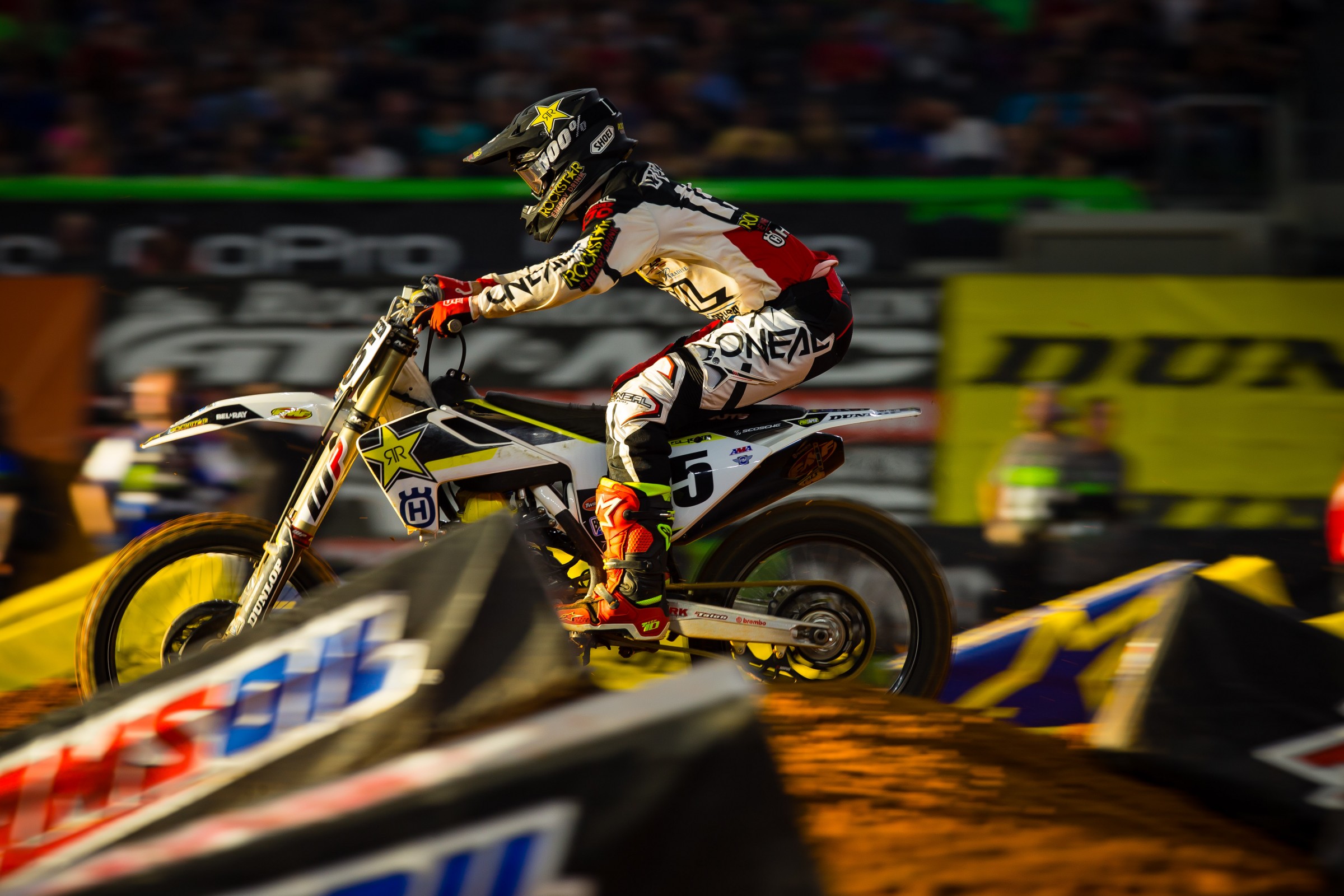 Jeff Ward and David Bailey phoned in together to talk about the Race Across America their doing on bicycles and everyone go to R2R to help out with the cause. They talked about racing against each other and Ward said that whenever he managed to beat Bailey on the 500, that was really something to him. Bailey said that Wardy was a tough competitor and they had a battle in, I think, the Foxboro Supercross where Bailey was leading, crashed and gave Ward his first ever SX win. David also said that he was disappointed that Honda let fellow RAAM teammate Micky Dymond go at the end of 1987. It was great to talk to both guys and the trip down memory lane is always good.
We called Tyler Enticknap about his semi race where Devon Raper's leg was stuck in the back of his bike and co-host Kris Keefer asked him why he gave up trying to get to the finish for his first ever main event. Tyler said he was in first gear and trying to slip the clutch but Raper's leg was just too far in there! He also said Raper was yelling at him to please stop.
I spoke with ex-ESPN pit reporter Jerry Bernardo about his life in Australia now, some of his early beginnings in Boston, working for MotorWorld and all those cool TV gigs he landed back in the day. He said that he was proud of his work; I get the sense that he felt he was a little under-appreciated back then because he was so different and he seems to be doing well and FAH-Q is still going strong!
On the Privateer Island Podcast I lined up Josh Cartwright who talked about riding at The Goat Farm with Gavin Faith, Jace Owen and Joey Savatgy each week. He talked about his NYC SX and also going to school at Florida State University. We also called up Henry Miller who said that going to the LCQ this weekend was nerve wracking, Alex Ray stole Cade Clason's eggs back at home and that he had no problem with Musquin pulling over.
JT, Cole Siebler and Bob Lowry from Fly Racing were in-studio for the Fly Racing Moto:60 Show yesterday and we chatted about what we're going to see this weekend in Las Vegas and took some calls, including one from a guy that said Tomac just needs to "plow Dungey" this weekend.
PRO PERSPECTIVE (Ping)
There's no shortage of drama heading into this weekend in Las Vegas. Ryan Dungey has a nine-point lead, though some might suggest he has only earned a six-point lead. Either way, through consistency he has put himself in a great position to win his third SX championship in a row, a feat only accomplished by the sport's ultra-elite. Tomac has to win and then drop to his knees and pray for a miracle that would knock Ryan way out of contention. Either way, great season for both these guys.
The 250 class is the barnburner this Saturday. There are three riders with one point between them; whichever of the three leads at the checkered flag, he's the champion. But winning isn't going to be so easy this weekend. With the West Region riders joining the fray, and the title already decided on the left coast, riders like Justin Hill, Shane McElrath, Mitchell Oldenberg, Austin Forkner, and Martin Davalos will likely play a pivotal role in the outcome of this title. While it may make for an incredible race, I'm guessing there are going to be some very angry people at the end of this main event; there is no doubt team's will be very tactical in their Saturday night strategies.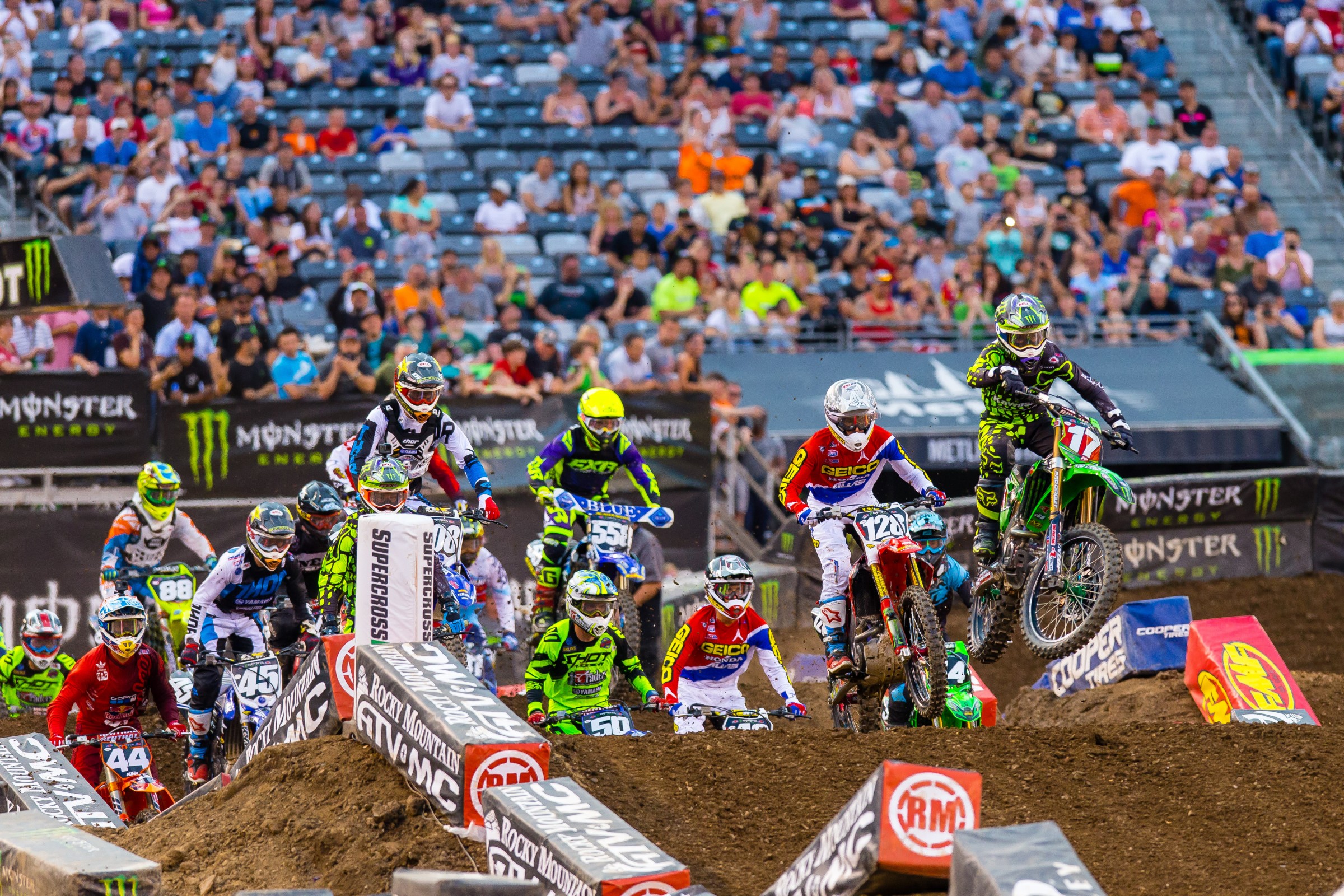 Me? I like Jordon Smith for this title. I know that might sound crazy or biased, and maybe it is, but here's my reasoning: how many rounds do you have to back to find a race where Savatgy didn't make a huge mistake? Blowing it has kind of become his calling card this season. And getting back on the track and clawing through all those additional West Region riders won't be as easy.
Osborne has been the fastest rider this season but his starts have not been consistent. Again, with twice as many fast riders, he won't be able to cut through the pack like he has been doing. Smith has been consistent and his starts are really good right now. If he can get out front and put in steady laps like he has, even if he gets beat by Shane McElrath or West Region #1 Justin Hill, he stands a good chance of surprising a lot of people with his first championship. Good luck to all of them. May the best man win.
The Scoops (Kyle Scott)
I was at Pala Raceway on Tuesday and it was pretty packed with lots of high-caliber riders. From walking through the pits and doing some bench racing I got some scoops on several riders' statuses.
Colt Nichols was hurt back in early March before the Daytona SX in a practice crash. He fractured his tibia and tore the MCL in his left knee. (Remember, he started his supercross season late because he also fractured his femur during the pre-season, so it's been a rough year for him.) He's been back on the bike for a week now and will be lining up for Hangtown. He is still building strength in his left leg so he doesn't have any expectations at this point for how he will do.
Alex Martin has been out of action since his collision with Christian Craig in Detroit. Turns out he actually fractured his leg and messed up some vertebrae in his lower back. He's been on the TLD KTM bike for three weeks and is ripping.
Weston Peick destroyed his wrist in the first practice at the Glendale Supercross in February. He had all sorts of pins and screws and anchors put in his wrist to put everything back together. This week marks his second week back on the bike. His hand is still pretty sore, but as we all know he's tough as nails. I caught up with him last week at Milestone to see how he's doing. He rode at Pala and Glen Helen this week. He'll be back for Hangtown as well. You can check out the video with him here.
Red Bull KTM's Marvin Musquin has been getting a lot of flack this week regarding his last lap "mistake" that allowed Dungey to get by for the win in New Jersey. The win helped Dungey collect an extra three points over Tomac in the championship. In talking in the pits I was informed that some of these riders have a clause in their manufacturer's contract that states if a championship is on the line, you basically must do what he did. Championships sell bikes, folks. It sounds like more of an obligation than a team tactic.
Next week Kawasaki is renting out Glen Helen on Wednesday and Thursday for outdoor testing. What's the significance of that? Glen Helen is probably the busiest track in Southern California on Thursdays. Glen Helen is one of the roughest tracks around and one of the few places to that these guys can go to get realistic track conditions that mimic an actual national. It probably helps that it is also an actual race on the series calendar as well. By not allowing any non-Kawasaki riders on the track one week before Hangtown, a lot of guys scrambling to get their last-minute testing in one week before the Lucas Oil Pro Motocross opener and will have to go elsewhere. Smart move Kawi.
You can check out the practice video here.
In case you missed it, here's today's press conference from Las Vegas.
Random Notes
Was Marvin's move last weekend in New Jersey illegal or not? One of our contributors, Brett Smith tries to answer that question and also lays out some interesting stats to keep in mind this weekend (did you know that Dungey has never needed the final round in any of his previous six 450-class championships?). [Editor's Note: Another fun fact—Ricky Carmichael never needed the last round to win any of his 10 consecutive AMA Motocross Championships! –DC]
It's been 20 years since Doug Henry put a four-stroke on the supercross podium for the first time in the sport's history. Brett Smith wanted to know more about the origins of the Yamaha YZM400F project and how it wound up in Las Vegas in the first place.
---
NBC Sports Digital's direct-to-consumer live streaming product—is launching a "Pro Motocross Pass," giving fans access to the entire 2017 Lucas Oil Pro Motocross Championship season. The direct-to-consumer pass, powered by Playmaker Media, will offer fans commercial-free coverage, live and on-demand, online, on mobile, tablets, and connected TV devices.
For more information and to sign up, head on over to ProMotocross.com.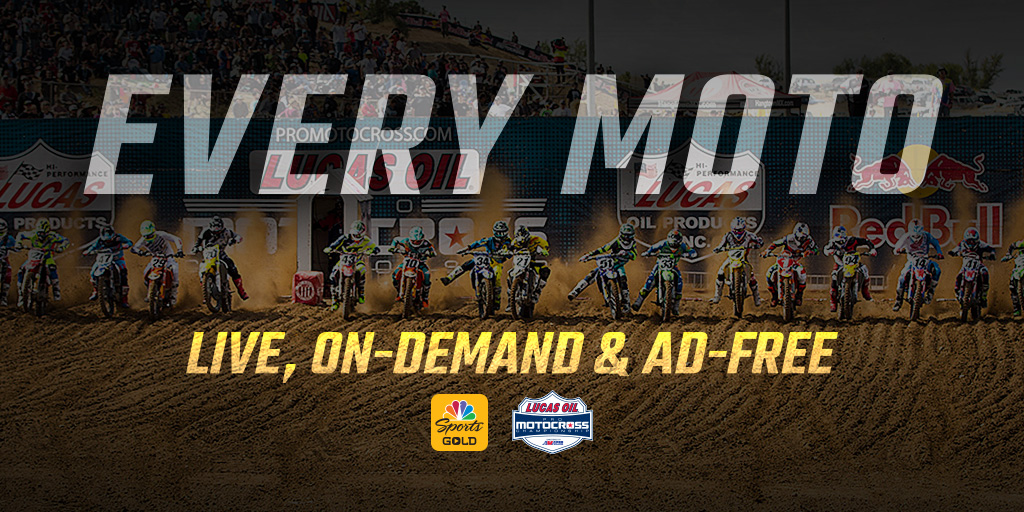 Racer X All-Day Pit Passes – Limited Quantities!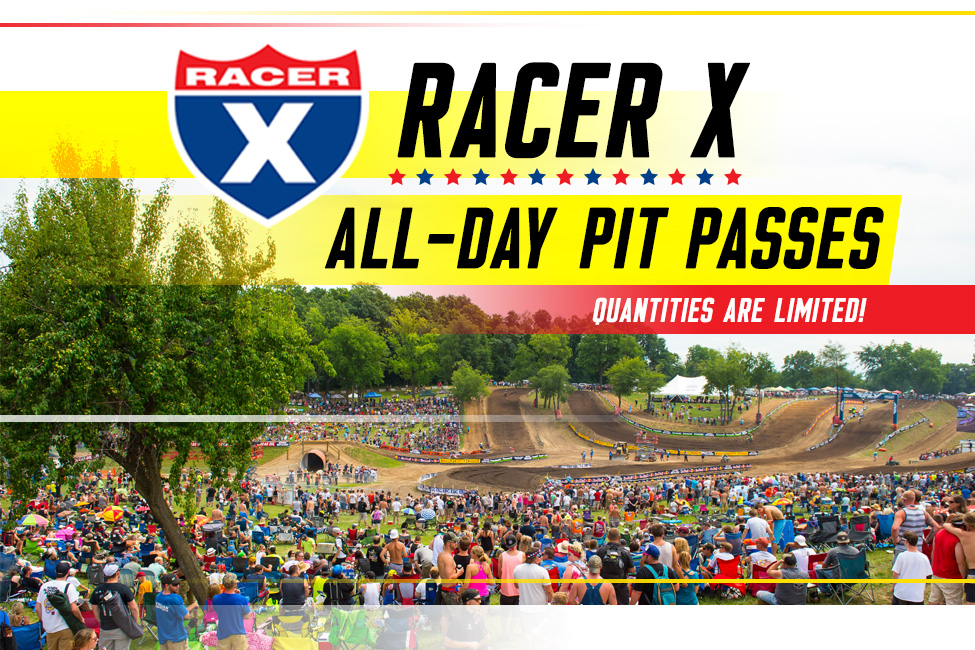 Subscribe to Racer X illustrated now for as low as $9.98 to get 13 issues plus a free pair of Scosche Rockstar Edition Thudbuds. You'll also get immediate access to the current digital issue to read feature articles such as Where is James Stewart? and Holding On, a tell-all of Ken Roczen's fight back from injury.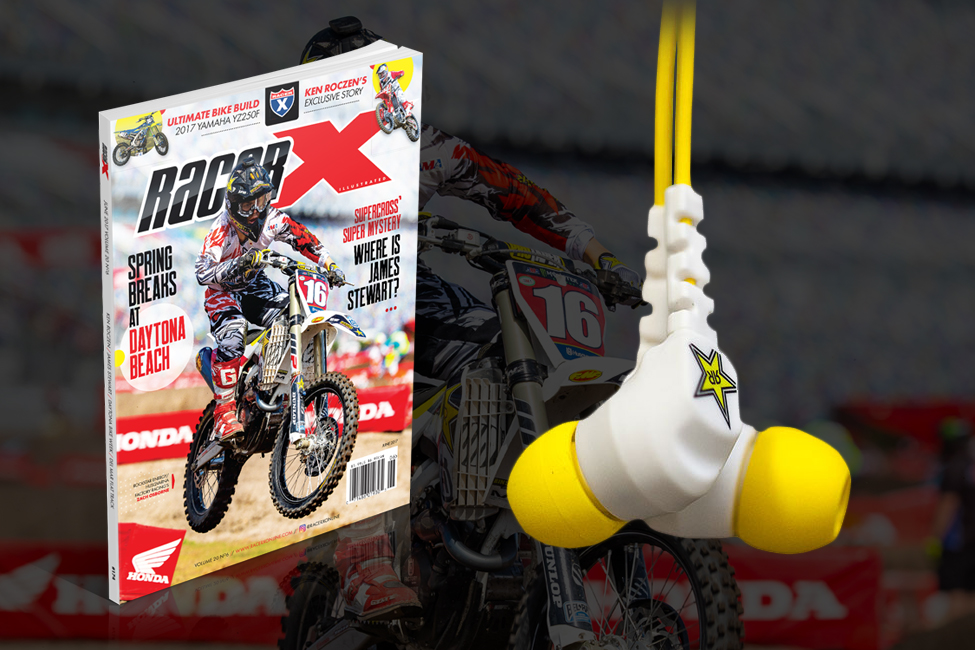 For news from Canada, check out DMX Frid'Eh Update #19.
In closing, I would like to personally thank Feld Motor Sports for continuing to include my dad's name on the East/West Showdown. Hard to believe it's been almost 20 years since he passed, but his memory and his work and contributions in the sport will hopefully live on for a very long time. Having a race as big as this named after him means a great deal to my mom Rita, my big sister Carrie, and my big brother Tim. Thank you to everyone involved in supercross, from the Feld family to my longtime friends and colleagues Todd Jendro and Dave Prater, for remembering Big Dave.
Thanks for reading Racerhead, see you at the races.