Hurricane Mills, TN
Rocky Mountain ATV/MC AMA Amateur National Motocross Championship (Loretta Lynn's)
Amateur National Motocross Championship
In order to count down the days until the start of the 2019 Rocky Mountain ATV/MC AMA Amateur National Motocross Championship at Loretta Lynn Ranch, we're asking some of the top graduates from yesteryear to tell us about their favorite moto from the Ranch. Since the race was founded in 1982, we've got a bunch of fast folks to choose from.
There are lots of tales of outstanding amateurs having dominant days at Loretta Lynn's Ranch, and RJ Hampshire's incredible week in 2014, where he won all six of his motos, ranks right up there. The Florida native smoked all the motos in the loaded Open Pro Sport and 250 A classes, against competition like Aaron Plessinger and Colt Nichols.
The difference is that Hampshire, until that day, wasn't considered to be at that elite level. The very first moto of that week proved he had upped his game tremendously, and that's why that moto ranks as his favorite.
"First moto, 2014," he began. "It was my first moto at Loretta's racing for this team [GEICO Honda's amateur arm] and I wasn't supposed to be winning. I had 40th gate pick, so obviously, bad start. I think by lap two or three I was already in the lead, and then pretty soon I had a pretty big gap. My next moto, I had 42nd gate pick, but I think I almost holeshot that one.
"I don't even know what happened that year," he continued. "Honestly, once I got with the team, I think I only lost like two motos that whole year. Something just clicked, and all of a sudden my mind set was, 'I'm winning everything.' I'm trying to get back to that mindset right here at these races today!"
Of course it's not nearly as easy to be dominant in Lucas Oil AMA Pro Motocross, where probably half the field can boast of big title and moto win counts at Loretta's. In 2014, though, it was coming so easy to Hampshire that he didn't even feel the pressure to complete the double class sweep, saying his final moto, on 450s against Luke Renzland, was the only one where he felt some pressure from another rider.
"I was just so mentally strong that week, I don't even think the starts even mattered. The first moto of the whole week set that all up, so that's why that was most critical to me."
The Hampshire name has some history at Loretta's, as RJ's sister, Marisa, actually won a title there in 2003 in the Women's 80-105 (12-15) class. RJ himself says he once finished second in a 50cc moto to Cooper Webb, but then a series of crashes and injuries led to him reconsider racing altogether.
"I didn't even really care about racing," he admited. "I quit for a while, I was just doing it for fun from probably age 12 to 15. I was focused on baseball, and I was just racing locally at Dade City. We had a bunch of trails behind our house, and I would just do that, hit some sand pits, things like that. I didn't care, I wasn't fast, I was actually chunky!
"I was fast on a 65, had a big crash, and I was like, 'Dude, this sucks.' Then at age 12 I had another crash and did some internal damage, and that's when I was like, 'This is stupid, I'm over it.' Finally around age 16 I started to take it seriously, but I was still full-time in school, and we weren't going to do any homeschool or anything, but by my senior year I had signed with the team and I had to start taking it more seriously. Until then, we raced some of the big races, but it was never like, 'Oh man I have to ride and train so hard.' I'd just ride a bit, show up at the area and regional, and if I made it, cool."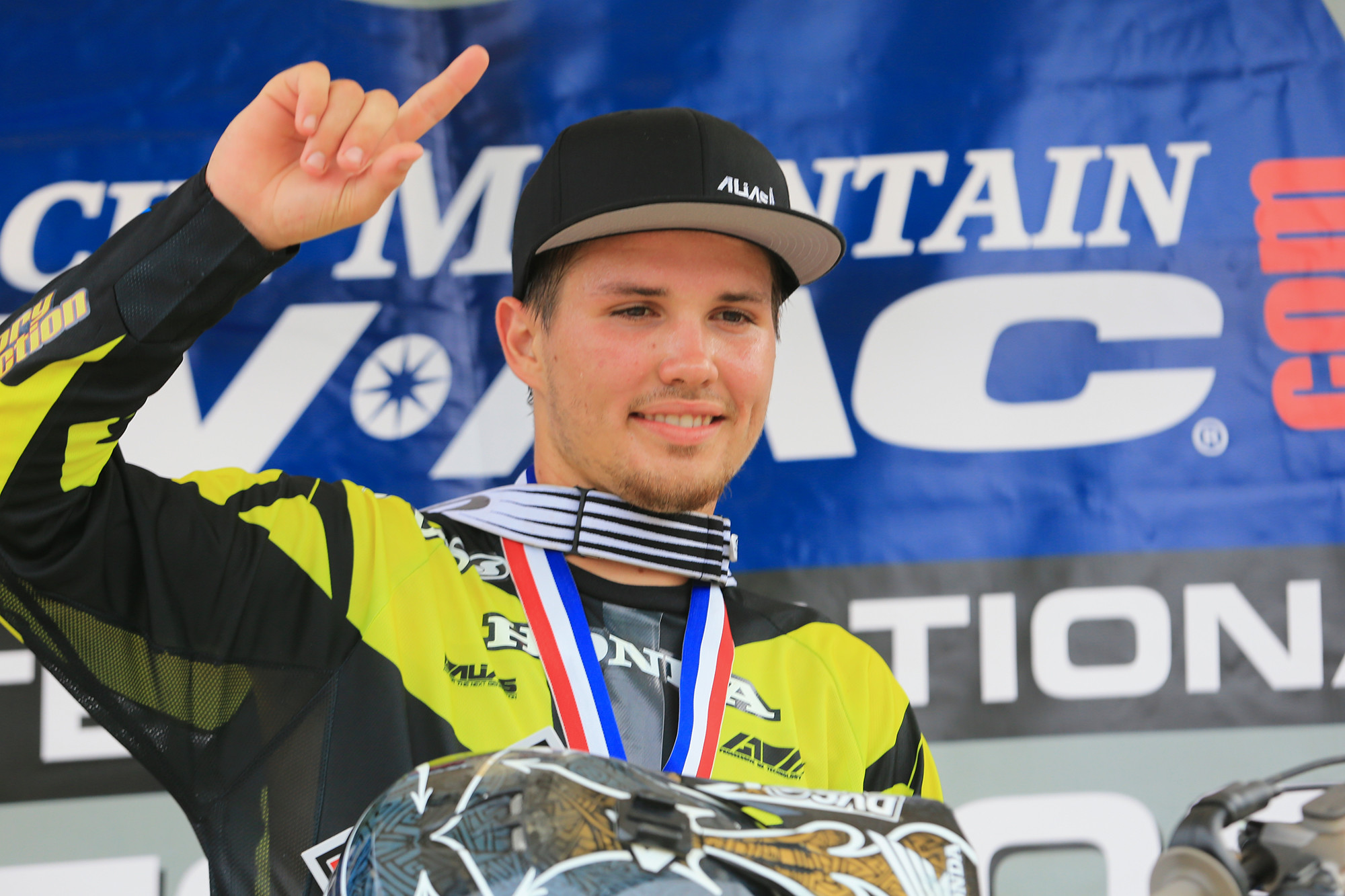 Because of this Hampshire looks back at the majority of his time at Loretta's as fun, instead of a pressure-packed must-win week at the track.
"Off the track was like the reason you were there," he said. "To have fun. Just pit bikes and golf carts. In fact, because I wasn't taking the racing so seriously, that's all I really cared about! The year before, 2013, I was there as kind of a privateer with help from the Grondahl family, and the first practice, second lap, I endoed off a double and broke my hand. But at that point I thought maybe I could get a ride with GEICO, so I felt like I had to ride. It hurt, I think I was able to get some podiums on the 450, but I didn't think I was going to get any kind of ride. The Grondahls helped me get out to Monster Cup, we put a thing together for it, and I ended up winning it. That's when I got the ride with the team, and then after that I went to Mini Os and I think I only lost one moto there. I got hurt after that and missed the spring races, but I came back for Loretta's and just felt so good and so strong. I won all six motos, and then I turned pro right after that."
More 2019 My Favorite Loretta Lynn's Moto