Hurricane Mills, TN
Rocky Mountain ATV/MC AMA Amateur National Motocross Championship (Loretta Lynn's)
Amateur National Motocross Championship
In order to count down the days until the start of the 2019 Rocky Mountain ATV/MC AMA Amateur National Motocross Championship at Loretta Lynn Ranch, we're asking some of the top graduates from yesteryear to tell us about their favorite moto from the Ranch. Since the race was founded in 1982, we've got a bunch of fast folks to choose from.
Jeremy McGrath needs no introduction. But it wasn't always like that—when he first came to Loretta Lynn's it was in 1987 as a 125 C Modified rider! We tracked him down to find out about his favorite moto ever from Loretta Lynn's just as he was coming home from the Monster Energy Mammoth Mountain Motocross race, where he spent some time on a Kawasaki KX500.
"Riding that bike was pretty cool," said the seven-time AMA Supercross Champion and all-time SX wins leader. "I kind of wanted to build that bike up, mess with it and see how good we could get it, and the bike turned out really, really good. I didn't have all the right clamps on it and everything like that but luckily the motos I rode it at Mammoth were the first motos so it was super smooth and the bike was pretty fun to ride. But it wasn't as rocket-fast as we remember as kids because riding 450s now, they are probably faster. When I got on it I was thinking, 'Man, this thing is going to tear my arms off,' but it actually had really good power—very controllable. It was awesome."
Sounds fun, but we just can't imagine Jeremy racing the 500 class back in, say, 1993 when he won his first AMA Supercross title…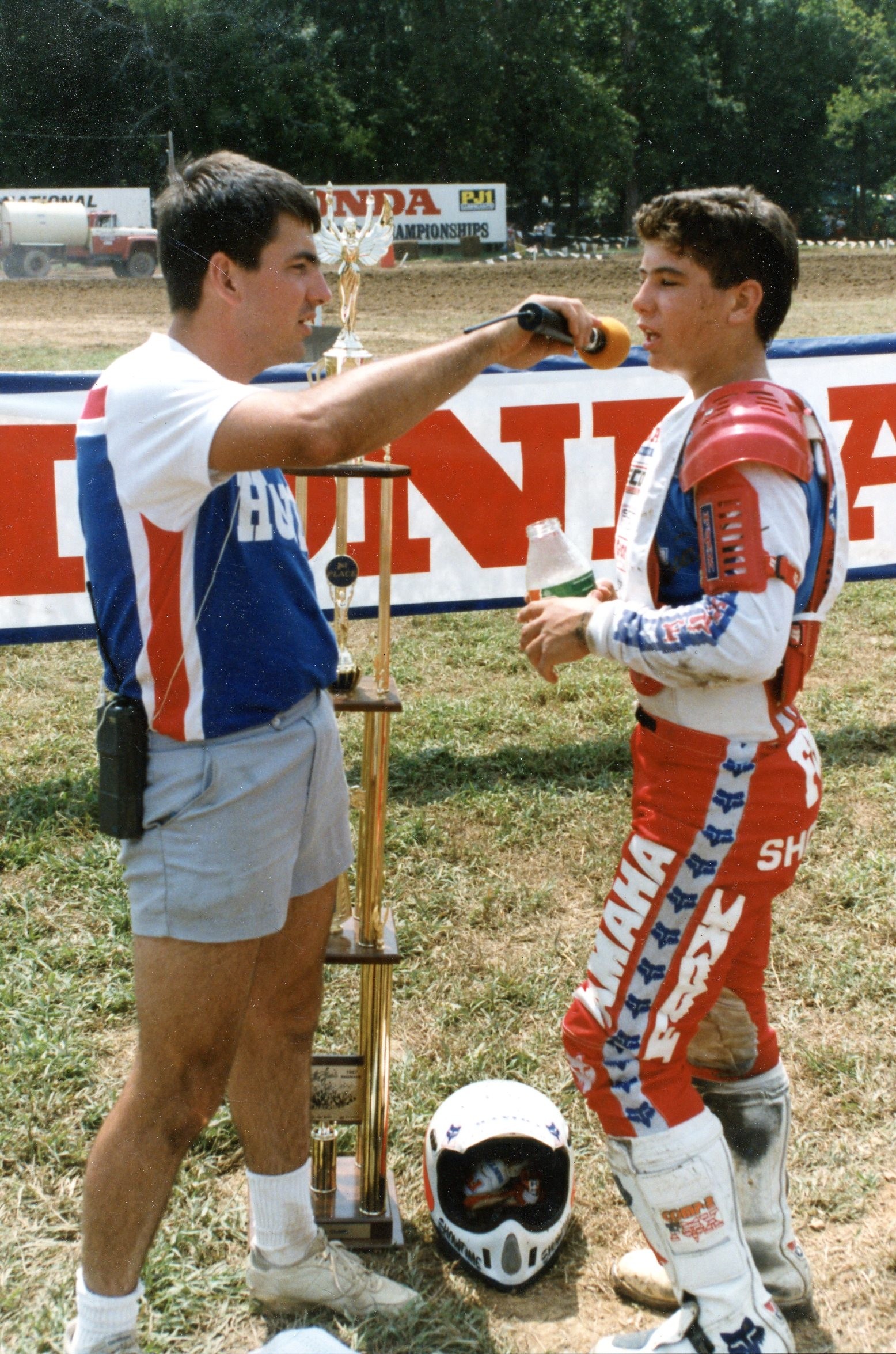 "No, not even close!" he laughed. "I only ever raced that bike one time, and it was back at Mammoth when I was an intermediate. I was supposed to be on a 490 Yamaha, that big vibrating machine, but then it blew up, so I hopped on a KX500 for the rest of the weekend. It was maybe 1988 or so, and that was it.
"You know, I didn't race Loretta Lynn's in '88, now that I think of it," said McGrath, shifting gears to the subject at hand. "I was trying to do some pro nationals that summer, but I wasn't really ready. To that point I had only been there one time, in the C class in '87, and then I raced the A classes in '89 and '90. And I also started in 125 West Coast Supercross in '90, and I even won a race [Las Vegas] before Loretta Lynn's. I'm not sure what the rules were back then on doing both amateur and pro…
"And honestly, I have way more memories of just hanging out and being there with everyone at Loretta's than any of my actual motos," admitted McGrath. "My results were less than stellar at the race! So I would have to say my favorite motos there were my very first ones there in 1987. I was in the 125 Novice (C) class and I think I won two of my three motos, so that was pretty incredible."
Indeed, McGrath went 1-1-2 to win his one and only AMA Amateur National Championship. Which begs the eternal bench-racing question asked around the Racer X Online office: Who the hell beat Jeremy McGrath when he was racing the C class?!
He laughed before saying: "Good question, I have no idea."
So we pull up the results and there he is, third-place in the overall score, with a 12-2-1 tally, Tommy Bilz Jr. of Doraville, Georgia.
"Tommy who?" responded McGrath.
I told Jeremy that it is the one and only time that Tommy Bilz Jr. raced Loretta Lynn's. We also wonder if whatever Tommy is doing now—dentist, construction worker, real estate agent—if he ever tells people, "Oh, and I used to race motocross, and I'm the guy that beat Jeremy McGrath at Loretta Lynn's." We've even Google searched for Tommy Bilz Jr. and can't find any connection to motocross racing.
"Wow. That's incredible," laughed Jeremy. "I have never heard of him, and I really don't remember him. I thought you were going to say it was, like, Mike Brown or someone that I maybe know… I wonder if Tommy Bilz even kept paying attention to motocross? Maybe someone reading this from Georgia knows what happened to him, I'm really curious now! That's a pretty cool story…
"And at the same time, if you go looking in my A class results, it should be pretty easy to find out who beat me because they all beat me!"
Well, not everyone, but in 1989 McGrath was chasing after Steve Lamson, Jeff Emig, Tallon Vohland, and more, and the next year he was chasing Ryan Hughes, Doug Henry, "Factory" Phil Lawrence, and more.
"See, those are some pretty big names," he pointed out. "Hardly anyone knew me because I didn't do very well, except for that one year in the C class." McGrath explains that he actually got started really late into motocross. "I started in June of '86, and at the end of that next summer I was at Loretta Lynn's, like in August, so I had been racing maybe 14 months, and I had just moved up from 80s as well."
McGrath did add that it wasn't really the results that counted for him at Loretta Lynn's, it was what he learned and how he progressed.
"You know, a lot of top guys didn't always do that well at Loretta's," he said, "like Ryan Villopoto, for instance—I think he only won there one time. And same goes for Ryan Dungey, I think…"
He's right. In 2005, Villopoto won the 125 A class while Dungey won the 125 B Modified class, the only LL title for either.
"Loretta's is a special place," he continued, "and it's really important when you're a kid because you're trying to deal with pressure, competing against people from all over the country, usually beginning at a pretty young age. Obviously, I wasn't really able to do it—it took me a little longer than everyone else to figure out…
"Wait, now I remember," swerved Jeremy. "In '87 I also went to race Ponca City on the way to Loretta Lynn's. I was with Derek Natvig [now an executive at Kawasaki] and I was racing in the C class there with Mike Brown, and we were trading moto wins back and forth. So when you told me someone beat me at Loretta Lynn's that same year, I just figured it was Brownie!'
Nope. It was Tommy Bilz Jr.
More 2019 My Favorite Loretta Lynn's Moto