My Favorite Loretta Lynn's Moto: Jacob Hayes
Hurricane Mills, TN
Rocky Mountain ATV/MC AMA Amateur National Motocross Championship (Loretta Lynn's)
Amateur National Motocross Championship
In order to count down the days until the start of the 2019 Rocky Mountain ATV/MC AMA Amateur National Motocross Championship at Loretta Lynn Ranch, we're asking some of the top graduates from yesteryear to tell us about their favorite moto from the Ranch. Since the race was founded in 1982, we've got a bunch of fast folks to choose from.
Today's subject is 2018 Amsoil Arenacross Champion and current Cycle Trader/Rock River Yamaha rider Jacob Hayes.
"My favorite moto is also the turning point in my career," began Hayes. "Right around age 15 or 16, that's kind of the breaking point where you're either going to do this [succeed] or you're not, at least in my opinion. So for me that was 2009. Kawasaki told me they really wanted to focus on winning the Schoolboy 1, 125 title. They gave me an unbelievable bike, we did a lot of riding on it, I was prepared, but the class was stacked as always. It was [Justin] Bogle, [Brad] Frace, [Joey] Savatgy, [Kyle] Peters, [Luke] Renzland, there were a bunch of us. To be honest, I expected to go 1-1-1. That's not disrespectful to the other riders, that's just how confidence I felt, how prepared I was. You have to think that way going in. But in the first moto, got a bad start, and got fourth. I got my butt handed to me, I got smoked and I wasn't anywhere near the podium.
"So, realistically, I needed to win the next two motos," he continued. "I won the second moto, so I had a 4-1, and in the third moto I think it came down to myself, Peters, Savatgy, and Frace were all tied for the title going in. I got a good start, put down a good first half of the moto, and then, it hit me. In my head, I started thinking about the title. I was thinking 'I can possibly win this! I can do this.' So then I started making mistakes, and they started creeping up on me. They gave us the two-lap board, and in that six-pack of doubles right after we got the two-lap board, I remember Peters and Frace were like right there. I saw their fenders! Two to go, I had to dig deep, deep down, just had to give it everything I had. And in the final turn, just before the doubles before the finish, we were still all right there. I just remember giving it everything I had on the last lap, it wasn't pretty, I was making a lot of mistakes, but I held on, I won the moto and the title."
That dramatic conclusion gave Hayes his second career title at Loretta's, but his first on big bikes (he had previously won a 65cc title).
"I remember thinking 'You've just won a big title' and how big that was for my career. I also raced Schoolboy 2 on the 250F, but I was racing freaking [Eli] Tomac, and he was totally flying on the GEICO Honda. None of us were close to Tomac, but I got third or fourth in that class, I won the 125 Schoolboy class, so it was a good year for me and that was a big year for my career."
Of course, a cruise down amateur memory lane usually includes some drama, and Hayes had some that week.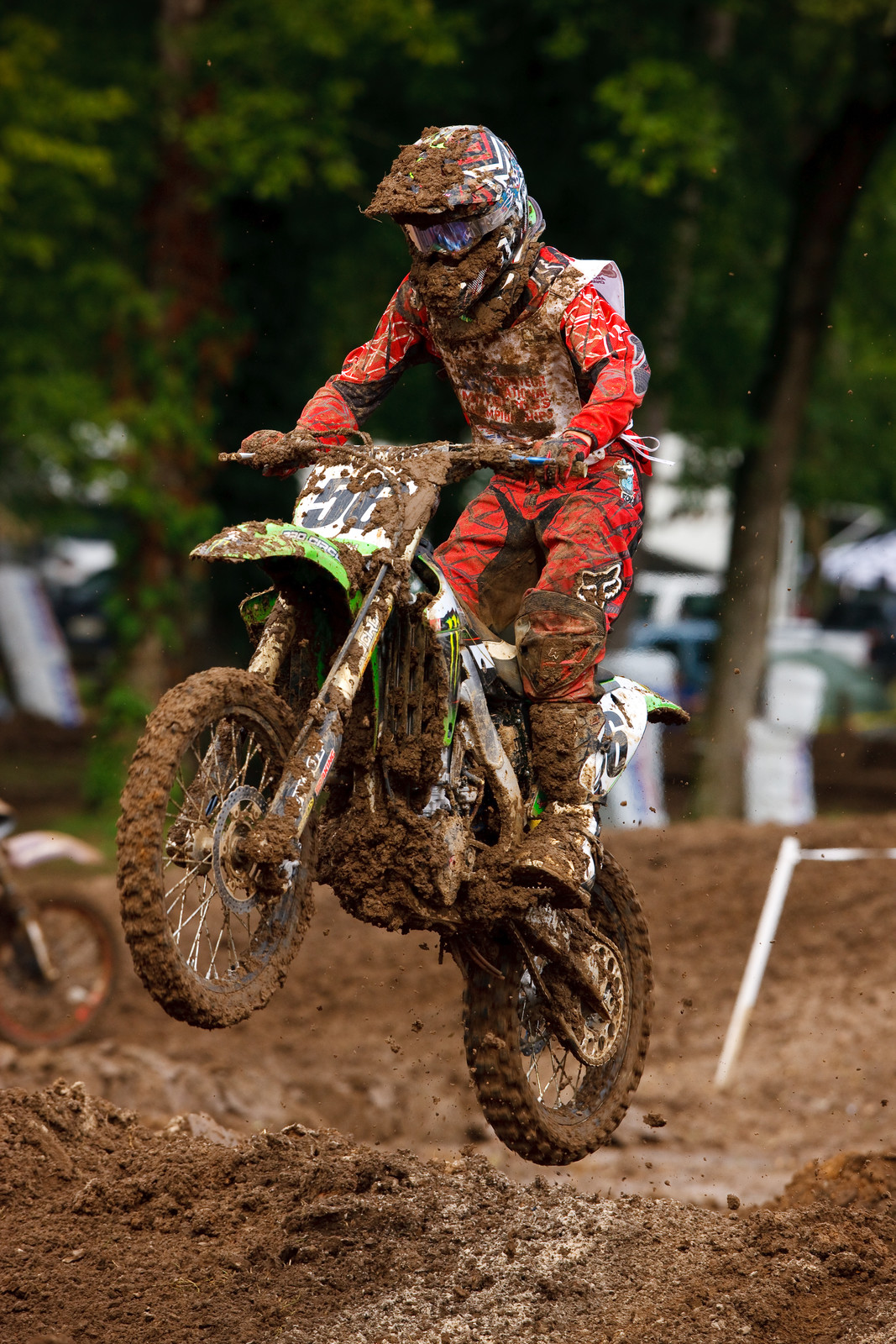 "Yeah, there was a lot of drama between the motos, too," he said. "I got protested, and I couldn't be near my bike during the week, they wanted to watch it the whole time to make sure we didn't do anything to it. They marked the motor, they had to send a referee to the line with me to watch the bike at all times. You know how it is in amateurs and in two-strokes—you start doing well and everyone is like, 'Oh he's running a big bore!' Just how it is."
What Hayes remembers now is the pressure of the race, both what he had put on himself leading into the event, and how much he felt while leading that final moto.
"The second moto I got the lead and just took off, never got tired. Third moto, same thing, got a nice lead of maybe five seconds, just enough where I didn't have to worry about who was behind me. But then all of a sudden I started making mistakes and getting tired. You can be in shape, you can be prepared, but when your mind starts playing tricks on you, it will do a number on you."
More 2019 My Favorite Loretta Lynn's Moto