Welcome to the 2017 Racer X Online Actually Fun Gift Guide, presented by Ride365.com. We're attempting to make mundane Christmas gift shopping into something cool—starting with the fact that motocross gifts are the best gifts of all. Try Ride365.com to get your shopping list going this year, then check out some other cool products.
Garage Sale Graphic Kits—$59.95-99.00
Paralysis by analysis. I never really understood what that saying meant until I was on the website of a graphics company trying to design some custom graphics for my RM-Z. There were a million different schemes to choose from, and in addition to just about any logo I could dream up, I also had the option of uploading my own logos. It was awesome! But the thing is, there were so many options and combinations I couldn't decide what I wanted. Soon I found myself feeling about as decisive as a squirrel who can't decide which side of the road it wants to escape to, and I ended up just logging off and not ordering any decals.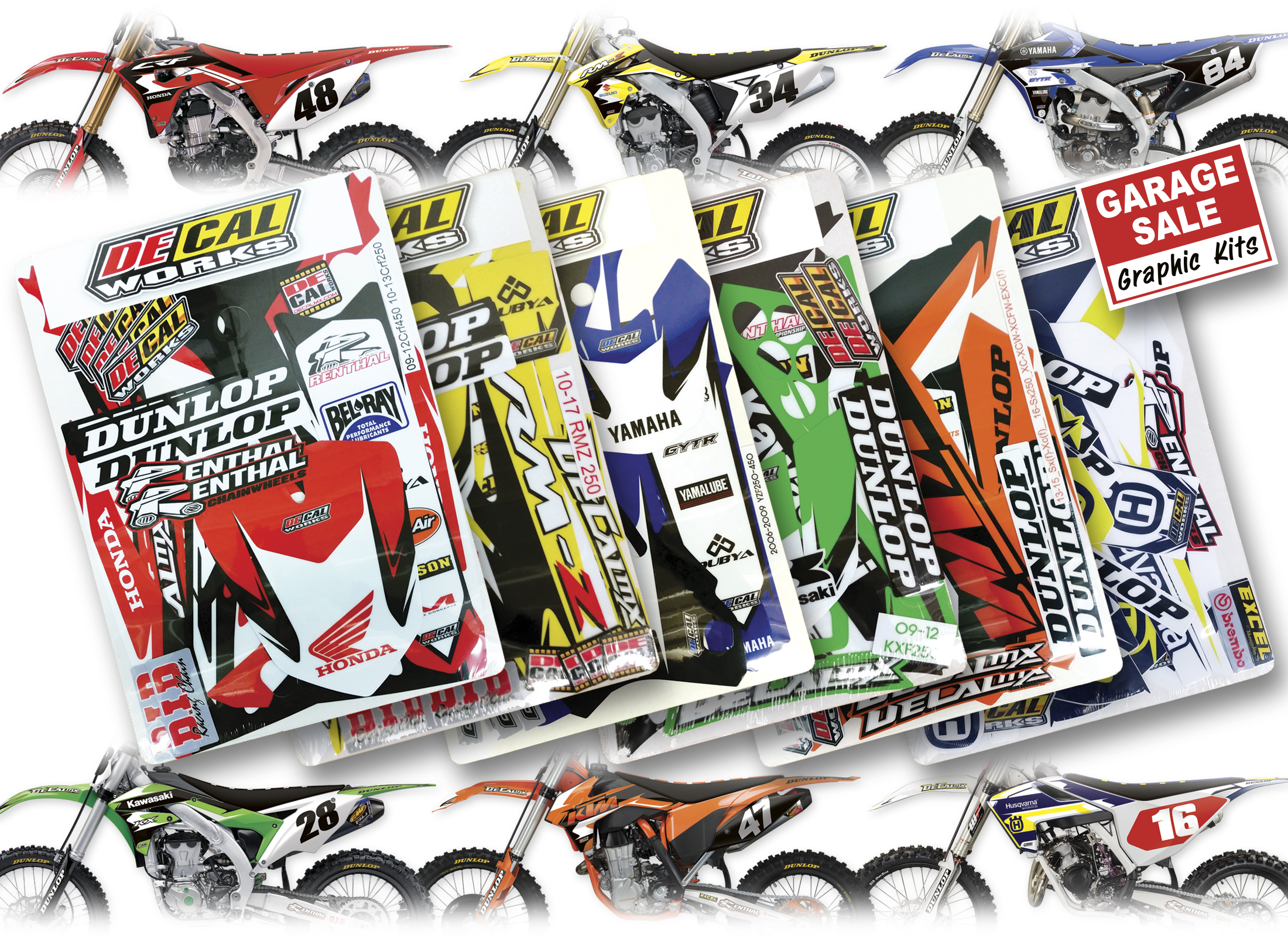 Don't get me wrong, custom graphics are awesome and there are plenty of people who are able to pick out what they want immediately. But for those who find themselves drowning when presented with a sea of options, there's the DeCal Works Garage Sale Graphic Kits. The kits come in standard team colors with predetermined logos, effectively ending agonizing over which option you want. Even better, the coverage provided is much more than you'd expect for the kit's $59.95 price tag. Radiator shrouds, rear fender, front fender tip, swingarm, and fork legs—they all get new clothes with this kit! And since DeCal Works is the maker, you can be sure you won't be lacking in the style department once these graphics are on your bike. These are also a hit if you're looking to dress up your ride to sell it. A personalized bike can look great, but if you've got Airtime Ainsworth plastered all over your bike it might be difficult to sell to someone named Chuck Spindelli.
Can't live without some degree of customization? Add the customized number plate background kit, complete with your name on the front, to make the entire kit an even $99.00. You can't go wrong with that, so check out decalworks.com for more info.
MORE FROM THE "ACTUALLY FUN GIFT GUIDE."