Great Races: The 1998 Glen Helen National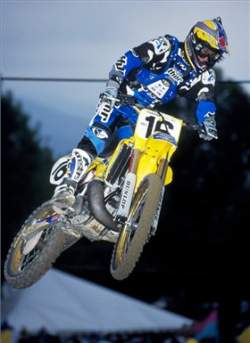 Mickael Pichon rode for Team Suzuki in 1998
It was the early spring of 1998 and
Racer X Illustrated
magazine was but two issues old. And while yes, the magazine going really strong nearly a decade later, in all honesty, it was a wing-and-a-prayer affair back in '98. I joined up after two issues, and I needed some luck and I needed a good story. Fortunately, a guy from France named Mickael Pichon came through for me on both accounts.
It was Saturday morning, May 9, 1998, and after contacting both men earlier in the week, here I was at the opening round of the AMA 250cc National Motocross Championship at Glen Helen Raceway, about to shadow Pichon, then age 22, and his factory Suzuki mechanic, Tony Berluti. Although Mickael had experienced a fair amount of success in the United States up to that point—winning both the 1995 and 1996 AMA 125cc East Region Supercross Championship—he had only won one moto in three years of 125cc AMA National Championship competition. For the '98 outdoor season, Pichon was called up to the 250cc big leagues by American Suzuki, and Glen Helen was to be his first start.
""I don't know what to expect," a concerned Pichon said that cool, foggy morning in San Bernardino, California, watching Berluti bolt his factory RM250 together. "I feel good about the weekend, but it's hard to tell because I'm a newcomer to the class. I have good speed and good conditioning and the bike is working great, but there are a lot of very good guys in the class."
As far as rider and mechanic go, Pichon and Berluti, raised in Reno, Nevada, made for an interesting contrast. While Pichon could be moody, inconsistent, and downright troublesome if things weren't going his way, Berluti always kept his wits while conveying a professional, friendly demeanor, which made him one of the favorite mechanics on the tour. "We do have our moments," Berluti offered. "Mickael is real stubborn and set in his ways, but we have a real good working relationship. When things are going good, the relationship is great. I love his natural ability on the bike, and I'm hoping Mickael's second-place finish at the Las Vegas Supercross last week will carry over to this weekend. He's got a number of thirds and fourths this year in supercross, so he knows he can do it. I feel he's going to do well in this class. I guess we'll know soon."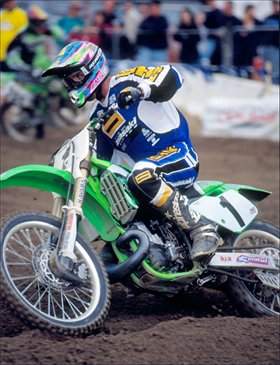 Team Kawasaki's Jeff Emig holeshot the first moto
Team Kawasaki's Jeff Emig holeshot the first 250cc National moto of the season, leading Suzuki of Japan factory rider Kyle Lewis, Jeremy McGrath,
Mike LaRocco
, Doug Henry, and
Kevin Windham
. Pichon was in seventh. The seven riders would circulate the
Glen Helen
track in a tight formation up to the halfway mark, and the crowd could see Chaparral Yamaha-backed McGrath in the lead, followed by Yamaha-mounted Windham, Honda pilot LaRocco, thumper-mounted Henry, Lewis, and Emig.
"It's the halfway mark and he's hanging in there longer than I thought," Berluti yelled of his rider. "If he gets in the top five, I'll be ecstatic. Right now it looks like Kyle Lewis is getting tired, and he'll get Emig, so this is pretty good." And with one lap to go, that's where Pichon would be—in fifth place. "Excellent, dude!" Berluti screamed when Pichon flashed by.

At precisely 4:20 p.m., the 30-second card went sideways and the gate dropped. As the 40-rider pack roared down the start straight, Pichon, who was smack in the middle of it all, quickly looked left and right. One turn later, he was out front with the holeshot and hastily began to put Glen Helen hard-pack between his yellow rear fender and 39 other riders. While Berluti remained calm and kept it all together, Pichon's father, with no rhyme or reason, ran from section to section, yelling and screaming like a wild man. While Pichon motored away in the lead, his Suzuki teammates Larry Ward and Greg Albertyn quietly found their way into second and third, respectively. And when LaRocco blitzed McGrath late in the race to displace the supercross ace to fifth, Pichon had all he needed to win not only the second moto, but his first AMA National.
"All right!" Pichon said later in the pits. "It's the best day of my whole career. I won in my first 250 Outdoor National. The bike was great and I felt very smooth. When you test during the week, you think you have the bike setup, but racing is so different. We worked with everything because when I race, I want the bike perfect. Today it was, and that's just what I needed. Tony and I have been together for two years, working so hard. Now it pays off. I am so happy!"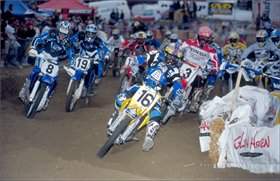 Pichon pulled the second-moto holeshot and never looked back
Added Berluti while power-washing the bike: "He got so lucky. The way things were going, I didn't know that he could win the overall. But it's so great. You saw how much work went into it. When this happens, it makes it all worthwhile. Sometimes you can get burned out and down and then something like this happens and it picks you back up and gets you motivated all over again."
Within two years, Pichon's American odyssey would come to an end after bad results and bad chemistry at Team Honda led to a full-on public meltdown at the High Point National. Pichon would leave America for good after the incident, settling in Europe, where he would win both the 2001 and 2002 250cc World Motocross Championship. He announced his retirement just a few weeks ago. Berluti remains at Team Makita Suzuki, working as Ivan Tedesco's ace mechanic.