Buchanan, MI
RedBud National II
Lucas Oil AMA Pro Motocross Championship
You knew Adam Cianciarulo was going to break through for a win sooner or later, and it finally happened last Monday at the RedBud 2 National. Despite an insane amount of pressure from Eli Tomac, Cianciarulo was flawless in moto one, and nearly pulled a repeat in the second moto, and probably would have, had he not gotten together with a lapper and dropped to third place. Even so, the Monster Energy Kawasaki rider's 1-3 scores were good enough for him to notch his first victory aboard the 450. We spoke with him to get his thoughts on his monumental achievement.
Racer X: Adam, grabbed your first overall win on the 450. Probably had a little bit of a scare there in the second moto with that tip-over, but you were able to kind of rebound and remount and take it to the checkered flag and grab that overall. I guess, what was the emotion like, getting your first 450 win?
Adam Cianciarulo: A lot of emotions, for sure. I've been fortunate enough to come into this season in a good situation with a good team and a good motorcycle. I know I'm capable of being up there and having the speed, but getting over the hump of actually winning a race, there's a lot more to it than just speed. That's kind of the reason why I moved up from the 250 class when I more eligibility left in that class. I wanted the chance to say, I'm the best in the world this weekend. That's what I get to say, and that's what I'm proud to say for at least the next week and a half or so, until we have to prove it again.
Is there any talk of team orders now with you now being third in points ahead of your teammate?
No. What would we even talk about? I'm third in points and he's fourth or fifth. I don't think there's really anything to talk about there. Honestly, there hasn't been ever. There hasn't been any team orders and I'm sure there's not going to be, because there's no reason, really.
LaRocco's Leap, I know just because it's RedBud, we saw you way on the back of the bike, really having to seat bounce that hard. Was it difficult to get over, to do it every lap, or was it something that you could pretty much do consistently?
It was difficult. The corner was tough this year, especially for RedBud 2. It was really sandy, really soft. That corner tends to blow out five, six laps into the race and then you're stuck kind of having to be really patient on the entry to try to get a good drive on the exit. For me, I actually had a better time hitting it at the inside. For some reason I was able to get more drive. It was definitely difficult. You had to be focused. It was kind of right in between gears for me, in between second and third gear. If I switched up to third I tended to lug it a bit, and if I stayed in second I kind of ran out of gear right before the tip of the face. Most of the time I just left it in second and pinned it.
During that second moto, could you walk us through what actually happened with that lapper? It looked like lines just sort of collided.
Yeah. I was pretty aware of where he was. I figured that he was going to slow down before he got to the right. It's probably my bad. He probably didn't see me coming or whatever and didn't see the blue flag. Ultimately, when you're approaching from behind and you're the one that ends up going down, it's your fault. So it's totally my fault there. I just tried to opt out of the line a little bit too late. I was honestly kind of half-assed committed to jumping out of the line and just got my wheels crossed up. Ultimately it was no big deal. Got up, was calm and just took her home.
What was the turnaround like having the double-header? Did you feel different on Monday than a regular national?
I felt pretty good. I think part of it was the weather was so good on Friday. At least I didn't go too far into my body in terms of just really having to dig deep. I felt really good physically both motos there. Just really didn't do anything. Went to the movies by myself, chilling. Just tried to recover and hydrate, obviously, and do everything we could. It didn't feel too different to me.
It's a shame we didn't have fans here, because that's a big part of RedBud. Does that have an impact when you're on the track? How was it for you?
It was different for sure, but I think now we've been socially distancing for so long that I found myself more noticing the few people that were there being loud. A couple of them had air horns and stuff like that. I kind of appreciated that. Even though it was a small crowd it was a spirited crowd. At least some people gathered around. It's not too fun riding around the track with nobody on the fences. To be honest, I didn't really think about it until after the event was over. I'm like, "Man, my first win would have been cool with 30,000 people here," but just grateful I got it.
You had said on Friday that you're an excellent chiller, so do you credit some of the win to your chilling abilities?
I think so. I know that any type of physical activity pretty much, especially on two-days' rest like that is going to be detrimental to how you're going to feel on Monday. It's super hard to obviously sit still and just chill out, but I did my best and I felt good both days. Maybe I've got to keep it going. Maybe I've just got to sit my ass on the couch all week.
What goes through your mind when you hit that lapper? Like, here we are again?
No, not at all. I don't have any thoughts from outside. I'm not thinking about past mistakes or anything. The only thing I was thinking there when I hit the lapper was, "I got to pick the bike up and keep going." That was pretty much it. Honestly I didn't even know where Blake [Baggett] was at the time, little did I know—I looked at the lap times today. He did a 2:07 and I did a 2:10 or something on that lap right before I crashed. I didn't know he was coming so hard. I thought just Zach passed me. To be honest, until I was sitting under the awning when the race was done, I still thought I got second. I didn't even know Blake won. I knew I had the overall, obviously. My mechanic was letting me know. Just kept focusing forward.
You talked about the 1-1 being what you were focused on. How big of a deal would a 1-1 have been?
I'm not too bummed on it. Obviously it would be cool to have a perfect day with getting both holeshots and leading every lap, but I did my absolute best. I know that. Made a mistake, but it happens. I didn't get the 1-1, but always next weekend.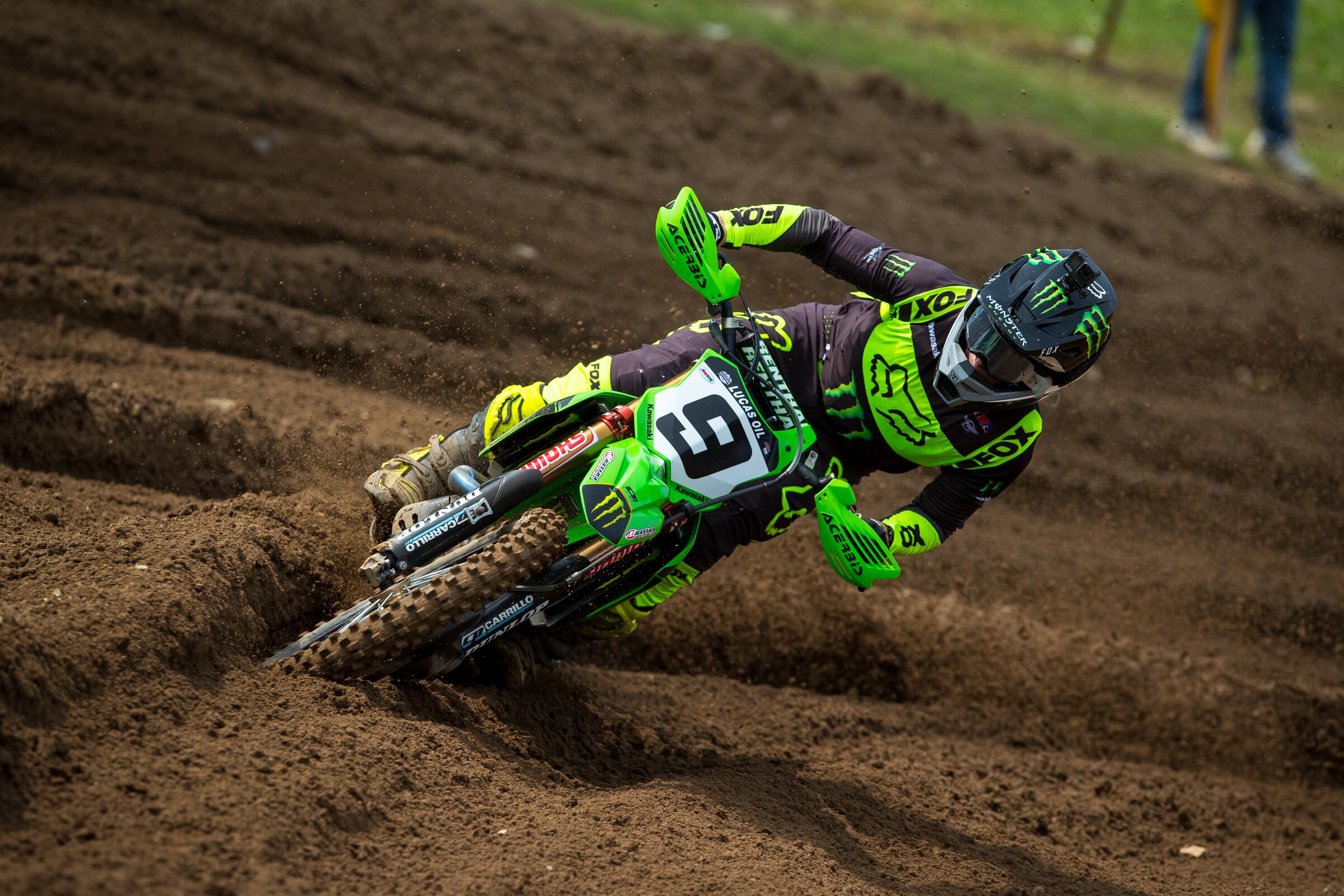 You missed some races with the injury but it's still a longer season than you were used because you're a 450 guy now, so does it seem any different to you?
No, not really, to be honest. I missed I think two races right there at the end of supercross before COVID[-19] happened, and then getting hurt in Salt Lake [City] and missing those. Even though as most of you guys know, when you get hurt you're still grinding, so it still feels like you're working. But as far as traveling to the races and being around the guys and just going to the gate, as far as that goes, I haven't done that as much as these other guys have this year. And I obviously just got my first win, so I'm pretty much ready to race tomorrow if we have to.
You've been obviously fast at all these races and you've been in position for the overall a couple of weeks and then you finally got it here. Is this just things finally fell into place, or is there something you're learning each time and then it finally worked? The things you learned the previous week allowed you to win this time, or could this have happened any of these last couple weeks?
I could make this answer 15 minutes if I wanted to. I think if anything, it's just getting more familiar with the environment. Just to give you an example, I don't think I would have won that first moto if I didn't lead all those laps at Ironman a couple weeks ago. You get up there and you're more comfortable. You fake it till you make it. You just start believing in yourself. You're still out there. You know you have good pace. I think maybe 25 minutes into the first moto I'm like, "I do not have to lose this race. I can do this." I just gave it my all and I just trusted that was enough, and it was enough. Once that clicks and you realize that, you start seeing things a little bit different.