Millville, MN
Spring Creek
Lucas Oil AMA Pro Motocross Championship
Spring Creek MX Park in Millville, Minnesota, hosts round eight of the Lucas Oil AMA Pro Motocross Championship. Widely regarded as one of the best tracks of the series, it was the track that I had the most "fun" on. For most people, riding dirt bikes is all about fun and that's why this sport is so beloved. At the professional level, that fun can get lost in the pressure, expectation, travel, and endless preparation.
A track like Spring Creek helps break up those dog days of summer. Back when the series was a two-day event, the Saturday practice was very low key. With nothing really at stake on Saturday (for seeded riders anyway), it was a chance to ride and just enjoy it. Spring Creek's great traction allowed riders to be aggressive, accelerating hard up the steep hills and pushing the limits on descent. Everyone will have a different opinion of every track, but Spring Creek sticks out as one I had fun riding during the chaos that is racing.
The start at Spring Creek is a fast one. As riders come barreling into the first bend, those at the front will be in a two-wheel drift toward the outside. After cresting a small rise, there is another fast bend to the right before finally finding some stability down the next straight. There is a lot of trust shared amongst the lead group as everyone is fighting on the edge of traction through the first corner.
This start is also one of the fairest on the calendar. Good starts can come from anywhere on the line. The middle is the most obvious choice for many, but some riders will opt for the very inside (hopping on the grass a la Chad Reed at the 2018 Ironman National) or going to the very outside and sweeping around the pack. That outside option is not for the faint of heart as the only chance of success is holding the throttle on longer than anyone else, pushing yourself deep into the first turn. If it goes wrong or there is contact made from someone to the inside (right), it's nearly impossible to avoid going wide and off the track or worse. I have seen it work but there isn't an insurance adjuster alive that would recommend it.
It's impossible to talk about this race without mentioning the sand whoops. It's the obstacle that most relate to this event. While the sand whoops are all constant, the shape, size, and speed of them is not. I have seen these built in every variation. They've been so large that doubling was the optimal line (my favorite), they've been so small and fast that Ricky Carmichael was going 45+ mph through them, and they have been so deteriorated that every single lap was seemingly different. It's always a surprise on Friday when riders walk through them. Regardless of build, though, there is a lot of time to be gained or lost in this section.
The sand whoops are almost a track of their own. The ideal suspension/chassis setup is very different than the rest of the track would ask. Setup is always a compromise at this track, accordingly. If you try to set the bike up perfectly for the clay uphills and downhills, the sand whoops will be tougher. If you focus your setup for the sand whoops, the rest of the track will be compromised. Finding a middle of the road setting that will allow success around the entire track is the goal, obviously, but it's not always easy. The sand whoops want a stiffer front end and lower ride height in the rear, allowing stability and speed while blitzing across the tops. That setup makes the bike much tougher to turn, though, as the front end will be difficult to compress (to turn) and the low rear end isn't helping transfer any weight forward. It's a see-saw battle for riders and suspension technicians with no perfect answer.
For me, personally, I was never great in the sand whoops. Even with the ideal setup, I was still slow there. Given that knowledge going in, I would just worry about being as fast as possible on the rest of the track. The sand whoops were going to be a liability regardless, so recouping that time on the other 90 percent of the track was my plan. Watch for that on Saturday. Watch for who is strong or weak in the sand whoops and see if they are compromising anywhere else. The ideal setup won't stand out anywhere. In that ideal setup window, most riders will probably admit it could be better here or there but it's not a big problem in one specific spot. That's part of the challenge of Millville. Going fast is physical as all national level tracks are, but it's also a mental game, finding that agreeable setting.
One last setup mention here is the rear tire. Spring Creek is one of the only tracks that a "scoop" tire gets used. This tire is the most aggressive option in pro racing and looks more like a paddle tire than a standard motocross tire. The benefit is incredible straight-line acceleration. Starts are not comparable to a normal tire. It's that much better on starts, exiting corners, and climbing hills. The downside is with all of that empty space for "scooping" dirt, there isn't near as much stability or cornering traction. When leaning the bike, the traction is much less predictable. If there is a hard/slippery spot, riders have to be very careful to not low-side crash or worse, spin the rear tire up and then high side. It's a compromise, like all things Spring Creek. I have heard in recent years that the side-knob traction on these tires has improved greatly, giving riders a much more predictable experience. That improvement increases the usage range for racing. In practical terms, if the track was previously only soft enough to use this tire in qualifying practice and maybe the first moto, that improvement might make the first moto usage a no-brainer. Spring Creek, RedBud, Southwick, and Florida are the only rounds I would expect this variable to be in play.
Questions I Need Answered
Can Alex Martin keep the ball rolling? He has never won his home race but looked great last time out.
Which way will the Dylan Ferrandis/Adam Cianciarulo momentum pendulum swing?
Is this 450 Class championship all but over?
Who improved during the off weekend?
How will Chase Sexton rebound after a rough few weeks?
Who's Hot
Ferrandis has won two overalls in a row, along with four of the last five motos.
A-Mart's overall result might not jump off the page but he has found his form just in time for his home race.
I wouldn't immediately consider Eli Tomac's season to be dominant but when considering the points lead, maybe I should? He has a strangle hold on the series with five rounds to go.
Who's Not
Derek Drake hasn't had the debut summer he was hoping for. He has speed but his inability to maintain that level throughout the moto has been troubling.
Dean Ferris's tenure with Monster Energy Yamaha Factory Racing has come to an end and he returned to race in Australia, this time on a KTM.
Joey Savatgy went DNF-DNF at RedBud after riding well inside the top ten both motos. He has been a fantasy killer for many this summer.
Martin Davalos is fighting a nagging injury in what could be his final summer of professional racing. He is out for this weekend's race.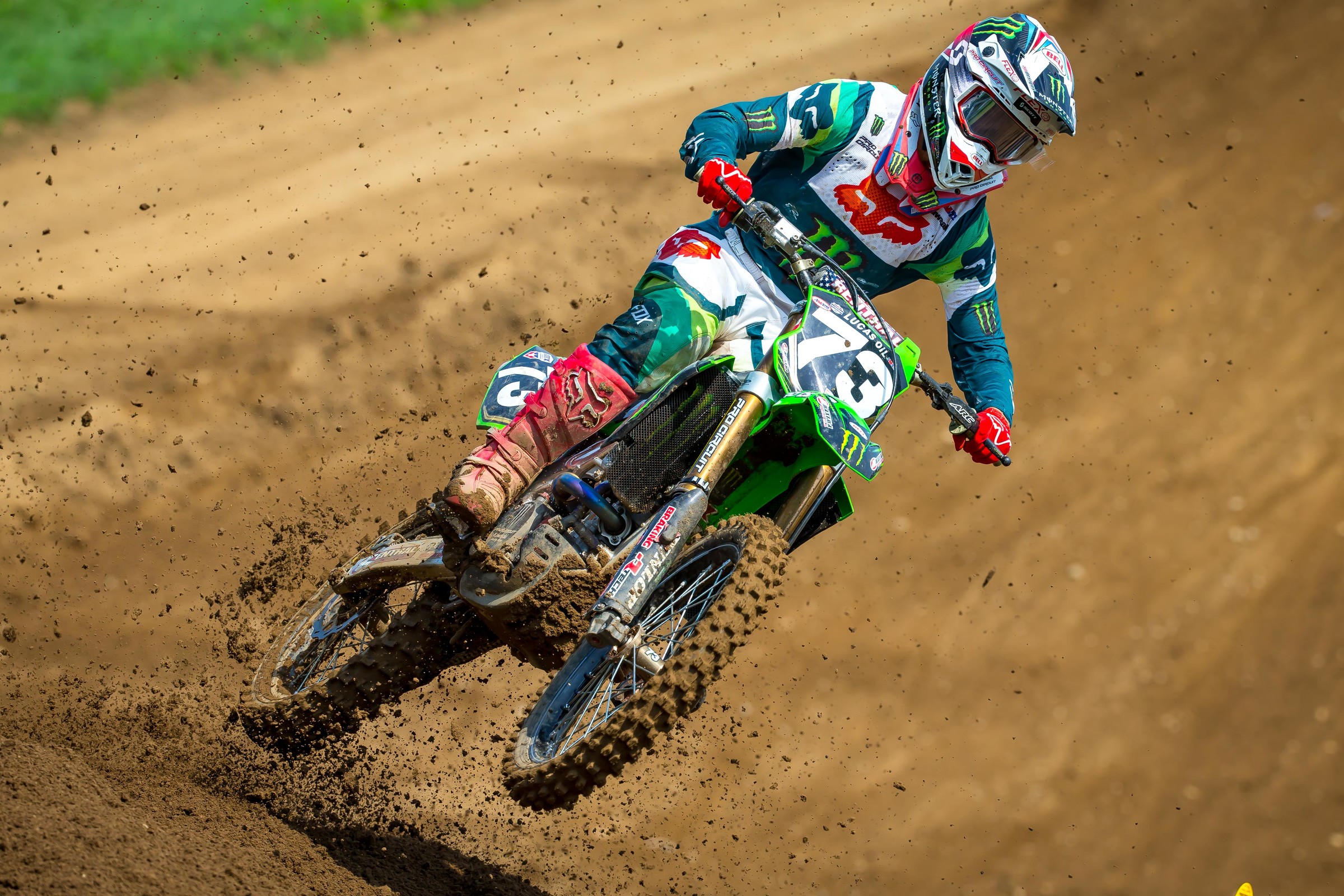 Bold Predictions
Monster Energy/Yamalube/Star Racing Yamaha is running first through fifth on the first lap of moto one.
Savatgy curses fantasy motocross when he wakes up, falls asleep, and every moment in between.
KTM holeshots both 450 Class motos.
Contract negotiations break down between Jason Weigandt and The Whoop Monster for a guest appearance on "The Weege Show."
Moods around Monster Energy Kawasaki are upbeat and relaxed after hearing Steve Matthes has decided to forego a trip to Minnesota.
Alex Martin sets the local fans ablaze by leading laps in moto two.
Chase Sexton is seen participating in an Ironman Triathlon on Friday.
My Picks
250
Dylan Ferrandis
Adam Cianciarulo
Alex Martin
450
Eli Tomac
Marvin Musquin
Cooper Webb