Only by the impossible standards set for him could James Stewart's supercross career look like anything less than a raging success, but such is the case when you come carrying the hype Stewart built early in his career. And we mean early. Since his days on 50cc bikes, Stewart has been considered by many to have the most potential to rewrite the record books and completely change the sport forever.
Yup, just break every record and change the sport forever. That's fair (and easy) to ask, right?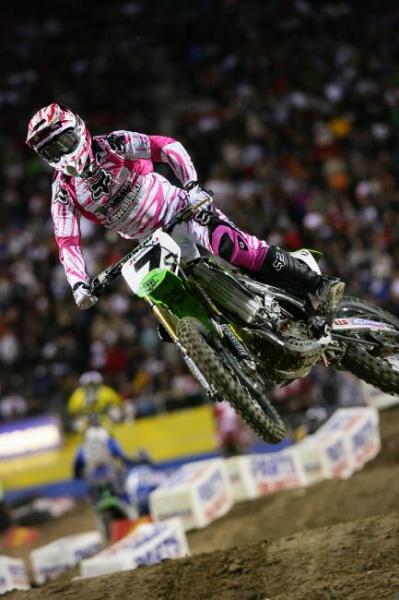 Stewart is currently third all-time in career wins.
Simon Cudby photo
And it's something asked only of Stewart. Call it a double standard or a doubly high standard, but it's one only he has to deal with. No one knew Jeremy McGrath would be as great as he became until he had already proven it. Same with anyone else ranked highly on this list. Stewart was the one predestined to break records. Stewart is the one moved into second in the all-time combined AMA Supercross and Motocross career wins list last summer, and could very easily be second all-time in supercross wins shortly, and yet is considered to have left much on the table. Crashes. Injuries. He missed his 2008 title defense to a torn ACL, his 2010 title defense to a broken wrist, and the last two seasons have been marred by inconsistency.
But anyone ranked second all-time in anything is a bad-ass. Well, normally. But by his own admission, Stewart stated McGrath's 72 career SX wins as a career goal, for example, and he's got a long way to go.
As for this list, he's fourth. He's currently third all-time in wins, but carries two championships, which is outstripped by the riders in front of him on this countdown. He does get extra points for his technique and innovation--the eyeball test, as we call it. You can make a valid point that if you had to bet on one rider for one lap to put in the fastest supercross lap ever, Stewart might be your guy. And while scrubbing was around in various forms before him, he's the one that perfected it and took it so mainstream that kids are doing it on 65s now. That's innovation, and that's why riders like Jean-Michel Bayle and Damon Bradshaw can rank highly on this countdown even if the sheer number of wins or titles doesn't do it alone.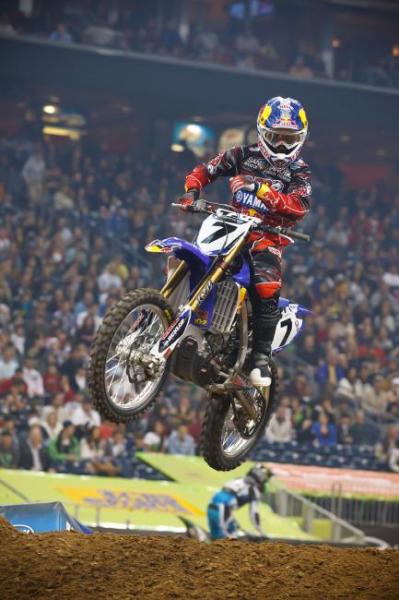 Stewart is the highest-ranked active rider on the countdown.
Simon Cudby photo
It's also worth noting that Stewart is the highest-ranked active rider on this countdown. There's still time for more wins and titles, and as always with Stewart, the potential is always there.
The 30 Best Supercross Racers of All Time Tracker:
#5 Rick Johnson
#6 Chad Reed
#8 Jeff Stanton
#9 Jeff Ward
#10 Jean Michel Bayle
#11 Damon Bradshaw
#12 Mark Barnett
#13 Kevin Windham
#14 David Bailey
#15 Ryan Dungey
#16 Mike Bell
#17 Jeff Emig
#18 Johnny O'Mara
#19 Doug Henry
#20 Jimmy Ellis
#21 Mike LaRocco
#22 Ezra Lusk
#23 Broc Glover
#24 Ron Lechien
#25 Jimmy Weinert
#26 David Vuillemin
#27 Donnie Hansen
#28 Larry Ward
#29 Mike Kiedrowski
#30 Marty Tripes