Angel Stadium
Anaheim

,

CA
Anaheim 1 (A1)
Monster Energy AMA Supercross Championship
Privateer Jimmy Albertson is looking to step up to another rung on the motocross food chain in 2013 . Albertson, one of the funnier and nicer racers in the pits, finds himself on Hondas and on the MotoThump HRT team for this year in sort of a self-made program. Top Jimmy is hoping to improve on his so-so results from last year and is banking on a return to red being one of the reasons why. We caught up to Albertson as he was driving out to SoCal from his home base in Oklahoma.
Racer X: Jimmy, talk about your new deal for this year.
Jimmy Albertson: I'm stoked, everything is looking great and coming together at the last minute is per usual for me. I got the guys at MotoThump.com to come up and watch me at Trey's (Canard) and they're wanting to be involved with the sport in a deeper level and they wanted to help me out. They climbed on board, helped me out with some expenses and then I got together with the HRT guys, Tom Hansen and merged the two sponsors together. I'm sort of running my own program with those two guys help.
I'm tight with Jim Lewis at Merge Racing and I feel really comfortable with his motor and suspension work and I had to get back on a Honda. So all together, I'll be out of the HRT truck and working with the sponsors that have backed me for a long time. I'm on the MotoThump/HRT Racing and Merge program!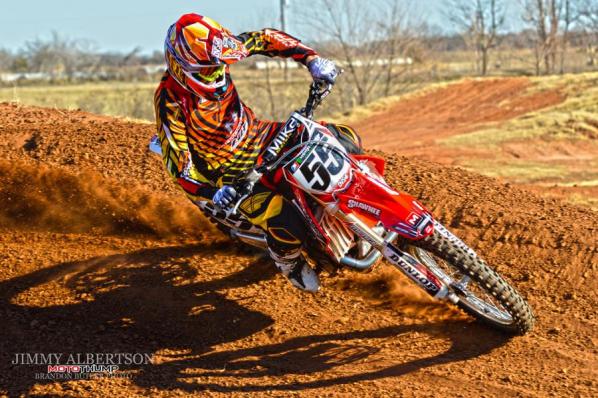 Albertson is back on Honda for the 2013 season.
Brandon Butler / MotoThump photo
How do you like being back on the Hondas?
Last year was last year, no excuses and I believe I could've done better but it is what it is. But this year, I feel so much better on the 2013 Honda. I took a bit of a risk because I bought the bike before I even rode one. I was just hoping that I'd like it. I have a big powerhouse Honda dealer by me so it was kind of a no-brainer. I loved it right away except it was a bit slow for me. The handling was great though. Once I put on an FMF system, it was amazing. It really brought it to life. I think the bike would've done better in the shootouts if it wasn't for that stock exhaust. I have a lot of time and effort on the bike as does Jim at Merge and I'm thankful for that. I can't wait to go racing.
How do you think you can do? What are your expectations?
The first race of the season is tough but last year I felt like I didn't even race. I just felt like I was riding around. I never got off the track and felt like I killed it. I was sort of riding it like it was a parade lap. I was stuck for some reason. Who knows why? I'm sure it was in my head. This year I believe that, even practicing, I have a bit more intensity out there. I need to transfer that to the race. In a 20-lap main, a lot of crazy stuff happens and so if I can avoid that and ride the way I can, I think I can be in the top ten.
What's the reason for basing yourself out of California?
Once the series heads back to Dallas, I'll go back to Oklahoma. I'll base everything out of there. I rented a house out by Trey's. I like it out there, it's a great home base. Until Dallas, I'll be staying out in Beaumont, my old riding coach Shannon Niday is renting out Adam Chatfield's old house so it has everything right there that I need. The supercross track will be all redone and it will be nice. I'll have a nice facility there and I can work with Shannon during the week to brush up my technique also.
Have you seen Ronnie Mac lately out in OK?
No, I haven't. I heard he's going to borrow his mom's car and drive out to California but I can't talk to him to much, he creeps me out.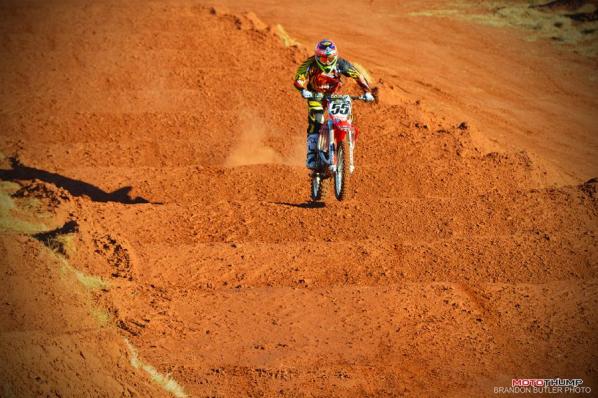 Albertson looks to rebound from a tough 2012 season at A1.
Brandon Butler / MotoThump photo
How's your buddy Trey Canard looking?
I don't know about on the bike, because I haven't seen him ride much. I don't care about how he looks on the bike, though. I just want him to be happy and when he was home for the holidays, he was.
Who do you want to thank?
MotoThump for getting me to the races, HRT Racing, Jim and Dylan at Merge Racing- those guys love racing like I do. I'd rather be broke racing motorcycles than rich behind a desk. Fly Racing and WPS, Beer and EKS Brand goggles, FMF pipes, Rekluse clutches, Ray and Jason at Shawnee Honda, Mika Metals, DT1 filters, Dunlop, Dubya, Moto Seat, Renegade fuels, Works Connection, Cycra plastics, Motopro graphics, Shannon Niday MX schools, Freegun underwear, Moto Mafia crew, DVS shoes, Alpinestars, Kirk Lewis, the Canard family, Reynard raceway, my brother, my parents, and of course my lovely wife Georgia