Welcome to a new Racer X Online Countdown, this one dedicated to the men and women who graduated from the Rocky Mountain ATV/MC Loretta Lynn's AMA Amateur Motocross Championship (est. 1982) and went on to do some other big things in their lives—some in motocross, some in auto racing, some in the motorcycle industry, and some just in life in general. It's our way of counting down the days to the single biggest and most important amateur motocross race of all and how it's helped shape the lives of those who have gone off the starting gates on the land of the first lady of country music, Loretta Lynn.
We got a tip for our Loretta's alumni countdown last week:
I know my brother wouldn't submit, but thought he may make a good story for Loretta Lynn's Graduates. He raced there every year from 1984-1990, highlighted by finishing second in both 125 B Mod and Stock in 1990. He unfortunately was paralyzed the next year in a practice accident, but since then, he's won two Ironman World Championships (2009 and 2013) in Kona, Hawaii, and a 70.3 Half Ironman World Championship in Las Vegas, NV (2012). In total, I believe he's completed five Ironman World Championships and has competed in over 30 triathlons and 50+ marathons."
Thanks for considering it.
Clinton Fowler
Now that's a cool story! Jason Fowler might have been too humble to submit a story, but once his brother roped him in, we reached out to Jason for a synopsis on his career. (You can find his Loretta's results here.)
"MX was my world from 1980 at age six until 1991, when I had my accident. Loretta Lynn's was a special place for our entire family, including my brother, who competed as well. Below are a bunch of highlights to give you a sense of my journey from MX to Ironman triathlons.
Raced MX from 1980-1991 in NEMA and NESC, won eight New England championships
Team Green-sponsored racer from 1984-1991
Competed at Loretta Lynn's seven times
Competed at Las Vegas Race of Champions twice
Competed at several winter Mini Olympics (most recent MX claim to fame was winning the 1990 Gainesville Winter Olympics' 125B MX and Enduro classes, and I beat Ezra Lusk in both)
Had accident in March 1991 while out practicing starts that left me paralyzed from chest down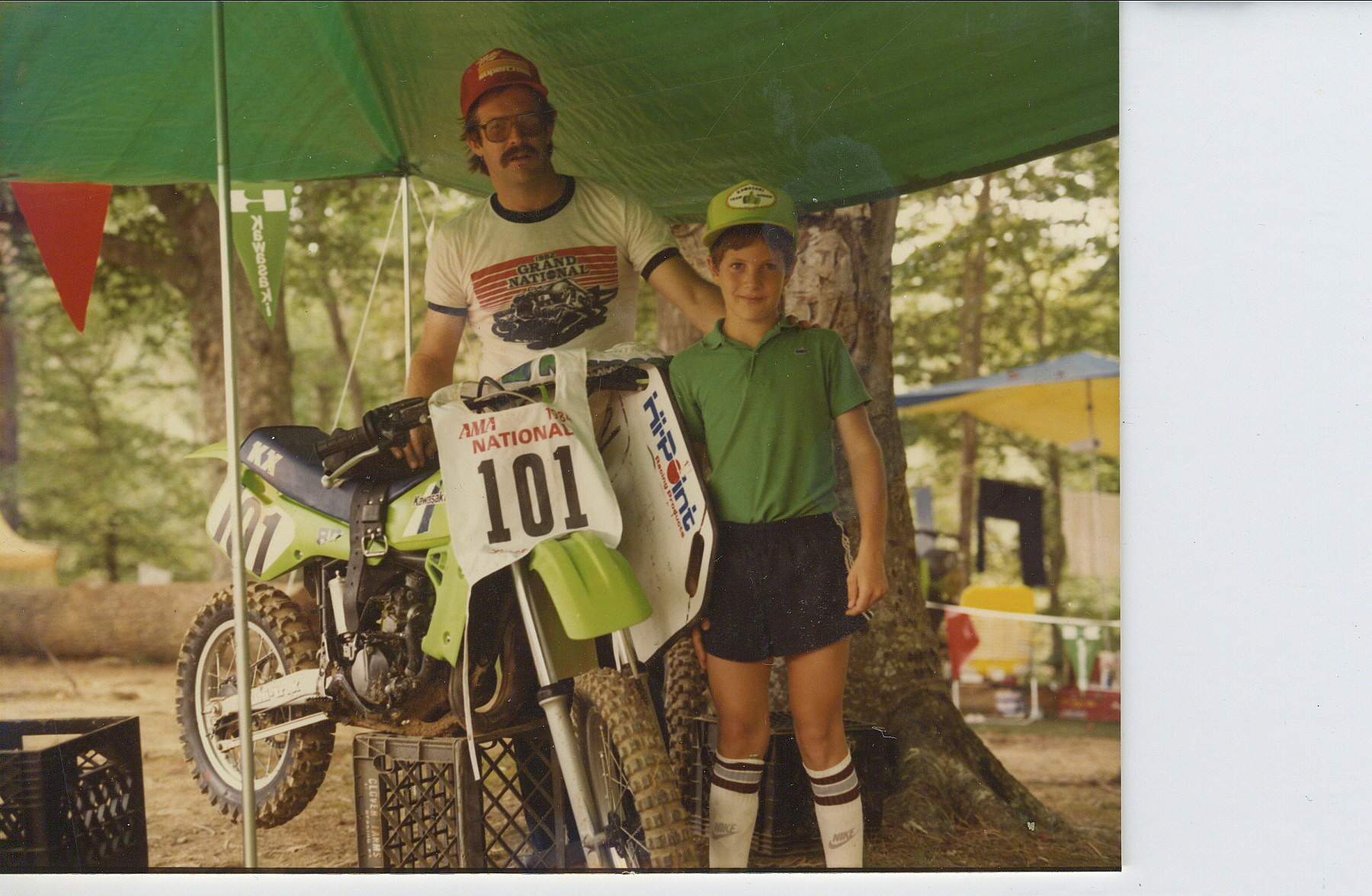 Since my accident in 1991, I have competed in over 150 road races, 35 marathons, 37 triathlons, including five Ironman World Championships, and was crowned World Champion in both 2009 and 2016 in the handcycle division.
David Bailey was a childhood hero and inspired me to start wheelchair racing, race my first Boston marathon, and race the Ironman triathlon World Championship
A special sports highlight for me is battling—and eventually winning—against Bailey at the Ironman World Championship in 2009. David and I went head to head for 140 miles and have endless stories about almost dying in the lava fields of Kona, Hawaii, pushing each other's limits. David was a mentor for me after my accident and is now a good friend.
I volunteer helping others with injuries get into wheelchair racing
I currently work in medical sales and am starting a sports mental coaching business for athletes
My website is www.jasonfowlerracing.com. For those who want to connect, you can email me at jasonfowlerracing@gmail.com."
To get the other side, we emailed David Bailey himself, one of the all-time storytellers. Here's the Icon's take on Jason Fowler:
"Jason Fowler is very easygoing and humble, so it wasn't until long after knowing him that he told me he won the 50cc race at Foxborough one of the years I won the SX in the 250 class! I thought that was pretty neat. I first met him right after the Boston Marathon. I heard there was a kid downstairs who wanted to know if I could come down and meet him—he had just been injured and was a fan, so I invited him up to the room, and it was Jason. We talked racing chairs and marathons, etc. Not long after, as I noticed handcycles popping up here and there, I decided to shift my focus to triathlons and maybe even the Hawaii Ironman. While I was figuring all of that out, Jason got good in the race chair and started doing a ton of races—including Boston!
"Things progressed for me in triathlon and I did the Ironman in Kona. Jason was also making the transition, so we got back in touch and talked handcycles, swimming, tri gear, etc. I wrapped up my Ironman quest with a win in Kona in 2000, and then I moved on. Jason was getting good, though, and I was stoked for him! I was sort of retired, but in 2009, after that whole pressure sore nightmare and some major health problems, I got the Ironman bug again.
"However, in order to qualify, I had to go to Lubbock, Texas, and finish in the top two out of however many showed up. I think there were 11 entrants, and one of them was Jason Fowler! Wow... who would've thought? We had a great race. He beat me out of the swim, I passed him in the transition onto the bike, and I led all 56mi into the final segment—the 13.1-mile half marathon. In transition, he pounded a Red Bull and we went bar to bar until the final miles and he slowly pulled away and won. I was second, but that was okay—we had earned the two tickets to paradise (Kona, Hawaii)!
"We both worked so hard preparing for that event. I figured I could beat him in Kona, and after coming out of the swim just behind him, I passed him on the bike and figured, that's that, I've got him! But that kid was like Rocky! Jason kept coming back. We swapped positions six to ten times in the first 25 miles, and I finally throttled up and got away. For the next 87 miles, I thought I had it. In transition from the bike to the marathon, I figured all I had to do was keep it together. I thought I had it, but Jason came flying into the transition area with fire in his eyes! I thought I had about a ten- to 15-minute lead, so I was shocked—and worried! Here we go again, just like Lubbock.
"I gave it all I had for about 17 miles or so and couldn't shake him. Just like at Lubbock, he had a little extra and slowly pulled away. He earned it, and I was really happy for him. He beat me, but I was still happy. During 2006-2007, I ended up in pretty bad shape and never imagined being able to do the Ironman again, so having a great (and hilarious) battle with Jason was the icing on the cake. Just incredible battles with Jason in triathlons—stuff I will never, ever forget."
Great stuff, guys. How cool is it that the Ironman Triathlon, probably the most grueling event on Earth, came down to two guys with motocross backgrounds? Says a lot about the heart it takes to be a motocrosser.
Thanks for the stories, guys, and congrats on a heck of a post-motocross career, Jason Fowler.
other entries