Lakewood, CO
Thunder Valley
AMA Pro Motocross Championship
Round three of the Lucas Oil Pro Motocross Championship took place this weekend in Lakewood, Colorado, at Thunder Valley, which has sneakily become one of the best nationals of the year. I've been saying this for years, but it's true. Great viewing, close to a major city, good track, and pits close by. If you've never been, try to make it out at some point. It's a great race.
It looked to me that the track in Colorado, much like Hangtown and Glen Helen, wasn't ripped as deep as usual, but in talking to track guy Shane Schaffer, he said it was ripped as deep as usual. It still got deep, deep ruts and crazy slot-car corners, which add to the trickiness. With this track, it seems that you're never completely on flat ground besides that quick straightaway behind the start. It's a good track, and the rider who can switch to new lines the fastest and find the good one is rewarded.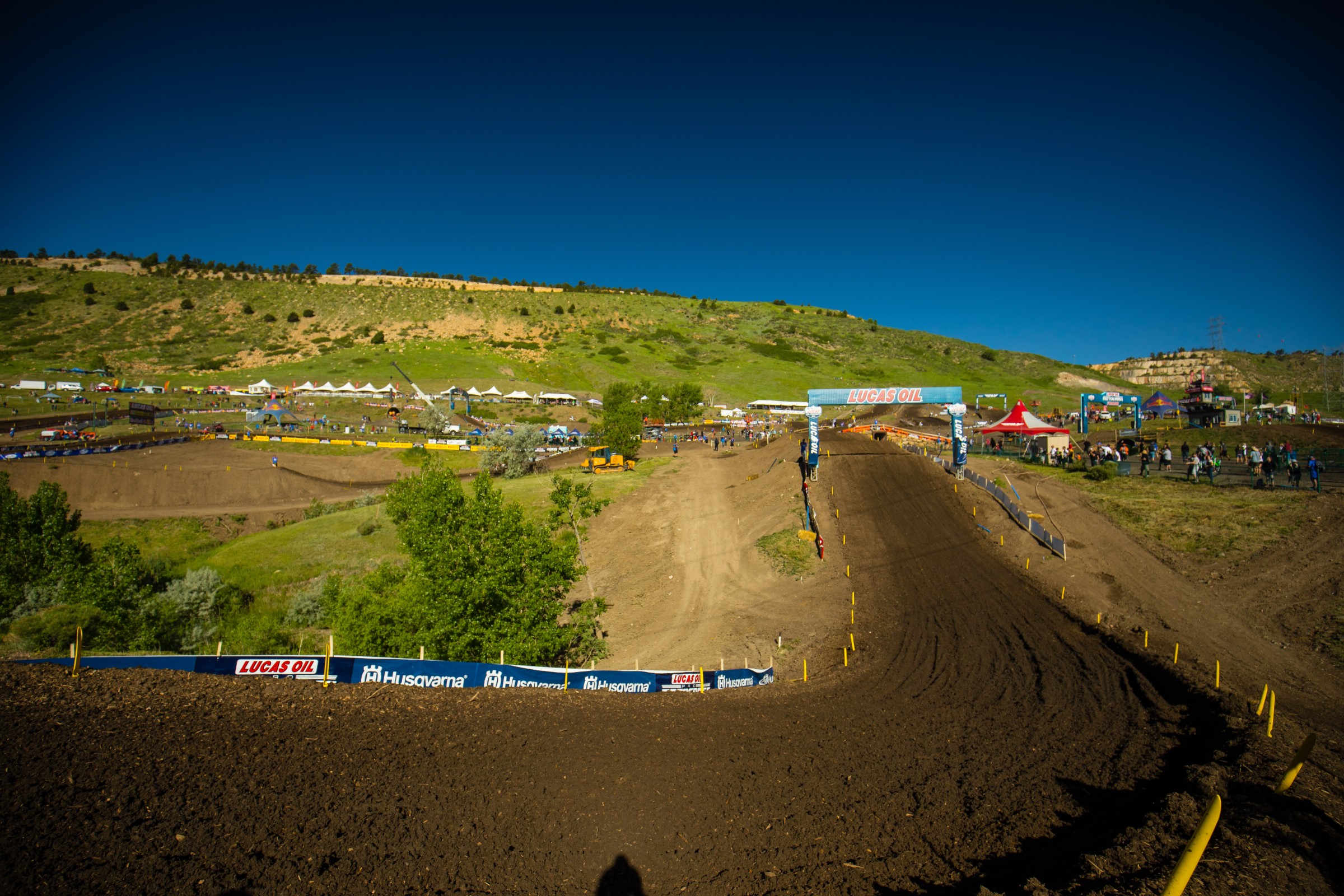 Six-for-six for Eli Tomac in front of his hometown fans, but yeah, still too early to talk about going undefeated. He's been perhaps better than ever this year outdoors. Just so much poise and control while he rode behind Ken Roczen in both motos. It looked like he had plenty more in the tank if he needed it, but I think he knew Roczen didn't have 30 minutes plus two in him (yet) and could just ride behind him. I would bet that, if needed, he could put the hammer down, but he just rode calmly behind the #94. Impressive performances to start the season, but again, stop it with the perfect-season talk.
Roczen was great, and the strides he's made since Hangtown have been impressive. We had him on the PulpMX Show Monday and he wouldn't give us a percentage of where he's at compared to his old self (let's be honest, he may never get to 100 percent), but he's encouraged by his progression. He mentioned that it's hard for him to have Tomac pass him late in the motos, but he's got to be patient and get back on the right track. He also mentioned that the arm he hurt last year in SX doesn't hold him back while he's riding, but gets a bit sore afterward.
We've played up this Team Tomac (Eli Tomac and Jeremy Martin training together with John Tomac in Colorado) versus Team Baker (Zach Osborne and Marvin Musquin with Aldon Baker in Florida), but as Jeremy told me afterward, Thunder Valley was "Team Cortez (Colorado)." It was. Martin took his first win of the season along with Tomac. J-Mart's also got the red plate after Zach Osborne's crappy day and Aaron Plessinger's so-so day. Martin was very good in both motos and his fitness really showed through, as he just kept hammering on riders coming up until they broke—including his brother in moto two!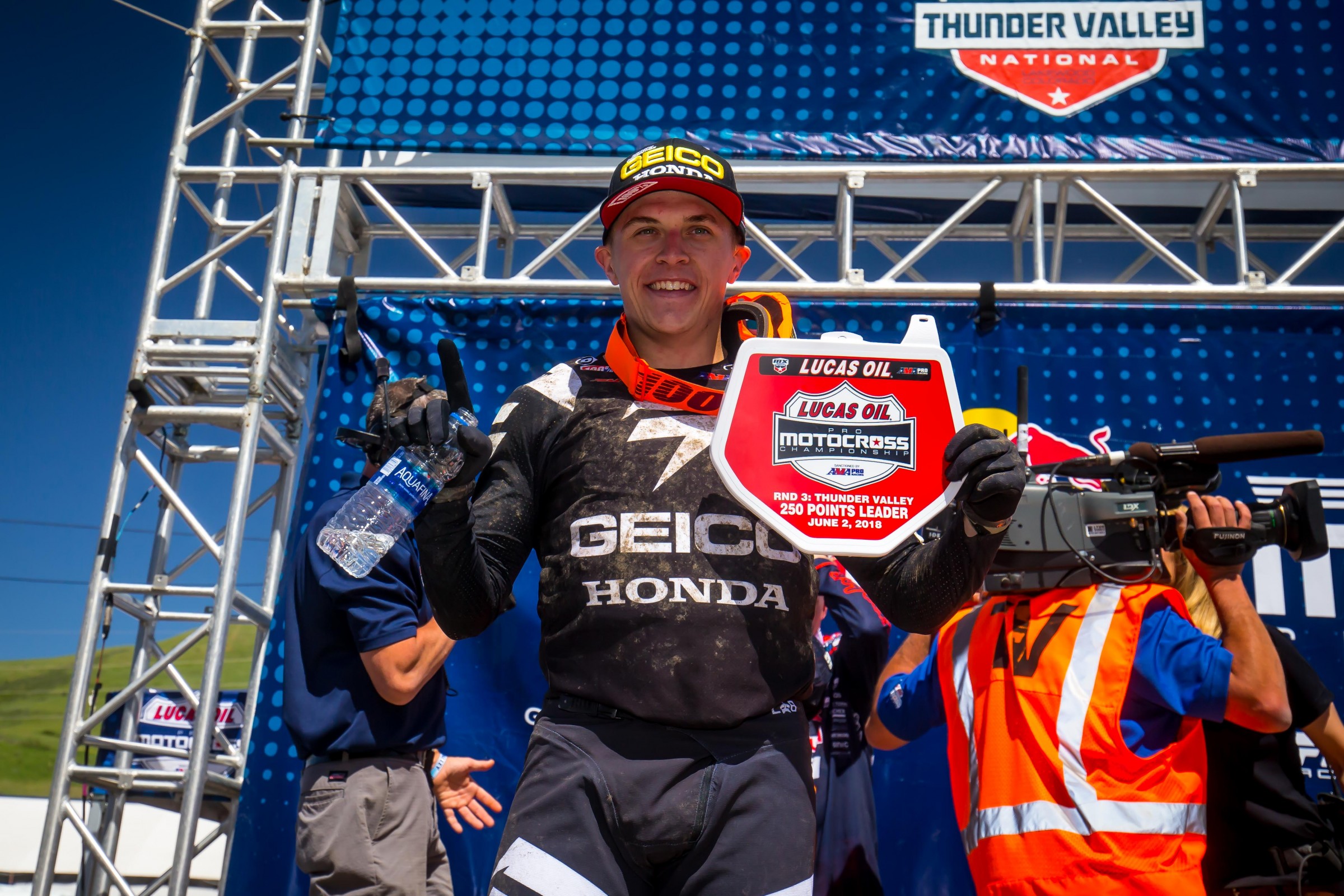 There was a red flag thrown about 11 minutes into the first 450 moto when Kyle Chisholm KO'd himself up some rollers. He was definitely out cold for a bit, but I was surprised the red flag was thrown so early. I guess you can always side on caution, but shortly after it came out, Chiz walked off the track with some help. This flag, because it came after two laps and before 20 minutes, necessitated a full restart, which I'm sure added to some heavy stress for team, helmet, and goggle guys. It seemed to be a bit of premature redflagulation, just saying.
Let's take a look at the results, shall we?
250 Class Results
1st | #6, Jeremy Martin | Millville, MN | Honda CRF250R | 2-1
I asked J-Mart about his ride and he told me, "It was a really good moto, just a good day in general. It's been three years since I've had the points lead. It's been a struggle. Let's be honest. You win two titles in a row in outdoors and then you have that many rough years, it's pretty hard to accept."
I wasn't really having it that it was "struggle" the last three years. So I said, "Come on, with a rough year last year, talk. You won motos, you finished second in the points."
"It's still rough," Jeremy countered. "That's rough. When you want to be the best and I want to take the sport to another level, you don't accept second."
Okay then, there you go.
2nd | #26, Alex Martin | Millville, MN | KTM 250 SX-F FE | 3-2
Well, "we're" happy with this result, as "we" led laps for the second week in a row and "we're" on the box again, but our brother Jeremy caught and passed us. Again. That's not so good, but "we'll" take the week off, get better, and be back at High Point to get a moto win. Third in the points is also good for "us." ALL ABOARD THE TROLL TRAIN!
3rd | #62, Justin Cooper | Cold Spring Harbor, NY | Yamaha YZ250F | 1-8
Cooper was gifted a moto win when Savatgy's bike broke on the last lap, but the bottom line is that he was again very good. This kid's for real. He faded a bit in the second moto but that's okay, I'm sure he was so excited to win that first one that he pushed hard to get it. He'll figure out the second motos. The hardest thing to do is win your first moto; from there on out, you know what to do. Without a doubt, he's the biggest surprise in the class through six motos.
4th | #35, Austin Forkner | Richards, MO | Kawasaki KX250F | 7-3
Forkner's pass on Jordon Smith in the second moto was amazing; even Jordon was impressed with it. The kid truly does send it out there. Now if he can figure out his starts, he'd be in the mix more often. We know he's fast and has no issues with going balls-out.
5th | #45, Jordon Smith | Belmont, NC | KTM 250 SX-F FE | 4-5
Nice return to the podium battle for Smith, who missed all of Lucas Oil Pro Motocross (excluding practice at High Point) last year, and he told me afterward that has hurt him a bit to start the nationals. I was impressed with Jordon in both motos. When it looked like he had hit the wall a bit and got passed, he regrouped and put in some late charges. One moto it worked, one moto it didn't. I did like this quote from Justin on being tired at the end of a moto: "If someone says they're not tired at that point in the moto, they're lying. We might still be going the same speed we were at the beginning or close to it, but we're all jello arms."
6th | #23, Aaron Plessinger | Hamilton, OH | Yamaha YZ250F | 6-4
Plessinger lost the red plate to Martin, but this has never been a great track for him with the elevation and his size. He battled hard all day from starts that left him a ways back, but there was never any quit in him. He stayed close enough to make me think he'll be okay on his tracks back east.
7th | #40, Chase Sexton | La Moille, IL | Honda CRF250R | 10-6
Sexton had a good second moto, and both motos actually saw him get decent starts, which is such a big deal in this class. I wonder if he's pissed at Cooper, who is leading laps and winning motos based on him getting out front and getting all this love. I 100-percent think that if you put Sexton in Cooper's positions, he could do what Justin is doing.
8th | #28, Shane McElrath | Canton, NC | KTM 250 SX-F FE | 9-9
Best race of the season for McElrath, who came into it nursing a bit of a neck injury. His team manager Tyler Keefe is constantly upset at me for calling him grumpy, but when I ask anyone who's around Tyler if he is grumpy or not at the races and they agree that yes, he is. Sorry, bro.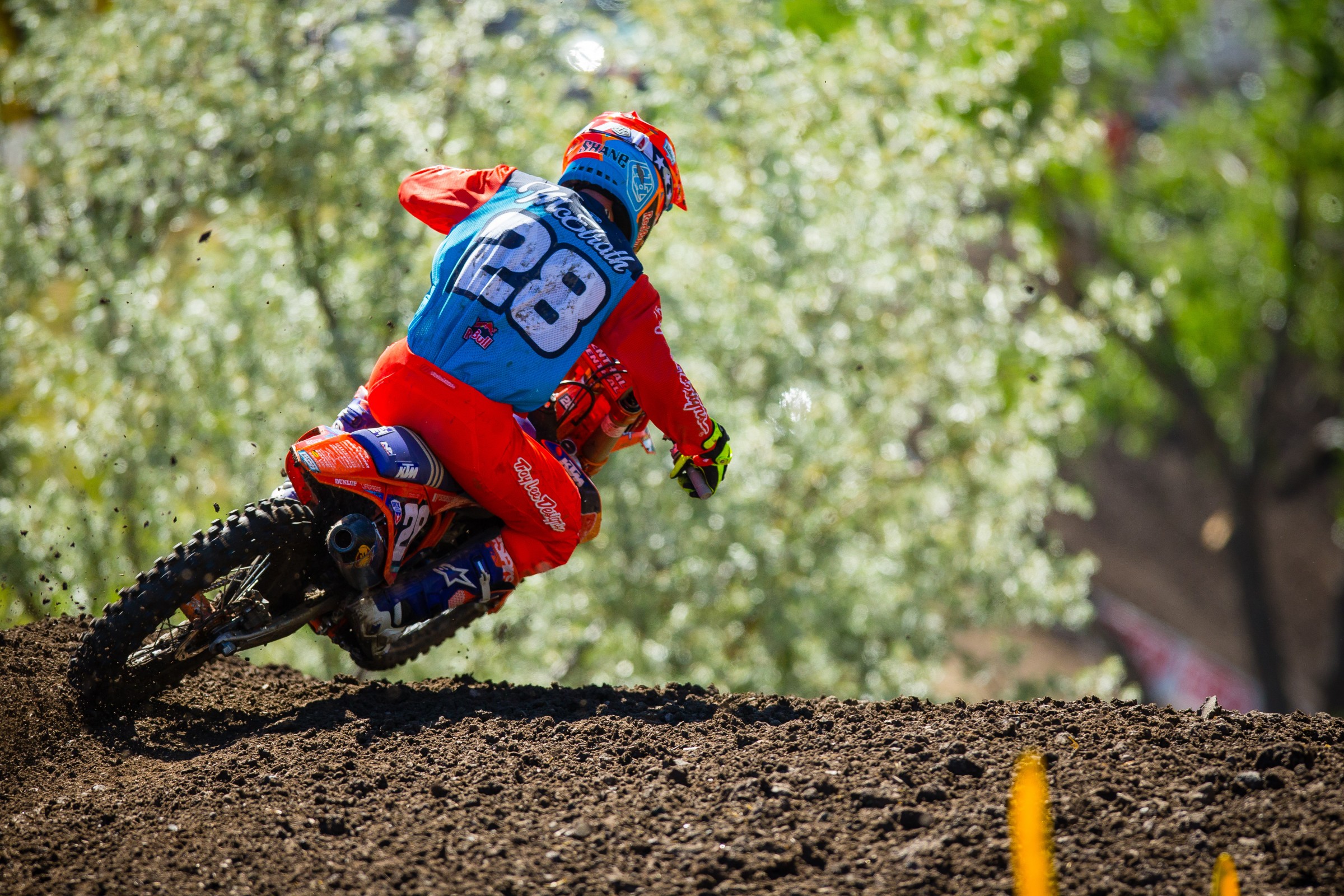 9th | #182, Garrett Marchbanks | Coalville, UT | Kawasaki KX250F | 8-11
Another good ride from the rookie, and he's impressing every time he's out on the track. He's moving forward from bad starts, and if he gets a good start, he's able to hang with anyone but the elite guys. This kid is 16 years old. All good so far!
10th | #36, RJ Hampshire | Hudson, FL | Honda CRF250R | 13-7
Quiet day for Hampshire, who followed his teammate Sexton around for almost the entire second moto.
11th | #1, Zachary Osborne | Abingdon, VA | Husqvarna FC 250 | 5-20
Well, as Osborne told me after the race, he's facing some real adversity for the first time in his three-title run in terms of injury. The thumb he hurt in practice before Glen Helen isn't good. He's forced to grip the bike differently, and it's giving him arm pump. Two guys got him on the last lap in the first moto. When's the last time that happened? Second moto he got caught up with Savatgy off the start and had to put his shoulder back in. He got a single point, and every one matters, but he's beat up right now and is 24 points down.
12th | #64, Michael Mosiman | Sebastopol, CA | Husqvarna FC 250 | 16-10
Mosiman, Cantrell, and Bailey are all the same type of riders to me. They're very good, not great (look at what Cooper's doing right now with roughly the same experience), and I'm not sure what to make of them just yet. They have the bike/team to do something, but it hasn't clicked… yet.
13th | #816, Enzo Lopes | Brazil | Suzuki RM-Z250 | 12-14
We had Lopes on the PulpMX Show and he said his original three-race deal has been extended for two more. He's just scheduled to be there until Jimmy Decotis comes back, but I think JGR will find a way to keep him on even when Jimmy D returns—he's been pretty good! Enzo also invited me down to Brazil in the off-season to hang out, but I declined because I've seen Proof of Life too many times.
14th | #46, Justin Hill | Yoncalla, OR | Suzuki RM-Z250 | 15-13
Hill was frustrated with his day. I talked to him after the race and I mentioned to him that I think he got 12th and he said he didn't care. And he didn't mean it like he didn't care about racing, but the actual finish position when you're that far back doesn't matter to a guy like him, I agree. If you're Hill, 11th or 12th is the same--below where he wants to be. Look, I've said it over and over, the Suzuki RM-Z250 is a step behind the other bikes, and that's a fact. The JGR guys work hard and the bike is good, but it's not on the level of the others. Sorry not sorry. And at elevation, I'm sure Hill noticed that.
15th | #43, Sean Cantrell | Murrieta, CA | KTM 250 SX-F FE | 11-17
See above with Mosiman.
16th | #137, Martin Castelo | Ecuador | Yamaha YZ250F | 14-15
This kid is doing well, right? On CycleTrader.com/Rock River Yamaha now as a fill-in, he again showed some good speed and endurance out there. He also told me this week that I can be on the Ecuadorian Motocross of Nations team with him and Marty. I'm guessing I won't be the MX2 guy?
17th | #17, Joseph Savatgy | Tallahassee, FL | Kawasaki KX250F | 34-12
Oh man, heartbreak for Savatgy. He was going to win the first moto at a track he had won the last two years. Then his bike broke. I'd bet on the cam chain or something with that breaking, the way it coasted down. That's not good for him or anyone, and he REALLY needed that moto win. When it rains, it pours, right? Mitch Payton's got this move where he runs his hand through his hair when he's frustrated—I can imagine he's not going to have much left soon.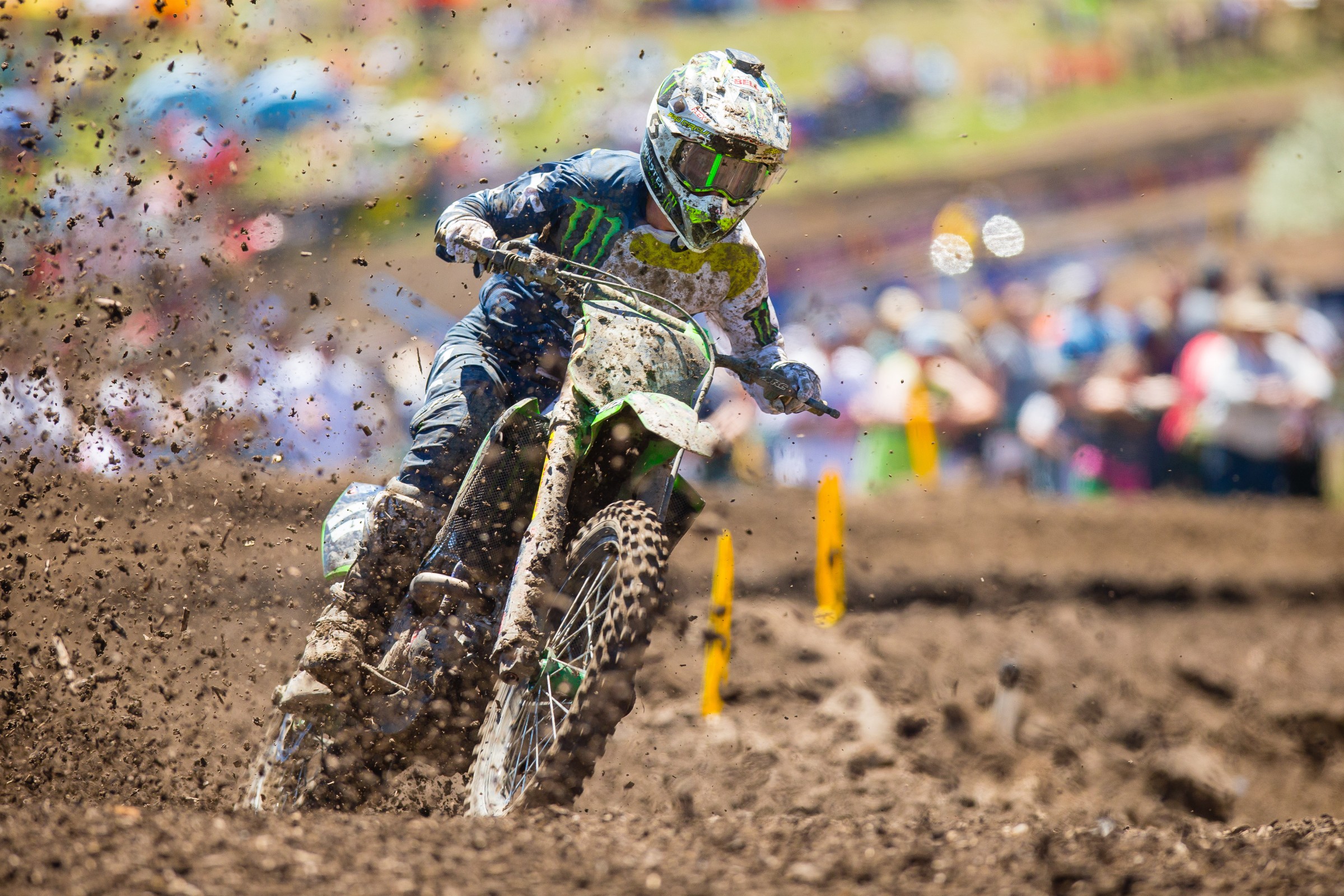 18th | #133, Jordan Bailey | Orlando, FL | Husqvarna FC 250 | 17-16
Bailey's had two so-so races and one good one to start his career. I know you're saying, "Hey man, he's a rookie and has two motos in the top 20, that's fine, bro. Back off!" to which I reply that things have changed when you're a rookie and on a factory team. You've gotta make it happen.
19th | #169, Challen Tennant | Willis, TX | Yamaha YZ250F | 21-18
Man, it would suck so bad to race 30 minutes plus two laps and finish 21st. I'd rather be 34th.
20th | #114, Brandon Hartranft |Brick, NJ | Yamaha YZ250F | 18-40
Hartranft had a motor issue in moto one. The big news is I was in the CycleTrader.com/Rock River truck talking to Brandon and Castelo before the motos and grilling Brandon on old moto history and his knowledge is not good, folks. Like, I don't know what is up with these kids (at one point Castelo just said, "Hey, man, I'm from Ecuador," which is actually an excuse, I suppose), but they need to watch some old videos ASAP.
450 Class Results
1st | #1, Eli Tomac | Cortez, CO | Kawasaki KX450F | 1-1
People think Tomac has an advantage at Thunder Valley, but he's rarely ridden there over the years, as it's far from his house. And I was talking to his mechanic Brian Kranz that morning, and he mentioned that Tomac has not always had good luck there. That changed this year—he didn't need any luck with the way he's riding. About the only bummer for Tomac was his starts again. They were good, not great.
2nd | #94, Ken Roczen | Germany | Honda CRF450R | 2-2
Fox released a collaboration with Supreme, a company that's killing it in the inner cities with their stuff. It's a bit out there for traditional motocross people, but never mind the association with Supreme; I think the colors are a bit cool and different. We asked Roczen on PulpMX Show about it, and in typical Kenny fashion, he said he likes it, it's great exposure for the sport, and if you don't like it, that's your fault.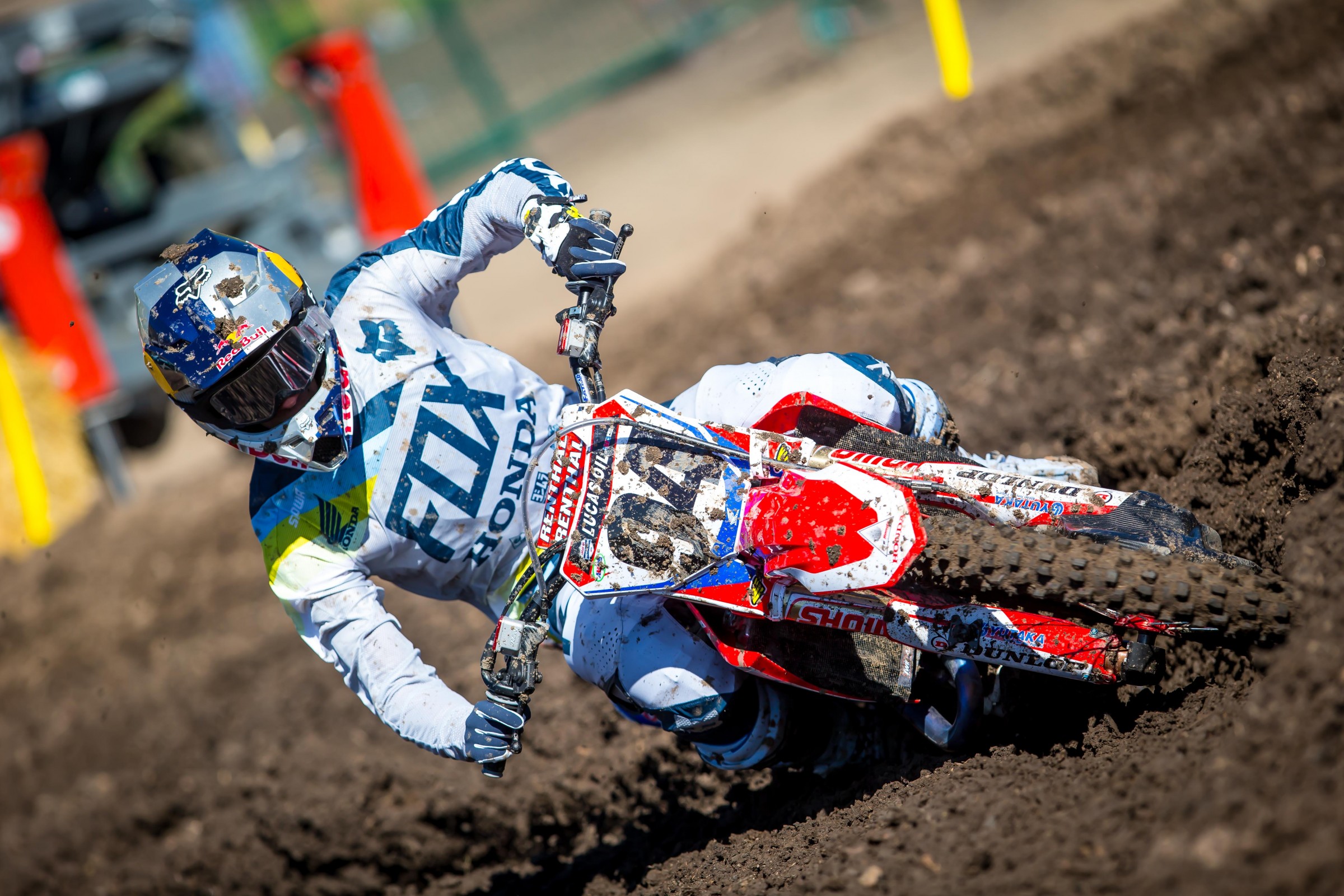 3rd | #4, Blake Baggett | Grand Terrace, CA | KTM 450 SX-F FE | 3-3
Baggett was so good here last year that he was a sneaky pick to maybe grab a win, right? Well, he didn't do that, but he did have his best race of the season and was all over Roczen in the first moto to grab second. A few more laps and I bet he would've.
4th | #25, Marvin Musquin | France | KTM 450 SX-F FE | 4-4
Off-day for Marv, as he looked to be riding okay but kind of just finished where he started. I've already stamped it, though; I think Tomac goes eight-for-eight at High Point in two weeks, but then Marv beats him one moto at Muddy Creek. Boom. Stamp that.
5th | #60, Benny Bloss | Oak Grove, MO | KTM 450 SX-F FE | 6-5
Another great day for Benny, whose stock is climbing almost weekly. Now it's almost as tall as him. Benny's really pissing me off, though, by cheering for the Washington Capitals even though he probably couldn't name two players. Benji's mechanic Derek Rankin has got to be stoked with Bloss' finishes, and I also bet he windmills his old rider Alex Ray as he goes by the mechanics' area.
6th | #51, Justin Barcia | Greenville, FL | Yamaha YZ450F | 5-6
Man, Barcia could've, should've, would've had an amazing day. He was leading the race when a red flag came out and then didn't get that start again on the restart. Second moto he was leading yet again and tipped over a couple laps in. I don't think he would've beaten Tomac, but a 2-2 or 3-3 for sure could've been his moto scores. Instead, it's a 5-6. That's how moto life goes sometimes.
7th | #34, Weston Peick | Menifee, CA | Suzuki RM-Z450 | 7-7
Peick's day started out crappy when he lost his rental car keys and they were going to have to tow it from the track to the airport for probably thousands of dollars. Luckily, he told me someone found them, which is awesome. After that his day didn't get much better, but he did get to ride around with his teammate Phil for two motos.
8th | #54, Phillip Nicoletti | Cohocton, NY | Suzuki RM-Z450 | 8-8
Sigh. The first moto of the day saw, in my opinion, a very quick red flag (the rider down, Kyle Chisholm, walked off after being briefly knocked out), and of course it was when Phil was running third 11 minutes in. And, of course, Phil being Phil, he didn't get anywhere near that kind of start on the restart. #BadNewsPhil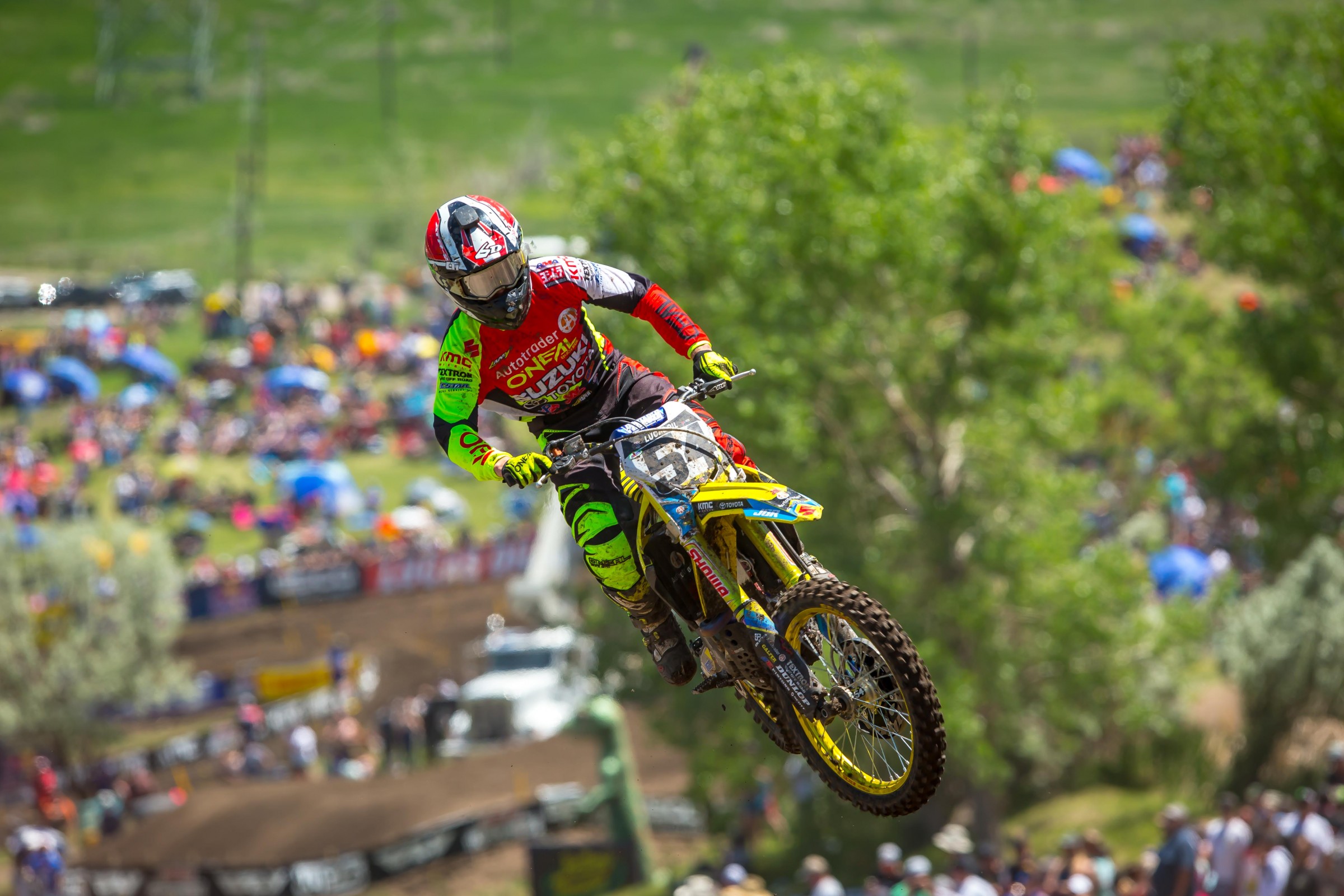 9th | #86, Dylan Merriam | Corona, CA | Yamaha YZ450F | 9-10
Okay, we're six motos in now and this dude is for real. And he even DNF'd the second moto at Glen Helen while running around tenth. There seems to be a privateer hero almost every year in the 450 Class, and right now it's Merriam, who's riding very well and fully deserving of praise. He's killing it.
10th | #73, Brandon Scharer | Los Angeles, CA | Yamaha YZ450F | 14-9
Great second moto for Scharer, who won a battle to the death with Merriam, Masterpool, and Ray. This is easily Brandon's career-best finish in a moto, and he should be stoked.
11th | #146, Jake Masterpool | Paradise, TX | Yamaha YZ450F | 11-13
Masterpool made his return to the series and was once again very good. I don't know what the plan is for him for the rest of the series—talking to him a couple of weeks ago, it seemed like he didn't know, either—but these are great rides. He should try to keep it going. And no, I don't know why I didn't pick him in fantasy again, either.
12th | #44, Lorenzo Locurcio | Venezuela | Honda CRF450R | 10-14
Yeah, if you had told me at the beginning of the year that Lorenzo Lucurcio was going to top ten a 450 Class moto, I'd have called the cops on you. Good rides though!
13th | #330, Cade Autenrieth | Hemet, CA | KTM 450 SX-F FE | 13-12
Nice job for Cade, who's been getting a little better each week as the season marches on. Hey, Cade, you're gonna be dropping one digit off that number in 2019.
14th | #121, Cody Cooper | New Zealand | Honda CRF450R | 17-11
A so-so day for Cooper, who's doing all the nationals this year out of a motorhome. I haven't seen him yet, but when I do, I will try to get to the bottom of this American dream he's chasing yet again. With the lack of depth in the class, he's picked the perfect year to do it.
15th | #91, Alex Ray | Atwood, TN | Yamaha YZ450F | 12-35
A-Ray's day was eventful. He almost went down in the second moto early and collided with another rider that left his rear brake pedal wrapped around his cases and his e-start button ripped off. He got it pushed back to mechanics' area, they started the bike with a screwdriver, fixed his pedal, and he went out just in front of the leaders the next lap. First moto he was chilling in tenth when he had "some bad laps" and two guys got him back. On Sunday he was cheating in a donut shop when some PulpMX Show fans recognized him. That's bad. His deal with Yamaha ends after High Point, but he badly wants to stay on for one more race, which would he hometown national at Muddy Creek. C'mon Yamaha, ONE MORE RACE, ONE MORE RACE! I mean, I want it to happen just to see the hometown Tennessee fans looking at Alex Ray, Factory Yamaha rider, and wondering if they had died and gone to heaven.
16th | #388, Brandan Leith | Eagle Mountain, UT | Kawasaki KX450F | 16-18
Wow. Leith qualified seventh. Seventh! That's pretty amazing. Great work by him to do that. Decent moto scores and all, but seventh in qualifying!
17th | #48, Henry Miller | Rochester, MN | Yamaha YZ450F | 19-16
Look, these finishes are fine for Henry in his first national of the year and I'm sure he'll get better from here on out. But some of "us" looked at the 450 field, looked at Henry's results last year, and picked him in PulpMX Fantasy. And he didn't exactly kill it. Again, this is why playing fantasy is terrible for you.
18th | #718, Toshiki Tomita | Japan Honda CRF450R | 21-15
Another solid run for the man Honda is grooming to go back to Japan and win titles over there. He's often around that 15th spot.
19th | #907, Ben LaMay | Wasilla, AK | Honda CRF450R | 15-37
Bummer for LaMay; he was up near the top ten when his motor let go and it was a DNF for him. Look for the Alaskan Assassin to be on a new team come High Point.
20th | #577, Felix Lopez | Mexico | KTM 450 SX-F | 22-17
Pedro Gonzales must be out there and be pretty proud right about now for Felix.
Thanks for reading OBS—good times for all of us, right? Email me at matthes@racerxonline.com if you want to chat about Thunder Valley, the Vegas Golden Knights, or anything else.