Southwick, MA
Southwick
AMA Pro Motocross Championship
I considered writing about track prep as the subject of last week's Exhaust column. I rarely hit that topic, because I haven't raced these tracks so it's kind of silly for me to weigh in, but the racing at Muddy Creek almost broke me. The first four rounds of Lucas Oil Pro Motocross featured today's standard track prep—a deeply disced and watered track in practice leading to a soft, rough, and rutted track in the motos. As is the case with any track condition, some riders like it and some riders hate it, but this year you can't argue that the racing had been close, competitive and exciting, and most of the riders haven't had many complaints. The very best racing came at Colorado's Thunder Valley a few weeks ago. The ruts and bumps were ridiculous—I can't say it looked fun to ride, but I can say that it led to changing lines and mistakes and some of the best racing we've ever seen.
Then came the Muddy Creek National, and an expected tropical storm. This forced the track crew to seal the track in, packing it down so water would run off, instead of digging it deep so the moisture would soak in. Muddy Creek was the reverse of the deep, rutted, rough tracks of the previous weeks—and the racing wasn't very good. I know, Blake Baggett came from a first-turn crash to third in a moto, but almost every other rider struggled to gain ground. I try to form opinions based on the entire field instead of just one rider's amazing performance.
So I was convinced I had learned something—Muddy Creek was smooth, with less ruts and bumps than the previous tracks, and the racing wasn't as good. Then I watched the race back. The 250 riders indeed struggled to make passes, as the top five basically rode in formation in both motos, a sharp contrast from High Point and Thunder Valley. But the 450 racing was pretty good—which led me to think that the 250s need the roughest, deepest, most challenging tracks to create good racing, and the 450s, which are already more of a challenge to ride, can create better racing on a smoother, less technical track.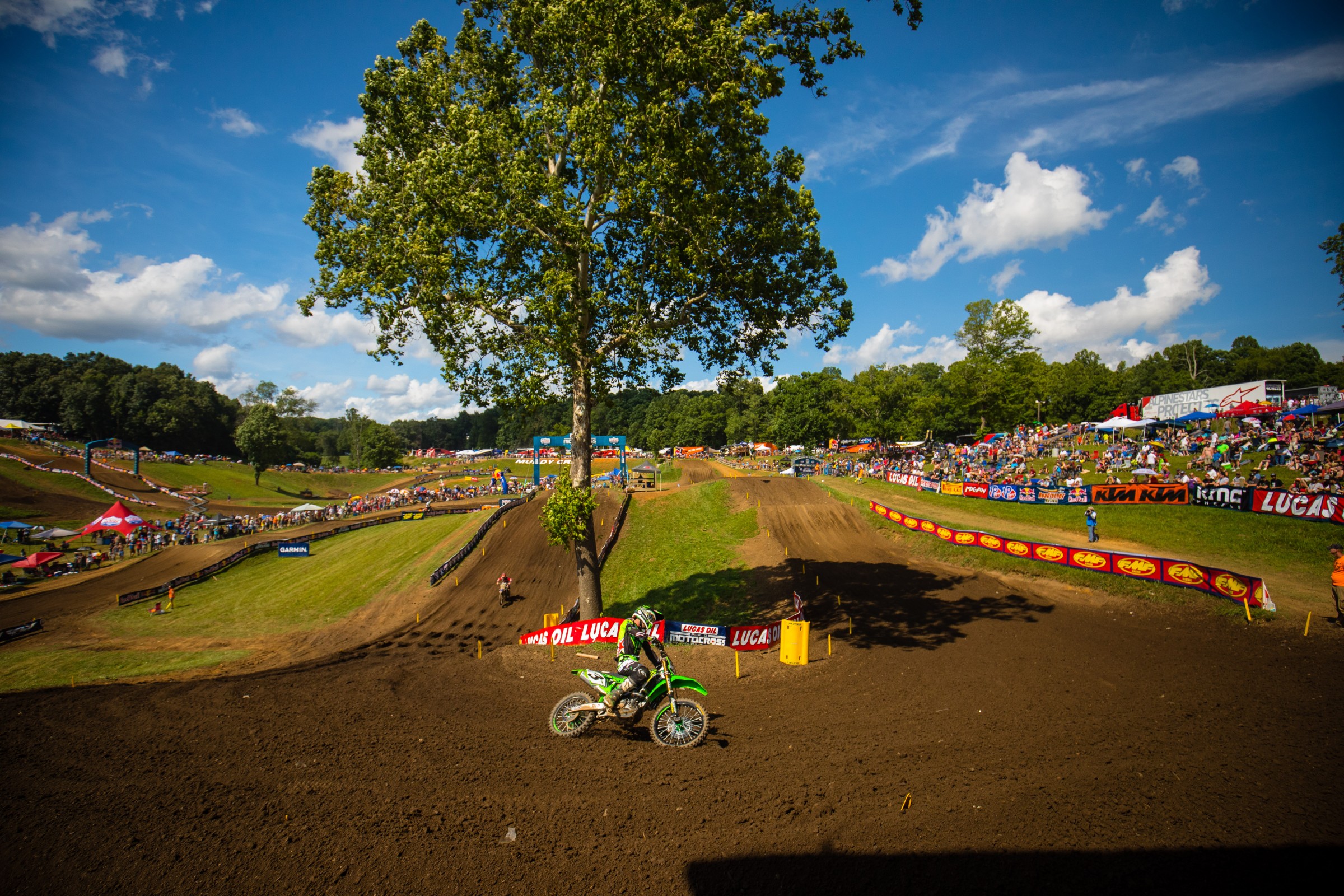 I followed up by asking a few riders about tracks at RedBud. Some said the lack of passing at Muddy Creek was a by-product of the track being narrow and tight, not due to track prep. So now I had all these theories churning in my head—smooth versus rough, rutted versus flat, 450s versus 250s, also knowing full well sometimes the racing just turns out good or bad regardless of the track conditions.
Then came RedBud. It was great, like Thunder Valley, but in a different way.
RedBud was racing at its purest. It was a day where heart, will, and desire won out. It had good passing, but not the most passing we've ever seen. But that was okay, because in all four motos, the battle for the lead came down to guts.
Follow along.
The first 250 moto was a battle of wills between Jeremy Martin and Zach Osborne. That's akin to the irresistible force pairing with the immovable object, because both of these riders pride themselves on being able to suffer. J-Mart and Zacho don't win races through some new-school approach. They are blue-collar workers, winning with fitness and effort, and then the ability to keep digging even when the reserves run dry. Basically, they want it badly. So when Osborne climbed to second behind Martin, this battle turned intense and tense, with both riders pushing and pushing and pushing. At High Point, they squared off in moto one but Martin got arm pump and couldn't fight off Zach's advances. This time Martin stayed loose, and he and Zach left it out all on the track. They never passed each other, but if you're in the know, it was a thing of beauty to watch. This wasn't a home run derby, it was a pitcher's duel. It was sweet.
The first 450 moto gave us what we all wanted—Blake Baggett and Eli Tomac in a stare down. Tomac took the measure of everyone early, and it looked like Baggett was rolling over, until he finally found that El Chupacabra form and started pouring HUGE intensity on that track. Blake did amazing things. He pushed hard, he scrubbed, he railed every corner and attacked every inch for every tenth of a second, at the 30-minute mark, no less. And yet, even with that, he was only able to inch up on the lead Tomac had established. Basically, Baggett went super, super fast, and yet Tomac went fast enough to defend himself against such a miraculous charge. With both riders so close in points, you know they both really, really wanted to win this one. It was just two riders at a very high level, hitting on all cylinders at the same time. It was sweet.
The second 250 moto looked a little calmer as Alex Martin was en route to the moto win and overall—after being just a tiny, small, fraction off of Jeremy and Zach in moto one. But then he fell, and the intensity returned. Mitchell Harrison found himself with a shot at a moto win, so he rode his guts out. Unfortunately for him, Osborne was there to once again bulldog his way down the stretch to get the lead. Harrison never gave up, nor did A-Mart, who dug super deep to try to get his lead back. Osborne won, despite the best efforts of everyone else. At the checkers, my producer said in my headset "Man, Osborne is just an animal, huh?" Indeed, and that's what it's coming down to right now. It was sweet.
The final 450 moto ended up with a Tomac versus Jason Anderson duel. You watch Anderson ride, and you'd swear it's not possible for anyone to ride harder or faster. You know how guys like Kevin Windham or Robbie Reynard were said to be so smooth that they looked like they weren't trying hard? Anderson is the exact opposite of that. Pardon my French here, but he looks like he's trying to beat the living shit out of the track and his bike out there. Yet, despite that speed, Tomac was again able to hold back his advances. Whatever these other guys have been throwing at him—and it's been a lot—Tomac has overcome it all to regain the points lead. It's not from a lack of trying by anyone else. Same for Osborne in the 250s.
So now I'm not sure where I stand on the track debate. RedBud wasn't as smooth and hard as Muddy Creek, not as disced and wet as others. The racing didn't offer the craziest moments ever, but it was certainly great, compelling and exciting, because the leaders wanted to win badly, and gave it their all to try to do it. So maybe in this case, it's a case of the track blending into the background, getting out of the way, and simply letting the riders do their thing.
The track debate will go on forever. We might not all agree on what the best track looks like, but we do know great racing when we see it.