It's 12/12/12 today, and unless some sort of intergalactic, interplanetary, Mayan-calendar inducing crazy event happens, we'll never see this date again until … December 12, 2112.
Until then, we're celebrating the date with 12 number 12s for 12/12/12. These are in no particular order, because they're all #12 to us!
Jeff Ward: Wardy was an iconic minicycle pilot in the 1970s, but many thought he was too short to find success at the pro level. But by 1980, he was solid in the 125 Nationals, earning #12 for 1981, where he finished third in the 125 Nationals. After that, he was merely one of the best riders in the world for the next ten years.
Jeff Matiasevich: The long-time Kawasaki rider moved to Team Suzuki for 1993, wearing #12. Unfortunately for Chicken, though, his season was only so-so, so he ended up as a privateer by 1994.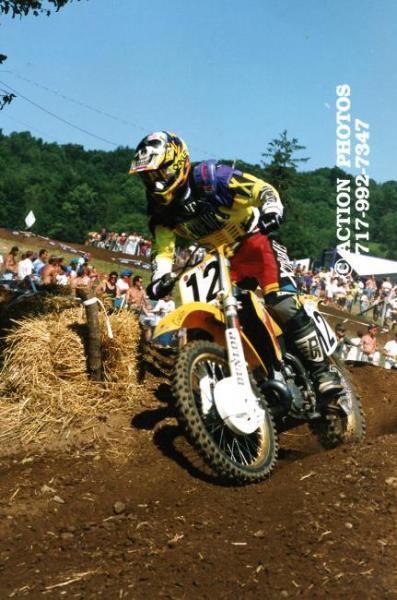 After a long stint with Kawasaki, Jeff Matiasevich moved to Suzuki in 1993 wearing the #12.
Thom Veety photo
Mickael Pichon: Pichon's supercross success is much forgotten now, but he won the 1995 and 1996 125 East SX titles. Pretty good! The Pro Circuit Kawasaki rider wore #12 as his motocross number in '96, but struggled with an illness most of the summer. The next year, he moved up to the 250s for Suzuki and his Pro Circuit spot went to some kid named Carmichael.
Jim Holley: Hollywood ran #12 as a factory Yamaha pilot in 1986. He took a career-best fifth overall in the '86 250 Nationals.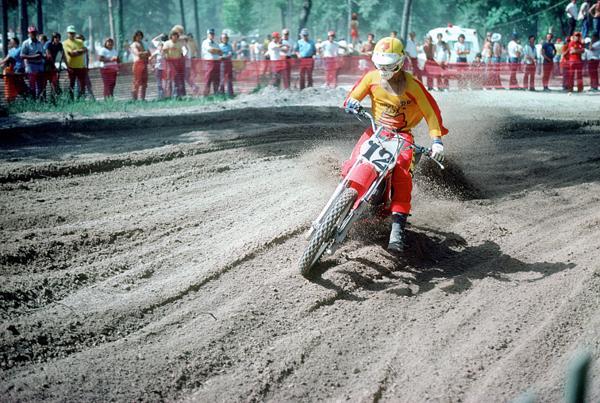 Steve Wise would wear the #12 in 1977.
Jim Talkington photo
Damon Bradshaw: The 12 that never was. Bradshaw earned this digit during his up and down 1997 season with Manchester Honda. But he chose to retire instead of race in 1998, so he never ran the number.
Jimmy Button: By all accounts, Jimmy Button was really set for a strong season in 2000, his second year on the big YZ400F thumper. But just a few races in, Button took a tumble in the San Diego whoops, and broke his neck. The worst was feared, but Button was able to recover and walk again—although his racing days were over. Since Button's #12 was permanent, and he scored some points early in 2000, he also appears on the 2001 AMA National Numbers as #12 as well.
Steve Wise: The multi-talented Wise wore #12 in 1977, where he logged a solid fifth in the 125 Nationals, with a few podium finishes along the way.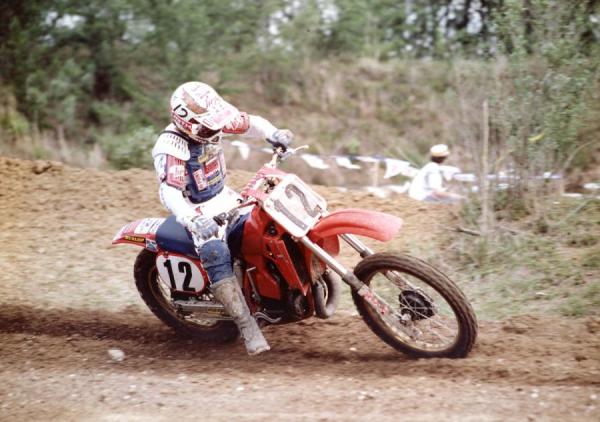 Bob Hannah moved from Yamaha to Honda in 1983, and wore the #12.
Robert Rodgers photo
Bob Hannah: "Hurricane II" was forecasted for 1983, as Hannah, all healed up from the broken leg that ruined his 1980 season, had moved from Yamaha to Honda, with the ultra-trick hand-built RC250 works bike at his disposal. Hannah's speed in 1983 was legend, but a few too many injuries prevented him from taking the #12 to a title.
Damon Huffman: Huff-daddy wore #12 in 1995, although most would remember him as #1 that season, since he spent supercross successfully defending his 1994 125 West SX title. But outdoors, with the #12, he led the points for about half the season, until the Steve Lamson-Ryan Hughes dogfight got the better of him.
Blake Baggett: This one is fresh in your mind: Baggett wore the #12 in 2012 during his run to the 250 Motocross Championship.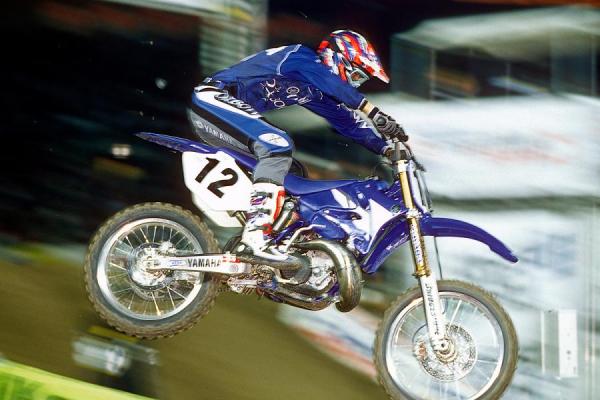 DV has the longest stint running the #12.
Racer X Archive photo
Jake Weimer: Weimer took the 12 to the 2010 Lites West Championship, and, fittingly, he now has the number back for 2013.
David Vuillemin: No one has carried the #12 as long as DV, as he held it as a permanent digit from 2002-2009. That's why they call him DV12! He carried the digit pretty far too, getting 250SX race wins against a loaded 2002 field.
Bonus:
Jaroslav Falta: In 1974, in arguably the most controversial motocross championship ever, Czech CZ rider Jaroslav Falta wore #12 in the final race against the Soviet hero Gennady Moisseev. The race was in Wohlen, Switzerland and the Soviet team did all they could to protect the injured Moisseev's points lead, including knocking Falta down repeatedly. It did not work, and Falta still earned enough points for the 250cc FIM World Championship title, but then he was DQ'd for supposedly jumping the starting gate in the second moto!
Billy Liles: Billy Liles earned the #12 in 1983, the year he won a 250 National. But the next year found the Georgia-born Liles over in Europe, beginning a long crusade to win the 500cc world title.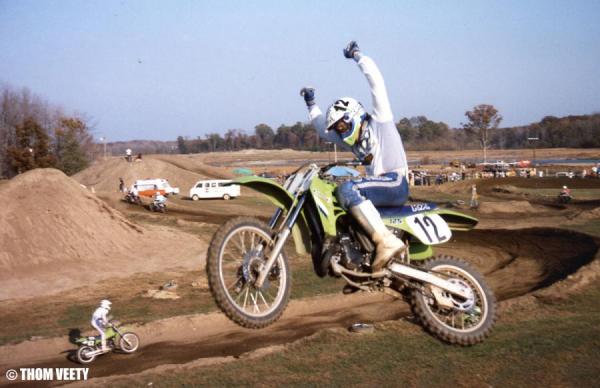 Billy Liles had a brief stint as #12 during the '80s.
Thom Veety photo