We are now just 24 days away from the 2013 Monster Energy Supercross Championship, which begins with Anaheim 1, so we turn to #24 on the Monster Energy 30-day Countdown of the best supercross racers of all time. This time we reach back into the eighties, one of the most competitive eras in the history of SX.
Ron Lechien burst onto the scene as a 16-year-old phenom riding a white factory Yamaha. Another fast kid from El Cajon (outside of San Diego) Lechien had no 125cc class (or Lites, now 250SX) to start out in back then, as the idea for the class did not come about until 1985. So it was right into the deep end of the pool, which is where sharks like Bob Hannah, Mark Barett, David Bailey, Jeff Ward, Johnny O'Mara, Broc Glover and Ricky Johnson were all swimming.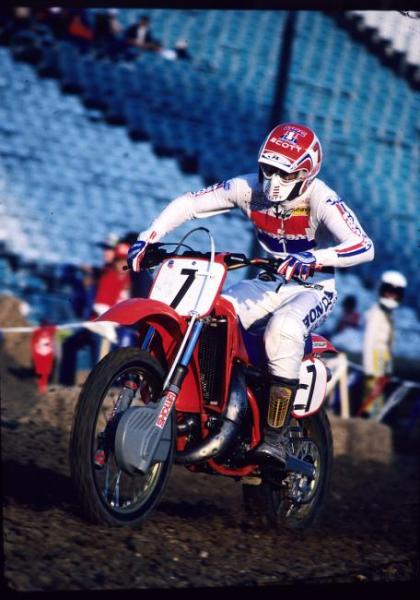 Lechien would finish third in points in '85, six behind champion Jeff Ward.
Racer X Archives photo
Nevertheless, the rookie ended up winning the Orlando Supercross against all the legends, and then in a race that doesn't count in the AMA record books he won the CMC-promoted San Diego Supercross at the end of the year—on a store-bought Yamaha after the factory took his bikes back because he signed with Team Honda for '84.
Lechien stayed with the big red machine for a couple of years, during which he enjoyed the best weekend of his career—a weekend sweep of the Seattle SX doubleheader. He spent the next four years of his career at factory Kawasaki. His career effectively ended when a trip over the bars at the Steel City National left him with a broken femur. That injury, coupled with an off-track rock-n-roll lifestyle, brought that premature end to his career.
But it says a lot that the Dogger (le chien means "the dog" en francais) made it onto this list. His career was relatively short (six years) but in that time, he packed a lot of winning in. In 87 career starts he won eight main events and finished on the podium in many more. Here's the thing with the man-child Lechien: he may have never won the AMA Supercross title, but if he was on and feeling it that night, none of his peers could touch him. Using a riding style where he stood up most of the time and looking much more stylish than most riders around him, Lechien saved his winning when the tracks got technical, which meant rutty venues like Seattle and Pontiac were the perfect match to Lechien's perfect body positioning.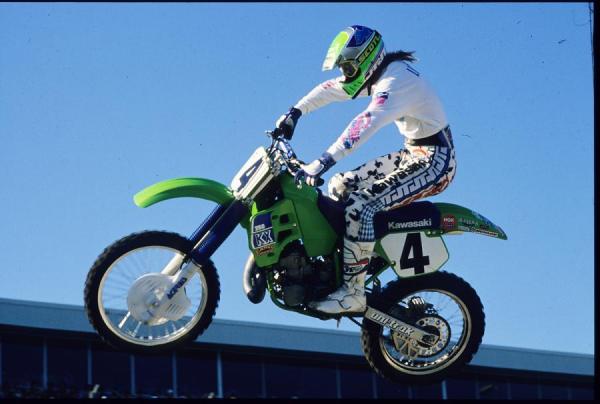 Lechien would spend the last years of his career with Kawasaki.
Paul Buckley photo
Ron would go on to collect 34 podium finishes and finish runner-up in the standings twice—and he finished third in '85 but was just six points behind the champion Jeff Ward. He's one of the ultimate "What if?" bench racing topics that come up, but no matter how you think he would've done had he kept his head on straight during his career, there's no denying that he's one of the best ever as it is.
Here's a look at the complete results of our #24 Supercross racer of all time, Ron Lechien.
The 30 Best Supercross Racers of All-Time Tracker:
#24 Ron Lechien
#25 Jimmy Weinert
#26 David Vuillemin
#27 Donnie Hansen
#28 Larry Ward
#29 Mike Kiedrowski
#30 Marty Tripes