The world can't agree on much, so it shouldn't come as much of a surprise that opinions on what happened to team San Manuel Yamaha's team manager Larry Brooks are varied. After all, people can't even seem to agree on what M&M candy is better, peanut or regular?

But what about L&M? We know this about the situation: Brooks, the man who along with partner Mike Kranyak, founded the Yamaha team of L&M in 2006, wasn't in Atlanta for the supercross and there are no indications he'll be back this weekend in Daytona. It had to be a blow to the gut for the ever-intense Brooks to miss the epic race this past weekend. By my count, it was the first supercross Larry missed in 16 years, going back to his start as a team manager in 1996 for the then fledging Chaparral team featuring Brian Deegan, Greg Schnell and Michael Brandes.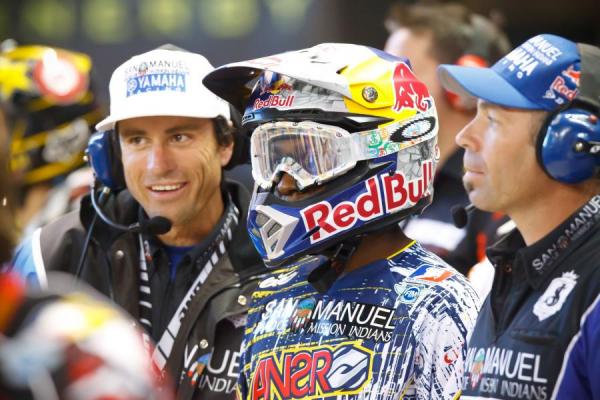 Is Brooks on his way out at L&M?
Photo: Simon Cudby
There have been reports of an ownership change on the L&M team for a while now, but when I visited the team in December and hung out at the race shop, it certainly seemed like all was normal. Brooks had hinted to me in a phone conversation that star rider James Stewart had bought into the team and a PR would be forthcoming. I found that interesting for sure, but it didn't seem like that big of a deal. An official PR never came out, but when the team's semi truck turned up at Anaheim, there were no longer any L&M logos on it. I started to wonder exactly how much Stewart had invested into the team because there were still big JSE (James Stewart Entertainment) logos on the truck and team shirts—and no hint of L&M.

As far as the team was concerned, this year they hired former factory Yamaha and Kawasaki suspension engineer Sergio Avanto. I had heard through reliable sources that this was a hire that James went out and made. He wanted to hit the ground running at Anaheim and not get behind the eight ball with bike set-up like he had in the past. But a few weeks before hiring Avanto, Brooks himself had called me asking what I knew about him. I knew Sergio, because he was working for Fox Racing Suspension and testing with a good friend of mine named Tim Ferry. (I know Timmy. Maybe you've heard?) As well, I very briefly worked with Sergio at Yamaha. But I was definitely a bit confused. Was Avanto's hiring a Stewart or Brooks decision?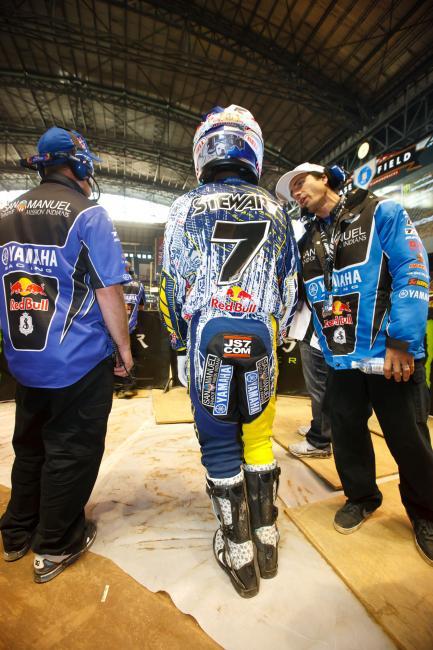 At the races and on the track, Stewart and the San Manuel Team didn't look much different this year than in the past.
Photo: Simon Cudby
No matter, on the track it was business as usual with Brooks in the team tower, appearing to make decisions, while James won a couple of races and all seemed to appear normal. There was even a bit of a controversy with Stewart running some GPS sensors on his bike at A1, a scenario which was classic Brooks--always looking for an edge and pushing the letter of the law (in this case the AMA rule book) to the limit.

When I called Larry to talk about the "traction-gate" controversy, I also asked him about the ownership situation. He replied that it was a long story, he didn't really want to talk about it but did say that one day, "I'll tell you the whole deal." Around the LA SX, I heard from another rider that the team was indeed all Stewart's and that Larry was soon to be pushed out, but to be honest, I didn't believe it, thinking back to the conversation I had with Brooks a few weeks prior, where Larry didn't seem worried. I also asked James if he could talk about it, but he said he didn't want to comment at the moment, but he might be willing to talk in few weeks.

Smash cut to Atlanta. No team manager for the San Manuel team, and when asked about Brooks absence by Racer X, Stewart replied that Brooks was, "spending some family time," and when pressed if Larry would be back, Stewart again replied with the same answer.

It was a puzzling answer. Brooks had been to every supercross for sixteen years, so certainly many events had passed for his family, and he never missed a race. To suddenly take time off right in the middle of a title chase did indeed same strange. Stewart didn't offer any specifics about a bad family issue that Brooks needed to attend to. It seems like the "family time" story was a cover-up and Brooks was, at worse, let-go and at best, reassigned. As someone close to the situation explained to me, "Sure the family matter thing will work for a week, but when Larry doesn't ever come back to the races, then what? Are those guys just going to say that Larry enjoyed his family so much that he quit?"

In sports, coaches and managers get let go all the time. Sometimes relationships run their course, sometimes people get tired of each other, or sometimes, someone makes a bad decision and pays the consequence. In our sport, we saw it a few years ago when GEICO Honda switched from JC Waterhouse to Mike LaRocco. Coincidence or not, the team has since delivered in the form of their first AMA Motocross Championship with Trey Canard. This is a high-pressure, results-oriented sport with plenty of money on the line. Sometimes things don't work out.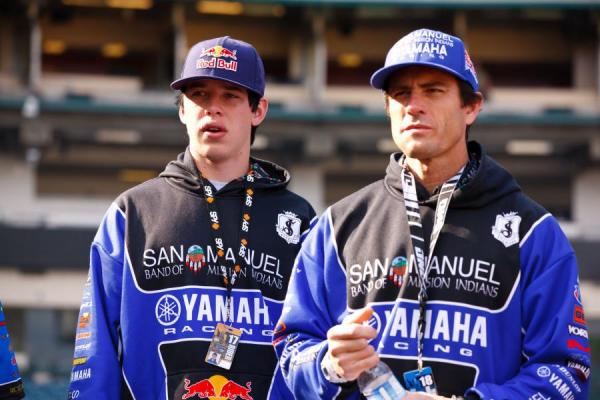 If Brooks is out, how will it affect
Kyle Regal
?
Photo: Simon Cudby
I believe that Stewart's team needs a manager that is more than a figurehead. The best athletes in the world have coaches, and they surround themselves with people that can push them. Michael Jordan had Phil Jackson. Magic Johnson had Pat Riley. A little closer to home, Chad Reed owns and operates his own team, yet reached out to a strong personality in Dave Osterman to run his operation as Team Manager. Reed has final say, but make no mistake about it, Ozzy is passionate and not afraid to speak up when asked. This is a good model. The riders need someone around to push them.

So we'll see in the upcoming weeks where the JSE team ownership issues go.  No one is talking, but it's a story when one of the more successful managers in the sport gets demoted, or maybe outright fired. I hope that whatever the problem was is fixed in Stewart's eyes and he can keep on amazing us each Saturday night. I also have no doubt that we'll see Brooks on the line again someday pulling the strings on a team and trying to help a rider reach his potential.

The "family time" answer asks more questions than it answered, really. Stay tuned, there has to be more to come.