Daytona International Speedway
Daytona

,

FL
Daytona
Monster Energy AMA Supercross Championship
Want a once-in-a-lifetime experience at the Vegas SX this year? Well, if you want the "what happens in Vegas stays in Vegas" scenario, that's up to you, but if you want a true inside experience in the pits and on the track, MX for Children is offering up such a trip with their Jackpot Challenge. All you have to do is raise funds for a children's hospital. Here's MX for Children founder Paul Gross with an explanation.
RacerXOnline: When you throw out the name MX For Children, it sounds pretty wide ranging, but you had a very specific goal in mind when you started this. How did it come about?
Paul Gross: It started while I was doing what my wife and I like to call "shift duty" at the hospital. Our son was born prematurely and we lived at the hospital for two months. That hospital saved his life, and we wanted to figure out how to give back. I was racing motocross at the time, and a friend of mine suggested I combine fundraising with something I'm passionate about. So that's where we came up with this.
Did you have any connections in the industry?
I had zero connections. I was between jobs at the time, I had left a job at Microsoft and did some non-profit work. So I knew something about not-for-profits, but I had no connection in the industry at all.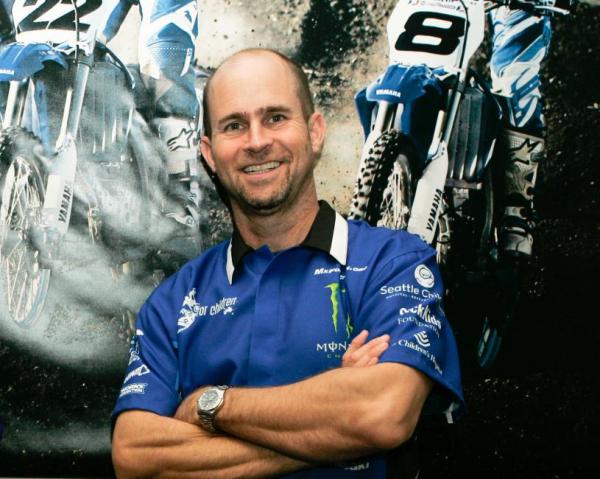 Founder of MX For Children, Paul Gross.
So how do you make it happen?
I came up with two ideas. We held a local ride day, which we hosted at my local track. But I also had an idea to let people raise money to get to meet a guy like Ricky Carmichael. I eventually got to one of his agents. He said Ricky wouldn't do it as a one off, and we should contact Denny Hartwig, the Supercross PR Manager, and pitch him on having the whole series and several riders involved. So I pitched him. Denny was understandably cautious, a lot of groups are out there asking for a lot of things as far as connections to riders, and tickets, things like that. He wanted to make sure we were doing it right.

Denny eventually integrated some of the fund raising efforts into the press days at the races. You even hosted the season-opening press conference in Toronto at the Sick Kids hospital.
That's right. The first one we did was in Seattle in the spring of 2006. It took about nine months from when I first met Denny. It was quite magical, because we had Ricky Carmichael and Chad Reed together, and there were fierce rivals at the time, but they came and toured the cancer center together and met a lot of the kids. We also had Heath Voss and Ivan Tedesco there. It was good for the hospital, for the kids, and I think even for the riders and industry. So we started working on more.

That leads us to December of 2006, when Toronto hosted the opening SX round, and the season-opening press conference took place at Sick Kids hospital. That was really unique.
Yes, we did have a press conference in Seattle, but the opening round press conference is much more formal. So that was big for us.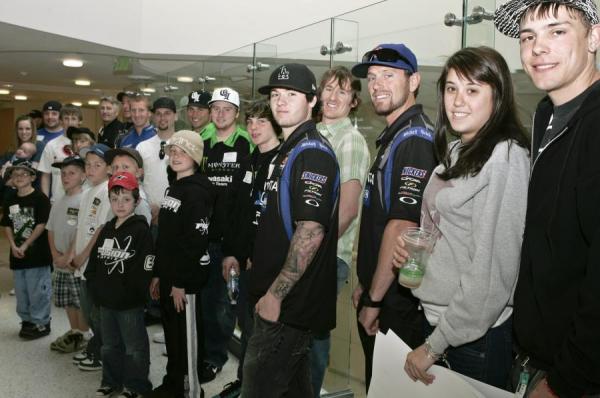 Josh Grant
,
Ryan Villopoto
and more visiting a children's hospital.
Yeah and at that one you had James Stewart, Tim Ferry and Reed. And I remember taking Reed and Stewart over to the hospital in taxi cabs, and they were just hanging and chatting—and they're the fiercest of rivals!
Yeah they were great, the kids loved it. It's quite an experience for the riders.

Explain the very specific condition that you're helping to combat.
One of the things that happened with my son out of that two months was he emerged with a brain condition called Hydrocephalus, where you build up too much fluid in the brain. It's a miserable condition and it's very poorly diagnosed. So I ended up funneling money toward the hospitals that do that research. And it works for us that five of the hospitals that research this condition are in supercross cities: Seattle, Salt Lake City, St. Louis, Toronto and Houston. So we put together the Inside Line experience in those five cities.

What's the inside line experience?
We do a fund drive, where kids raise money for the hospital. It's a competition, so the top ten fund raisers get invited to the pre race press conference. They get a 30 minute one on one session with the riders, and then they get to watch the press practice. Then we give them a chance to tour a factory rig. They get to walk the track, and get great seats and pit passes.

So there's much more to this than selling jerseys. How do they raise money?
They go to friends and family to raise money for sick kids. They get creative. We have a group of five kids in Houston who do a spaghetti night, they do an auction, they do what they can using their hospitals' brand to create funds. So it reaches out into the community, and it raises money for the hospital. Those hospitals have had a big impact on their lives. They're not raising money only within motocross, they're reaching out to other people who want to support research. There are great stories about how much the hospital means for them, and how much it means to have an eight year old go out and raise $1000 for a local hospital.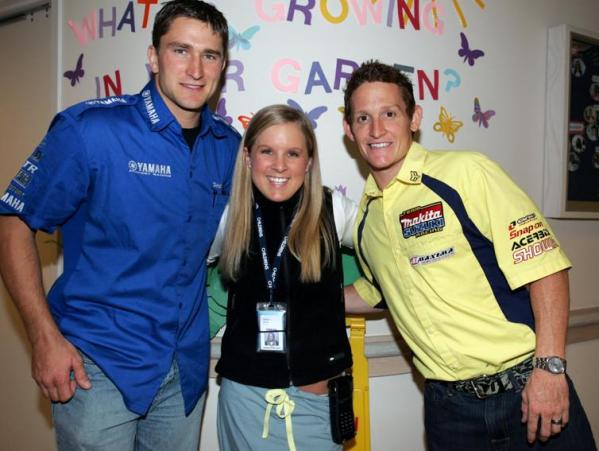 RC has supported MX For Children.
And you do auctions in addition?
We do two auctions a year. Historically we have done one in Seattle, there's a big dealership, Renton motorcycles, they have a big rider appreciation night, where we get as many of the riders there as possible. We run a silent auction in conjunction with that fan appreciation night. Also in November and December we try to do something very unique. This year we did what we call Helmets for Hydro, and we raised $8000 selling helmets from guys like Ryan Dungey and Trey Canard. We got 10-12 helmets.

So what are we working on right now?
Well the big thing is, we have those five SX cities. We wanted to create an extra challenge—take the highest fund raiser from all of the cities and fly them to Vegas, including hotel, meals for two and treat them to the inside line experience in Vegas. We've been able to open it up to the whole country—you can go to that and sign up right now.
Mxforchildren.kintera.org takes you to the Jackpot Challenge, and you'll see people from around the country raising money to try to win this. On April 15th the fundraising ends, and we'll see who wins.

How successful has this program been?
Last year we crossed the $500,000 range, which does include foundation support where people support this type of research. But, to give you an idea, we just completed Houston where about 9 kids raised about $8000 each.

What kind of staff do you have for this stuff?
We have a great group of volunteers helping us out. There are three of us at the core, myself, Rex Backman, and Brett Wise. It's a tight circle where we work on our particular strengths, and it's very rewarding.

(For more information, go to www.mxforchildren.org or go to mxforchildren.kintera.com to enter the Jackpot Challenge).