I got called off the bench again to write Racerhead as DC is en route to Dallas for Round 13 of Monster Energy AMA Supercross, an FIM World Championship, on Saturday night. He's also going to attend the Sprint Cup Samsung 500 at Texas Motor Speedway on Sunday. It's actually the first time that he'll be attending a NASCAR race, and I'm betting that he'll be rooting for #07, Clint Bowyer.
Speaking of Clint, his brother Andy told me that both Clint and two-time defending Sprint Cup Champion Jimmie Johnson are coming to the supercross Saturday night, and they'll both be guests on the Supercross Live! webcast with Jason Weigandt and Jim Holley. The webcast has been getting some major star power lately, as just last week in Toronto they had three-time World Figure Skating Champion Elvis Stojko on as a guest. Turns out that Stojko is a huge fan of supercross. The moral of this story? Tune in to Supercross Live! on Saturday night at 7:00 p.m. CT on www.supercrossonline.com.
You can then catch the action on TV as the AMA Supercross class race will air on SPEED Sunday, April 6 at 6:00 p.m. (EST), and the AMA Supercross Lites race will air on SPEED Saturday April 12 at 4:00 p.m. Also be sure to check out SPEED's online video highlights after the race on www.speedtv.com.
While we're on the subject of Monster Energy SX, check out this story we found about Monster outselling Red Bull.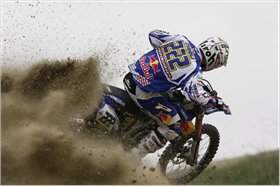 Tony Cairoli is favored to win MX2, but who will win MX1?

photo: Courtesy of Yamaha

This weekend is probably going to be one of the busiest for motocross that we've seen thus far in 2008. Aside from the Dallas Supercross, the 2008 FIM World Motocross Championships are kicking off in the Netherlands at the Eurocircuit Valkenswaard. Our GP correspondent Adam Wheeler did an excellent GP preview, which we ran online yesterday, and it appears that there's really no clear-cut pre-race favorite in the MX1 class. Last year's title favorite, Josh Coppins, suffered yet another injury a few weeks back, but he did get clearance from his Doctor to race. Eric Johnson spoke with Coppins earlier this week.

In the MX2 class, though, Italian Antonio Cairoli, who already has two MX2 World Championships on his resume, will be gunning for this third and is clearly the favorite. Many people believe he'll face the most resistance from British star Tommy Searle of the Red Bull KTM team. If Searle wants to win a world title, this is his year to do so, as he's already signed to come to America in 2009.

Who do you think will win the MX1 class in Holland this weekend? That was the topic of this week's Racer X Online Poll. So far Josh Coppins leads the voting with 40 percent, followed by American Mike Brown! For complete results and coverage from Holland, stay tuned to Racer X Online all weekend long. You can also find results and information on the official website for FIM World Motocross, www.motocrossmx1.com.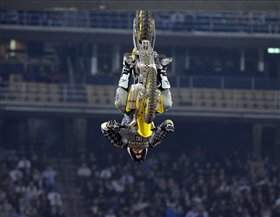 Try and check out the premiere of Travis Pastrana's 199 Lives on April 16-17.

photo: Steve Cox

If you read Racerhead the past few weeks, you probably know that Travis Pastrana has movie coming out to theaters on April 16-17 called 199 Lives. This is a pretty big deal for motocross, and the more folks that show up to watch this film, the more likely we are to see more mainstream motocross stuff. And trust us: This is ain't no Supercross: The Movie. 199 Lives will leave your adrenaline pumping, either from sheer excitement at the stunts Travis and friends pull off, or absolute fear that you may see someone die. This film also takes you behind the glitz and glamour of Pastrana's crazy life. It's all amazing stuff! Click here for a list of theaters and to purchase tickets.

Back to supercross. This weekend marks the second and final stop for Monster Energy SX in the Lone Star State, and San Manuel Yamaha's Chad Reed is very much in control of the AMA Supercross class, his win in Toronto last weekend extending his points lead to 20 over Torco Racing Fuels Honda's Kevin Windham. K-Dub prevailed in the earlier Texas round on a track he designed, but Reedy has some good history inside Texas Stadium. In fact, he's tied with Ricky Johnson for the most SX wins in Dallas, at three apiece. I'm betting the Two-Two makes it four this weekend.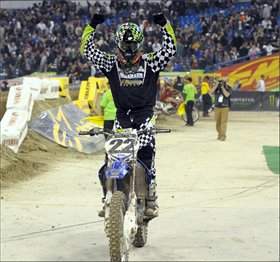 Chad Reed made it look easy in Toronto.

photo: Steve Cox

And this week's track was designed by Honda Red Bull Racing's Ivan Tedesco, who unfortunately will be watching from the sidelines. Well, let me clarify something. Hot Sauce didn't really "design" the track; he just took the layout from the 2004 San Diego Supercross (where he won the Lites class) and told the Dirt Wurx crew to run that same exact layout.

The Eastern Regional Lites class picks up where they left off in Minneapolis two weeks ago, with Monster Energy/Pro Circuit Kawasaki's Ryan Villopoto trying to cut in to Trey Canard's point lead. With three rounds remaining, you can bet this class will have some insane racing, just like it did in Minnesota with RV's last-lap pass on Josh Grant. A good way to get up to speed on this class is by reading Eric Johnson's 5 Minutes with...Trey Canard that we posted earlier today.

The big news this week surrounds the JGRMX/Toyota Yamaha camp, where after only 12 rounds, team rider Josh Hansen has been replaced. This was the first year in the AMA Supercross class for Hansen, who only raced and/or qualified for seven main events, two eighth-place finishes being his best results. His other scores were a 20, 18, 19, 18, and finally a 10th at Indianapolis. The same day the official press release went out from the JGRMX team, Hansen was also a guest on the DMXS Radio show that evening.

"I was stoked to get the opportunity to be involved with Gibbs and stuff," Hansen told DMXS's David Izer and Kevin Kelly. "It was awesome for the family to give me chance. It didn't work out, but they are a good group of people and I was glad I got the chance to be a part of it."

He added, "Right now my concentration is trying to put something together for the X Games. Do the X Games and then possibly maybe even the last few Supercross races. I'm figuring all that out right now."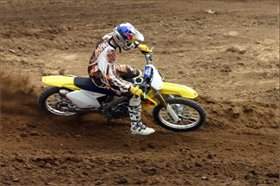 Looks like it's yellow for Li'l Hanny

photo: Ping

The very next day, our own David Pingree drove by the Starwest supercross track in Southern California and spotted Josh riding a Suzuki.

We then heard from a reliable source that he will ride a Suzuki RM-Z450 backed by Richardson's Racing RV at the Navy Moto-X World Championship and the last few supercross races. As for the outdoors, I seriously doubt we'll see the #100 out there.

Speaking of the Navy Moto X World Championships, which has been getting a ton of hype lately, check out the rider list for the racing portion of the event:

Troy Adams (United States)
Justin Brayton (United States)
Ryan Clark (United States
Josh Demuth United States)
Gavin Gracyk (United States)
Broc Hepler (United States)
Jason Lawrence (United States)
Jeremy McGrath (United States)
Travis Pastrana (United States)
Eric Sorby (France)
Heath Voss (United States)
Nicholas Wey (United States)

Man, with 12 riders, that looks like the LCQ lineup at a supercross. Maybe next year they'll change their minds and choose to not run this event the same weekend as Monster Energy Supercross. I wonder if RC is considering signing up for racing, too, along with his attempt to win Step-Up at this event.

There's some top Lites contenders on that list (Broc Hepler, Justin Brayton, and Jason Lawrence) as well as seven-time supercross champion Jeremy McGrath and X Games hero Travis Pastrana. Unfortunately, though, we just got a note from MC's publicist, Cheryl Lynch, saying that McGrath will not be competing after all: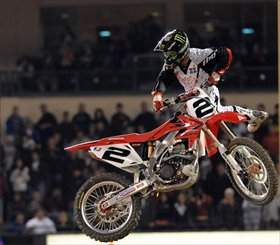 MC is out with an injured femur.

photo: Steve Cox

Please note this past Saturday, Jeremy McGrath sustained an injury while pleasure riding at his Thing Valley Ranch. The impact of Jeremy's crash caused his femur to compress against his hip, an MRI has shown that the top of his femur has a significant crack and doctors have recommended no riding for at least six weeks. It is with regret that Jeremy will now not be able to compete at this wonderful inaugural event.
He will, however, be at our event and will carry through with his analyst role.


Our own David Pingree spoke with Jeremy about his recent injury at his ranch and he sounded pretty disappointed.

"I was coming around this corner and my back end broke out of the berm. The bike slid and then caught and threw me off the back. I flew over the berm and landed with my knee directly in the ground. I knew something wasn't right because it hurt pretty bad and it was the same hip that I dislocated right before I retired. It ended up being a small fracture in the top of my femur from where it jammed into my hip socket. It's not that big of a deal, long-term, but I won't be able to ride for at least a month or so. I'm bummed because I have a lot going on right now and I was really trying to put in a good effort for the ESPN Navy Moto X World Championships. I think this event will be as big as the X Games in a few years and I was going to compete in Step-up, Supermoto and Moto X Racing."
Another rider racing the Navy Moto X World Championship is Hansen's JGRMX replacement, Gavin Gracyk, who is riding a Red Bull/Troy Lee Designs Honda CRF450R at that event, then switching back to a CRF250R for Seattle and Las Vegas. He'll then immediately hop on a YZ450F and start preparing for the opening round of the Toyota AMA Motocross Championship, which kicks off this year at Glen Helen Raceway on Memorial Day Weekend.
I believe this Gracyk-to-JGRMX move was great for all parties involved. Gracyk has seen more tragedy in his life in the past year than most will ever see, but he continues to work hard and strive toward his goals. So what does Gavin think about his new team? David Pingree talked to him earlier today for our Sponsorhouse.com Privateer Profile.
Tim Cryster, the Racer X Virtual Trainer, wrote DC on Tuesday night after speaking with Aldon Baker on the phone. Tim had bad news: James Stewart had wrecked on his bicycle while training and hurt his knee again! He was now doubtful for the …. then I remembered it was April Fool's.
"I did speak with Aldon and he was talking about James' recovery from his knee surgery," Crytser said. "He said James is doing well and recovering well ahead of schedule. The knee surgery is supposed to take six months to recover from but he only had four before the first outdoor race. Aldon said he will be more than ready. James is rehabbing and training daily on his road bike and strength training at the gym. Aldon said James is getting anxious and should be on the bike pretty soon after some close evaluation from the Doc and Aldon."
Okay, let's turn this over to the MXWordNerd, Steve Cox: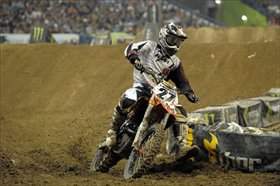 MDK KTM's Nick Wey got his best finish (6th) in Toronto.

photo: Steve Cox

I led off my little piece of Racerhead last Friday with an announcement that Team Solitaire/MB1 was going to have a new sponsor soon, and that I couldn't say what it was, except to say that it wasn't going to be water, like from the toilet. Some of you may have gotten the reference, but most of you probably didn't. A couple years ago, Mike Judge (of Beavis & Butthead, King of the Hill and Office Space fame) made a brilliantly funny and poignant movie called Idiocracy, starring Luke Wilson and Maya Rudolph. The premise of the movie was that really smart, successful couples tend to have a small number of children, if any at all, while dumb people tend to have extremely large family trees – not just having children with their wives, for example, but with the neighbor, etc. Then, the plot takes us 500 years into the future, where the very average Joe Bauers (Wilson) and Rita (Rudolph) wake up from an army experiment gone awry to find out that the world has basically come apart at the seams. Corporations have actually purchased the government, and all water for drinking or irrigation has been replaced by a drink called, Brawndo; "The Thirst Mutilator." The only place where water is still in use is in the toilet, which has led to a dustbowl because the crops all died out from the use of Brawndo as irrigation. Even the people in the government bought into a marketing slogan, as they repeat, "But Brawndo has electrolytes. It's what plants crave." Everybody is stupid. In fact, Bauers is soon found out to be the smartest person on the planet by far and is employed to figure out all of the world's problems, else he be put to death during the widely viewed TV event Monday Night Rehabilitation where the government uses monster trucks and flamethrowers to murder criminals.

Well, fiction has become reality, and Team Solitaire/MB1 is now sponsored by Brawndo; "The Thirst Mutilator." The official team title will be Redux Beverages/Brawndo/Team Solitaire/MB1 Honda, but it's not unlikely that it will quickly become known as "Brawndo Honda."

"This is quite obviously the best sponsor ever brought into any sport in the history of sports," said team owner/star rider Ryan Clark of his team's new sponsor, Brawndo; The Thirst Mutilator. "It will make you want to crush human skulls with your bare hands."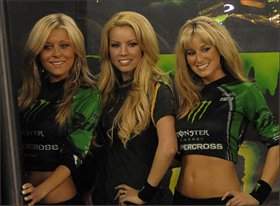 The Canadian version, eh.

photo: Steve Cox

For more, click here.


Although Steve Matthes probably doesn't want anybody at Racer X to find this out, Timmy Ferry will actually talk to reporters other than Steve Matthes. After his first race back from injury, I stopped Ferry in Toronto to find out how long he'd been riding and how he was feeling. "I've been riding about two weeks," Ferry said. "I rode supercross for two days before Minneapolis, to see if I could do it, and I woke up the third day and was going to see how I felt on Thursday, but I was so sore that I couldn't ride and I woke up with a cold, so I took it as a sign telling me not to race. I had outdoor testing planned, so I did four days of that, then rode supercross in Cali, rode Thursday this past week at my house, and then flew up here yesterday [Friday]."

When Ferry first hit the track in Toronto, he did look a little bit off, but he was fastest in the second practice session. "I was really rusty," Ferry said. "The first practice, I was a little nervous with all the ruts and stuff, and I was like sixth fastest, which wasn't bad, and then I timed the ruts and got a good lap in the second one. My speed's there, I've just got to get rid of this cold and get my rhythm back. That ought to help me toward the end of the race." This weekend, if things go well, Ferry should look better.

Speaking of Matthes, here's something from him:

Please everybody, I implore you to check out my observations from the motherland here.

And read Danny B's Frid'Eh update, too.


Some thoughts about Toronto: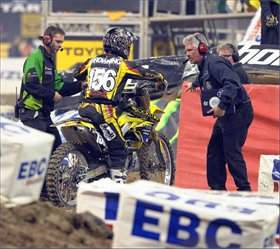 Willy Browning's "double-classing" could've went better.

photo: Steve Cox

I can't believe that more wasn't made out of Ohio's Willy Browning double-classing it. We haven't seen this since the Jason Thomas days! What a gnarly track to do it on as well, props to Willy for doing this and making Rupert very proud I'm sure.

The Canadian riders that really showed something were Brady Sheren with a fourth, Kyle Beaton, who came from seventeenth to third before crashing and hurting his already injured finger, and Kyle Keast, who rode a steady race to get into the top ten. Not many Americans know this but he's national number 8 up there and holds down a full time job! He's a welder or something like that and has to take vacation days to go to the races, that's somebody to cheer for folks.

The turnout for the Lites class wasn't where Live Nation and the fans wanted it to be, but with shrinking budgets and no East or West round, you can't blame the teams. I spoke to Dave Prater of Live Nation this week, and he understood the no-shows' position but did say that the East-West series is unbalanced right now and adding an east round in Toronto would fix that, so teams, be forewarned. Add in the fact that attendance increased for the fourth straight year, and I think we'll be going to the land of ketchup chips for the next little while. Which, as you can imagine, makes me happy.

The privateer thing is getting a little weirder and a little more confusing to the riders, teams and media members. As a guy who wrenched for two privateers of the year (Ferry in 99, Wey in '02), this subject is close to my heart. Gibbs Yamaha riders Charles Summey and Josh Hansen were declared privateers at the beginning of the year despite having many of the exact same unobtainium parts that factory Yamaha does. Live Nation justified this by saying they were shown a receipt that Gibbs purchased the parts. A little while later I had L&M Yamaha team manager Larry Brooks on my Racer X Canada podcast and he didn't realize that Gibbs riders were privateers and asked the difference between his guy Nathan Ramsey and them. I didn't know either, so he went to Live Nation and voila! Nate Dog was the new privateer points leader.

Well, for a few days, anyway, as Live Nation reversed their decision (correctly, I think) and while they were at it, took away Gibbs's privateer status as well. Which was fine with Gibbs team manager Jeremy Albrecht, as he admitted on my podcast that they weren't privateers anyway (just another reason you should listen to the show - look at all the scoops we get!). So your NEW privateer points leader is Atomic Racing's Paul Carpenter and he's followed by Heath Voss. I don't care how many times LN changes their mind, as long as they get it right, and they're close in my opinion. Live Nation's Dave Prater and Brian Wallenback both know that before the 2009 SX season, there needs to be a better qualification rule and I think they will work on it and lets hope there isn't this confusion next year.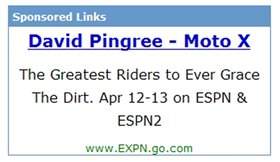 That's funny!

Courtesy of Gabe Herndon

Let's go to Ping:

While the SX tour was in Canada, land of Bob and Doug McKenzie, Terrence and Phillip, and really potent beer, I was in Boise, Idaho, for the opening round of the Racer X Inter-Am Vintage Series. I had never ridden a vintage bike or even been to a vintage race before last weekend. In fact, I wasn't even born when most of the bikes there were produced. Over the course of the weekend at the Owyhee Motocross Club facility I rode a 1977 Husqvarna 125, a 1979 Yamaha 250 and a 1981 Maico 400. The Husky had all the horsepower of a weed whacker and handled like a Radio Flyer wagon, but the other two were surprisingly good. Look for the complete story in an upcoming issue of Racer X Illustrated. You can also download some sweet desktop wallpapers from that event right here, thanks to Trent Howie.


I got this letter from Cory Wilkins up in Marysville, California, this week.

On Tuesday, April 1, Mayor Bill Harris and the City Council of the City of Marysville, California, proclaimed the City "Motocross City, USA". This unique proclamation positions the City of Marysville as the most openly motocross friendly city in the United States. The City supports the operation and sustainability of two local motocross tracks, one within and one adjacent to the City limits, and welcomes all riders, families, and motocross businesses to Marysville. Both tracks are professionally maintained and operated by former motocross and Supercross professional Scott Davis, and his crew at E Street MX, Inc.

The City of Marysville recognizes the positive financial impact of motocross on the local economy, as well the health benefits surrounding the sport of motocross, and wishes to ensure that this family-oriented outdoor activity remain viable in the City. Cory Wilkins, a local resident, motocross enthusiast, and idea man behind the proclamation, hopes this recognition will draw motocross-related businesses to the city, as well as riders to the area.

As a motocross-friendly City, Marysville invites the motocross industry to explore this unique area in which to live, do business, and conduct research and development on motocross product.


For more information on the City of Marysville and E Street MX, log onto www.marysville.ca.us, and www.estreetmx.com.

Another great event that is sneaking up on us is the MiniMoto SX in Las Vegas on Friday, May 2. This has become a must-see for anyone in town for the supercross finals the following night. The bikes are small but the racing is great and the show is super entertaining. Here's the 2008 track map, which looks like one of the best layouts they've come up with yet.

After the surprising news about Josh Hansen parting ways with JGR earlier this week, I spotted him out at Starwest Motocross Park riding a Suzuki RMZ-450. He told me that he hasn't signed anything with anyone yet and that he is just trying out some different bikes to see what he likes. He is also moving back to California right away. And, as a nod to Good Charlotte's lead singer (or fishing-accident victims everywhere), Hanny was also sporting a fresh lip ring. Just bustin' your balls, Josh; it looks cool (visualize sarcastic eye-roll here). Seriously, one thing about Hansen is that the kid definitely has skills. Just watching him rip on a bike he'd never ridden before was proof of that. I hope he finds a team that he meshes well with and gets to show everyone his true potential.

Thanks, Ping.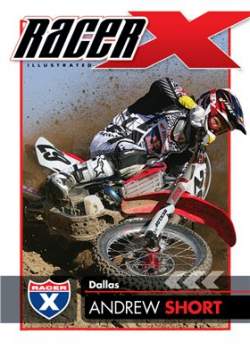 Get your Andrew Short Racer X trading card in Dallas, for FREE!

Earlier this week we got a press release from the Road 2 Recovery Foundation regarding a Shae Bentley benefit event in Georgia, but it has since changed. We then got this email from Shae:

My benefit is going to be held at Monster Mountain on April 26th due to some problems held at High Falls Raceway. We needed more parking and a lot of riders are going to be there and we are looking for a good crowd. Grant Langston is going to try to make it, along with several other pros. This is a fun event to help me out because I never seen myself in this situation. We all think we are invisible but if I can give any advice, God can change things in a split second. Be thankful for everything you have and remember your family is always there. There will be gear from every rider and items from everything you see in all the magazines. This sport has really stepped up. I won the championship with Crones so imagine what I could have done without it. I'm glad to be alive. Thank you God and all my friends. Thanks everyone for all the support

Shae Bentley

Racer X Canada's Allison Kennedy took delivery of a healthy baby girl today. Hannah Davies was born at 8:20 a.m. today and comes in at 7 Ibs. 10 oz. Everyone is doing well! Is she named after Bob Hannah? Of course! Can you imagine when Steve Matthes's wife has a child? Ross "Rollerball" Matthes!

And speaking of Bob Hannah, he's joining forces with Toyota for an exclusive autograph session and meet and greet with fans at the Toyota Zone in the pits at Texas Stadium.

Hannah will be signing limited edition posters (pictured on the right) created exclusively for this event. The poster features photography from Hannah's heyday including a photo of the legendary racer and a Toyota SR5 pickup truck from the 1978 race season, Toyota's first year as the "Original Official Truck of Supercross."

We were heavy on the trivia questions in several features this past week. In the Shift Number Cruncher, Andy Bowyer asked you to identify the rider in an old photo running #56. The three winners were Chuck Warren (Alpine, CA), Tim McLaughlin (Oronoco, MN) and Steve Lange (Parts, Unknown). It rider in the photo was Jeff Jennings.

We also ran some Racer X Flash Trivia asking you to identify yet another rider. This photo was a more recent pic of a Kawasaki-mounted rider donning #264. It was Ryan Sipes in 2004 at his first pro national, at High Point. Congratulations to Justin Mace (Hesperia, CA), James Willis (McKinney, TX), Dan Teague (Cedar, MN), Bryan Hoag (McDonald, PA), and Megan Graves (Cocoa, FL) for answering correctly; your One Chance to Win DVD is in the mail. Thanks for participating in Racer X Flash Trivia and stay tuned next week for another question.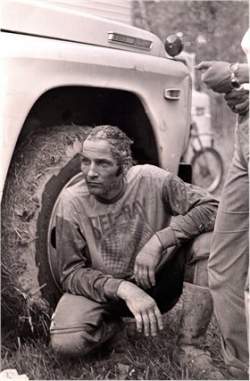 Adolf Weil was the winner of the 1973 Trans-AMA at Copetown, Canada.

photo: Dick Miller Archives

And in Racerhead last week we asked: When was the last time the AMA sanctioned a pro motocross/supercross race outside the U.S. and who was the winner?

Turns out no one knew! The answer was the 1973 Copetown, Ontario, Canada, round of the Trans-AMA Series. The race was won by German Maico rider Adolf Weil, with Michigan's Mike Hartwig awarded "top American" honors by virtue of his sixth-place showing. There was also a Trans-AMA there in '72 won by Roger DeCoster, and another in '71 won by Heikki Mikkola.

It was a killer week for online motocross videos. Area Qualifiers for the 2008 AMA/Air Nautiques Amateur National Championships at Loretta Lynn's are kicking into high gear, and Matt Wozney and the HG Films crew were on hand at Tomahawk MX Park last weekend for their Northeast Area Qualifier. There were some top riders in attendance, including Justin Barcia and P.J. Larsen. Check out HG Films' video right here.

Other exceptional films from contributors we posted earlier this week on Racer X Films include a behind-the-scenes look at a midweek day for Team Solitaire/MB1's Ryan Clark, who not only runs the team but races in the premier class. Next was a piece by Ryan Walters on the Honey Lake Area Qualifier for Loretta Lynn's, held at Larry Wosick's critically acclaimed California track. Finally, Wes Williams took his camera to Perris Raceway and taped some practice yesterday. If you missed any of those, have a look here.

It's time for the second installment of Toyota's All-Access, filmed at various rounds of the 2008 Monster Energy AMA Supercross Series. The films are the work of The Motocross Files' Todd Huffman, with some help by shooter/editor Chris Williams and Hugh Swingle. Make sure you check out today's feature, which focuses on the JGR MX/Toyota/Yamaha team's Jeremy Albrecht as he checks out one of the Anaheim tracks: www.racerxfilms.com.

Take a moment to watch this; it's one of the strangest stunts I have ever seen.

This is the 2008 Moto X Kidz group photo. We race at Lake Elsinore Motocross Park about twice a month. Our website is www.motoxkidz.com. To find out more about us please review our "Mission Statement" and "Parent Expectations." We have a great group of families racing with us!

Kevin Reno
Moto X Kidz

Here's a nod to Toronto Racer X Gas Card sponsors Chad Haskins and Larry Gaulin and Dallas sponsors Keith Shireman and Eric Lepold. Thanks, guys!

Controversy? We got this from Aaron at Proper Management:

First of all I think what Robbie Maddison, Ryan Capes and Seth Enslow have been doing this week in Australia is absolutely amazing! The thing is that those guys have got great PR engines working behind them and they are paid well because of it. Maddison jumping 351 feet is an amazing new record, but it's not THE record.

A slightly less know rider out of the Fresno, CA area has been jumping distance jumps for several years now and has a set up equal to what the other guys are doing. He likes to be referred to as Bird, and Maddison and Trigger Gumm have both been to his jump spot before. The fact is that Bird has jumped 361 feet far as measured by a licensed surveyor!

It&rsqu