5 Minutes with ... Trey Canard
Four races into the seven-round 2008 Monster Energy AMA East region Lites Supercross Series, Trey Canard has now visited the top step on three occasions. In fact, in his very first professional supercross — round one of the series, held before an overflow crowd of 67,000 fans in Atlanta's Georgia Dome — Canard took the lead from the drop of the gate and never relinquished it. One week later, Canard, 17, backed up his Atlanta win by racing to victory in Indianapolis. Then came 50,000 tons of melted dirt and ponds of standing water in Daytona. He won there too. With only three rounds remaining, Canard maintains a healthy 24-point lead in the East Region series and is, in the opinion of virtually anyone close to the sport, the revelation of the 2008 supercross season.

Racer X: Trey, what are you up to today? The typical training and riding routine you've become known for?
Trey Canard: Oh man, every day I go at it.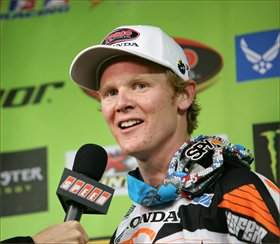 Trey Canard has been a revelation in 2008.

photo: Simon Cudby

What do you do on a given day?
Normally, I'll get up and have some breakfast. Then I'll go to the gym, come home, and have a snack. Then I'll go out and ride. After that I'll go back to the gym again.

Does the routine ever get old?
Never, ever does it get old. It can turn into feeling like a job once in a while, but whenever you're feeling like you're doing so well a racing, it's well worth it. And my trainer, Greg Direnzo, always keeps changing things up and makes them as fun as possible.

Did you ride at all today?
Yes, for about 15 minutes. I did one session and went out and did another one. The second one only lasted six laps, though. We had to look into a small motor problem.

The East Region series has been off for three weeks now. Did you get to take a bit of a breather during the break?
You know, I never take a break, but I tweaked my ankle a little bit in Minneapolis and had to rest it. It was hard to stay off the bike, but I did what I needed to do. Sometimes things get thrown at you and it's a better decision to take care of them. But my fitness is great and I'm ready for the upcoming rounds.

Last winter I remember seeing you at the supercross races. You were on hand with the team to absorb things and to get an idea of just what would go on during race day when you turned professional. How did you feel when the time came to participate in your fist career supercross?
Man, surprisingly enough, I was not that nervous. The week before I expected to be a ball of nerves. But I had also been looking forward to my first supercross since I was little. Dude, when the day came it was like a dream come true. It was one of the coolest experiences I had ever been through. It was unreal. To watch the opening ceremonies from the stadium floor and then to win, it was unreal.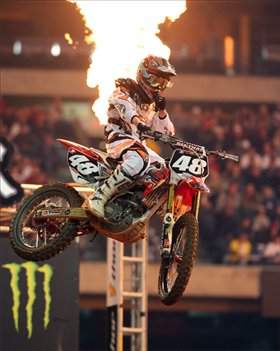 Canard has won three of the four East Region Lites races thus far in 2008.

photo: Simon Cudby

From the drop of the gate, what do you remember about your race in the Georgia Dome?
I don't remember a lot about the race. It was a blur. It wasn't until about lap five that it hit me that I was in the lead. I was like, Man, this is crazy! You know, it didn't really hit me that I had won at Atlanta until Wednesday or Thursday. I was on cloud nine. The whole thing was like a dream. That day and that whole weekend, I just treated everything like I do in practice; I tried to simulate what I do in practice. During the race I just went out and did my 15 laps like I was supposed to.

It certainly had to be a special night for your family, too, huh?
Oh, man.… My little brother didn't go, but my big brother and my mom were there. To see the results we had all worked so hard to get, words can't describe the feeling.

How did you feel heading into round number two of the series at Indianapolis?
The night after Atlanta, I kind of sat down and kind of forgot about Atlanta. I started to focus on Indianapolis. It was kind of hard because all week I kept hearing "good job" and the phone kept ringing off the hook. It was hard to forget about it. I just tried to brush it off my shoulders and eat right and go to the gym and ride. Going into Indy, I put a little more pressure on myself. I had done my best to win my first one. At Indy, I knew it would be harder to win and that there would be a lot more people with their eyes on me. And I had to fight to win that race. Villopoto caught me and was on me, but unfortunately, he went down. But that's all part of it.

How did it feel to win again?
It felt better than the first win.

Okay, then came the Daytona Supercross. What was going through your mind as you sat behind the starting gate for the main event?
In my starting rut I was scooping water out with my boot. I mean the water was up to the fork legs. I felt good and I knew I was going to have fun, get a good start and have good vision. That was how I approached it. It was the craziest race ever. To win two races was great, but to win Daytona was so awesome. It was like, whatever the circumstances allow me to do, I'll do. Whatever is thrown at me, I'll do it.

To your way of seeing things, how did Minneapolis go?
Minneapolis was a bad weekend. It didn't start too great but ended on a decent note. In practice number one, during the first couple of laps, we experienced a couple of technical difficulties. The bike was bogging and I had to pull in. During the second practice, it was the same thing. Things got ugly when the bike bogged off the face of a triple. I tweaked my ankle and after that, I watched from the stands. I qualified bad, but was going pretty good by the end of my heat race. I got a petty good start in the main, but I didn't ride great. I got up to third at one point, but gave it right back. I made some mistakes, but I learned from all of it. I got fourth in the race and I was not too bummed at all. I couldn't complain.

Through the immediate success of your rookie season in supercross, do you feel like you've changed as a person at all?
Absolutely not. I'm the same person I was three years ago. I have not changed at all. A lot of people have won three races, and until I beat Ricky Carmichael's records, or anyone's records, I'm just another person. I'm not the greatest. I'm not in his class. I'm just going to do the best and maybe I'll wake up one day and be the greatest.

There are only three rounds remaining in the '08 AMA East Region Lites series. What's your strategy for Texas? Are you going to play it safe at all?
My strategy for Texas is that it's another race. I'm just going to concentrate on Dallas. I'm not going to do anything stupid, but I'm not just going to go put and ride around. I'm a racer. I'm going to race. If there is a dumb situation and things get crazy, I'll back it down, but I want to be the best I can be there.

Have you begun to think about winning the championship?
Everyone wants to win a championship. Now, winning a championship is realistic to me. But the championship is not over until St. Louis. As easy as it is to get a points lead, to lose it is twice as easy. I am not going to celebrate until the time comes. I'm just going to give it 200 percent and do my best. I'm going to give it all I've got.

Have you spoken much with Ryan Villopoto?
We don't talk too much. We race against one another, so I guess there isn't much to say. We're cool. We don't hate each other. We're not the best of friends, but we're not enemies. We're just doing our job.

Have you been focusing o the outdoor series at all?
I'm focused on Dallas. When you go up a set of stairs, you can't climb them five or six at a time. You climb them one step at a time. That's the approach I'm taking.