Number Cruncher: #56 and #9 Redux
Welcome to the Shift Number Cruncher. We went into the weekend hoping that a number would arise that would be worthy of dedicating a column to and Toronto didn't disappoint. There was a huge window of opportunity in the Lites class as no championship points were being awarded and most of the big name contenders stayed at home. All the same, the class was anything but a cake walk as the best Canadian riders and a good handful of podium finishers from the American series showed up ready to do battle. Of the bunch, the DNA Energy/BTO Sports/Butler Brothers Honda squad took the opportunity as a chance to get themselves some good press and maybe a win while they were at it. Well, a win, and a sweep of the podium made the long drive from Florida to Toronto a little shorter on the way home as Stuart, Florida's Shaun Skinner pulled the holeshot and rode 15 mistake-free laps to win his first professional supercross. It was a performance more than deserving of dedicating this week's column to. This one goes out to Skinner and his #56. Enjoy.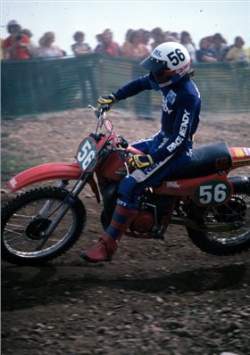 Who is this?
photo: Dick Miller Archives
The earliest #56 we could find in the archives was this shot 1980. Check out that CR250 with the left-side kick starter and right-side chain drive. Man, those guys were tough! No wonder he doesn't have a finger on the clutch; can you imagine the action on that thing? So who is this cat? We think we know, but we thought we'd let you take a shot for a prize: The three people who can correctly tell us who this is gets themselves a "
One Chance to Win
" DVD. Send your guess to:
andy@racerxill.com
.
When this shot was taken in 1987 there weren't many folks that had an idea that
Jeff Stanton
would become one of the greatest motocross racers of all-time. Winning three supercross titles, the Daytona Supercross four times, and being the anchor of several Motocross Des Nations teams pretty much makes the guy a legend. He can still haul ass too!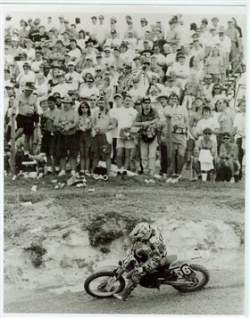 Guy Cooper
photo: Racer X Archives
Guy Cooper
strikes again! #56 was one of the last AMA top 100 numbers Coop earned before hanging it up. Even though he was in the twilight of his career shown here racing at Gatorback, Guy was still lightning fast and you could mark his position on the track by the cheers from the crowd. In many books he's the best AMA Supercross rider never to win a main event, but he did become an AMA National MX Champion outdoors in 1990.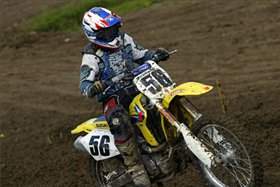 John McConnell
photo: Billy Ursic
This is Jessica Coombs' father,
John McConnell
. John is one of District 5's favorite sons and many moons ago, he was a fast pro racer. Today, John is the co-owner of Race Driven Technologies, Inc. He is also the inventor of an electronic transmission controller for drag cars.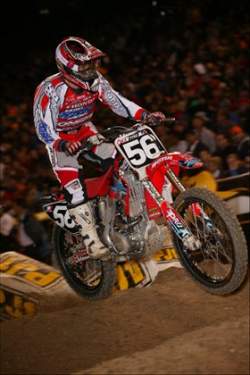 Timmy Weigand
photo: Simon Cudby
Here we have
Timmy Weigand
running #56 on the Moto XXX CRF250R. Timmy is a bad dude on the supercross track, but at Langtown he is almost unstoppable. He's been down in Australia racing for the Shift Motul team in the 2007 Australian Supercross Pro Lites Championship.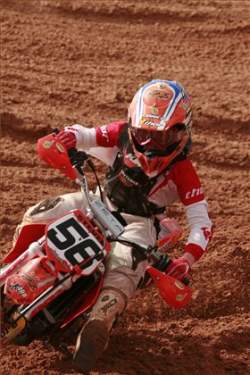 Stephen Gretchen
photo: Andrew Campo
We can't forget about the little guys. This is West Virginia's
Stephen Gretchen
, who has been tearing up the mini cycles classes across the country. Bad Billy says to keep your eye out for this young lion this summer at Loretta Lynn's.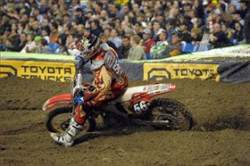 Shaun Skinner
photo: Steve Cox
It's kind of like when Eminem asked, "Look, if you had one shot or one opportunity to seize everything you ever wanted in one moment. Would you capture it or just let it slip?"
Shaun Skinner
showed up to Toronto ready to drop bombs and he did just that. He was flying in practice and took care of business in the main event. He's a Loretta Lynn's champion as well. Shaun won the 125 C Stock class in 2001, then backed that up with his second title in 2003 when he took top honors in the 250 Open B Modified division. I saw him walking through the parking lot at the hotel after the race wearing a smile only victory can produce. There ain't nothin' better than winnin'.
More
-2-time Loretta Lynn's champion, Mike Katin in 1998
-Former fast east coast supercross racer Steve Herman in 1996
-Michigan's Jeff Curry in 1994. Curry competed in last weekend's GNCC in North Carolina.
-1994 Arenacross National Champion Grayson Goodman in 1993
-2-time Loretta Lynn's champion Eric McClear in 1992
-3-time Loretta Lynn's champion Billy Whitley in 1991
-Canadian legend Ross "Rollerball" Pederson in 1990
-1987 Daytona Winner Ricky Ryan in '89 and '83
-New England's finest, Mickey Kessler in 1986
-Former pro competitor Pete Wanket in 1981. (had twin brother named Tony)