Welcome to Racerhead on a Super Bowl and supercross weekend. It's cold here in the Northeast, but it's going to be sunny and 70 at Oakland for tomorrow afternoon's fifth round of the 2018 Monster Energy AMA Supercross Championship. And who knows how cold it's going to be in Minneapolis, where the Super Bowl is being played between the New England Patriots and the Philadelphia Eagles—but because the stadium has a roof, it will probably be 70 there too.
Supercross and the Super Bowl have a strange history together. For all intents and purposes, they both began in the Los Angeles Coliseum—the Super Bowl in 1966 and the first modern supercross in 1972. But the first supercross was not called supercross; it was the 1972 Yamaha International Cup Superbowl of Motocross. The term supercross would not come along until 1975. And because the NFL had already trademarked Super Bowl for its championship game and challenged its use for the race, the promoter of that first race, Michael Goodwin, simply did away with the space between Super and Bowl and argued it was something different altogether! When he did the first Atlanta SX in 1977, he called it the Superbowl of the South. Using Superbowl ended in the eighties, but we still often use the same stadiums that the NFL does—the Minneapolis Supercross at U.S. Bank Stadium will take place on April 14.
Looking ahead to tomorrow afternoon's racing, you may have noticed our new cover(s) featuring current series points leader Jason Anderson of the Rockstar Energy Husqvarna team. El Hombre has been on a steady run, with one race win in four rounds. Preseason favorites Eli Tomac and Marvin Musquin are trying to rebound after early shoulder injuries, while Ken Roczen is working himself back into things slowly (but with solid speed). Anderson has the red plate and is hoping to leave California with it after the Oakland race tomorrow.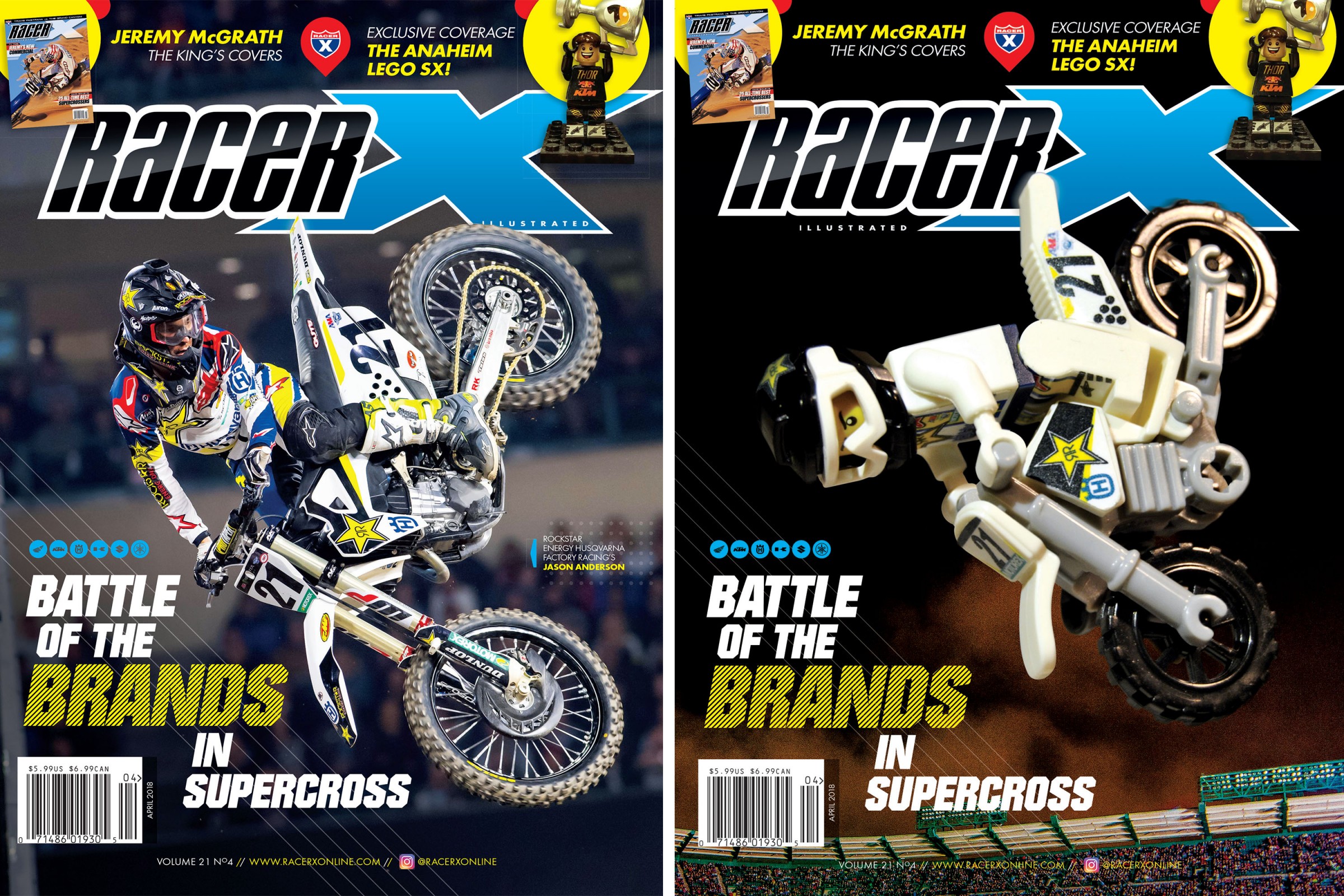 Anderson is the first Husqvarna rider to lead the series this late into the season. He's also the first rider to appear on a mock cover of Racer X Illustrated as a Lego, thanks to a really fun and funny project we did with Instagram moto-celebrity @LEGO.MX. We asked Ted Kalén of Norway to cover the Anaheim opener for us through those tiny little plastic blocks. Make sure you subscribe or pick up the new issue on the newsstand.
Let's get into the week that was (and the weekend that will be) with the rest of Racerhead.
It's Really Happening (Weigandt)
Ryan Dungey's retirement set up the potential for a wild 450SX championship fight between riders who had never sealed the deal before. A lot of that could have been hype, though. There's already a chance someone is going to figure this out, stay consistent to the end, and lock down this championship with a race or two to spare.
The data is skewing the other way, though. Eli Tomac and Marvin Musquin crashing out of races in consecutive weeks proves it. Ken Roczen has been good but certainly not dominant in his return to racing. Jason Anderson has been the most consistent, but he still has one win in four races and could only turn a third-place start into a fourth-place finish over the weekend in Glendale. Anderson is riding well, but you can tell he's learning as he goes, trying to go for it at times but also avoiding big mistakes. Instead, Tomac became the first to net multiple wins this season—but he's also a whopping 36 points behind in the standings.
While the injuries certainly hurt Tomac and Musquin, they've served to set up an even more dramatic season as they try to climb back in the standings, while riders around them have to choose if they're worth battling. If you're Roczen, you're only worried about yourself right now—Tomac's finishes really aren't of any concern yet. We could see a dynamic season play out like we did last summer in Lucas Oil Pro Motocross, with key contenders getting hot at different times of the season.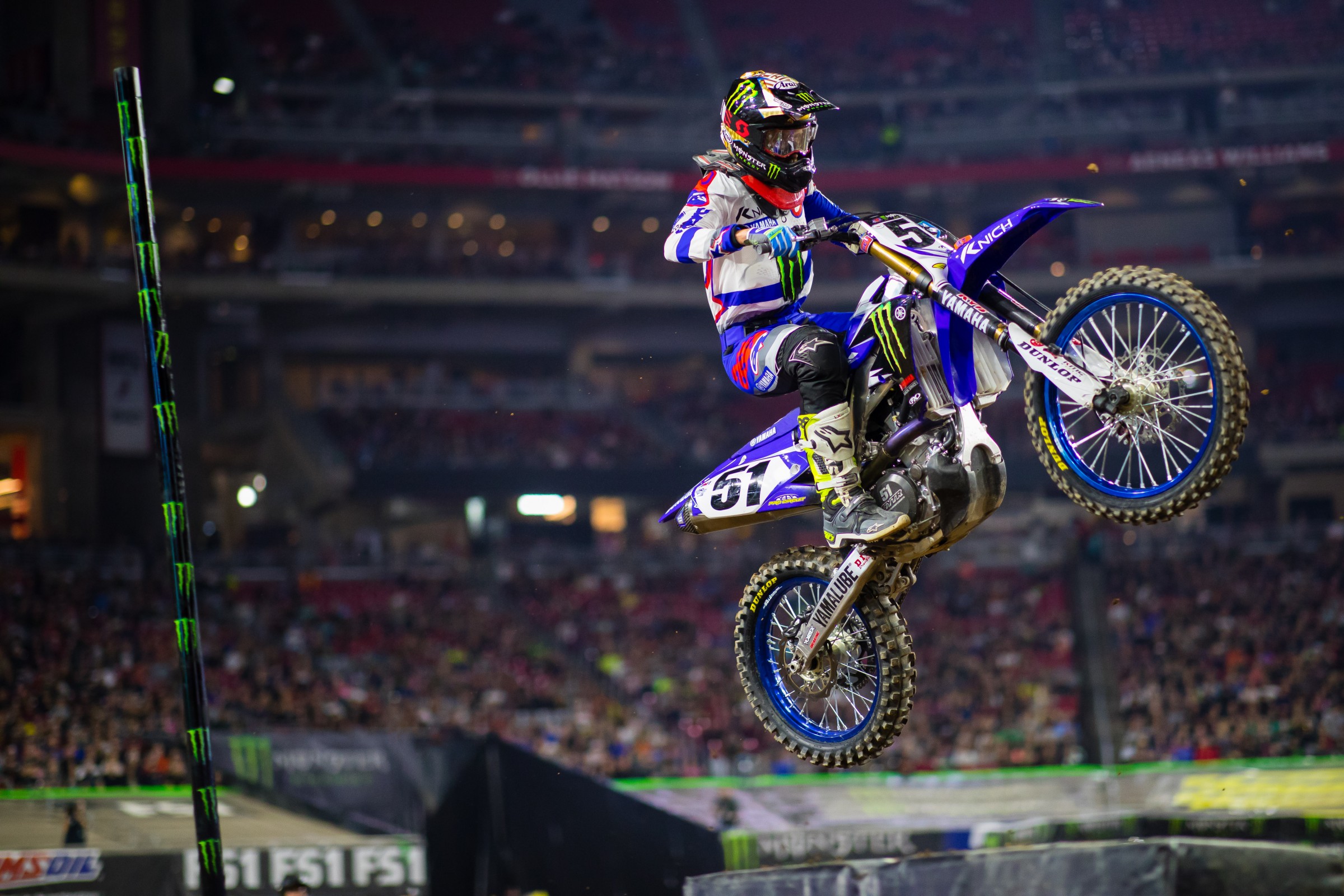 Plus, Justin Barcia's rejuvenation has gone so well that he's not just winning for himself anymore; he appears to be a real, additional title threat. In fact, I'd put his Glendale ride up there with any of the best of his 450 career. Sure, Barcia has two 450SX wins in his career, but they came via holeshots (Phoenix and Seattle in 2013). At Glendale, he very nearly ran Tomac down in the latter laps. It backs up what we saw at the first two rounds. Some riders can almost luck into good early-season finishes while the field sorts through bike changes and nerves. Most of that stuff is done by round three, so if you're up front at round four, it's no fluke. What if Barcia gets a win one of these weeks? Confidence is going to be soaring through the roof.
What if Tomac gets the points lead down beneath the magical 26-point mark (one max weekend's worth of points)? Comebacks don't require crashes and DNFs from the leaders. Tomac made up 12 points on Anderson in the last two weekends, and Anderson finished third and fourth—not bad races at all. Down 36 but making up 12 points in two weekends without any major bad luck from anyone else? Craziness could be in play here. It's really happening!
Pro Perspective
David Pingree: We've had plenty of conversation this week about the incident between Aaron Plessinger and Shane McElrath in Glendale, and it seems there are two sides to the argument: one side says it was good, hard racing, and the other side says it was dirty/dangerous riding.
I'm all for aggressive racing, block passing, bumping, and slamming, especially when it doesn't involve me. As a fan, I want passes like the one Osborne put on Savatgy in Vegas, the one Anderson put on Reed that same night, and the one Plessinger put on McElrath in the turn before the triple in Arizona. But there is an unspoken code of conduct in professional racing that makes a few moves unacceptable. One of those is a T-bone. If you can't get far enough past a rider in a turn and you hit them right at the footpeg going straight, that's a problem. Another thing that can't happen is cross-jumping or moving over abruptly through a rhythm lane of whoops. When a rider is committed to a jump or a set of whoops, they can't just roll off the throttle and tuck in behind the guy who just passed them; they'll end up on their head. This is basic, common-sense stuff that professionals apply to keep people from getting hurt badly.
In my opinion, what Aaron did in Glendale by darting to the right as they entered that rhythm section was dangerous. Shane had to defy the laws of physics to keep from going down, and frankly, he didn't need to do it to seal the deal on that pass. Those two have worked it out, and I think Aaron probably realized it was a bit much when he watched it back. Incidents like this can get out of hand if the riders don't sort it out before the next weekend and retaliation comes into play. If these two guys weren't buddies, Shane would be looking for some payback in Oakland. Even as it is, I doubt these guys are going to play as nice on the track from here on out.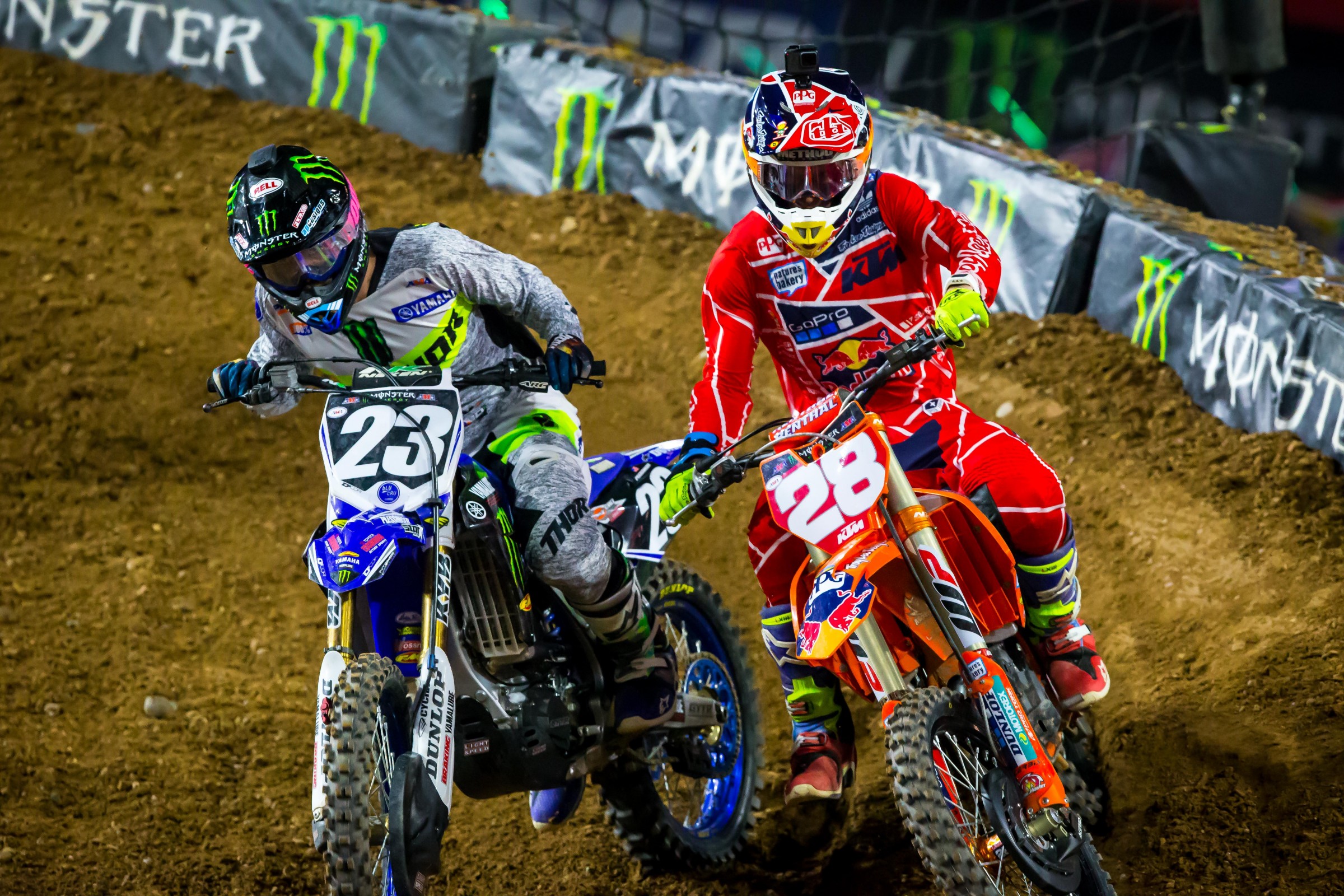 Jason Thomas: There's a fine line between aggressive racing and riding dirty. I have seen plenty of both over the years, and in the heat of the moment, it can be very difficult to stay objective. In the case of Plessinger and McElrath, I am not as perturbed as Ping was last Saturday. I can understand his perspective, but I have seen moves I would definitely consider more dangerous. The main difference for me was that Plessinger's swerve happened while both riders were on the ground. Things definitely got dicey approaching the next rhythm section of jumps, but McElrath luckily had time to pull extreme evasive maneuvers before it was too late. Had this been midair, it would have been catastrophic. That's the difference in my view: simply that it was not done after they had left the ground. Cross-jumping is the ugliest and most egregious of all moves. This wasn't quite to that level for me. Ill-advised and even retaliation-worthy, but I've definitely seen worse.
DAYTIME DRAMA (Steve Matthes)
We've had the first supercross Triple Crown, and this weekend in Oakland we're seeing the first day race of the season. Of course these aren't new, but they're not that old, either. In talking to riders, teams, and media guys, there isn't a consensus on whether these are awesome or not. It's mostly met with a shrug and a mumble, which is fine. In 2018, I know every topic has to be met with a hot take good or bad, but I get the sense of the day races having some good things and some things that aren't so good.
The genesis of these races is to fit into a TV window that's more appeasing. I'm not sure if that's still the reason or not—it could be just trying different things. Even if the window is open for a night race to be on the tube, Saturday nights are traditionally a ratings graveyard. Then again, I think the whole world is trying to figure out what the "new" way of watching TV is and will be in the future.
For a red plate-holder, Jason Anderson of Rockstar Husqvarna sure had a weird race. Not sure I've seen a points leader get a great start, get his doors blown off so rapidly, and then find his groove and move up a bunch of spots. As I wrote in my MX Vice column, it's things like that, along with Marv and Eli's injuries, that make this 2018 series have the potential (not reality yet) of being an all-timer. We could see a bunch of parity coming real soon.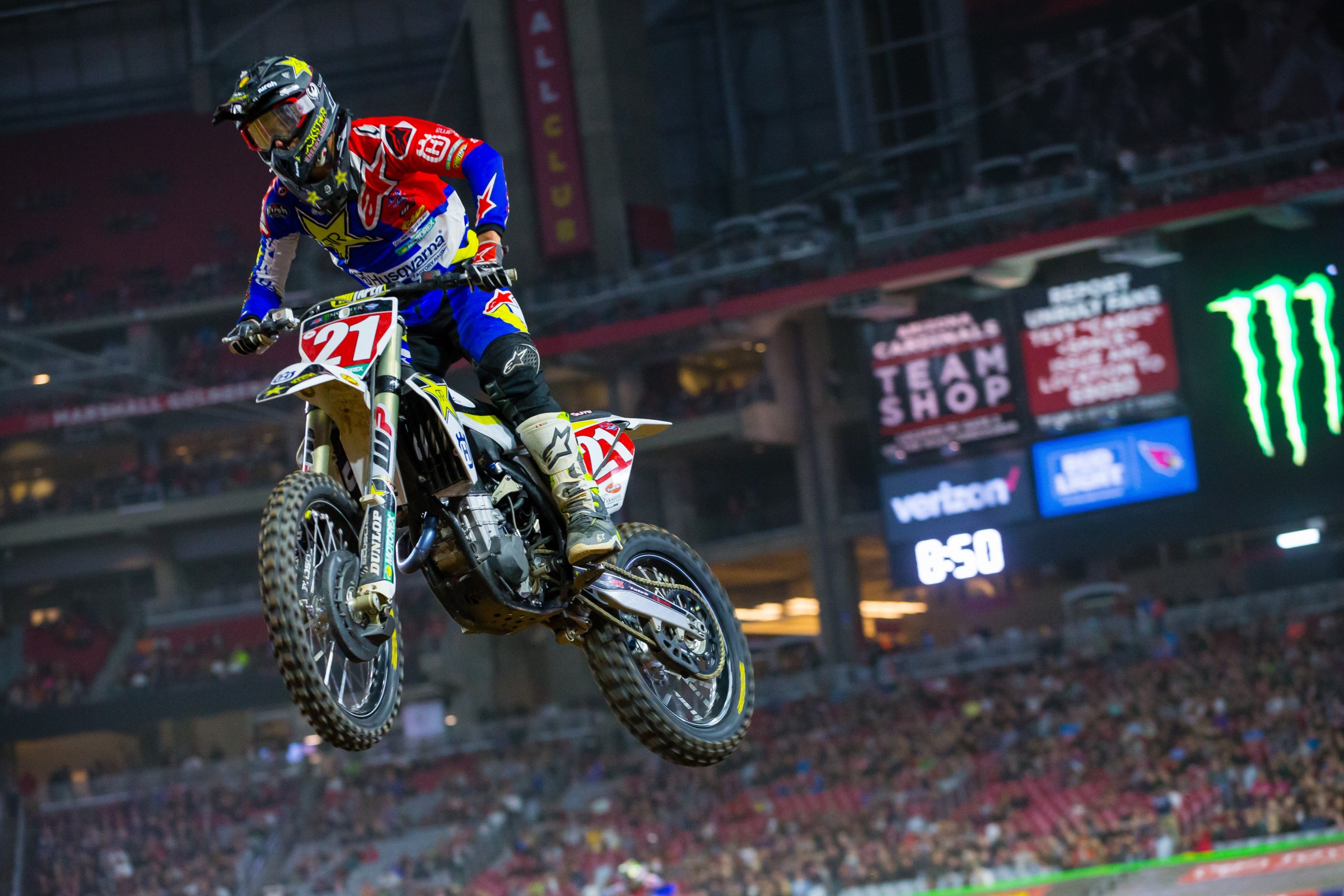 HOT FRESH PULP LINKS
Josh Grant's contact is up for the second spot at Monster Kawasaki next year. Will Kawi stick with JG or go after a kid? Swizcorner details that here.
Ben LaMay works for Monster Energy in Dallas and is racing 450SX at the same time. You'd think Monster could get him a few points added to his spot or what? In his Just Short column, Moser talks to Ben about that and more here.
We had a guy nicknamed Scummy on the PulpMX Show, and he talked about helping out privateers like Aeck, the Enticknap brothers, Nagy, and more here.
David Vuillemin had a lot of thoughts on Glendale SX and they're all right here.
Tony Blazier profiles the first of a few great Honda 80cc machines in his Classic Steel column here.
On This Day in Moto (DC)
We've been having fun for the first month of the year with On This Day in Moto, where we go back through the record books and archives of Cycle News and our own Vault to see what's happened over the years on any specific day. We're one month out of 12 in on this, and we have a brand-new sponsor for the feature: Monster Energy. We're also getting a lot of feedback and finding out even more than what we thought we knew as we roll this out.
Here's a letter from my friend Jim Myerson from the OC:
I saw on today's "This Day In Moto" (February 1) you mentioned that Bob Hannah only rode one AMA National (San Antonio 1975, finishing 6th) prior to the '76 Florida Winter-AMA Series. However, Hannah's second 125 National was one week later (September 1, 1975) riding for Team DG Yamaha that summer at the 1975 'Battle of New Orleans" where he collapsed from the heat and humidity and was hauled off in an ambulance. Marty Smith won both motos. Hannah was quoted afterwards as saying "This will never happen again," which ultimately led to his maniacal training and super conditioning!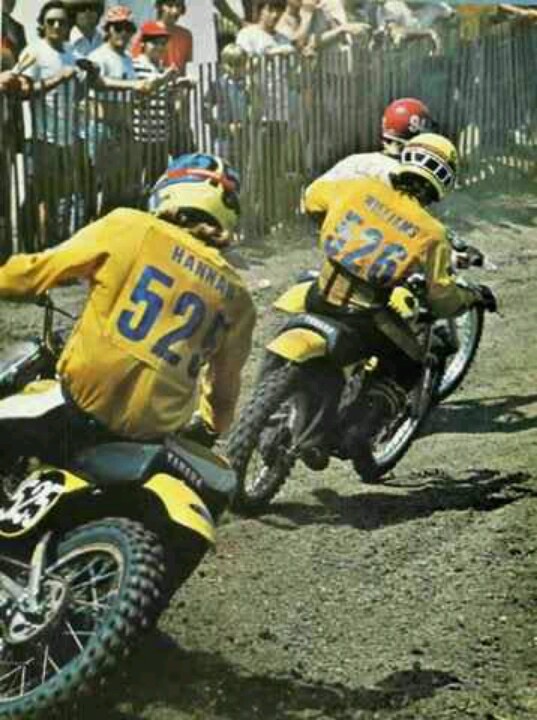 P.S. - I have attached a photo from (one of) those '75 Nationals of Hannah riding with his DG teammate Davey Williams (brother of Gaylon Mosier's deaf mechanic Rocky Williams). Dig the 3 digit numbers!
And then here's another one from Jim!
Regarding the 1982 Anaheim SX (January 30), you mentioned that Marty Smith did not qualify, and he "would not make another main event in his hall-of-fame career." However, I recall seeing him in the main event at the San Diego SX later that year in November on the 198cc Cagiva (his last SX race). Also, a few times in the past I read where you referenced Rick Johnson's old nickname "Too Hip" as having originated from LA-based radio station KROQ. This is incorrect. It came from LA-based rock station KLOS (95.5 FM.) Matter of fact, I still have an original KLOS "Too Hip" bumper sticker in my collection!
Jim Myerson from sunny So Cal
Good stuff, Jim. I went back to the Cycle News' archives at the '82 San Diego SX and you are right: Marty Smith was there on a 198cc Cagiva (?!!), but I don't think he qualified. He's not listed in the results, nor is he in the Vault, but they did run a photo of Marty on it and mentioned his comeback on the #14 Cagiva, saying he made a return to racing, but that's all. I included the clips below.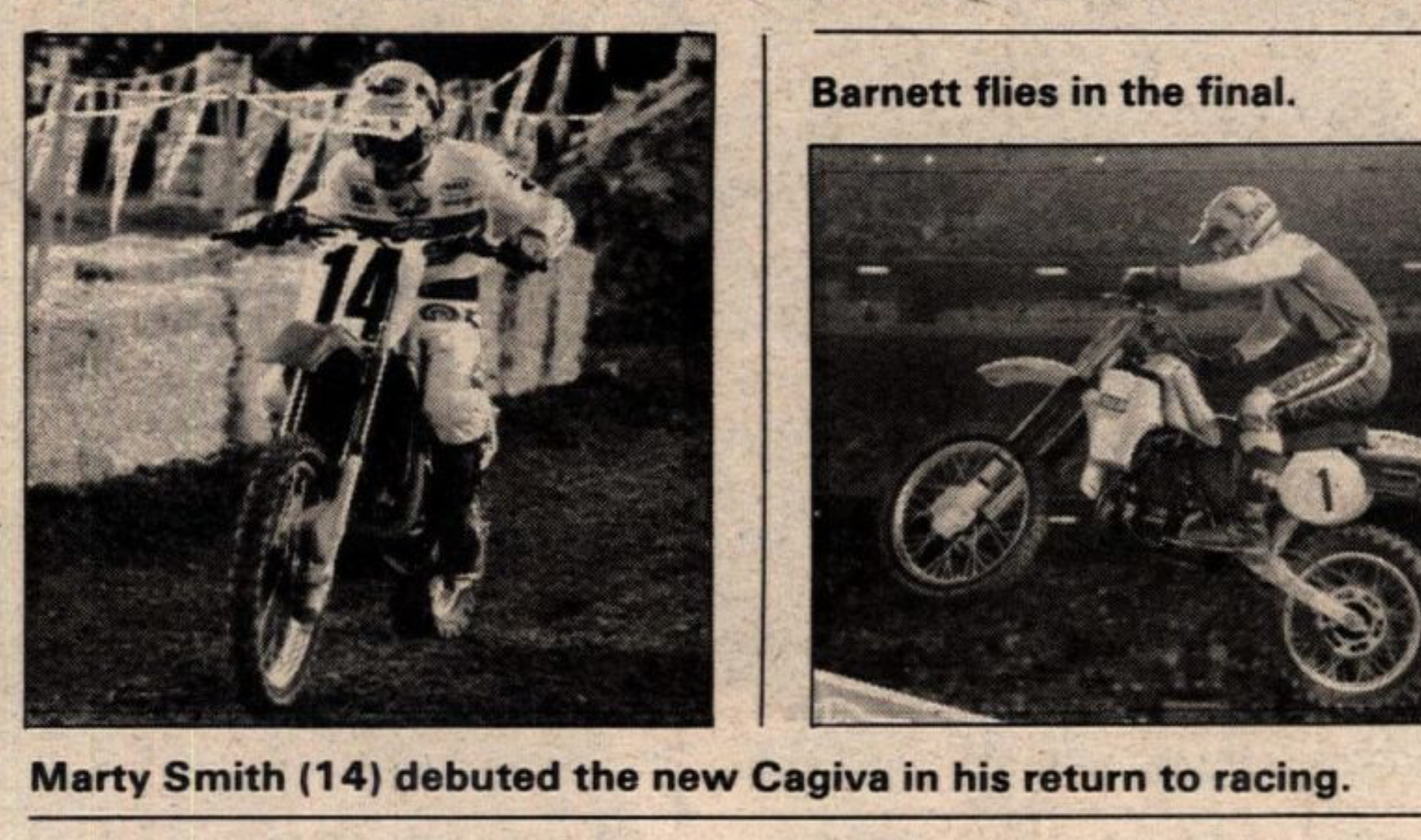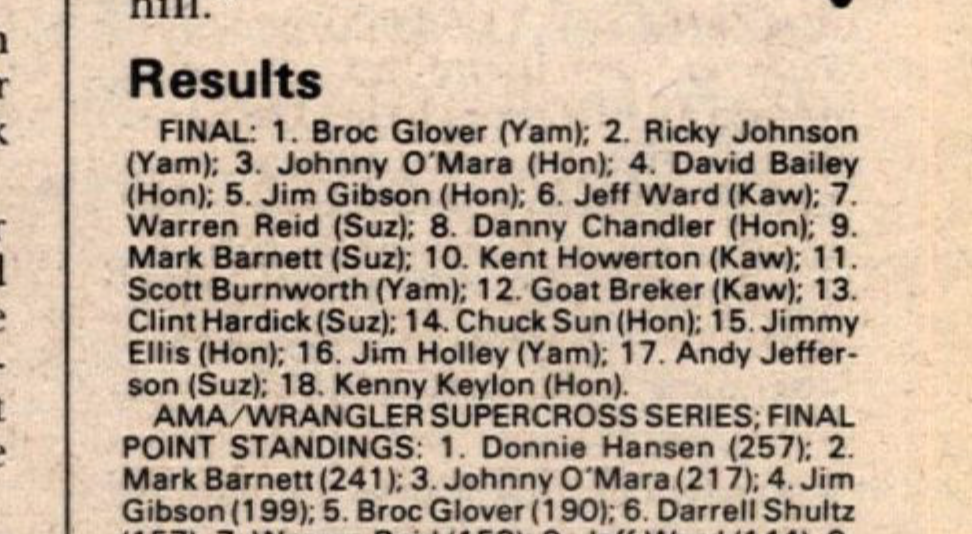 As far as RJ goes, you got me there! I was in junior high in West Virginia and always thought and heard it was KROQ, so my bad for not sourcing it better!
Only Japanese (Andras Hegyi)
In the fourth round of the 450SX chase, only the Japanese brands were able to step up on the podium in Glendale, Arizona. This fact is a kind of surprise, because nowadays the non-Japanese brands (KTM and Husqvarna) are vying for every podium. Glendale was the first time since April 30, 2016, in East Rutherford, New Jersey, that neither KTM nor Husqvarna were on the 450SX podium. That was 21 rounds ago! That East Rutherford race in '16 was famous for more reasons. Nine-time AMA Champion Ryan Dungey's record 31-race podium streak ended there, as he finished fourth, but Dungey was able to clinch his third 450SX title anyway. Dungey is the rider who got the most podiums with a non-Japanese bike in the history of supercross, with 76 on KTMs. He also rode the first non-Japanese bike to podium since 1978, when he got his first podium aboard a KTM in 2012.
Regarding the podium results, the performance of the non-Japanese brands can be divided into three different chapters in the history of supercross' premier class. Between 1974 and '78, the non-Japanese brands were able to get podiums every season. In that era, the famous non-Japanese brands were the American Penton (now KTM), the Canadian Can-Am, the Spanish Bultaco, the Czechoslovakian CZ, the Swedish Husqvarna, and the German Maico.
That five-season period full of podiums was followed by a very long break without any podiums for the non-Japanese bikes. Between 1979 and 2011, only the Japanese brands—Yamaha, Suzuki, Kawasaki, and Honda—were able to get podiums. This changed when Dungey began to race with the Austrian KTM. Since 2012, non-Japanese brands have been able to get podiums in every 450 supercross season. Between 2012 and Glendale 2018, there were 106 rounds in all, and KTM and/or Husqvarna only missed the podium in 17.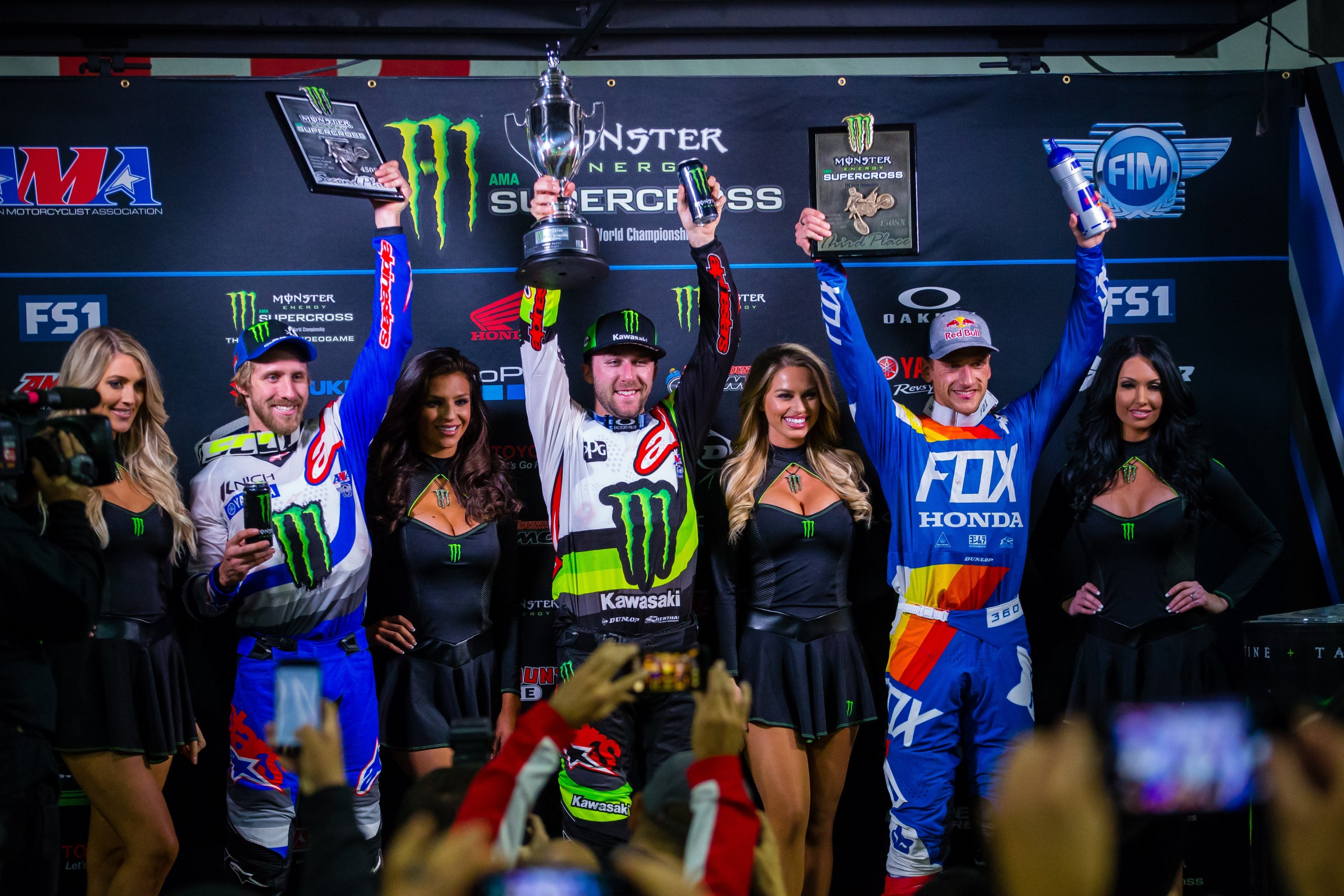 Honda Of Houston Is Back! (DC)
We recently reported the unfortunate news that Honda of Houston was closing its doors. Well, now we get to report the fantastic news that Honda of Houston is open again! Here's a press release we received from Shaun Martin on the motorcycle dealership finding a new partner: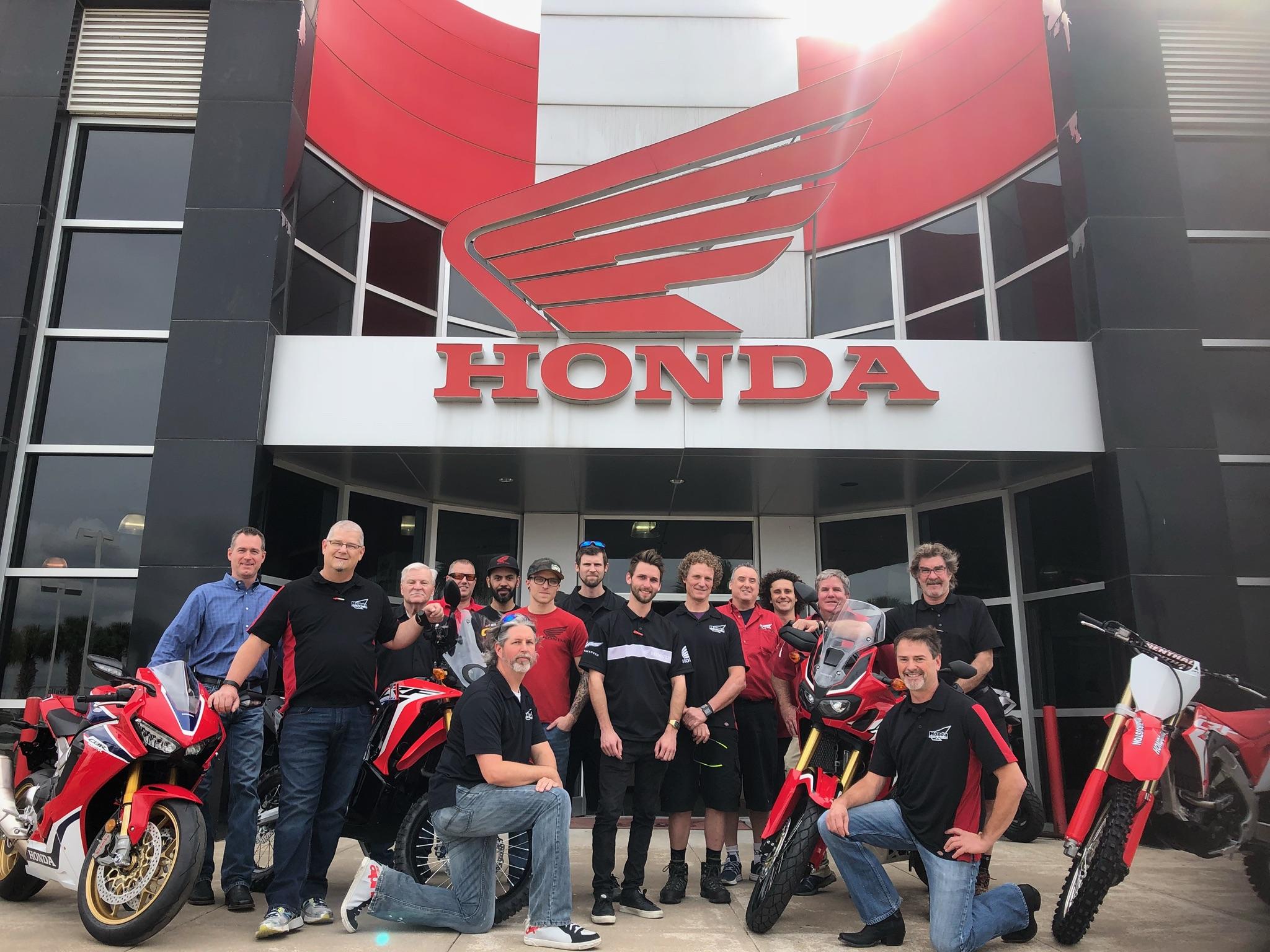 Honda of Houston, a Houston motorcycle institution for 24 years, will ride on under new ownership and new management, effective immediately.
Honda of Houston carries a full line of Honda Motorcycles, All-Terrain Vehicles, Motor Scooters, Utility Vehicles for farm and ranch, as well as Power Equipment such as pumps and generators.
A newly formed Drake company, Drake Powersports, LLC joins Cypress-based Drake Enterprises, Drake Plastics, Drake Medical, Drake Petroleum, among others. Drake companies share common ownership of Steven Quance of Cypress. The Honda of Houston name will continue to be used under DBA by Drake Powersports, LLC, which intends to assume the Honda franchise and bought the licenses and permits to do business from Dave Martin, Pro Cycles, and Accessories DBA Honda of Houston.
The dealership will continue to operate at the amazing showroom and state-of-the-art service facility located at 12655 West Road in Houston. The facility is owned by local proprietor and motorcycle enthusiast Tom Fichter. Mr. Fichter has been very cooperative in facilitating a smooth, seamless transition, as have the fine people at American Honda Motor Co.
Remembering Dick Miller (Scott Wallenberg)
Last night, a group of longtime moto friends of Dick Miller got together to celebrate what they called his Life on the Mainjet Party at Van Nuys Airport. Miller, the editor of Motocross Action in the seventies, as well as an accomplished desert racer and the president of the Checkers Motorcycle Club, passed away last month after a long illness, as we've reported here. For the celebration, a bunch of industry friends gathered, including JT Racing founder John Gregory, former Team USA and Honda factory rider Chuck Sun, former Kawasaki factory rider and longtime industry player Eddie Cole, the 1971 AMA 500cc National Champion Mark Blackwell, Bultaco and Maico factory racer and Factory FX owner Bryar Holcolmb, Carlsbad USGP promoter Gavin Trippe, O'Neal Racing founder Jim O'Neal, legendary scribe and photographer Dennis "Ketchup" Cox, motorcycle industry entrepreneurs Ken Boyko, Scott Cox and Preston Petty (with whom Dick won the Baja 1000 and 500), CMC founder and AMA Motorcycle Hall of Famer Stu Peters, longtime SoCal racer and Baja winner Louie Franco, Daytona road race winner Steve Rapp, former Speedway Champion Bobby Schwartz, Dirt Bike magazine legend Tom "Wolfman" Webb, AMA Motorcycle Hall of Fame filmmaker Peter Starr, and, of course, speedway racer and Hollywood stuntman Ricky Miller and the whole Miller family, and many more.
It was a great way to get together and remember Dick and his Life on the Mainjet. ("On the Mainjet" was the name of his MXA column.) Dick Miller was 81 years old. His contributions to motorcycling will never be forgotten—especially how hard he worked to get Team USA back in the Trophee and Motocross des Nations in 1981. He will be remembered for that at this year's 2018 Monster Energy FIM Motocross of Nations at RedBud in October.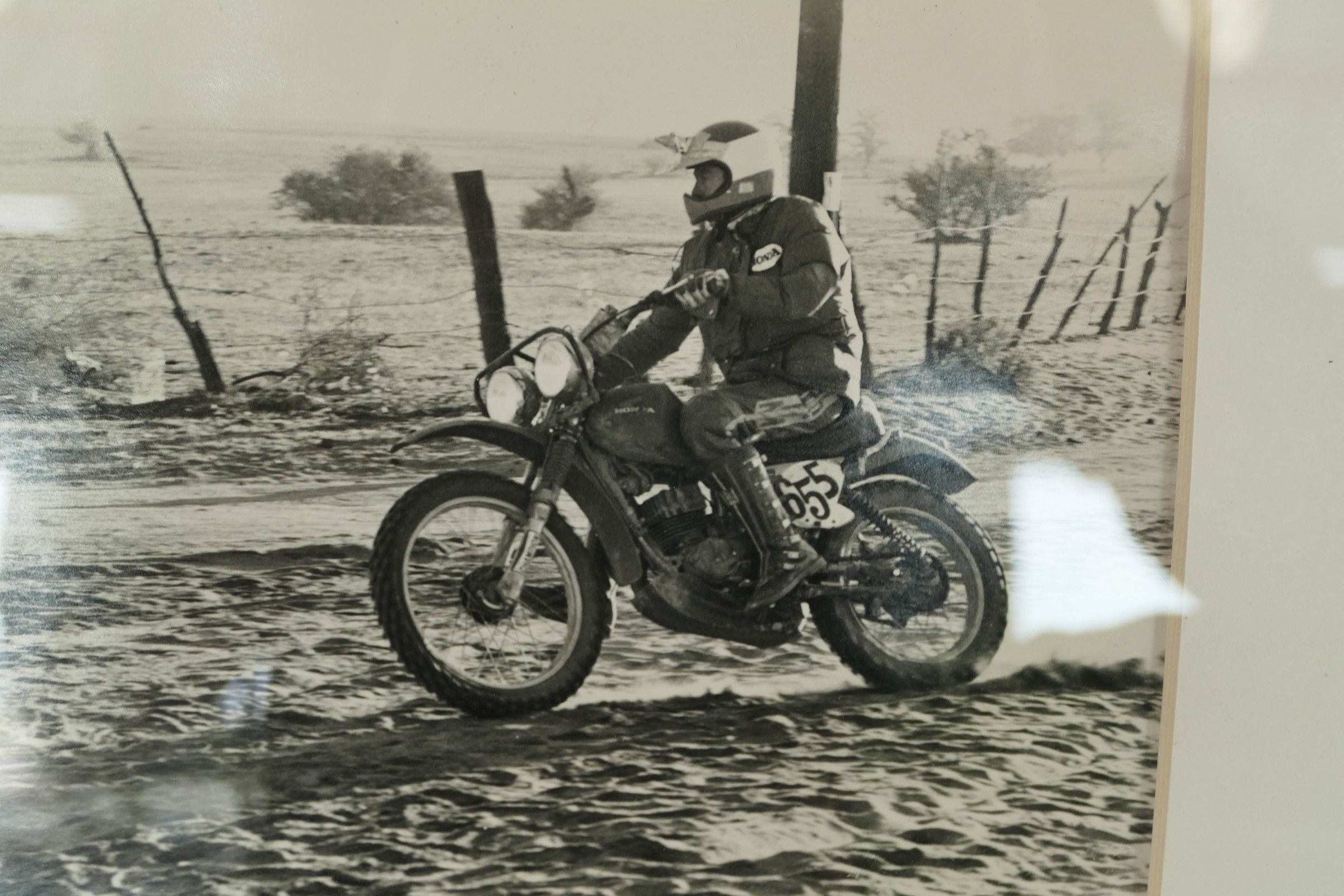 Hey, Watch It!
2018 Hangtown Motocross commercial:
Some random highlights from yesteryear, pulled together by Motocross Memories:
And here is a pretty cool old-school international "World Series" supercross race from 1987 with a very cool, very narrow track, featuring Rick Johnson, Micky Dymond and Eric Geboers:
Here's a very cool YouTube documentary series on Lyndon Poskitt's 2018 Dakar Rally adventure. You can find more videos in the series here.
We've been discussing Damon Bradshaw's "Holeshot from Hell" as Tom Webb called it from the 1990 Anaheim Supercross, and we found it right here at the 18:40 mark:
Racer X Films: 2018 Privateer Bikes:
Racer X Films: How to Build a Factory Bike:
Racer X Films: 2018 KTM 125 SX Intro:
Head-scratching Headlines of the Week
"FALCON CRAZY: Vladimir Putin uses trained birds of prey to take down drones sent by spies or ISIS and guard his Kremlin HQ" —The Sun
"Yamaha Factory Gladiators Webb And Barcia Ready To Deliver Maximus Performance At The Coliseum This Saturday" —Yamaha PR of the week
Random Notes
Subscribe now for as low as $9.98 and receive a FREE EVS Gift Pack, plus access to our digital edition.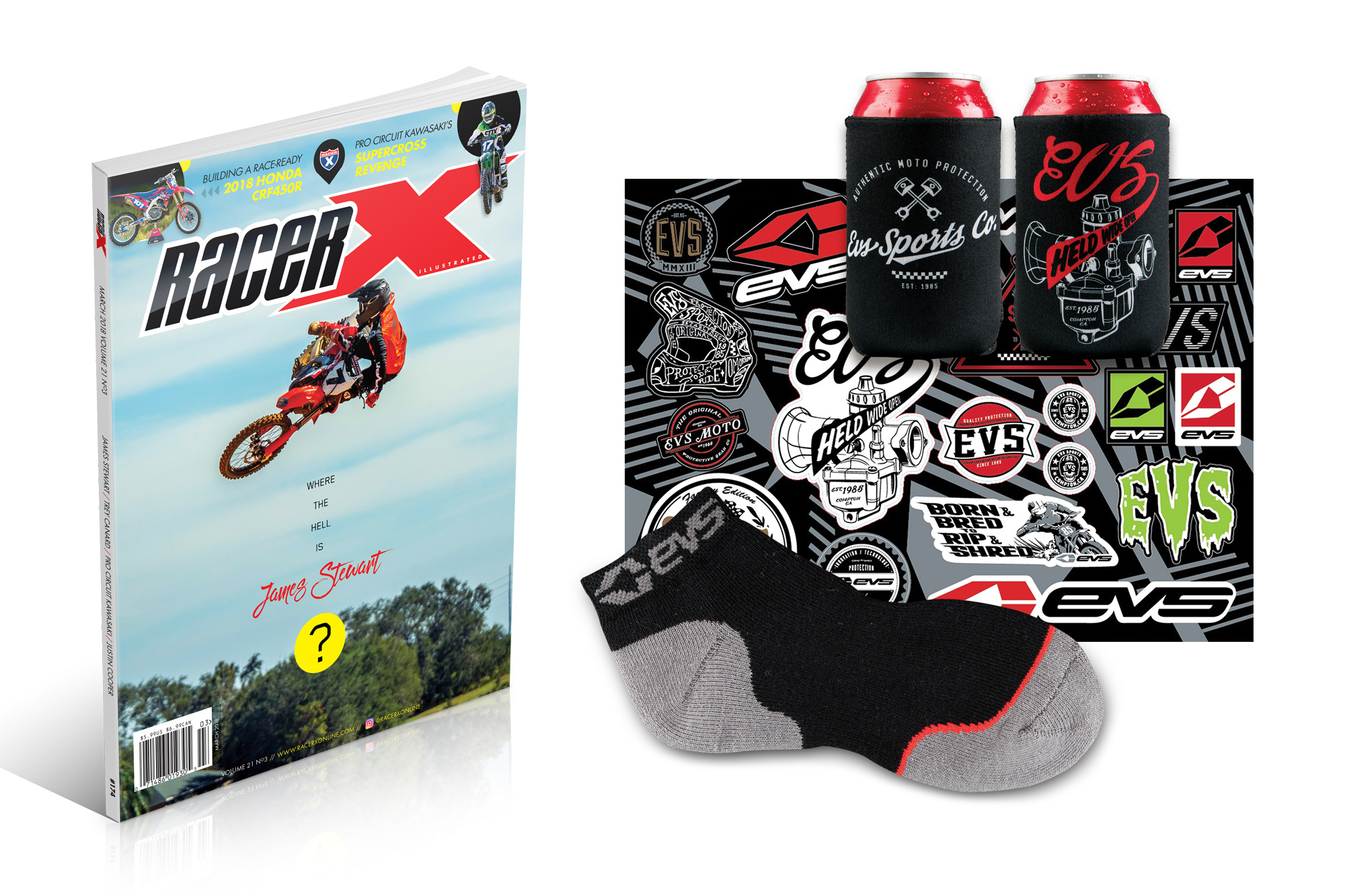 Three photos from Southwick, same spot: the first in August, then October, then January.
You may have heard about Formula One's decision to discontinue the practice of having grid girls and podium girls, which you can read about right here. (This spoof rebuttal is pretty funny.)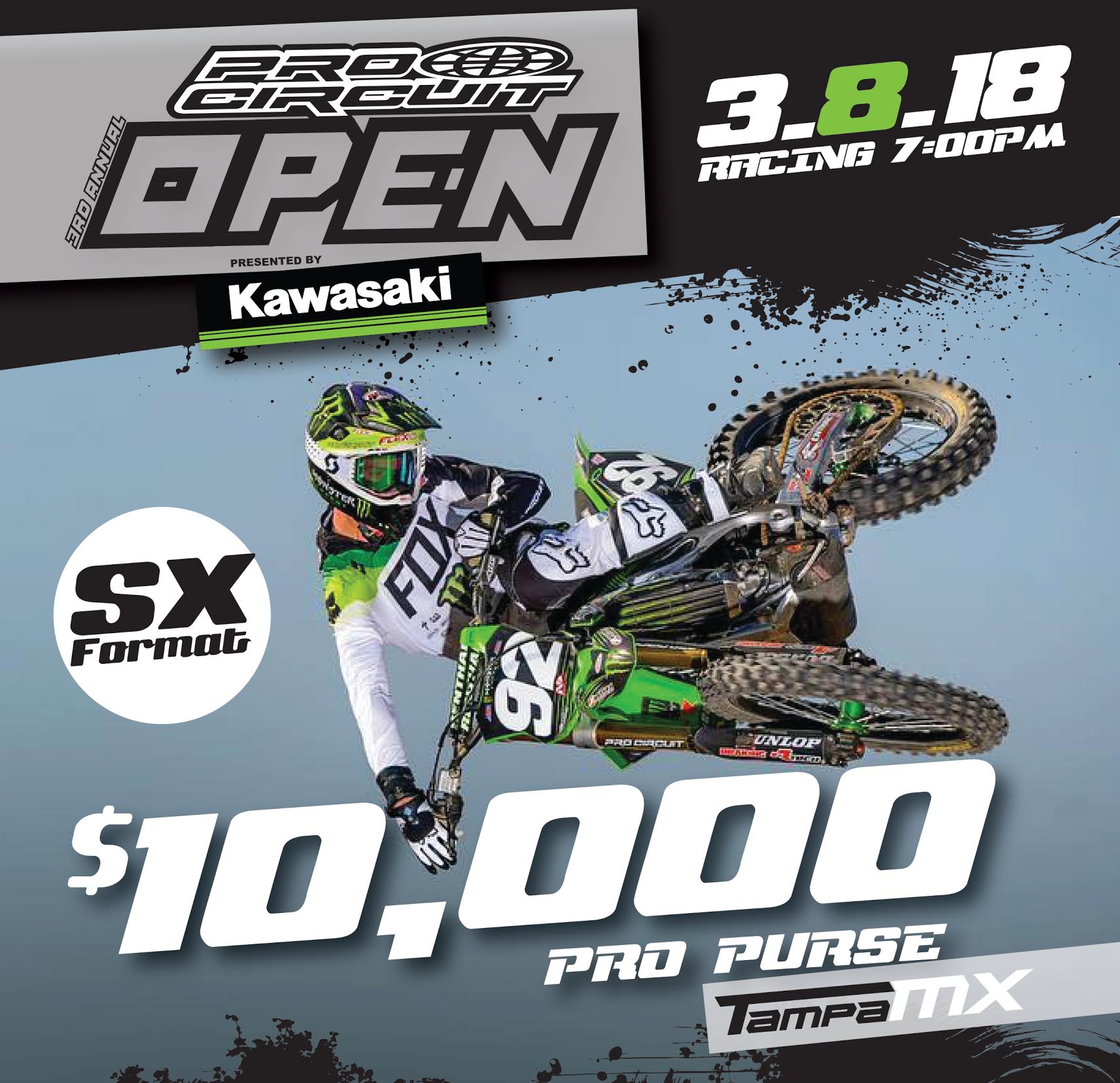 Pro Circuit Open at tampa mx
The 3rd Annual Pro Circuit Open, presented by Kawasaki, will roll back into Tampa MX Thursday Night, March 8.
Racing: 7:00 p.m.
Gates Open at 3:00 p.m.
Pro Practice: 5:00 p.m.
Amateur Practice: 5:30 p.m.
$10,000 Pro Purse
$500 Hollywood Holeshot Money
$1000 Advanced Women's Purse
$100 Holeshot Award
Supercross Format (Mains)
Class Structure:
50cc 4-8 Open
65cc 7-11 Open
85cc-112 9-16 Open
B Open
C Open
Vet 30+ Open
Advanced Women Open
Pro Open
Class Entry: $50 Pro, $30 Amateur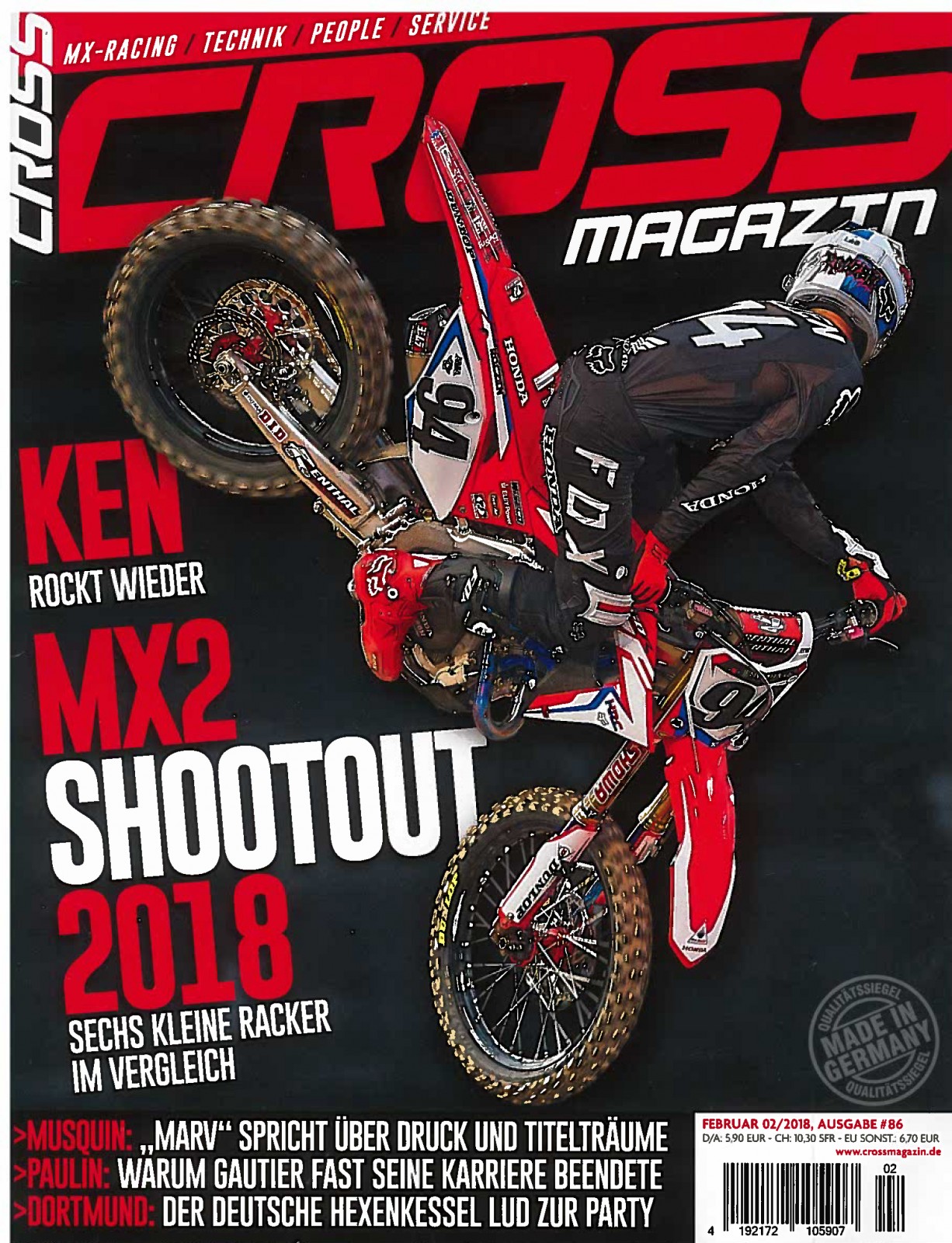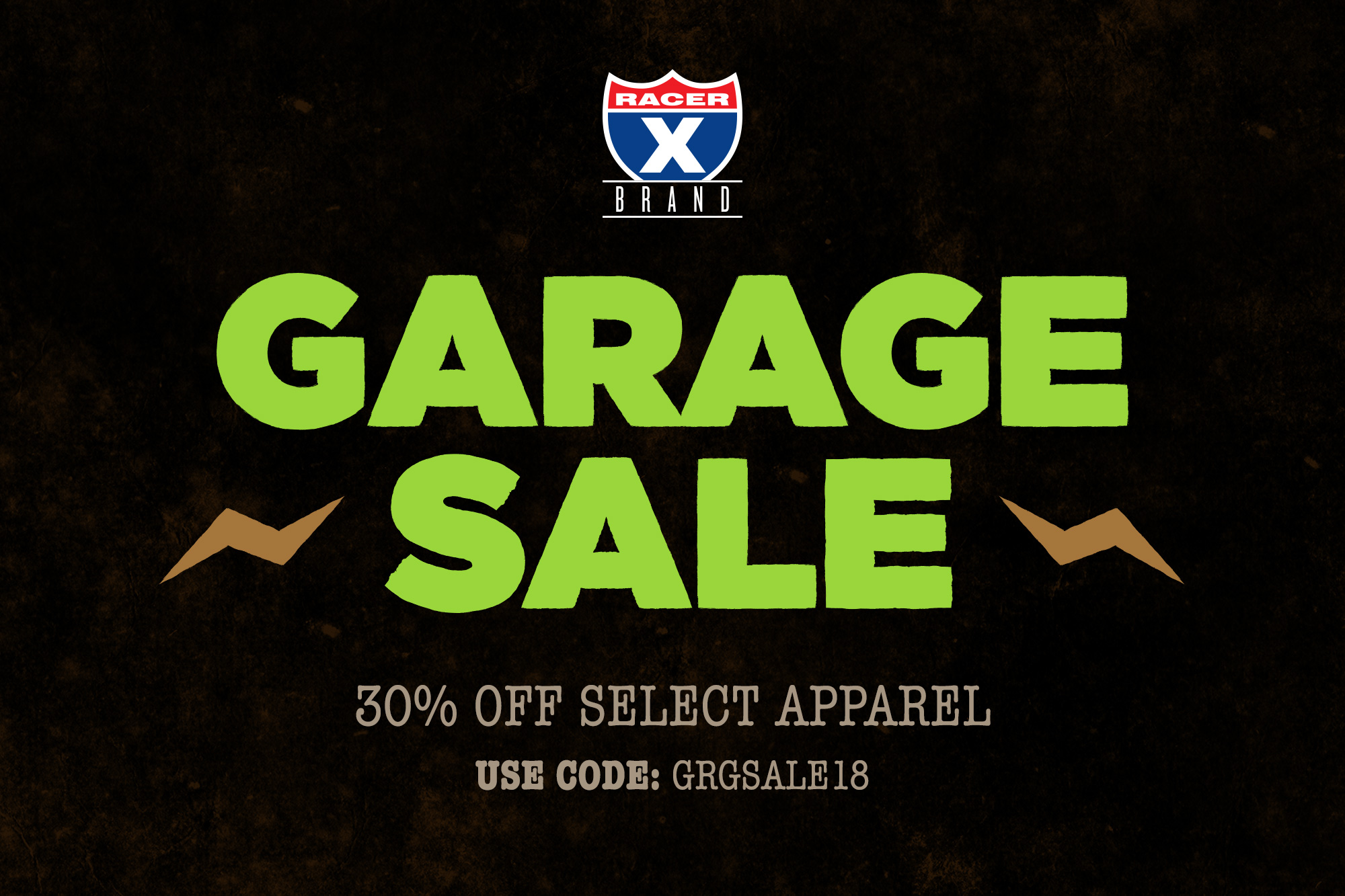 Racer X Brand Garage Sale | 30% Off Select Apparel
Racer X Brand is having a Garage Sale! Make sure you head over to Racer X Brand to receive 30 percent off select apparel.
Hurry though, there are limited quantities left so make sure you get your gear before it's gone.
Visit Racer X Brand and use coupon code: GRGSALE18
Anyone in the market for a full-blown motocross facility? Pecan Valley MX in Georgia is for sale. It's 200 total acres, 70 of which are mature producing pecans. The track has stadium lighting, concession and media stands, bike-washing stations, and hook-ups for RV/camping. I actually went there with Ricky Carmichael a few years back to check it out before the Daytona Supercross and he definitely approved of the place.
Supercross Hangout with Matthes, Weege and/or Jason Thomas
Subscribe today for as low as $9.98 for a chance to win two free tickets and all-day pit access to the following Monster Energy Supercross event of your choice: Seattle, Minneapolis, Foxboro, Salt Lake City, or Las Vegas. You'll get to hang out with Steve Matthes as well as Racer X's Jason Weigandt or Fly Racing's Jason Thomas for part of the day, which could include scouring the pits for free lunch and a brief tour of some race rigs—basically, whatever Matthes, Weege, or JT get themselves into on a normal day at the races. Weigandt will be available to attend Foxboro and Las Vegas; Thomas will be at Minneapolis, Seattle, and Salt Lake City. Matthes is there no matter what.
Click here to subscribe for a chance to win.
The Supercross Hangout winner will be randomly chosen and contacted the Monday before the Seattle Supercross. Upon being contacted, the winner will choose their preferred event: Seattle, Minneapolis, Foxboro, Salt Lake City, or Las Vegas. If the winner fails to respond within 24 hours, a new winner will be chosen. The winner will also be announced on the Fly Racing/Racer X Podcast during the week leading up to the Seattle SX. For questions and concerns, email online@racerxonline.com or harass Weege, Matthes, or JT on social media. Travel and hotel accommodations not included.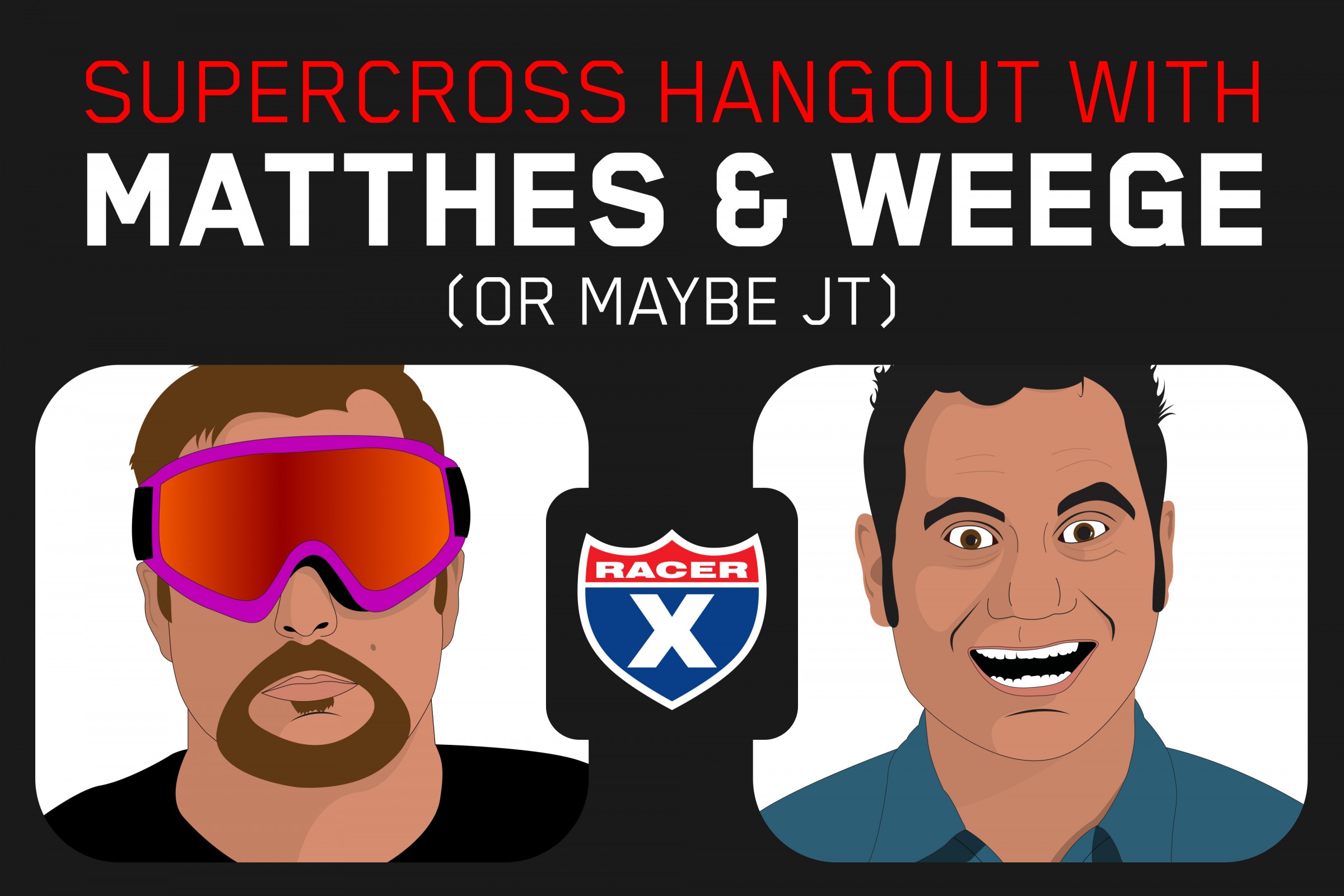 Thanks for reading Racerhead. See you at the races.