Lakewood, CO
Thunder Valley
Lucas Oil AMA Pro Motocross Championship
Six motos into the 2017 Lucas Oil Pro Motocross Championship and we've already seen five different moto winners and three different overall winners in the 450 Class. It's a stark contrast to preconceived perceptions entering the season, as a Tomac 24-0 season was certainly a fun, albeit shortsighted, point of conversation. Crazy to think Tomac would have dominated this season? Along with his 1-1 at Hangtown, despite bad starts, consider that he finished 97 points ahead of Marvin Musquin in last year's 450MX standings, and then appeared to make huge strides during the 2017 supercross season, with his second year setting up his Kawasaki and coming into the season with healthy shoulders. Also, remember the beginning of 2015?
Anyway, combined with the exciting season of Monster Energy Supercross, we are in the midst of some of the best racing the 450 Class of Lucas Oil Pro Motocross has seen in some time. Rockstar Energy Husqvarna's Jason Anderson said post-race that even for the riders it's been a breath of fresh air.
"I think it's good for the sport and I think it's cool to keep it fresh. You don't know what's coming every weekend as a fan. Even for us, between Blake [Baggett], Marv [Musquin], and Tomac, you don't know who's going to step up the weekend and be the dude. Every weekend there's been one guy that's been the fastest."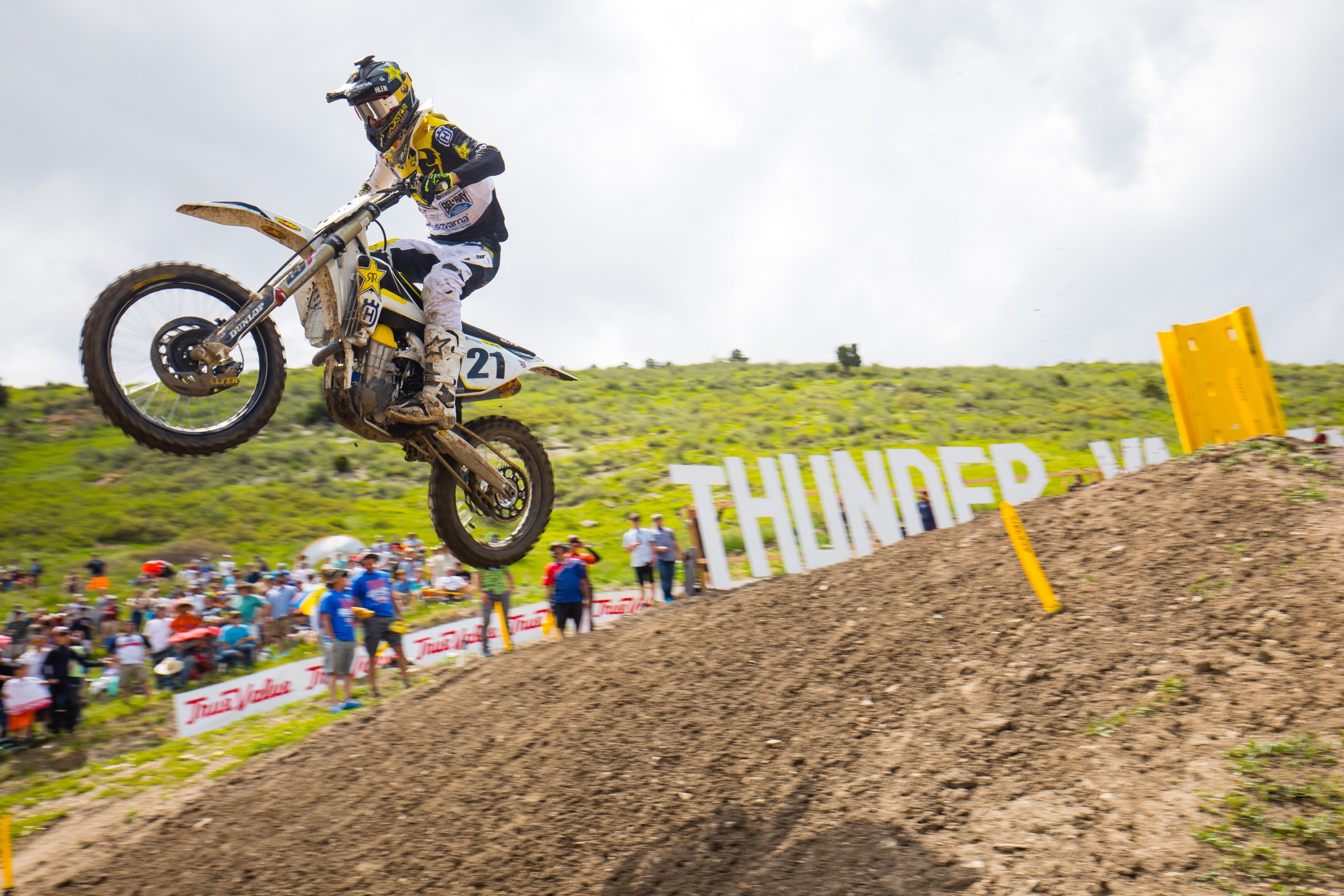 According to the team, Tomac dealt with arm pump throughout the race in Colorado. This isn't the first time in 2017 Tomac has struggled with arm pump—it also affected him early in the supercross season. In three short weeks, we've gone from 24-0 to Tomac trailing Marvin Musquin by 17 points. In a team statement, Tomac said he struggled in the second moto finding smooth lines.
"Not quite the day we wanted. After some bad luck in moto one, I got a great start in the second moto but struggled to find smooth lines and ended up getting passed and finishing second. We'll work hard over the weekend off and will be ready for the East Coast tracks."
Add Cole Seely to the growing list of riders setting up their training base for Lucas Oil Pro Motocross in Florida. Seely, a native of Southern California, has long held his camp in the Golden State, but after some consideration he's decided to train at The Nest this summer. The Nest, by the way, was opened by Grant Langston and later purchased by Ryan Villopoto. This summer a variety of riders, including Jeremy Martin, Adam Cianciarulo, Christian Craig, and now Seely will train there (it's also where Ken Roczen did his riding until his arm injury).
"The past couple years have been a struggle for me," Seely said in a Honda HRC team statement. "It's not that I haven't been trying, but I've definitely realized recently that I just need a change. I sat down and talked with my mechanic Rich [Simmons], who's been a part of my program since 2009, about my situation and discussed how I can elevate my whole program in order to better myself. We both agreed that it was time for a change, and a big change at that—not just switching trainers or riding coaches. I've been happy with what I've been doing previously in California, but this year has definitely opened my eyes to realizing I need more."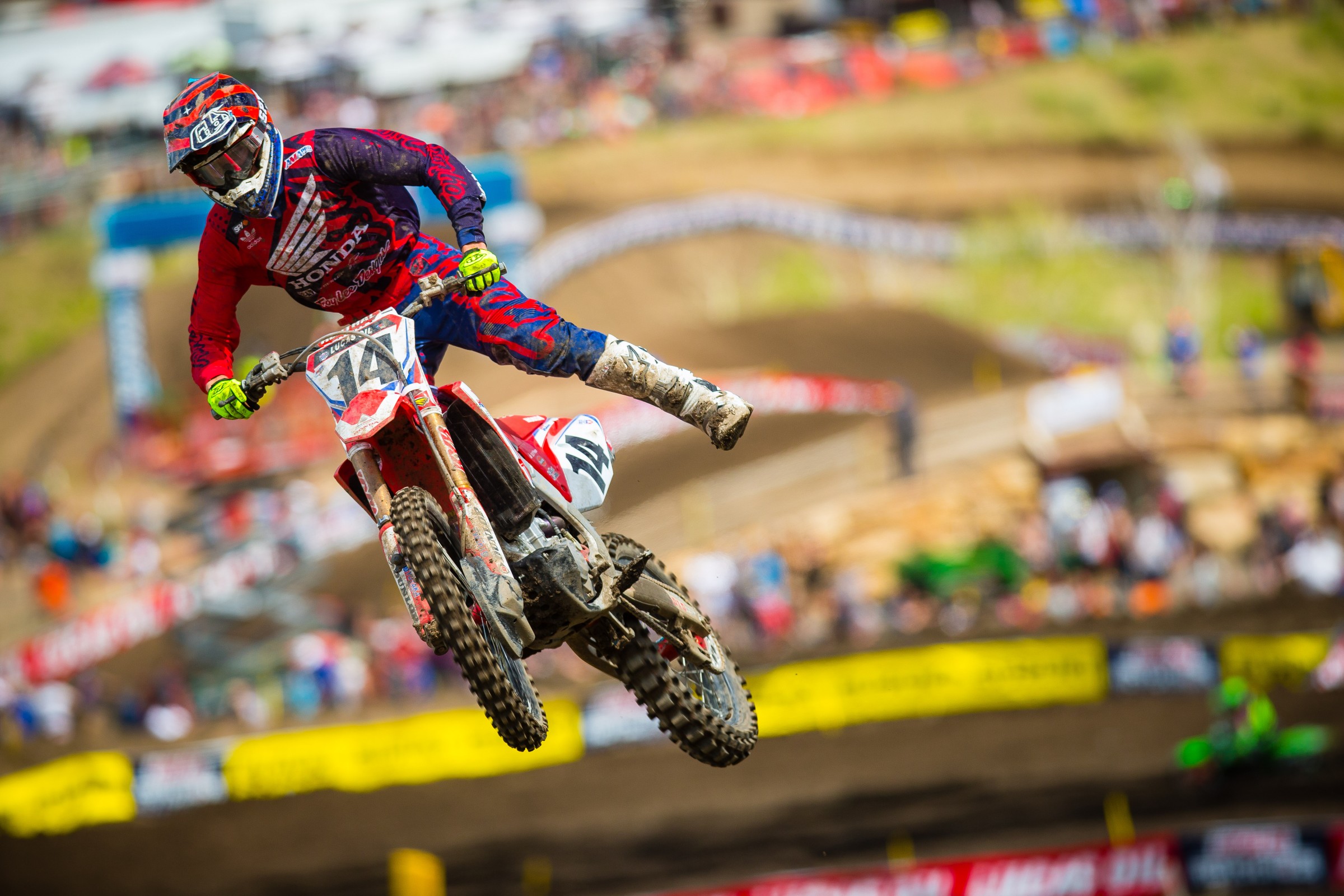 According to the team, Seely also weighed the financial obligations of the move and decided it wouldn't be prohibitive. "I sat down and budgeted out my whole month on what I was spending on training and going to tracks in California and saw that moving to Florida, getting an apartment and a trainer there, still wasn't breaking the budget of what I was spending at home," he explained. "It makes a lot of sense to make the change. There were a lot of moving parts in order to get everything figured out, but Rich and the team made it really easy. I know it's going to be a struggle at first, spending the summer in the heat and humidity, but I think it's going to benefit me toward the second half of the summer and especially going into next year."
After starting the season with three consecutive third place finishes, Monster Energy Kawasaki's Josh Grant had back-to-back DNFs after crashing off the start in the first moto at Thunder Valley (he also crashed early in the second moto at Glen Helen). Grant only completed 11 laps in the first moto. He returned for the second moto to finish fifth, but said in a team statement that he wasn't able to fully recover.
"I had some bad luck today," he said. "I felt really good all day in qualifying and knew I had the speed to be on the podium, but unfortunately I had some bad luck in the first moto and just wasn't able to fully recover for moto two."
Cooper Webb's rookie 450MX season certainly wasn't trending in the right direction after pulling off in the second moto at Glen Helen, and then pulling into the mechanics' area in moto one at Thunder Valley after believing he had a bike problem. The team checked the bike and sent him back out, and he crossed the line 14th, but was penalized back to 22nd for not returning to the track in the same spot where he left it (this was a similar situation to Austin Forkner at Hangtown, but Forkner was held in the mechanics' area by an official before he went back out). In moto two, though, Webb put all that behind him and raced his way up to fourth, getting the better of Grant and Anderson. Oddly, the Yamaha folks tell us Cooper didn't make any bike changes between Glen Helen and Thunder Valley, but he did hop on a two-stroke during the week to just have some fun. Looks like that worked!
In just his third career 450 race, Martin Davalos held the lead early in the first moto. While he wasn't credited with leading a lap—he went down prior to the end of lap one—it was a positive step for the Rockstar Energy Husqvarna rider. He went down again later in the moto, and twice in moto two, en route to 10th overall. The good news? We were hanging in the Rockstar Husqvarna truck on Saturday morning and saw Davalos and team owner Bobby Hewitt make a $100 bet on top-10 overall. Sounds like Marty made himself an extra $100!
"This is one of my favorite tracks," said Davalos in a statement. "The altitude kind of reminds me of home. I got a great start and was winning the first moto, but then tipped over. Then I got up around fifth, then crashed again. I ended up 10th in the first moto. I got a great start in the second moto, but then crashed twice again. I was all the way in 30th but put in a hard charge to 11th, which gave me 10th overall. My weekends have been improving, which makes me happy. I want to run up front, and I think I proved today that I can do it."
Points leader Zach Osborne was a bit off his opening round pace on Saturday. The points leader was dealing with a virus all week and was only able to ride once. He compounded matters by falling in the first moto. While he saw his points lead cut to nine, he was able to salvage a good day with 8-5 moto scores for fifth overall.
"I'm happy to survive and leave here holding on to the red plate," he said in a statement. "Hopefully I can use this break to get well and charge back to regain some points."
Prior to Thunder Valley, we spoke with Monster Energy/Pro Circuit Kawasaki riders and team members regarding their recent rash of mechanicals. Unfortunately for the team, the bleeding didn't stop on Saturday. In the second 250 moto, Adam Cianciarulo, the only member to escape bike problems up to that point, bowed out of the moto due to a mechanical. The DNF dropped AC from second in points back to seventh. Still no official word from the team on what exactly happened.
"It's been a wild first few rounds in our class with favorites having their moments and issues at the same time," said Cianciarulo in a team statement. "It's still very early in the season and anything can happen, as we've seen so far. I'm just glad to be healthy and will be working hard to come back swinging next round."
Through six motos, Rockstar Energy Husqvarna's Michael Mosiman has three moto top 10s after a 10th in the second 250 moto at Thunder Valley. Mosiman has been an early surprise through the first three rounds. One rider not shocked by the results is his brother, Josh, who races the 450 Class as a privateer.
"He never really had the hype that a lot of other guys had, but we've always known that—especially with how gnarly the tracks are and how long the motos are—he would go do good," he told us last week. "It's cool. He's not like … eighth overall it's not like … for me that would be awesome, but for him he's still not satisfied."
Mosiman finished 10th overall at Thunder Valley. Here's what he had to say about his race via a Husqvarna statement.
"I slid pretty bad on the finish line in the first lap of the first moto, so I had to recover from that and brought it back to 12th. I was happy with that. The ruts out here are technical, and it took me awhile to pass some guys but I got a few and then picked up on a few lines and settled in. I had a great second moto and am so happy I was there at the end of the moto and was still passing guys—so I'm proud of that."
Yamalube/Star Racing Yamaha's Aaron Plessinger appeared to be limping after a crash over a blind jump while leading the second 250 moto. After the race, Steve Matthes spoke with Yamalube/Star Racing's assistant team manager Wil Hahn who said he was fine, but wasn't able to finish the race due to his bike. Plessinger went 7-39 for 15th overall.
"He's fine," said Hahn. "He was just bummed. The bike was pretty mangled. Came back and had some issues with that, just from people landing on it. I think he's more angry than anything."
AutoTrader.com/JGR Suzuki's Kyle Cunningham was able to race on Saturday a week after a brutal crash at Glen Helen left him with a hematoma in the kidney area, as well as cartilage damage, and an injury to his ribs. Cunningham visited the local hospital after Glen Helen over concerns that he may have sustained injuries to his kidney or spleen, but all tests came back negative. He also went for a mountain bike ride on Wednesday and decided he was fit to race. He went 13-13 for 13th overall on Saturday, scoring points for the first time this season.
GEICO Honda rookie Cameron McAdoo was a late scratch due to a shoulder injury sustained in a bad crash at Glen Helen. McAdoo initially checked out fine and was expected to race, but after riding during the week it was determined he wouldn't be able to race. The team expects him back for High Point on June 17, along with RJ Hampshire and Chase Sexton, who will return to action from injury. To make room, Jimmy Decotis, originally on a supercross-only deal with the team, will head to the sidelines for the rest of the summer.