Thunder Valley Motocross
Lakewood

,

CO
Thunder Valley
Lucas Oil AMA Pro Motocross Championship
Since 1993, we've seen so many years of Jeremy McGrath, Ricky Carmichael, Chad Reed, James Stewart, Ryan Villopoto, Ryan Dungey, and Ken Roczen dominating a series that you start to yearn for the days of yesterday. Years when multiple riders won races, and the title winner sometimes got eighth at a random race. Over the last 20 years though, the good riders have been great, and they can seemingly fall down in the first turn and still get close to the front.
So it's with great relief that the 2017 Lucas Oil Pro Motocross Championship has seen some serious parity to begin the season. Maybe injuries will hit and we'll get back to the usual cream rising to the top, but for now, soak this in, people. Both the 250MX and 450MX classes have five moto winners in the first six motos. That's awesome. We thought Eli Tomac was going to walk away with this thing and so far, he hasn't. We thought after round one Zach Osborne could get on a J-Mart-type of roll, but he hasn't. We thought after Glen Helen's first moto that J-Mart himself could get on a J-Mart-type roll, but he hasn't. Round three was at Thunder Valley in Lakewood, Colorado and let's get into it.
Blake Baggett was amazing at Thunder Valley. Like, seriously, it was as is the old Kawasaki KX250F-mounted El Chupacabra showed up at Lakewood and this is less than 24 hours after he mowed down some ice cream at Cold Stone Creamery (as he told us on the Pulpmx Show). Baggett was down in the first turn, 26th after one lap, passed 10 guys the next lap, then about two to three more guys a lap until he was in third. I mean, seriously, it was balls out. His corner speed, his line choice—it was like trying to watch scrambled porn on your TV when you were a kid, we've seen glimpses of this Bagget in the 450 Class while with Suzuki, but it was mostly just snow and strained eyes.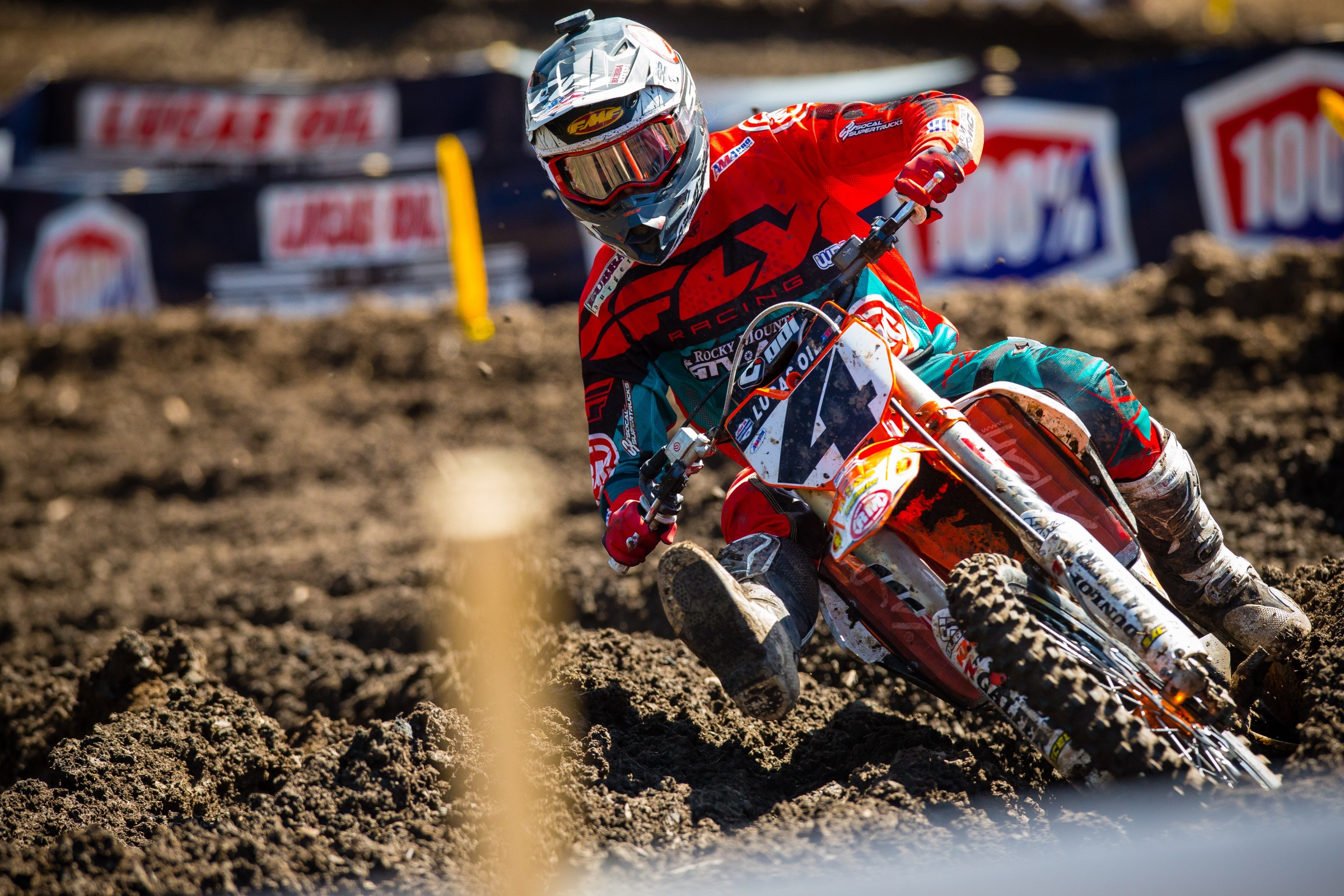 Since then he's dealt with injuries, a team that was falling apart around him last summer and a switch to KTM. He was very good all supercross season (outside of the loop out at Oakland) and now we're here. Through three rounds he's gone 6-8-8-2-3-1 and is just 19 points back of Marvin Musquin who leads the championship.
Baggett had one of those days at Thunder Valley that we all dream about. He had 17, was looking at a dealer card of an eight and hit a four. After that he rolled into a club and took the hottest chick back to his VIP suite. I don't even know which ride was more impressive, the charge to the front in moto one or the catch, pass, and drop of Eli Tomac in moto two.
The BB Gun told me after the race: "What I thought was comfortable at the practice tracks, you can't reenact this. It wasn't what I wanted it to be, so we changed fork setting, shock setting, linkage, clamps, engine hangers … we changed everything. I felt like maybe I was doing a little extreme by changing everything at once. Sometimes you get in a tailspin when you do that, but it's working."
Uhhh, that's a lot of things to change on a bike that you set-up yourself before a season, but hey, whatever works, man. By the way Alex Martin, THAT'S how you respond to a media member when asked about changes.
Baggett was very confident after his win and I mean, why shouldn't he be? He crushed it at Thunder Valley. But after he poured on so much heat in his interviews this week, I can guarantee that Eli Tomac will hear about Blake "breaking" him, how Blake doesn't have a "famous father" and will be guns blazing at High Point. And the real winners will be us for watching these two, plus Marvin Musquin with a splash of Jason Anderson, fighting for the title.
Justin Bogle didn't just win the first 450MX moto. Oh no, he grabbed the lead right away and just rode off with the win. He was killing it out there and if you had "Justin Bogle will win a 450MX moto this weekend" you're either a liar or his mom or dad. But that's what he did and it was cool to see. He's had a decent start to the outdoors (although he told me he didn't think it was that good) and this further solidified it.
It seems that at some point Justin had some sort of realization that his current situation wasn't working out for him in Oklahoma, so he packed up his things, hired Jeremy McGrath's old trainer from the late '90s (now THAT guy probably has some stories) and is down at RC's farm in Florida grinding away. I guarantee you that with Jeannie Carmichael running things, he's not having ANY fun. But look at this, he's now got a moto win. And if you have one moto win in a dominant fashion like this, why can't you get two? Or three? Bogle told me he's in a small apartment with lawn chairs in it and that's it. Big change for Leg Swaggy or whatever he calls himself these days and it's cool to see. Congrats to him and his team on the win.
After Las Vegas and all that happened, I was impressed with the way that Joey Savatgy's handled the crushing defeat. He said that he would've done the same thing as Osborne if the roles were reversed. He hinted at some miscommunication with the team near the end of the race, but didn't pass the buck. He said he's depressed and it sucks and all that. In short, he the showed emotions that we all knew he had, but also suggested that it's now in the past and he's got to work through it.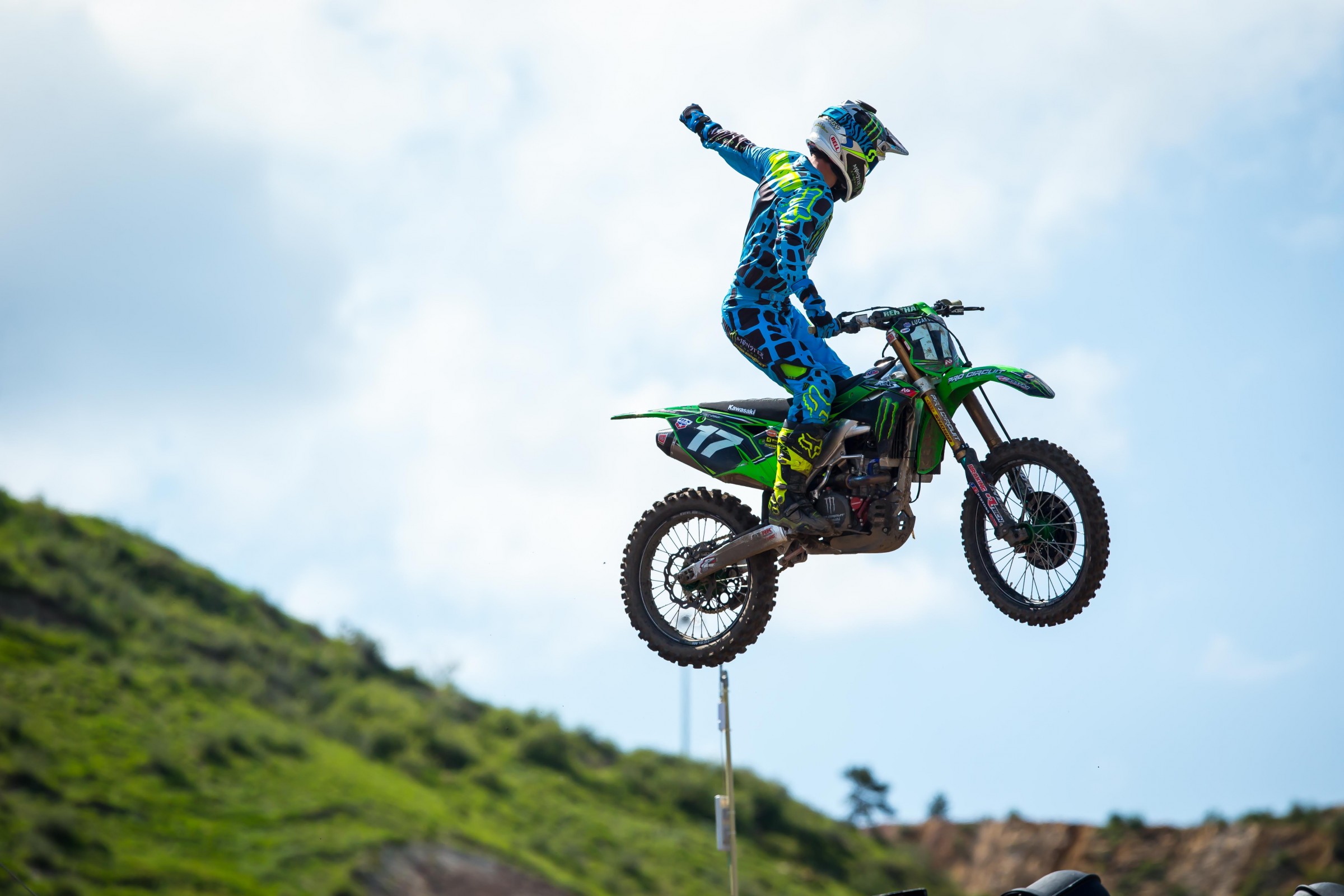 Then he had a terrible (for him) Hangtown, he rode well at Glen Helen but his bike broke and at this point, he had to feel a bit like Charlie Brown with the football. Even at Thunder Valley he rode well in the first moto but ultimately lost a spot to Austin Forkner near the end of the race. But in the second moto it all came together as he rode great and withstood heat from Jeremy Martin to take the win and the OA. Remember, he won this race last year also. Nice rebound for Savatgy, Monster Energy/Pro Circuit Kawasaki and everyone around him. I don't know if he's the favorite for this title, but this may be a sign.
Let's take a look at the results.
250MX Results
1 17 Joseph Savatgy Tallahassee, FL Kawasaki KX 250F 4 1- Savatgy seemed very relieved on the podium to have pulled off this win and I completely understand.
2 26 Alex Martin Millville, MN KTM 250 SX-F FE 1 4- A-Mart won the fourth moto of his career on the weekend but didn't get the start in the second moto and this was best he could do. At least he admitted after the race that he won the first one partly because he did get the start. It would be so "rider like" to say the start was so important and he didn't get it in the moto he didn't win but in the moto he did win, he just outrode everyone. By the way, Alex told me he made "massive" changes to his bike from last week then wouldn't elaborate on any of them. Great stuff A-Mart. #T-Train
3 6 Jeremy Martin Millville, MN Honda CRF250R 3 2- I thought Martin was going to win the first moto as he yo-yo'ed from the front to the back and then to the front again. He didn't win. I then thought Jeremy was going to win the second moto, but he didn't. I'm not good at predictions I guess. Here's the latest update on the Filthy Phil/J-Mart beef: Jeremy hasn't apologized and Phil's still mad at him.
4 24 Austin Forkner Richards, MO Kawasaki KX 250F 2 3- Forkner was great at Thunder Valley and could've won if he'd gotten the starts but both motos he was forced to come up from the back. He told me he was "very pissed" about missing the podium (and I'm sure, bonus money) with 2-3 scores (remember 4-2 WON last week!) and also, "Sucks to have bike problems in the first couple races, but just got to dig yourself out of a hole and just got to do that by getting good moto finishes" to which I say, true dat Fork-Dawg.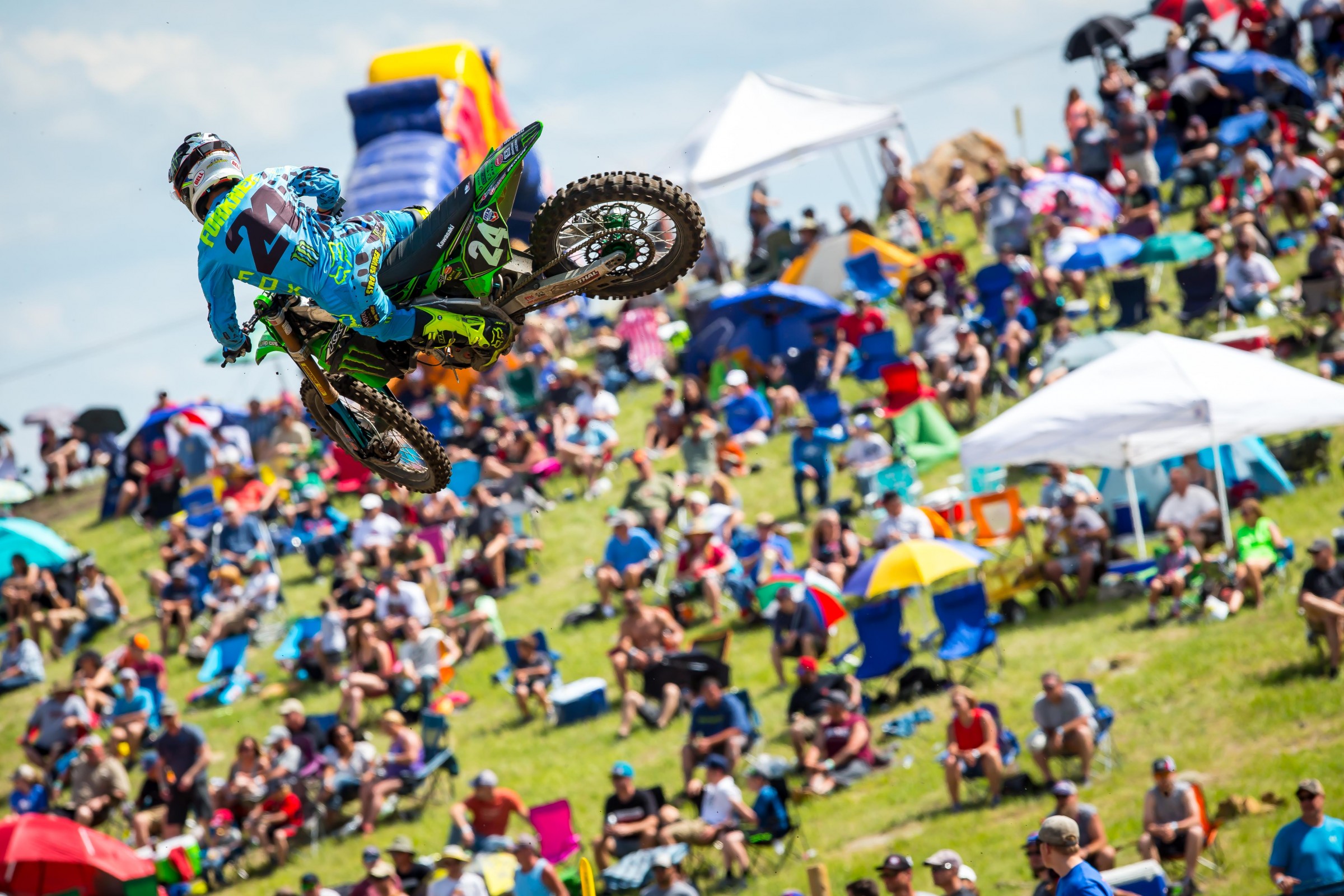 5 16 Zachary Osborne Abingdon, VA Husqvarna FC250 8 5- Osborne was sick coming into the race so he did what he could to hang onto the points lead. A fifth overall when you're sick and you crash in a moto isn't too shabby. We got Muddy Creek coming up, a track that Wacko's put approximately 30,000 laps on in his life.
6 108 Dylan Ferrandis France Yamaha YZ 250F 9 6- Many people will see this score and just shrug but coming off his moto win at GH, "Fernandez" (as J-Mart calls him) was very fast at Thunder Valley. Stuck in the gate in moto one (remember Christophe Pourcel had the gate "bounce" there? Thunder Valley hates the French perhaps? I'm kidding.) he charged up to ninth. Second moto he was right there for the win when he collided with a lapper and went down. I think one of these weekends he puts it together and gets an overall. I really do.
7 39 Colt Nichols Muskogee, OK Yamaha YZ 250F 6 12- Another great moto the first time around for Colt 45 and his assistant team manager Wil Hahn told me he wasn't happy about moto two but hey man, it's been going so well for him, a dip is fine.
8 45 Mitchell Harrison Brighton, MI Yamaha YZ 250F 11 8- Harrison went backwards in both motos after great starts but hey, he kept it in the top 10. Harrison's stay at Star Yamaha has a Kyle Peters-type feel to it if you ask me.
9 38 Shane McElrath Canton, NC KTM 250 SX-F FE 10 9- I was talking to Shane before riders meeting about fantasy moto and if he ever gets grief about his performances from people on social media. He said no, sometimes in the autograph line and that he only goes on Twitter once a month or so. I so wish I could say the same.
10 342 Michael Mosiman Sebastopol, CA Husqvarna FC250 12 10- Mosiman strikes back against Cantrell in the battle of the rookies. They both had a nice race in the second moto and were once again impressive. I don't know what either kid looks like, but they both seem like they have the right stuff.
11 46 Justin Hill Yoncalla, OR Kawasaki KX 250F 17 7- The second moto was good but I think a lot of us thought Justin would be a bit better this summer to start off. But sometimes guys have a SX hangover and maybe that's what has happened to Justin. I myself didn't get a chance for a SX hangover because Justin's brother Josh wouldn't let me into the Monster after party in Vegas because I had been making fun of Monster on the Pulpmx Show.
12 129 Sean Cantrell Murrieta, CA KTM 250 SX-F FE 15 11- See Mosiman above.
13 42 Kyle Cunningham Willow Park, TX Suzuki RMZ 250 13 13- Considering that Kyle had gone DNF-DNF-DNF-DNF at the first four motos (half were his fault, half the bike breaking), he'll take this 13-13 finish all day long, right?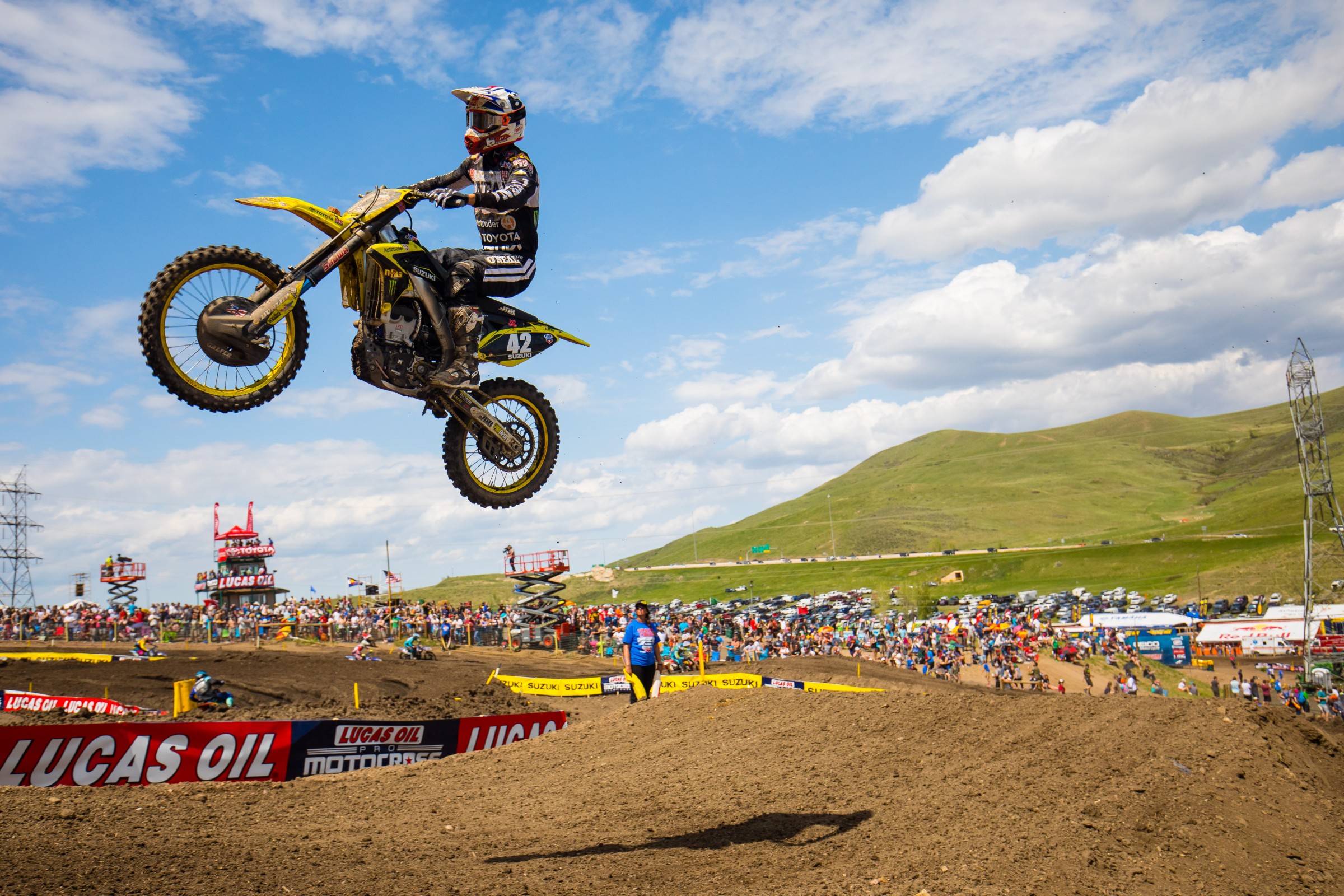 14 36 Adam Cianciarulo Clermont FL Kawasaki KX 250F 5 37- Adam rode pretty well in both motos although I'm sure he's regretting tipping over in the first one and then also regretting his bike blowing up in the second moto. Not much he could do about that but in talking to his dad (MUCH cooler than Adam BTW) he said that Adam heard the motor going and tried to nurse it but no go. Pro Circuit has four mechanicals in six motos this year and that's no bueno. His dad also made fun of him for accidently starting in second gear. Heck, even when Chuck the dog barked I heard a chuckle in there.
15 23 Aaron Plessinger Hamilton, OH Yamaha YZ 250F 7 39- Ah man, AP rode so great and has poop to show for it. The first moto he threw down a 2:13.8 which was amazing and an astounding 2.4 seconds faster than ANY OTHER LAP HE DID. We've seen this from Aaron before, he's got this ability to put together a lap where you honestly think he cut the track he was going so fast. Second moto he was leading and, well, we all saw what happened there.
16 57 James Decotis Beverly, MA Honda CRF250R 16 14- I heard that with Sexton and Hampshire coming back at High Point that this was Jimmy D's last National for the team, as he was just a fill-in for outdoors.
17 74 Bradley Taft Nixa, MO Yamaha YZ 250F 18 15- Since returning from injury he's been in the top 20 all four motos. I worked with vets that had a hard time doing that, so nice work Bradley. And by the way, is he really "Bradley" or do we call him "Brad"?
18 172 Mark Worth Queen Creek, AZ Yamaha YZ 250F 14 19- Another good result for Worth this week who I thought was heading to Canada to race (he did it last year) but instead he's sticking it out and has been the top privateer at the two races he's done this year.
19 78 Nick Gaines Ringgold, GA Yamaha YZ 250F 19 16- Who had Gaines leading his teammate Luke Renzland by 19 points after six motos? Not me, that's for sure.
20 558 Jerry Robin Hamel, MN Yamaha YZ 250F 25 17- I guess I have to start picking Jerry in fantasy moto because it seems like he and his bike can indeed finish two motos and inside the top 20 at that.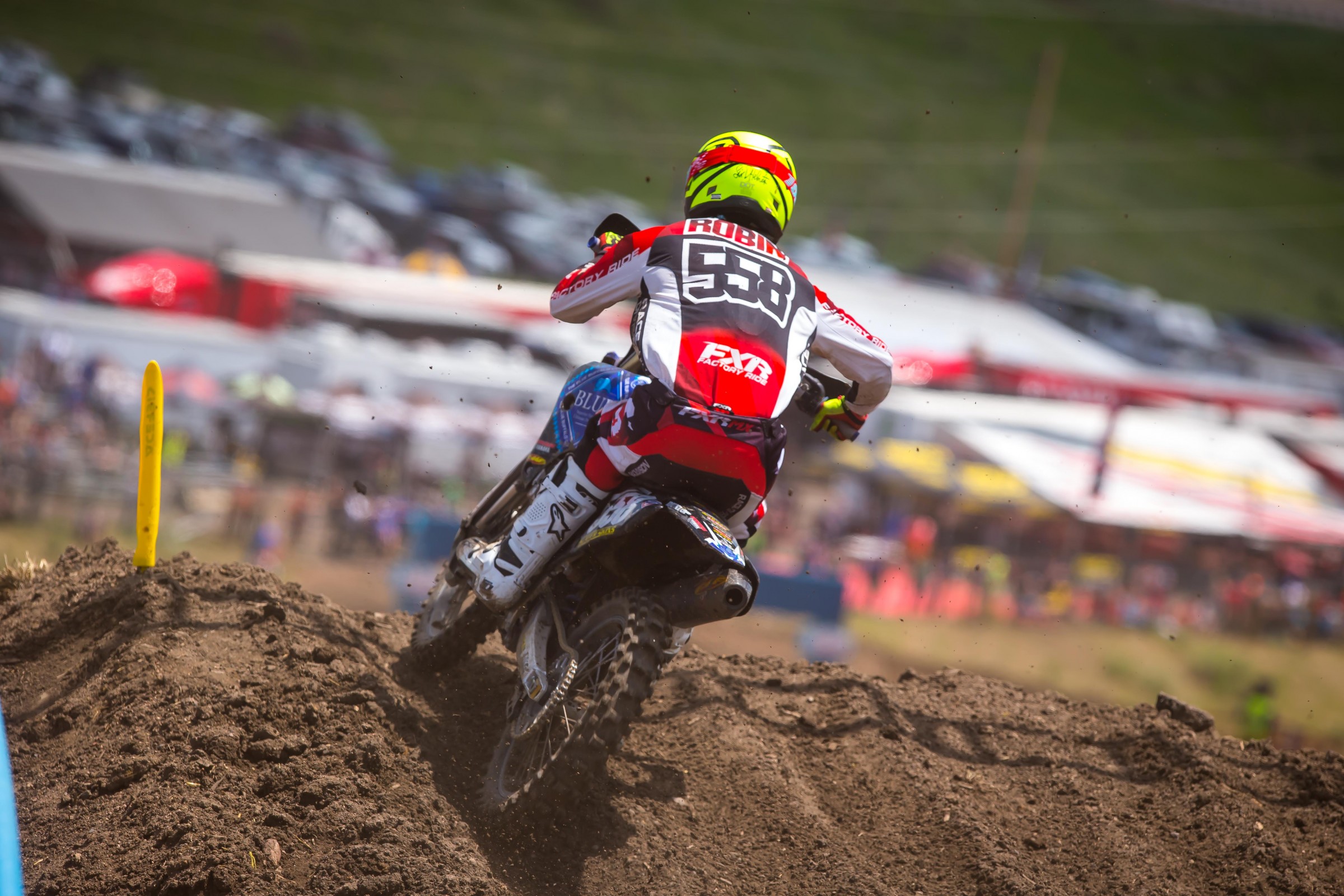 450MX Results
1 4 Blake Baggett Grand Terrace, CA KTM 450 SX-F FE 3 1- The Tomac/Musquin/Baggett rivalry this summer could be absolutely epic.
2 25 Marvin Musquin France KTM 450 SX-F FE 4 3- If Blake Baggett didn't exist then we'd all be slobbering over Marv's first moto ride from down in the first turn to 19th after lap one to seventh on lap eight to a fourth. It was amazing. But none of us will talk about it because Baggett came from FURTHER back, passed Marv and beat him by one spot.
3 21 Jason Anderson Rio Rancho, NM Husqvarna FC450 2 6- Anderson pulled out of moto one last year and didn't race moto two due to altitude sickness. If he wants to win this championship, he has to get points at Thunder Valley, even though he'd been struggling to get pills for the illness approved through USADA. So in the end he raced and raced well. How he was able to not make it last year at all and this year go 2-6 is very strange, but good for him. I'll see if I can figure out if his pills got approved by USADA or not (I mean, c'mon USADA!). Also, I know there were more than a couple of team managers upset that Anderson, after a crash, got up and hauled ass beside the track, cut off a bunch of it and then rejoined the race without penalty. And honestly, I don't know how he didn't get penalized either.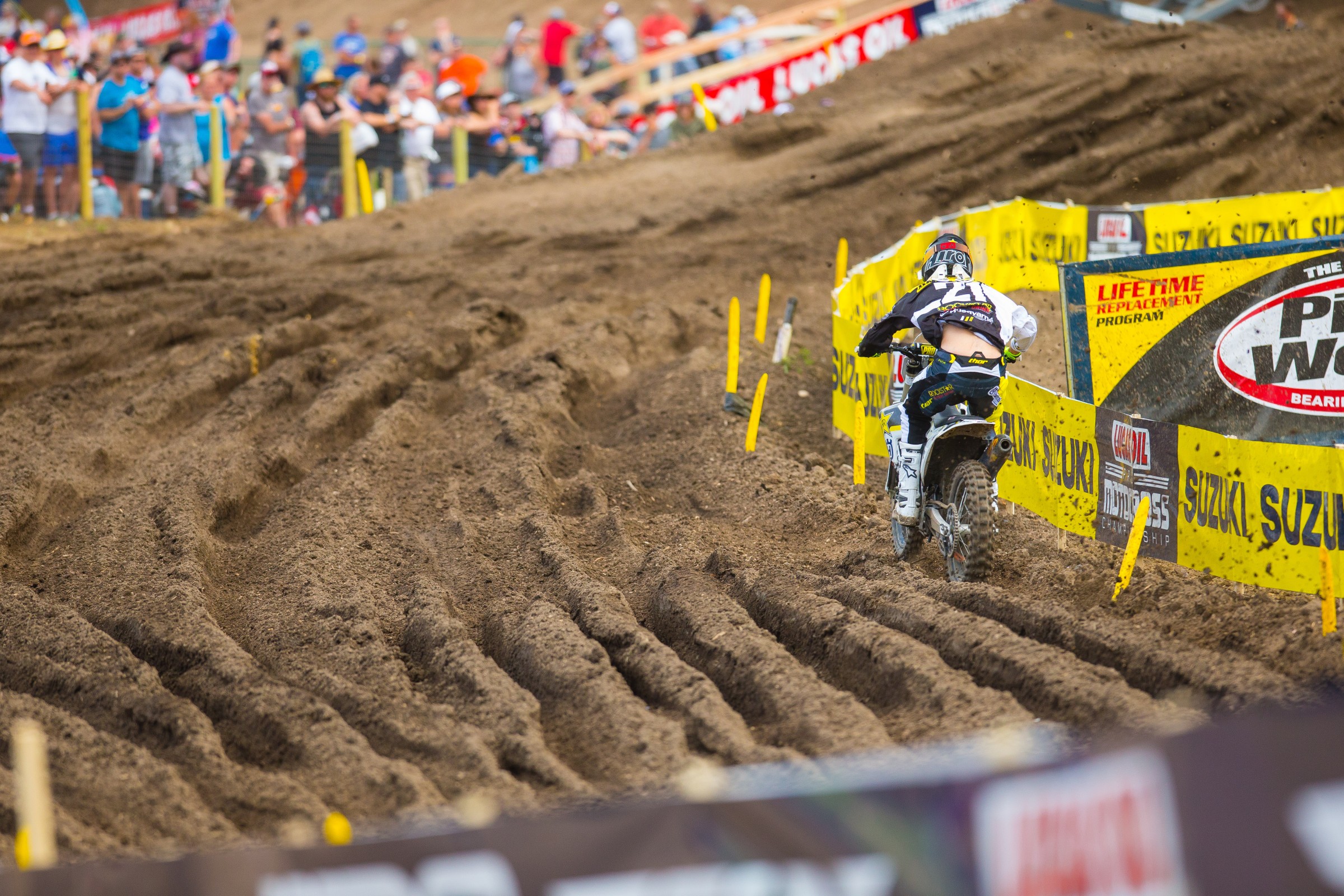 4 19 Justin Bogle Cushing, OK Suzuki RMZ 450 1 9- As stated, Bogle's moto win came out of nowhere. It was like that one year when the Washington Capitals had John Druce suddenly score nine goals in the playoff series against the New York Rangers. You ALL remember that, right?
5 3 Eli Tomac Cortez, CO Kawasaki KX 450F 7 2- Tomac was third in the first moto when he tipped over and yeah he was caught and passed by Musquin and a blazing fast Baggett but they don't get him if he doesn't fall, and in the second moto he got second behind a dude that Jesus himself probably couldn't have beaten. So a probable 3-2 day is something everyone on the Internet wants me to press a panic button for?
6 14 Cole Seely Newbury Park, CA Honda CRF450R 5 10- I was watching from the scoring tower all day long and Seely came around the first turn, kicked a rock up about 20 feet and hit me in the side of the head. I'm sure he's fist pumping if he's reading this, so for that fact, I won't talk anymore about him.
7 15 Dean Wilson United Kingdom Husqvarna FC450 9 7- Solid day for Dean although I'm sure he wasn't happy with it.
8 20 Broc Tickle Holly, MI Suzuki RMZ 450 8 8- Tickle wasn't stoked on his day. But when you go 8-8 on a bad day, that's pretty good. He got a start in the second moto and couldn't do anything with it. Actually all the Suzuki guys except for Peick got great starts in the elevation.
9 51 Justin Barcia Greenville, FL Suzuki RMZ 450 6 12- Not a good day for Barcia as he slipped backwards in both motos from what I heard was arm pump.
10 30 Martin Davalos Ecuador Husqvarna FC450 10 11- Davalos holeshot the first moto and, wait for it, washed the front end out. That's only the 95th time I've typed that since 2006 when Marty turned pro. But hey, 10-11 scores are solid and I think you'd take a top 10 from him every week.
11 2 Cooper Webb Newport, NC Yamaha YZ 450F 22 4- Webb somehow finished 14th in the first moto despite crashing, stalling and pulling into the mechanics' area for a check up. The lap sheets have him 23rd but the timing had him 14th but he really got 22nd after being docked for cutting the track after he pulled out of mechanics' area. I don't know bro, I'm confused also. But on the WAY brighter side, his second moto ride was exactly what he needed as he rode to a fourth, got passed by Grant and then late in the race got the #33 back to put some sunlight on an MX season that's been mostly dark clouds.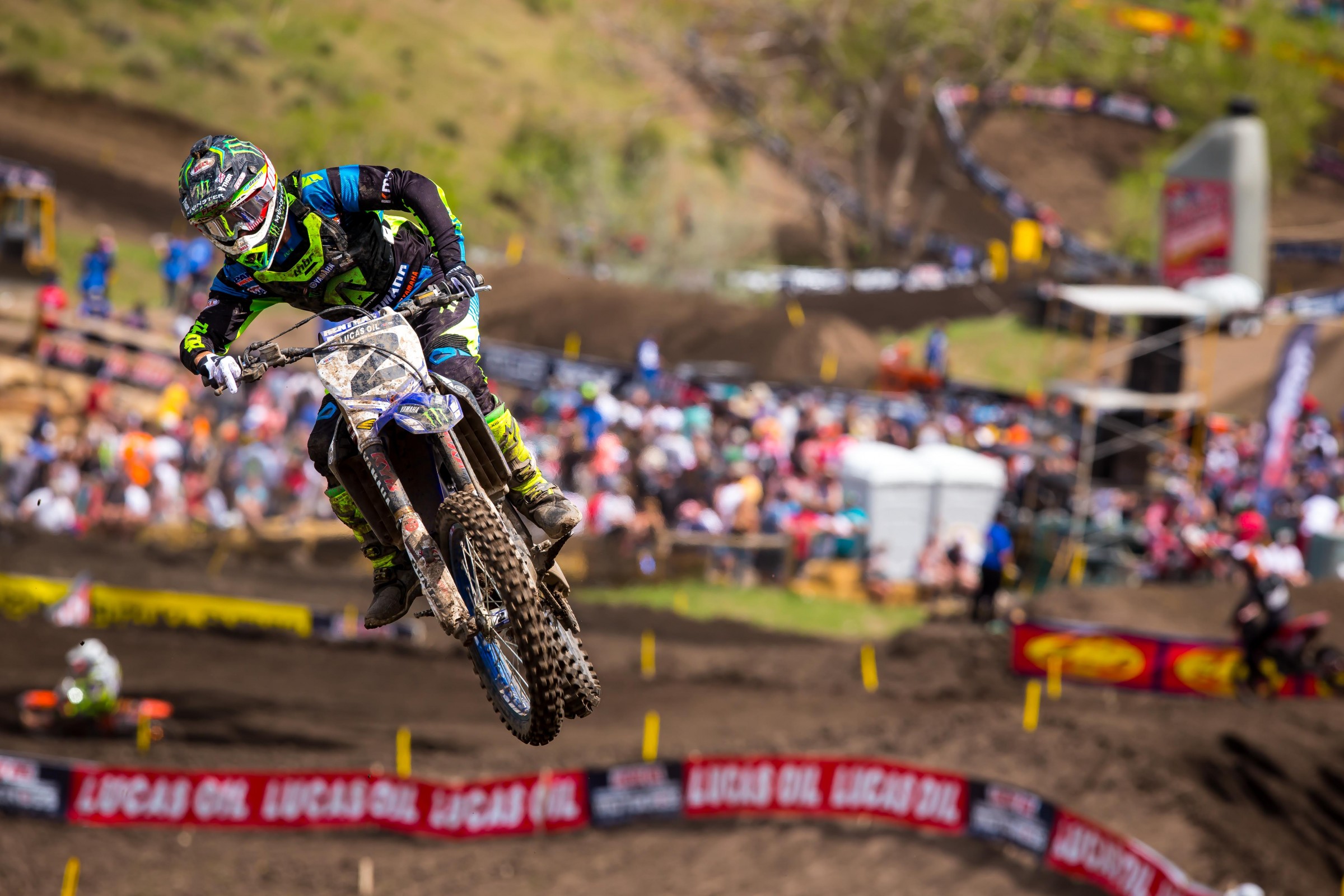 12 32 Weston Peick Menifee, CA Suzuki RMZ 450 12 13- I didn't talk to Peick after the race and I'm sure that's a good thing. I bet he wasn't happy.
13 33 Joshua Grant Riverside, CA Kawasaki KX 450F 38 5- JG's always fast at Thunder Valley but just like Glen Helen, he only got to show it in one moto. His Kawasaki blew up late in the first moto (after he was dead last when he went down with Musquin and Baggett) and second one he was good.
14 40 Fredrik Noren Sweden Honda CRF450R 11 15- Fast Freddie was back! A nice first moto for the Swedish wonder boy out there had me remembering days gone by when Freddie was on the factory Honda machine. I've looked for Freddie for a couple of weeks now but can't seem to find where he's pitted. I don't want to go too far into the privateer pits, I might never get out alive.
15 70 Dakota Alix Jay, VT KTM 450 SX-F FE 13 14- Nice solid story developing here with Alix as he continues to linger just outside the top 10 each week and that's a good thing considering he'd never really done many Nationals (just 17 career 250MX starts) coming in and never done any on a 450.
16 68 Heath Harrison Silverhill, AL Yamaha YZ 450F 15 16- I told you as the series heads east, "Yama-Dog Jr" will get better and better. What do you know, we're heading that way and Harrison gets the most points he's gotten all year. Just wait until Muddy Creek when he's with his kind and steps it up.
17 154 Brandon Scharer Los Angeles, CA Yamaha YZ 450F 14 17- Nice work for Scharer who's the first privateer this week. If he keeps this up, he'll be ditching that three-digit number.
18 170 Zack Williams Elko, MN Honda CRF450R 18 18- Also a good ride for Williams who's been on the scene a number of years now and always puts in some good results here and there.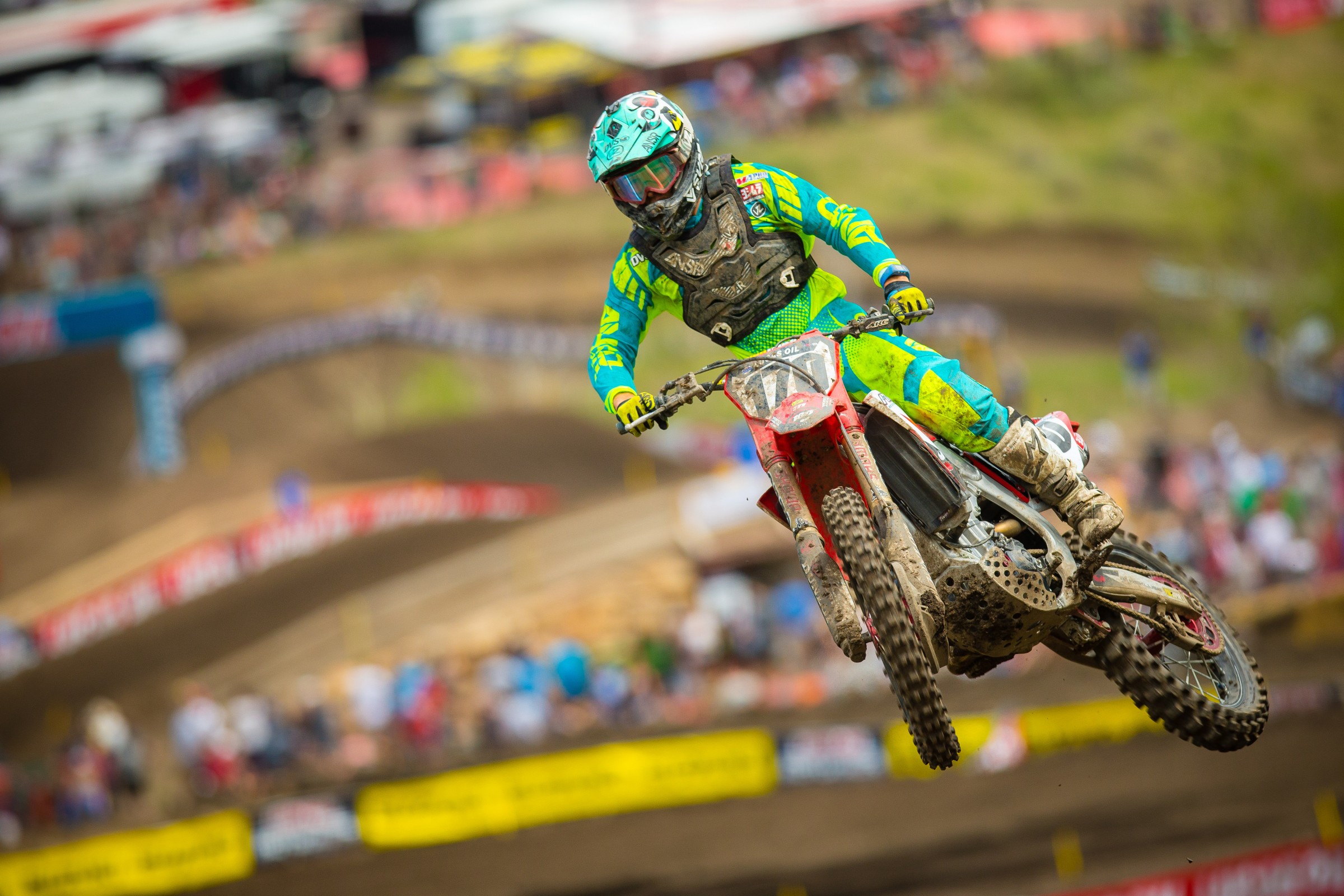 19 125 Josh Mosiman Sebastopol, CA Husqvarna FC450 16 31
20 606 Ronnie Stewart Easton, PA Suzuki RMZ 450 17 22- Last week Tom Baggett promised he'd fix his trailer hitch if he got into the top 20. Well, with this 17th, wonder what Tom has to do now to the Stewart rig? Clean the carpets maybe?
Some other news and notes:
- Cooper Webb's mechanic Eric Gass broke his collarbone this past week on a mountain bike so Yamaha had Shane Drew step in and spin the wrenches. It was the first time that Drew had held the pit board since 2003 when he was Mike LaRocco's mechanic at Honda.
- There was a flagging incident on the track that we all saw, as retired pro Nick Wey grabbed the flag out of the flagger's hands and helped out Aaron Plessinger who crashed on the back of a blind jump. It wasn't very good flagging by the flagger or the MX Sports official (who should, in my opinion, have known better) but to be fair to them, they had a bike down on one side after a jump a rider on the other side trying to get to his bike and there was chaos everywhere. Wey jumped in to help and did a great job in making sure the riders (many who never slowed but as Wey said on the Pulpmx Show, it was a section where their heads are down looking at ruts going up a hill) didn't hit the bike that was there and unfortunately, Plessinger was going to have to wait for everyone to go by before trying to get going. There's a lot of good flagging out there in both supercross and motocross and for the most part, when you don't talk about it or notice it, then it was good. But I've seen so many examples in my 20 years of going to these races of bad flagging. I'm not sure what the answer is; I mean I don't think there's money there to fly a dedicated flagging crew out for 29 weeks (and who would want to/could afford to do that anyway?) but there's got to be a better way to instruct these people, right? We can always improve flagging in my opinion and maybe this opens up a dialogue about that.
- The best part of the story is after helping everyone out, somebody from the EMS crew (I think) kicked Wey out of the infield and threatened to call the cops on him. I imagine this guy had no idea who Wey was, figured he was a random spectator and was not happy. Shortly after this whole thing, Wey Facetimed me (during the moto!) yelling, "Did you see me???" and laughing the whole time with his dad.
- Standing where I was up in the announcer's tower, you had a perfect view of the first turn beneath us and it was interesting to watch the riders adjust to the changing track. There was a prime rut early on that got way deep and the riders were burying their wheels in it, legs flying off, and holding them up. Many, many times guys stuck to this rut when it was obviously no good anymore. Alex Martin switched pretty early out of it in the first moto as did Aaron Plessinger. Jeremy Martin however, kept hammering away at it, sinking his whole bike in like it was some sort of quicksand and just pinning it more and more. Soon a sneaky inside line developed, but that required slowing down coming up the hill and slowly rolling the throttle on. Forkner found it right away, as did Dylan Ferrandis. Soon A-Mart was there, as were many others, except J-Mart, who eventually got tired of being sucked into the dirt but went further outside of that one line. It's just interesting to me to watch the race craft of different guys.
Thanks everyone for reading, stopping me at the races to say they love the shows and columns or as one guy said this weekend: "You write some funny shit." I appreciate all of it. Email me at matthes@racerxonline.com if you want to chat about this or anything else.