The best news about Matt Bisceglia's weekend is that he was able to let his riding do the talking. There are many questions to answer about his old team and his new one, but had he not logged two strong motos for 10-10 scores and eighth overall in Thunder Valley's 450 Class, it wouldn't have mattered much.
But he did. Matty B rode very well on his Yoshimura Suzuki RM-Z450 in his first 450 race as a pro—and his first Lucas Oil Pro Motocross race this year. (He missed round one with an illness and round two after parting with his previous team, MAD Racing/Dirt Candy Suzuki.)
"Yeah, I think it maybe even exceeded my expectations a little bit," Bisceglia told us after the race. "I knew what I was capable of coming in, but I've been taking a little bit of time off. With the lack of time I've had on this bike, it kind of shows how good their program is over here with how well I was able to do with such short time on the bike. I can't thank these guys enough. It was a great day, and hopefully we can continue the relationship and something good can come out of it. I came here, and I did as good as I could. It was a good day. Eighth overall—I can't complain with it. My first 450 National. Really kind of my first 450 race since Loretta's '13 almost. I'm happy with it. It couldn't have gone any better. That's exactly what I wanted to come here and do."
It's also exactly what Yoshimura Suzuki needed during what has mostly been a season from hell. Injuries, injuries, and more injuries have plagued team riders James Stewart and Blake Baggett, so Bisceglia coming in as a one-race fill-in and delivering solid finishes is exactly what the team needed. For the first time all season, something actually went well for them.
"In the first moto, the race pace the first three or four laps kind of caught me off guard, so it kind of took me three or four laps to get going," Bisceglia explained. "But once I got going, I was able to pick up some spots and work up to tenth. Second moto I got out to a decent start. Tomac and Dungey got past me, and I think that was about it. I kind of just stayed where I was and just put in a hard ride and did what I could. It was awesome."
This leads back to some questions again. On Saturday morning, Yoshimura Suzuki was clear that this was a one-race deal, since Baggett and possibly Stewart will be back for the next race at High Point. But that was before Bisceglia put in this strong ride. The coming off-weekend gives Baggett and Stewart time to heal up but also gives Bisceglia time to see if something can come together.
"I'm going to enjoy the day tomorrow," he said. "I have some family up here in Colorado and some friends that I'm going to hang out with tomorrow and just go home and figure out what I'm doing. Hopefully I can be back at High Point, but we'll see how it plays out."
Oh, and there's the other question: what the heck happened with his old team, MAD Racing/Dirt Candy Suzuki? He had a two-year deal locked in with them, so he actually walked away from the security of a set deal for 2017. That's a scary place to be. When we asked, Bisceglia got the deer-in- headlights look and decided not to elaborate.
"We parted ways mutually," he said. "That's all that happened."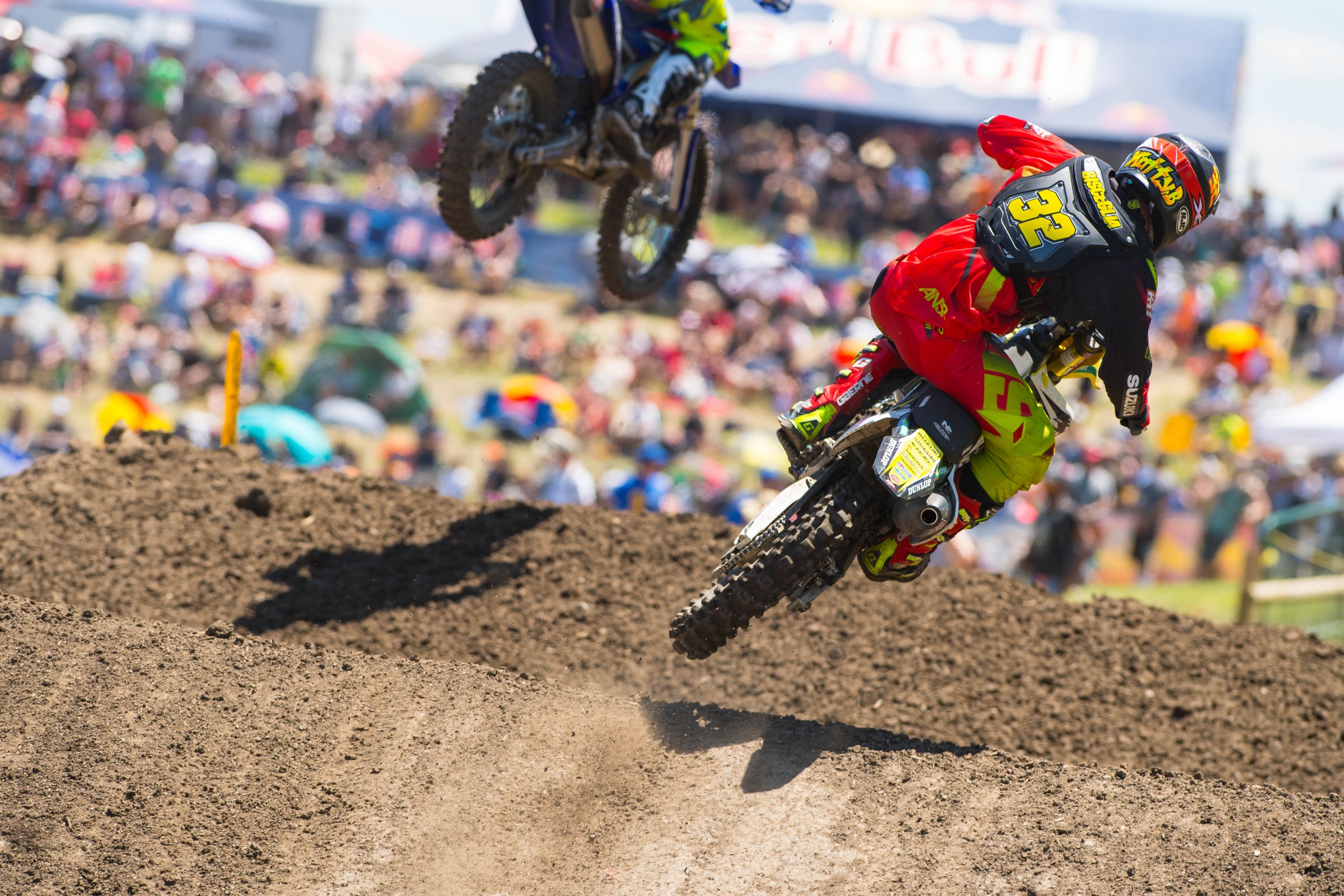 Last week we talked to Robert Lind, the MAD Racing team manager, and he told us he really didn't know why Bisceglia left. Although the supercross season hadn't gone great, Lind said Bisceglia never complained about the bike or team. On Wednesday night before Glen Helen, Bisceglia informed the team that he needed to get out of his deal to pursue something else with another team. By then, rumors were swirling in the pits that Bisceglia could be a Yosh Suzuki 450 fill-in. Lind was quick to add that since these are both Suzuki teams, MAD Racing would have been willing to let Bisceglia move to the Yosh 450 squad as a replacement anyway, so quitting wasn't necessary (although, according to Lind, Bisceglia never revealed directly that he was pursuing a deal with Yoshimura Suzuki, just that it was another team). It seems obvious that something else was up, but neither side is telling (or knows).
So Bisceglia has to go back to the riding as his statement. At least Thunder Valley was a strong one.
"I feel like I'm where I want to be now physically," he said. "My fitness is good, especially considering I had to take a little bit of time off the bike lately. My fitness definitely felt really good. There's nothing wrong on that point of it. But coming into supercross, obviously I was crunched on time a little bit, but I was in as good of a position as I could be. That's what it was. We didn't have much time to prepare, but my trainer Tyler and I just did everything we could to get ready, and we did as good as we could."
After the race, Bisceglia's temporary mechanic, Brandon Anderson (who wrenches for Baggett), handed Bisceglia the number plate from his bike, a memento of his weekend with the team. Will it be the only one? We'll see.