Sam Boyd Stadium
Las Vegas

,

NV
Las Vegas
Monster Energy AMA Supercross Championship
Vegas, baby! The finale is here and everyone is ready for a little fun in the sun. It has been a long four months of airports, hotels and groggy mornings for the supercross world but that all ends this weekend in southern Nevada. Las Vegas is the ultimate for a finale venue and I have heard rumors that maybe we won't be finishing the season here in coming years. That would be a bummer but times they are a'changin. For now, I am going to enjoy the way it is and soak up another year's end in the desert.
The 450 class championship is clinched but that doesn't mean there aren't storylines. Ryan Dungey is going to be celebrating his second consecutive title but the past two races couldn't have sat well. Surely he was protecting his lead and dealing with the nervous hesitation that corresponds with a championship, but he was also soundly beaten by Ken Roczen and Eli Tomac. As we are wrapping up this title and looking forward to this summer's Lucas Oil Pro Motocross Championship, Ryan will want to remind his two rivals that he has that #1 plate for a reason. He can set right the ship with a win this weekend and derail the momentum train that Roczen is riding.
For Kenny, he has been lights out and will look to hammer that even harder this weekend. New Jersey was arguably the best ride of his career, winning by 19-plus seconds. Tomac has gone 2-2 in as many weeks, a vast improvement than what his season has been en masse. He has been counting down the days until Hangtown but his recent rides have definitely lifted the spirits of anyone wearing green.
All three of these guys have their own validation for why they will be the man to beat when we head outside. This weekend in Vegas provides another opportunity to make their case heard and more importantly, get into the heads of their competitors.
The track this weekend is typical Vegas. The outside loop is a staple of the venue and adds to the lap times. The start is inside the stadium this year and that is better for the on-site fans, because in years past, the start wasn't visible and that's never ideal. The start heads outside to the big sweeper immediately. This will be interesting to watch as the riders who didn't get the jump will be desperately trying to jockey through the pack in those fast, first few turns. The roost on that start will be nothing short of brutal, though, as it's widely regarded as the most painful roost of the year, including outdoors!
As the riders finally enter the main stadium, they will be greeted by a triple immediately out of the 180 degree turn. This will be a big block pass turn as riders can late-brake from the prior "Thunder Alley" section and dive in on the lead rider who will be setting up to triple. Watch for that move time and time again. On the next straightaway, there are two dragon back sections in a row. Those will be tough and lend a big advantage to those who excel in whoops or the dragons. Malcolm Stewart comes to mind here so watch for him to make passes if needed—he was exceptional on last weekend's dragon's back section.
The only other sections of note are the two straightaways before the finish line. The first is a long rhythm section with a clear directive: the section is built to jump 3-3-3. It's very simple on paper but for anyone who has ever walked down onto a supercross track, it's not so simple. Nailing that section will be critical since any other combination will be significantly slower. After that, there is a long section of whoops. Vegas whoops can be some of the nastiest of the season. It all depends, as we know by now, on how Dirt Wurx decides to drop the dozer bucket. I have seen whoops that left women and children screaming with terror (2008, 2011) but I have also seen very easy whoops, too (2006, 2010, 2012). If the whoops are indeed big, having such a long set will be a deciding factor in the results column.
---
Who's Hot:
Ken Roczen is red hot. He has won the past two races with relative ease. Whatever bike or life changes he has made, things are surely clicking right now.
Eli Tomac has been great in recent weeks on the East Coast. I am interested to see if he can carry that form into the slippery Las Vegas adobe, which is a lot different than the dirt at the last three races, where he showed great speed. In any case, he is trending up as we head outside.
Mookie put the pressure behind him and rode flawlessly to win in New Jersey. He put himself in a great position to win this title barring anything reckless. Great job by the younger Stewart.
Martin Davalos has gone 1-2 in recent weeks, giving him reason to smile. He should capitalize on the opportunity this weekend as the two points leaders will be more concerned with finishing their title run than winning the actual main event.
Cole Seely bounced back big in New Jersey. He was a strong second for a long while until the Eli Tomac train came through. He looked great and was able to fend off the reigning champ all the way to the checkers.
---
Who's Not:
Aaron Plessinger had a great shot at this title but just wasn't able to win when he needed to. It wasn't that he rode poorly; he just didn't match Mookie's level when the pressure was on. His heat race last week was brilliant, though, so I want to make sure this doesn't come off as an indictment. He will be a title favorite next year.
Justin Barcia is a complete question mark for me. I just don't really understand how he is finishing back there but I am sure no one is more frustrated than he is. Such a weird deal for such a talented rider. Hopefully Hangtown is a different story.
If they gave points for heat races, Tyler Bowers would be looking great. Unfortunately, his main events haven't gone as well and he is left shaking his head entering Vegas. He looks really fast on the bike so this one leaves me confused as well.
---
Bold Predictions:
Ryan Dungey bounces back to win and quiet the naysayers.
Both of the points leaders win their respective titles as expected.
Christian Craig, Martin Davalos and Joey Savatgy battle for the main event win.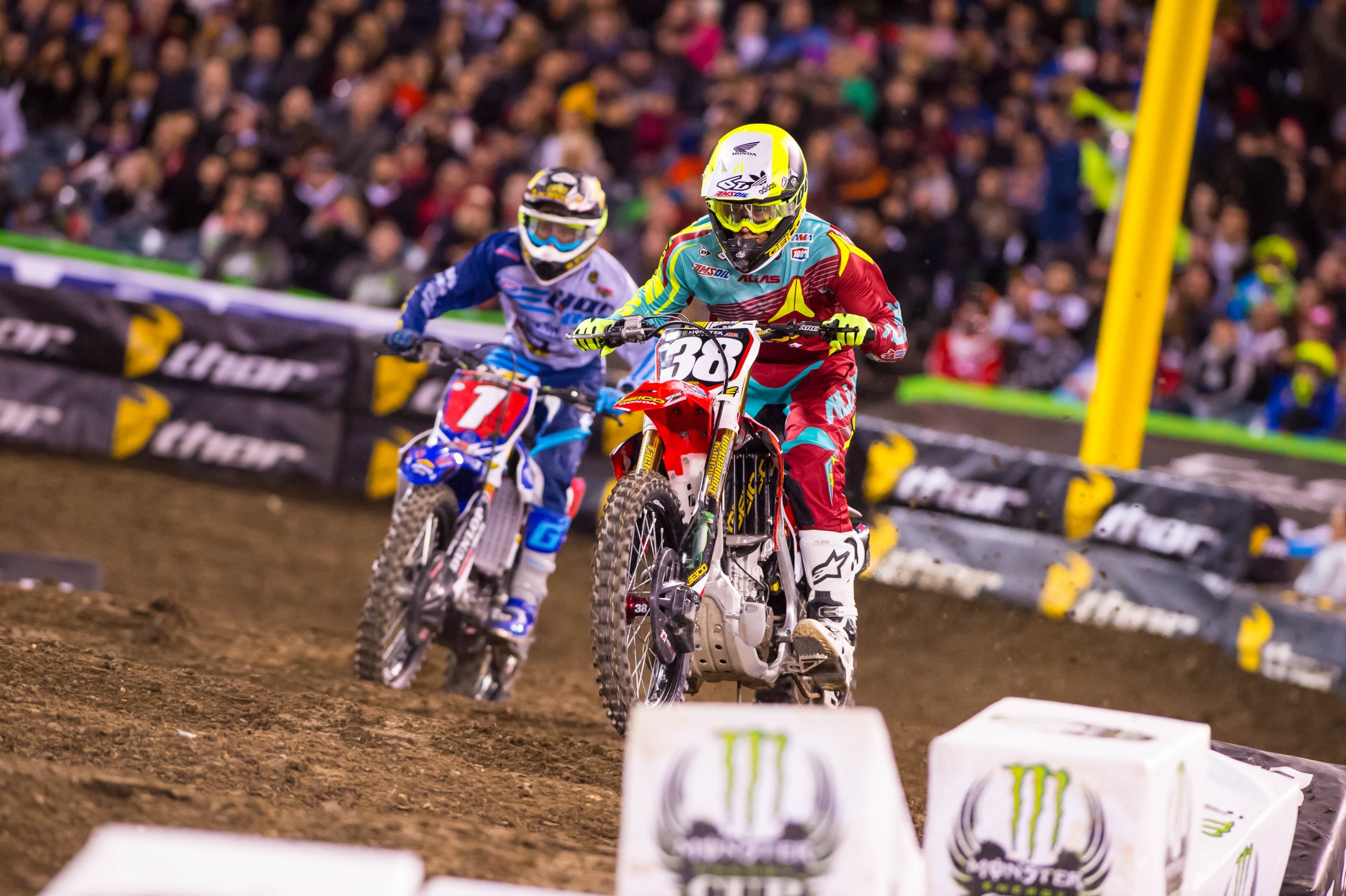 The majority of the supercross industry is dragging Saturday morning after a few too many on Friday night.
The majority of the supercross industry is dragging Sunday morning after way too many on Saturday night.
A KTM gets the holeshot in the 450 main event.
---
My Picks
250
Martin Davalos
Joey Savatgy
Christian Craig
450
Ryan Dungey
Ken Roczen
Jason Anderson