Sam Boyd Stadium
Las Vegas

,

NV
Las Vegas
Monster Energy AMA Supercross Championship
The 2016 Monster Energy Supercross 250SX East Region was supposed to go entirely different for CycleTrader.com/Rock River Yamaha's Luke Renzland. The New Jersey native, turned Florida resident, came into Atlanta with top five hopes. And then it all went wrong—quickly.
Three laps from the finish in that first main event of the season, Renzland made a miscalculation in the sand section and went down hard. He was diagnosed with a broken collarbone and would miss the next three rounds following surgery.
Since his return in Indianapolis he's made the top-10 three times. But that's not enough for him."After so many 9th and 10th place finishes you kind of get tired of it," he said.
We caught up with Renzland on Tuesday afternoon to get an in-depth look at the difficulties he's had to overcome this year. As you'll see, this kid is worth more than just results on a dirt bike track.
Racer X: What's up Luke?
Luke Renzland: Oh, not much, I actually just texted you that you were late. I sent it and then you called.
See, I'm not late then.
I don't know, it's 12:02pm by my watch now.
I'm sorry, man, it won't happen again!
Alright, alright that's cool.
Let's talk about some dirt bikes. You've had to fight through some adversity this year. Tell us more about your injury and what you've gone through.
I got a late start on the season from the shoulder injury that I had at Utah last year. I was off the bike 3-4 months. I got back on late into the off-season. I did have a productive off-season and I felt really good on the bike coming into Atlanta. I had about 12 laps of glory in the Atlanta main event and had a little crash. It was a miscalculation on my part going into the sand. I got cross-rutted and put my front end into the soft stuff. I came down on my shoulder and ended up breaking my collarbone. I had to go in for surgery and I was off the bike three weeks after that. I got three days of practice in and went to Indianapolis after that.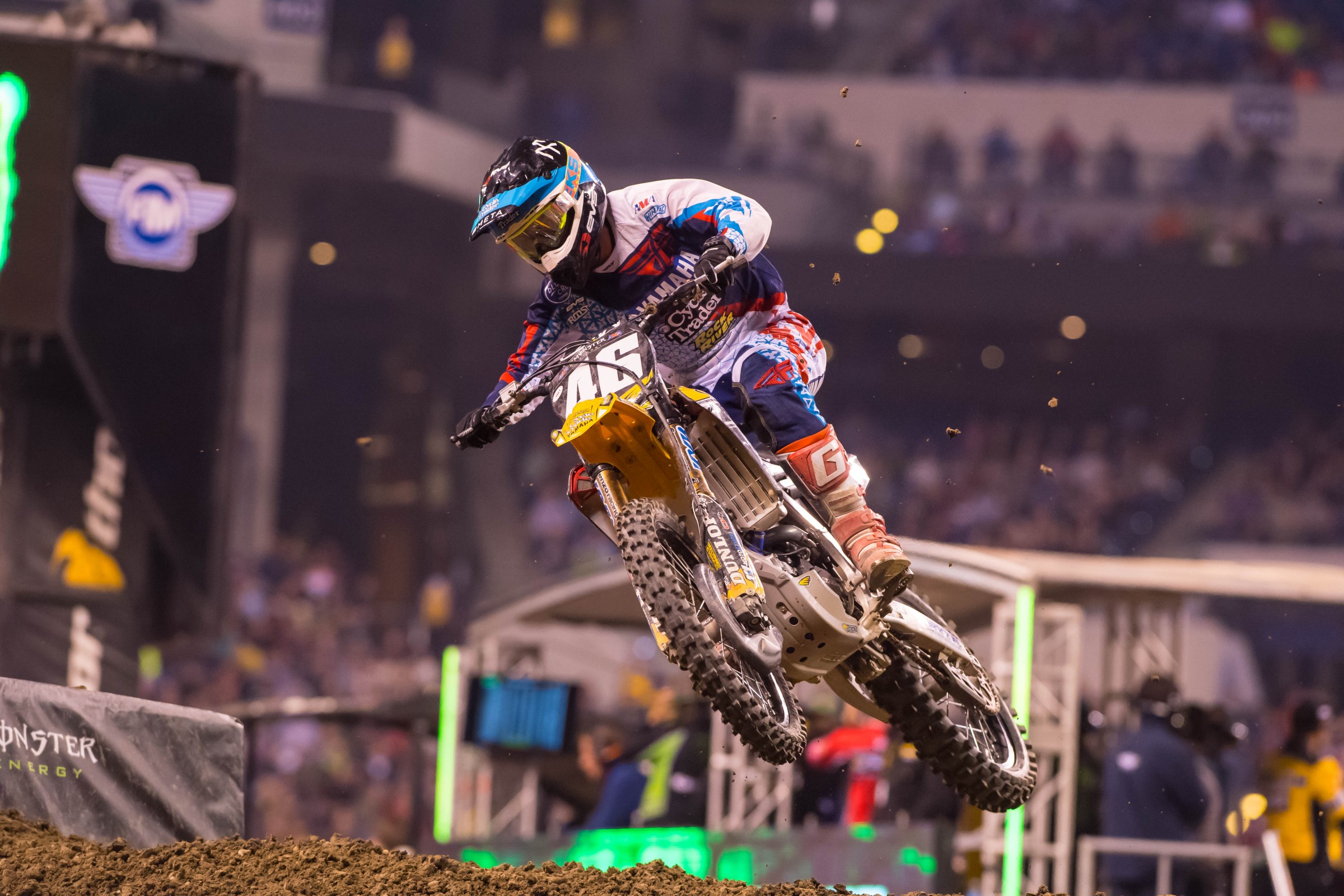 It's pretty crazy how fast you can get surgery on your collarbone and come back so quickly these days.
Yeah, I was fortunate enough to get in with Dr. Berg in Tallahassee. He works with a lot of moto guys and has a lot of knowledge in the sport. He knows how long that we have to take off so that we don't get re-injured. Three weeks was definitely really quick and there was a lot of pain. The collarbone wasn't back to 100 percent, but it was good enough to get back on the bike. I just had to deal with a little bit of pain, but that was about it.
Does it still hurt now?
No, it's not bothering me at all anymore. I think the bone has finally healed enough to where I don't feel it anymore. After my first race back in Indianapolis I had another check-up with my doctor. I got the X-ray and I was really surprised to see the crack in the bone. I was racing with a fully broken collarbone, but it's just held together with a plate. That crack has some new bone growing into it and it doesn't hurt anymore.
Despite the late start, what were your expectations for the season entering Atlanta?
I came into the year wanting to put myself into the top five. I had a good program in the off-season. I went to California for about six weeks and then I came back to the East Coast soil about three weeks before Atlanta. I had a really good mix of the different soils. Being able to ride with the guys in California was really big for my confidence. I think the missing piece of the puzzle is my starts right now. I think I still can be that top five guy.
How tough was it to get injured at the first round, miss a few races, and then jump back into it?
It was tough. Everybody has the first race jitters in Atlanta. At least I was able to get all of those jitters out. As everybody goes into the next couple of rounds they're finding their race speed and flow. I was missing a really important part of the season right there. It was tough to jump back in it, especially with how rough Indy was. I jumped out there and was able to qualify sixth actually. That's the best qualifying I've ever had actually. I felt comfortable right away and like I said I just need to figure out my starts. I know I can mix it up with the front guys.
"We have a team at Dreamland [Renzland's Florida track]. We're the Dream Team. We're doing volleyball drills and improving our game. After the season gets over watch out. We're coming to a beach near you."
- Renzland
You did pick one heck of a race to come back at in Indy.
Oh man, it was so gnarly! I've never seen anything like it. I remember going around on the site lap around the turn to the dragon's back. I looked at each bump on that and I didn't even know how I was going to go about it for fifteen laps. I was just happy to make it through that race safe honestly.
Yeah, that track was pretty intense! How was returning home for the East Rutherford?
I always look forward to the MetLife supercross and the Unadilla outdoor race because it's so close to home. I see people who I haven't gotten to see in a couple of years. It was a cool feeling at MetLife because I felt comfortable. It was really cold and I don't miss that about New Jersey! Something about that stadium really makes me feel good. I think everyone feels more at home in their hometown.
It's crazy what going home to a comfortable environment will do for a rider's confidence. We saw it in Indy with Aaron Plessinger, AJ Catanzaro had it in Foxborough, now you had it at MetLife.
It gives you that mental edge. I guess you just want to show the people that you grew up with what you can do. It gives you some extra flair and that can boost you up another five positions in the standings.
You need to just have that mentality at every round. You have to be from everywhere.
[Laughs] I think I'm going to start buying houses all over the country. That way every round will be my hometown race and I'll start killing it.
While you were out Benny Bloss filled in for you. How did you feel about that?
I feel like he did well on the bike. The weekend after Atlanta he came down to my house to ride for a couple of days. That was before either one of us knew that he was going to fill-in for me. It's cool, we got to ride together in California before the season too. I've been friends with him for a couple of years now. It was cool to see him get that chance. He did well with it and now he's moved onto BTO Sports KTM, which is cool to see. I'm happy for him, but I'm also happy that I got to get back on my bike. I got to lower my handlebars back down and race again.
Yeah, I bet it feels like a Harley when you get on a bike after him, with the high bars.
[Laughs] Yeah, he had the Orange County Chopper bars on there, the tall seat foam, and the lowered foot pegs. I had to drop it back down to standard height and I felt right back at home.
Good deal. You've got Las Vegas coming up this weekend. It's going to be both of the coasts together. What are you most looking forward to?
Last year was my first time in Las Vegas and racing the East/West shootout was cool, but a couple of guys pulled out of it. No points were on the line and guys were just setting their sights on outdoors. It's cool that points are on the line now, so that everyone has to show up and race. It's going to be neat to see what the outcome is with the two coasts. I'm looking forward to see how we stack up against the West and progressing more in the speed department. I want to get a couple of good starts before the outdoor season starts. Having such a short season like I did this year I feel like I'm not ready to move on from supercross yet.
With how crazy the East has gone, heck you could walk out of Vegas as the champion!
I know! It's crazy. When I was on the couch watching with my injury I just kept saying that it didn't seem like anyone wanted to hold onto that red plate. One person would get it and they would fumble. It's been a fight for everybody. A lot of guys think that the East guys are more inconsistent than the West. I think it has to do with how gnarly the tracks have been on the East. We've had a lot of soft soil and the tracks are breaking down. Mistakes are easier to come by. It's going to be interesting to see everyone on the same track and see how it turns out.
You've got outdoors on the horizon. Is that your strong point?
It's tough, everyone feels like they are better at the outdoors when they come out of amateurs. It's both divisions coming together, so it's harder to get that moment when you stand out in the crowd. I'm looking forward to it. After my first full season last year I know what I need to work on. I knew the areas I needed to improve in entering this year. I'm looking forward to getting to Hangtown and seeing where I stack up. It's steady progression from there. I can't really say which I prefer. In supercross you stay a lot cleaner and less sweaty! [Laughs] I'm looking forward to getting back to the outdoors and getting back to the roots of the sport.
Are you into anything new these days outside of the sport?
Volleyball.
I didn't expect that.
I didn't think you would. We have a team at Dreamland [Renzland's Florida track]. We're the Dream Team. We're doing volleyball drills and improving our game. After the season gets over watch out. We're coming to a beach near you.
Who's on the team?
It's my brother Kody, my mechanic, and myself. It's a three-man team. Two-on-two is kind of tough. Sometimes we split up if we don't have enough people. We're looking to expand beyond the moto community. We're looking to go to any beach like Jacksonville Beach, or if we get good enough maybe we'll go to Miami. Any coast of Florida where there is a beach we will take down the top dogs.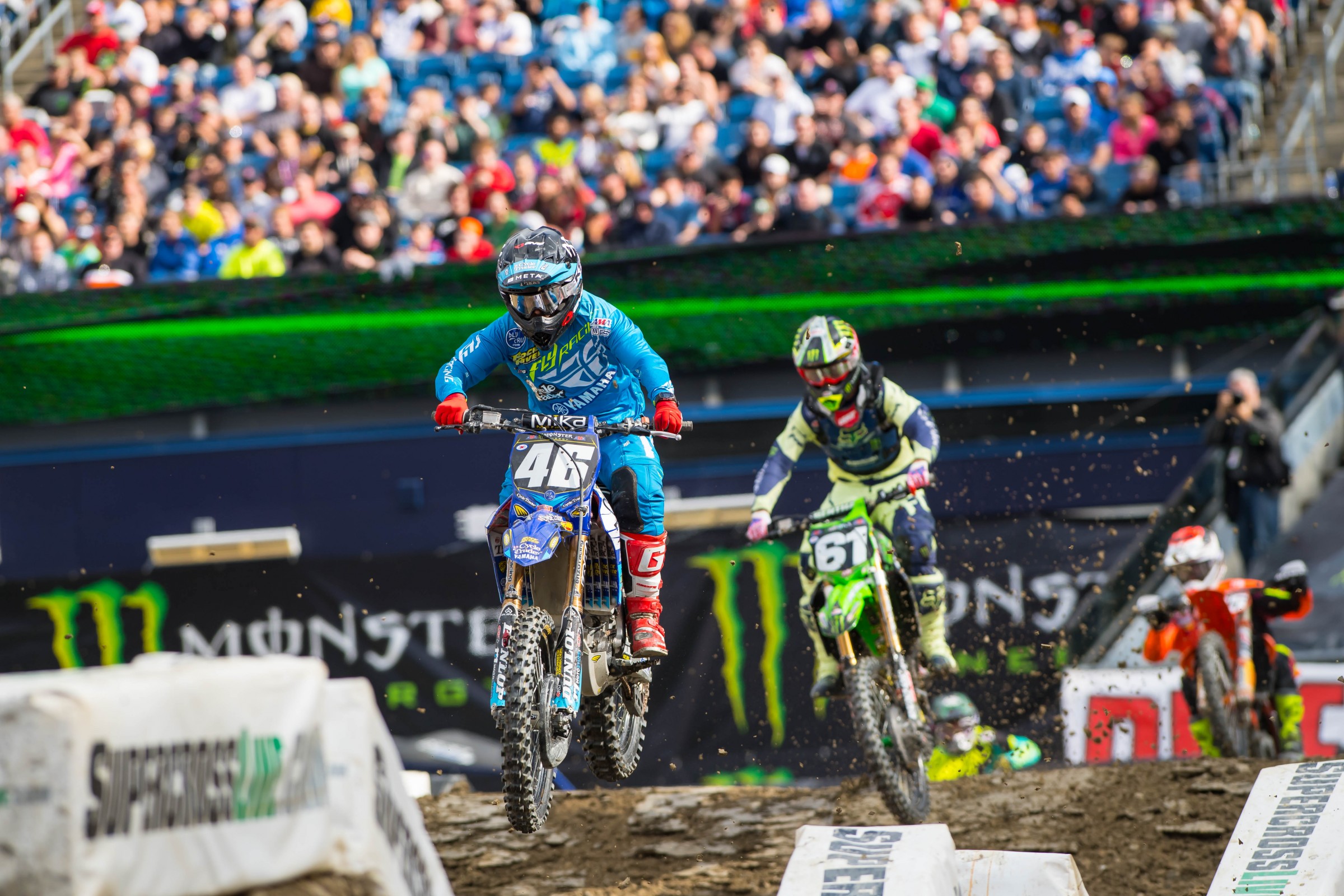 If you go to South Beach count me in.
I'll let you know, man. We'll be there. Mark it in your calendar right now and take some sick days or something. We're going to be taking on whoever wants to compete.
In a way I know you're being really sarcastic, but you really do play volleyball don't you?
I can't make this stuff up. Every Tuesday we play volleyball and we do drills two to three times a week. We're practicing our communication, spikes, dives, agility, and then we put our skills to the test on game night. I don't play in anything but a speedo, so it brings the attention to me right away.
This interview just got really dark…
[Laughs] No, it just got really bright. I need to wear shades because my future is so bright.
Honestly, this is only your second year as a pro and yet your interviews are always great. You need to give PR classes or something.
I'm looking for a way to get out there more. I want to commentate the races. When I had my broken collarbone I just wanted to jump in the booth with Ralph and Jeff. I just didn't know who to get in touch with. I watched the races and just sat in my blazer next to the TV at home and I would give my thoughts on the race.
I think that if you were to tweet at Jeff and tell him this that he would be okay with bringing you in.
I hope to never be out with an injury again but if that happens I'll try tweeting at him. I'll slide into his DMs. [Laughs]
[Laughs] Incredible. Thanks for doing the interview, Luke, and good luck in Las Vegas!
Thanks, Troy. You're the real MVP.