Daytona International Speedway
Daytona

,

FL
Daytona
Monster Energy AMA Supercross Championship
Covering the race for what would ultimately be the January 27, 1999 issue of Cycle News, I heard the crowd of 54,645 fans present in Qualcomm Stadium that cool Saturday night produced a collective billow of a roar. On lap number two of the 250cc main event, Ricky Carmichael and his lime green No. 9 Kawasaki KX250 went cartwheeling off the track, both bike and rider down in the dirt in a heap.
His bike's footpeg slashed a deep laceration into his thigh, and as gruesome as that sounded, the hope was he could return in two weeks. Later that night, Carmichael, already a two-time AMA 125cc National Champion as well as the undefeated 1998 AMA 125cc East Region Supercross Champion, would be told by doctors that he had cracked his pelvis and would be out of action indefinitely. His highly anticipated—and highly hyped—rookie 250cc supercross campaign stopped in its tracks after but two races. RC would eventually hobble back into the competitive fray a month later—where he would end the season sixteenth in points—but he was a mere shadow of himself and would look to renewed effort in the stadium motocross discipline of the sport in 2000.
That next year's supercross season was to be a dramatic improvement for the diminutive Floridian for after something of a slow start in the opening California rounds, podium finishes came in Phoenix, Houston and Atlanta, respectively. Then, a week after the Georgia Dome round of the series, the series made the 433-mile jaunt to Daytona International Speedway for what would be round eight of the AMA/EA Sports Supercross Series. It would prove to be a pivotal race in the then-young career of Ricky Carmichael.
Unlike the 20-rider main event fans will see at the Daytona Supercross of 2016, six years ago the main event called for a field of 30 riders, thus a unique-to-Daytona qualifying system of three eight-lap heat races was executed that afternoon on the gnarly, whooped-out Gary Bailey-designed circuit. Tapped to ride the opening heat race, Carmichael fired the first shot on his competition by streaking away on his Team Chevy Trucks/Kawasaki KX250 to take a comfortable victory over Mike LaRocco and Tim Ferry. So mighty was Carmichael's pace in the 80-degree, 100-percent humidity conditions that the overall elapsed time of the heat was 30 seconds faster than that of the time posted up by heat three winner—and reigning supercross champion—Jeremy McGrath.
"During the day, people were coming up and saying I was riding good in practice," said Carmichael after the qualifying heat to the late Henny Ray Abrams who was covering the race for Cycle News. "'Can you win? Can you win?' I was saying, 'Yeah.' Sometimes when people say, 'yeah' they don't really think they can in the back of their minds. Today, however, I have a feeling that I could do really well."
When the gate dropped to unleash the 30 riders out onto the Tri-oval section of Big Bill France's 2.5-mile NASCAR circuit, it was the 20 year-old Carmichael ripping off the holeshot with McGrath and team Yamaha's David Vuillemin just adrift and drafting. Even by the end of the opening lap it was clear for all to see that it was going to be a three-man race up at the front. During the next few laps, McGrath was content to hang back a bit and see if RC could hold the pace.
"I had a little bit of strategy," McGrath would say after the race. "If RC got the holeshot, I was going to try and stay as close as I could to him, and then try to wear him out."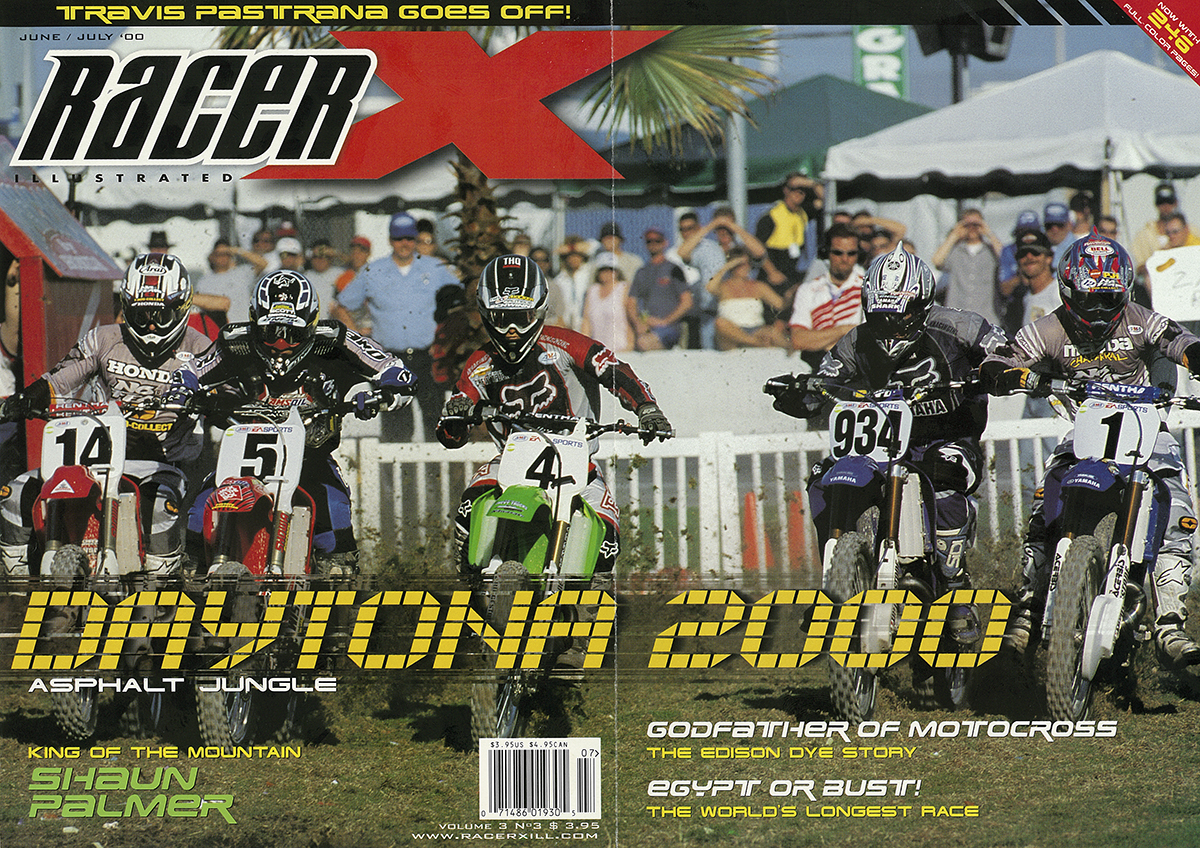 Interestingly, this was the point in Carmichael's career where he began to take training seriously and had surrounded himself with people, people such as former supercross champion Johnny O'Mara and a small close knit group of colleagues, confidants and advisors, who would develop him into the consummate professional, a totally committed athlete unlike the sport had ever seen.
"I was just digging bad," Carmichael would explain afterwards. "Like the tenth lap it was. 'I've got to keep going.' I was hoping McGrath would fall off the pace, but I didn't think he would. Then he started backing off a little bit; he didn't have to win. He's got the championship pretty much in the bag."
By lap fourteen Carmichael had pulled out to a four second lead, and with McGrath seemingly playing it a bit safe, the gap continued to grow.
"I didn't really feel like I was catching him," McGrath would explain. "He kept that distance, and I was trying to keep him as close as I could. One time, I came down the start straight and hit one of those kickers, and my hand came off the bar. That scared the crap out of me. The next lap after that I was pretty much shot because I was a little nervous. I pretty much didn't take any chances after lap thirteen. This track's really rough, and really narrow, and really dangerous. I knew that I wasn't going to make a charge on Ricky; I was just trying to survive and get second place."
When Carmichael met the checkered flag at the conclusion of lap 20, he had amassed a 22-second lead over the undisputed greatest supercross racer in the world. But while he may have made it all look somewhat casual, RC was straight-up knackered back in the pit area.
"It feels great," Carmichael said while cooling down. "It'd be a lot better if I wasn't so tired. I'm so worn out. This is a brutal race."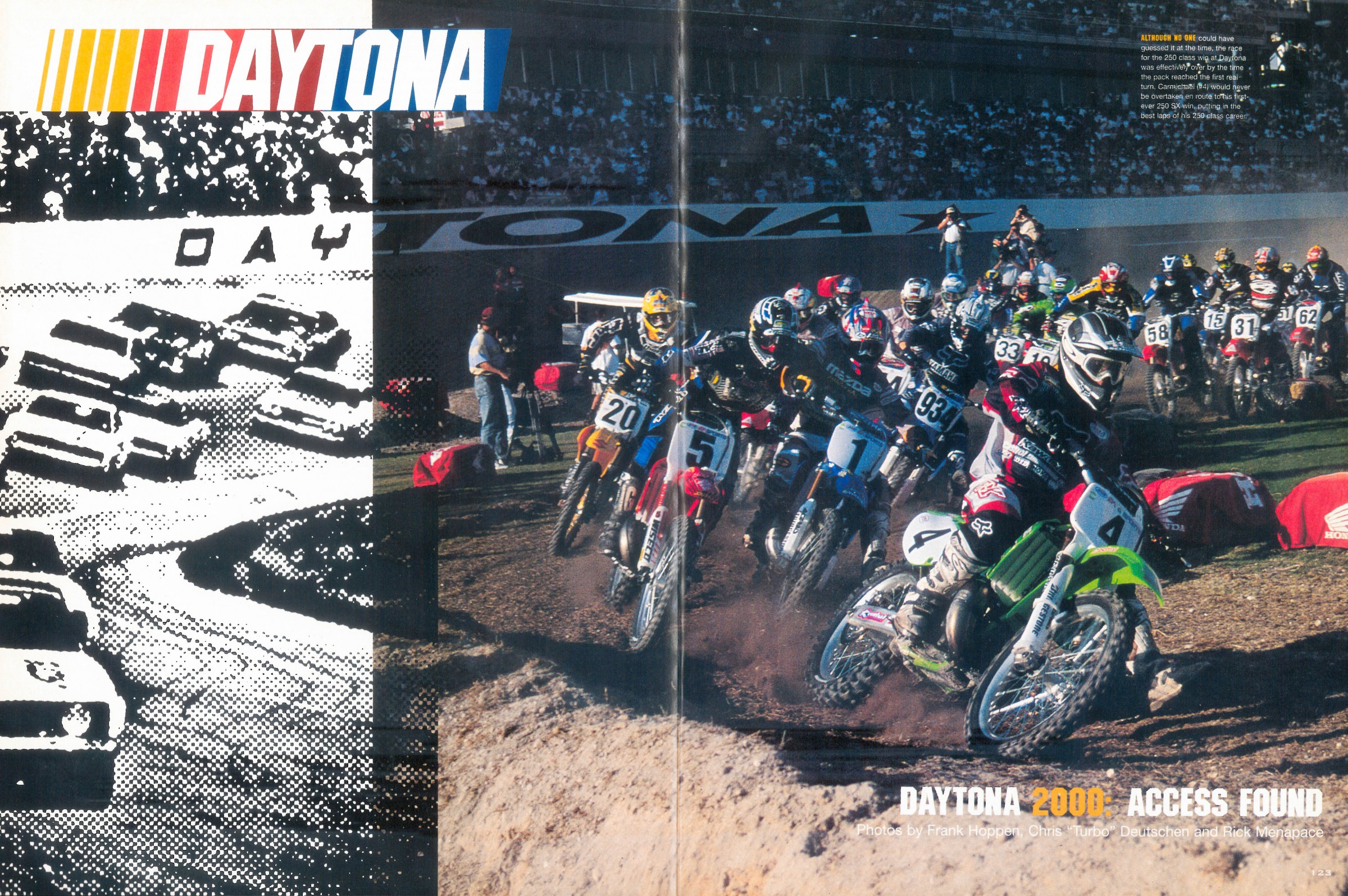 Carmichael, short in stature, had broken plenty of records during his 125cc career, but until that day in Daytona, no one knew if he could replicate that success on a bigger bike. The 1999 washout hadn't proven the doubters wrong, and while those early 2000 podiums were better, he hadn't shown the ability to take it to the greats until Daytona. He would not win again in supercross that year, but would take his KX250 to the 2000 AMA 250cc National Motocross Championship. Supercross would take some work, but work he did. By the time Daytona 2001 rolled around, RC was leading the supercross standings over McGrath, and in the midst of a 13-race win streak that would tie MC's all-time record.
Carmichael would go on to win in 2001, 2002, 2003, and 2006. A supremely conditioned athlete with an almost demonic determination and desire to win, Carmichael would forge on to win five supercross championships. But along the way, in no single place would he become more synonymously affiliated with than the Daytona International Speedway. So much so that in fact this Sunday and Monday, RC will host the Seventh Annual Ricky Carmichael Daytona Amateur Supercross. A two-day event which will feature 36 different classifications and upwards of 1000 riders, it's a race fitting of a legend, someone who basically owned the place going all the way back to, well, 2000.