In just over two weeks, Team USA's Justin Barcia, Jeremy Martin, and Cooper Webb will ride into France in hopes of returning with a victory at the 2015 Monster Energy FIM Motocross of Nations. It's been since 2011—and twenty-two times all together—that the Americans have won the Peter Chamberlain Trophy. We are marking off the days until the big race with our Monster Energy Team USA Countdown, and today we reach 1986, and what may be the zenith of Team USA's dominance, even though their record thirteen-year winning streak that began in 1981 still had yet to even reach its halfway mark!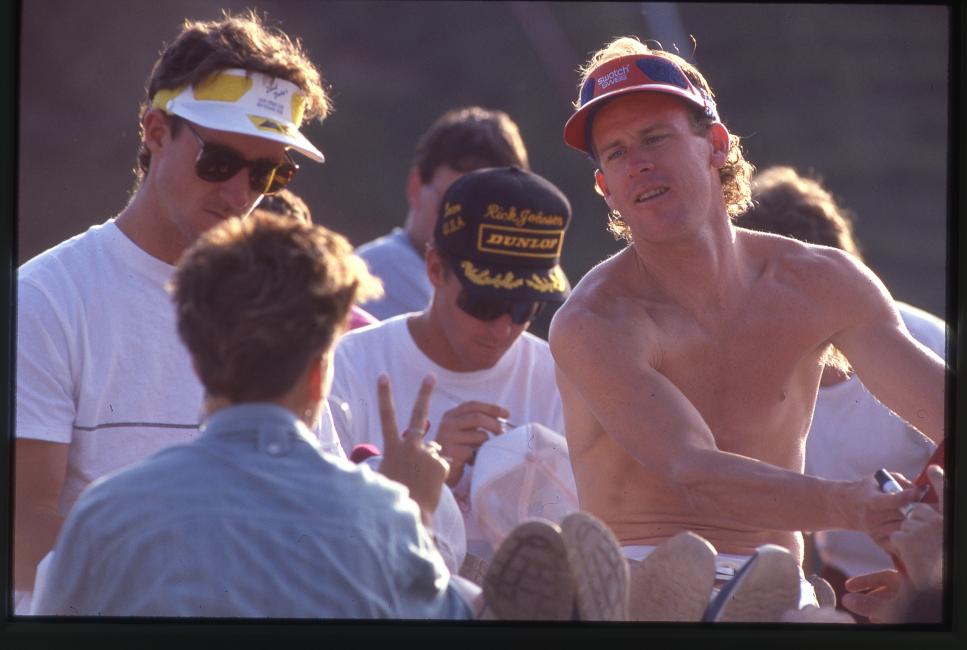 1986…. This is the year and these are the names and faces most people think of when they think of the eighties' domination of Team USA at the Motocross des Nations: David Bailey, Rick Johnson, Johnny O'Mara. Seriously. No trio of riders is so closely associated with utter domination as they are, somewhat ironically given that Jeff Ward won more times than any other American.
But there was just something magical about Team USA at Maggiora, Italy, in 1986. Their red bikes were immaculate and the hillsides were packed with Grand Prix fans eager to see the red, white, and blue-clad superstars of AMA Supercross, which many in Europe were just getting their heads wrapped around. And the three Honda riders rode with a singular purpose to absolutely destroy the competition. The skies were blue, the track was bitchin', and these guys brought all brought their A games, albeit from very different places. Bailey, Johnson, and O'Mara were teammates and friends and rivals, all at the same time. And for two of them, this would be their last great race, not to mention their last turn with Team USA.
For O'Mara, known as the O'Show, there was a sense of bitterness. Two years after winning the 1984 AMA Supercross Championship, Honda was letting him go, having hired on the slightly younger Rick Johnson, not to mention 125cc project Micky Dymond, and there just wasn't room for O'Mara as there had been since 1981. He was going to Suzuki, which lacked the means and the bikes of Honda. (And with every rider having to now use production bikes on the AMA circuit per a rules change, this was a significant downgrade for O'Mara.)
Yet, when the idea of putting O'Mara on the 125 for the Motocross des Nations came up, he was more than willing to go—the world stage would be the perfect place to prove his point to Honda that he still had world-class speed. (And Dymond, who claimed the 1986 AMA 125 National Championship, lacked international experience according to Team Honda's Dave Arnold.)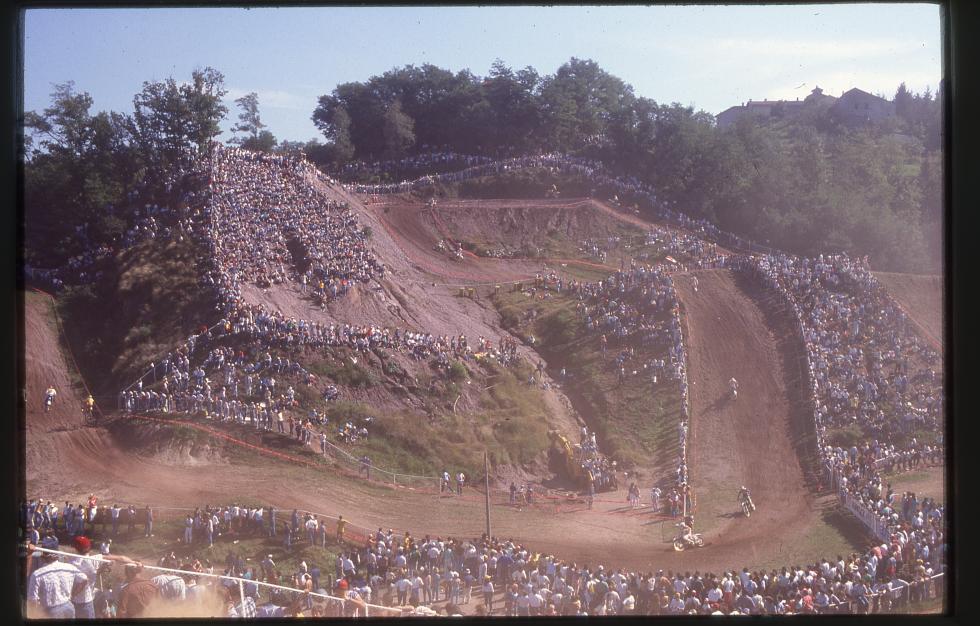 "1986 was a very tough year to be at Honda because it was competitive within the team," Roger DeCoster, who ran the program with Dave Arnold, told Eric Johnson for Racer X's story in the team, "The Untouchables" (July '02). "If you rode for Honda, you were expected to win—nothing less. Rick was a logical choice, as was David. But Johnny did not do as well as we expected that season. I knew if I put him on the team to go to Italy he would go there to prove something and that I could trust him to do the job. The Motocross des Nations would provide Johnny something to salvage from that season."
"Right before the des Nations, somebody at Honda said point-blank to Johnny, 'You're out,'" recalled Arnold. "After that we knew Maggiora was going to be an emotional, bittersweet deal for him."
For Johnson, he was just cresting as far as his career went. He had won a championship with Yamaha back in 1984, but it wasn't until he got to Honda in '86 that he began showing his true potential. RJ won the AMA Supercross Championship after some tense battles with Bailey, including the Anaheim SX opener, arguably the best supercross race of all time. Johnson was just getting dialed in to what it meant to be a superstar, and he had the charisma, showmanship, and sheer talent to become the most popular and successful rider America had seen to that point. He was starting to gain a following in Europe, too, based on his rides at the annual Bercy SX as well as the growing popularity of supercross on TV. And he had something to prove, too—he had been the lowest placing American in 1984 in his only previous tour with Team USA at the Motocross and (last) Trophee des Nations.
"We were the supercross stars from America. I hate to call us rock stars, but we had been built up in all their minds," said Johnson. "We were the guys they had seen jumping into the Los Angeles Coliseum and racing before 70,000 fans at Anaheim and in the videos and magazines. I think the fans it Italy were like, 'Wow! These guys are the next level!"
Finally, there was David Bailey. He was the elegant perfectionist. He had been a steadily improving presence in America motocross ever since he first turned pro, winning both AMA Supercross and AMA Motocross titles. He had been with Team Honda since 1982, and like Derek Jeter with the New York Yankees, he gradually rose to the captaincy of the unit based on his ever-steady performances over the seasons. But then Johnson came along, took the AMA Supercross crown from him, and seemed to be making a play for the role of top dog. Bailey felt the threat coming from across the Honda pit, which had already claimed O'Mara's future with the team. He was ready to battle back too, and 1987 was going to be quite the showdown between Bailey and Johnson (not to mention Kawasaki's Jeff Ward, the dethroned AMA Supercross Champ and Team USA leader). But first they had to make it work at Maggiora.
"Maggiora was my fifth consecutive year on Team USA," said Bailey. "It was also my most selfish turn on the team. I really wanted to win there. I had never been selfish when it came to the team before. In the past I would always be the guy who would say, 'Okay, I will start on the second row.' But Johnson had such a great, dominant year that I was sick of him getting all of the attention. So there was no way I was going to go to Europe and let Rick carry the team. I was going to carry the team."
David carried the team all right, and so did RJ, and Johnny. In fact, over the course of the three motos and a format that now called for the classes to each race two motos, like it is today—first 125s and 250s, then 125s and 500s, and finally 250s and 500s—Team USA riders finished 1-2, 1-2, and basically 1-1, as Bailey slowed himself at the end of the finale 250/500 moto so that he and Johnson could cross the finish line arm-in-arm, punctuating the triumph.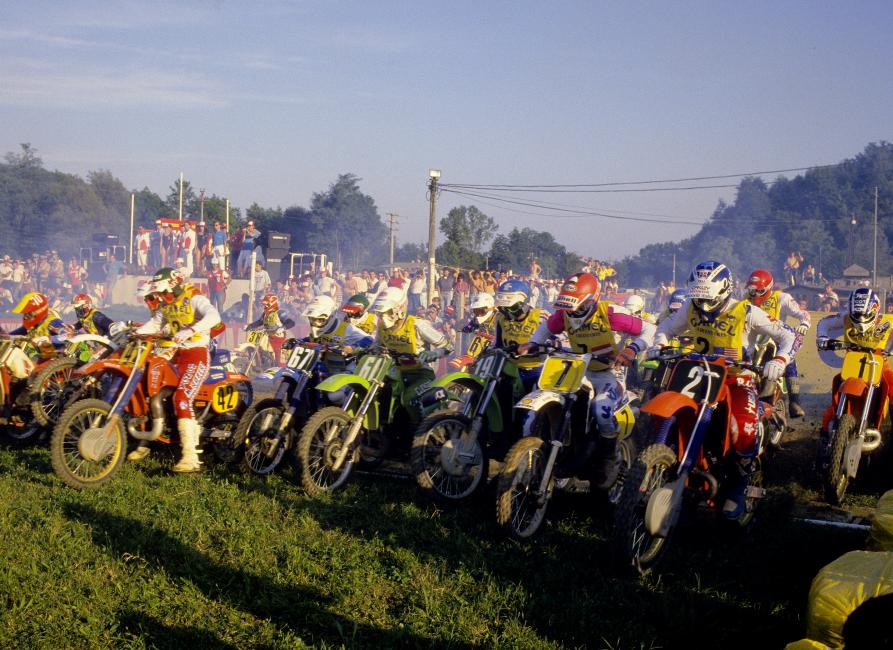 But the results that we will always regard as the most mind-boggling of the day are the second-place finishes, both of which went to Johnny O'Mara, who was riding the 125 behind first Johnson and then Bailey. With a deft display of teamwork on the starting line, which called for each of the twenty-four teams to have one rider on the first row and one on the second, O'Mara started on the first row on his 125 ahead of Johnson's 250 in the second row, but then pushed everyone else out from the far inside, allowing Johnson to actually get the holeshot from the second row! O'Mara was still third, and he would finish second behind Johnson. The des Nations was only into its second year of a new format which put 125s on the track at the same time as bigger bikes. To see one finish second was awe inspiring.
(By the way, this is a film by Mitchell Bailey, narrated by David himself with all of the inside stories on the whole epic day.)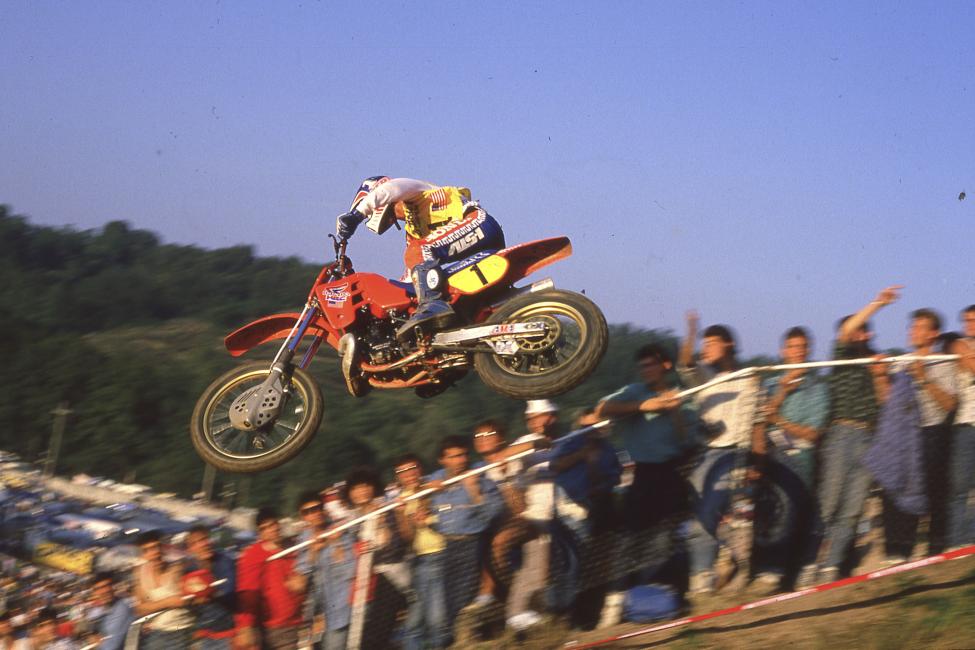 "Johnny pushed the hell out of me the entire race," recalled Johnson. "He was trying to prove to Honda they let the wrong guy go. I would have done the same thing."
In the second moto, Bailey started on the first row on his 500, O'Mara in the second row, and he came around after one lap right around tenth, but then put his head down and reeled off one amazing lap after another, climbing through the field of 500s to the point where he reached David Thorpe, Great Britain's best rider and the 500cc World Champion. Thorpe was having a front brake problem, which made the steep, sharp Maggiora hills an even bigger problem, and O'Mara was on absolute fire.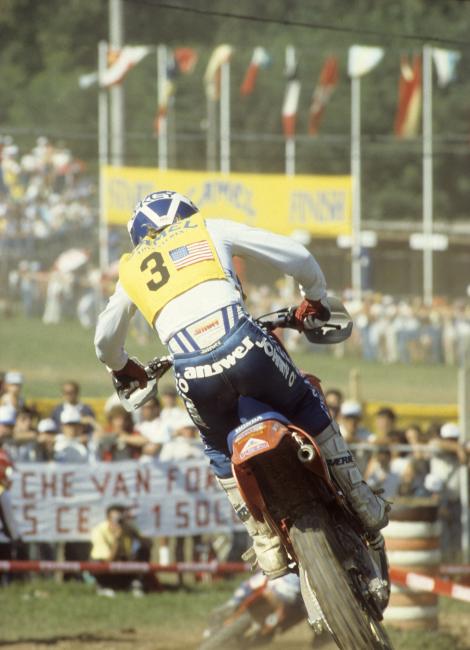 "I don't remember much about the race," said Thorpe years later. "The highlight that really sticks out though is when Johnny O'Mara passed me. O'Mara just came through like a steam train… I was a good friend of Johnny, thus when he closed up that quick, I knew he would go by sooner or later; it was just a case of how quickly. I was always a straight rider and not dirty and not one to make a resistance. Johnny had a lot of momentum, and it was his sportsman nature to try to beat me."
As we mentioned yesterday, a lot of folks only regard Dave Thorpe based on this race, forgetting what he did the year before in Germany when he won two of three motos. He was simply caught up and run over in the destiny of this team, along with everyone else in the field, including a young Jean-Michel Bayle, Italy's Michele Rinaldi, Belgium's Georges Jobe, Finland's Pekka Vehkonen, and Holland's John Van den Berk—all of them past or future FIM World Champions, just like Thorpe.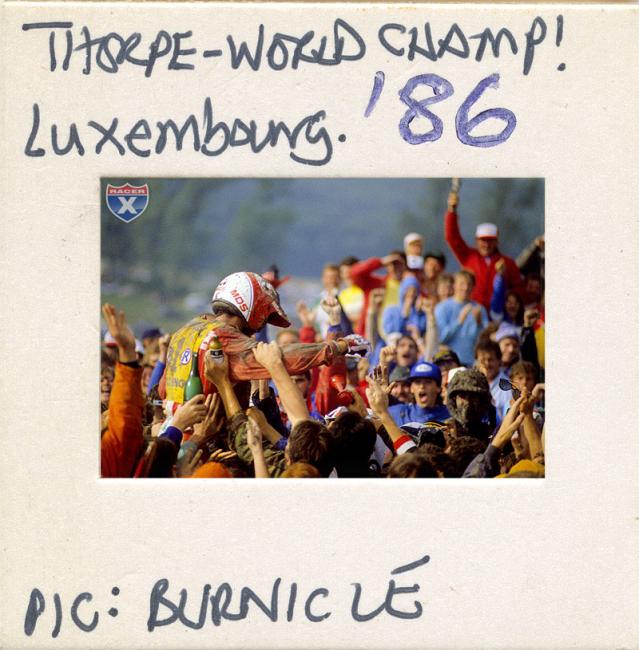 "It was a bittersweet day for me," said O'Mara years later. "I don't want to use this word, but it really was a type of revenge for me. It was my way to get at Honda for not having faith in me. When they didn't give me a contract, I was scarred and hurt because I wanted to stay with Honda. The Motocross des Nations at Maggiora was a way to close a chapter in my life and move on."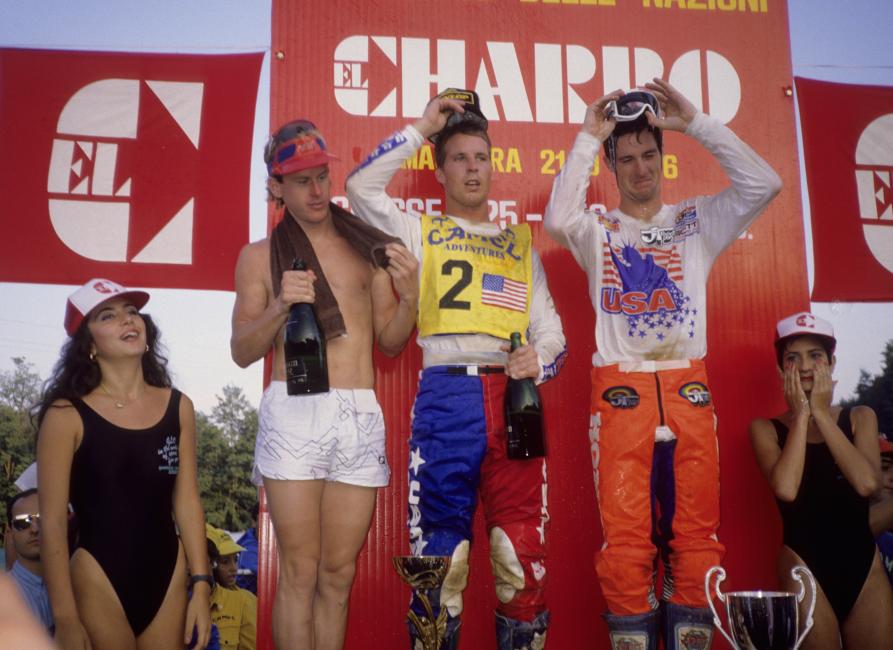 The post-script got complicated. While it was the epoch of Team USA's reign, O'Mara would not get another professional race win once he switched to Suzuki. Johnson would go on to dominate the next few years, battling often with Jeff Ward, before his own career was derailed by a wrist injury. And David Bailey, O'Mara's best friend and Johnson's main rival and teammate, would suffer a back injury in January of the following year, ending his professional career. But none of that changes the fact that these guys really were the rock stars of eighties' motocross, full of conflict, talent, ego, charisma, whatever, and they were all at their very best on that day at Maggiora.
Read the full PDF of the epic story of that day here, compiled by our own Eric Johnson, with more of the quotes we sampled here from all of the principals.