No one was entirely sure what to expect with last year's debut of the Monster Energy Cup, but with a year in the books, the vision for the event is much clearer now. But will there be changes for 2012? How is the event shaping up in the future? We called Feld Motorsports' Director of Supercross, Dave Prater, for an MEC status report.
Racer X: Last year, you guys had a vision, but no one was really sure what that was until they actually saw it. So now that people have, what's the plan? Same thing just refined, or big, big changes?
Dave Prater: I think people liked what they saw last year, so you're going to see the same things, but with quite a few refinements. We didn't want to go 100 percent of the way away from what we did last year, because I think the fans and the riders enjoyed the experience. So we're keeping it in that same vein. You're right, last year was tough. We had a vision, but trying to get everyone to see that vision and get on board with it was tough. Now they've seen it and everyone seems excited about it.
Here's what I like about this race. I know you guys work hard for 17 weekends to make the existing supercross championship better and better, but it's hard to make any major changes when supercross has been around for so long. It's cool to try new stuff for one weekend. Is that the way you see it?
100 percent. Supercross is fun, don't get me wrong, but like you said, it's been established for almost 40 years, and it's difficult to make changes, simply because the history, as well as all the players. To make one change, you have to get the industry and manufacturers and teams and the AMA and FIM on board. With this, we get to have fun with it and switch it up. If the ideas don't work, they don't work, but at least we gave it a shot. And, I think most of the ideas we have had have worked. So, you hit the nail on the head--it's just fun. The riders don't have championship pressure on the line. The goal is to make it a fun, party-type atmosphere for the weekend.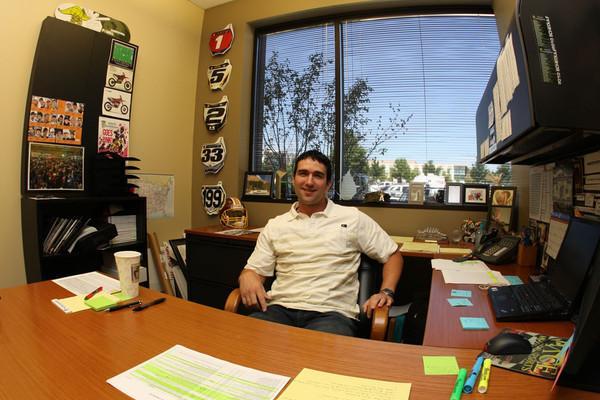 Prater looks forward to putting a unique spin on the one-off Monster Energy Cup.
Steve Giberson/VitalMX.com photo
A perfect example is this Joker Lane. I don't know if this is something we're going to see every weekend at a super cross, but it's definitely going to make things interesting for one night.
Yeah, you definitely won't see this in the near future at a regular supercross. We've joked--no pun intended--about doing a pit stop at a supercross, and how exciting that would be. So this is kind of a rolling pit stop. That lane opens after lap one, and any time between lap one and lap 10, the riders have to take it one time. So it's definitely going to throw some strategy in the mix. For example, I heard RV talking the other day, and he said maybe you're looking to take it early, but maybe that line you want hasn't developed yet. If you wait until lap five or six, maybe that line has developed and you can go a little bit faster. It's going to be interesting to see it play out.
What kind of details and refinements will we see this year?
We learned a lot, but the main thing is the lap times. Last year, Villopoto was running 1:30 lap times, and he was winning the thing, so you can imagine what the lap times were mid-pack. It made it tough to fit it all into a three-hour live TV show. So we've shortened up the laps a little bit, probably more down around 1:12 or 1:15. The overall format has changed. Getting to the main event will be much quicker so we can get to the heart of the program. We're basically just making the night flow quicker, and I think the fans will see non-stop action from opening ceremonies up until the final checkered flag.
Does it seem like the industry and riders are more receptive to this event the second year around?
I think so. Obviously, you're trying to sell people on a race that no one has a clear idea of. It's difficult. But last year everyone seemed to have a positive experience. This year, I don't want to say it was easy to get riders, but it was almost easy as far as getting riders to make the commitment to race it. I think, overall, the industry and the fans are excited about the race.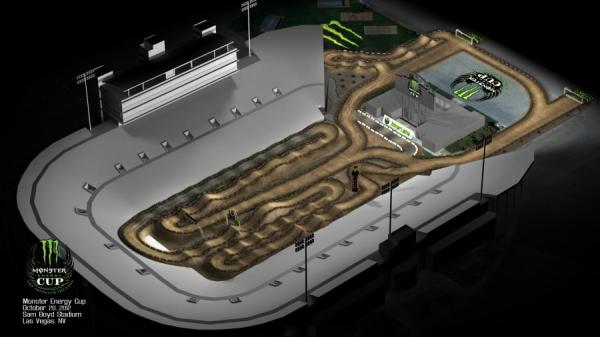 2012 Monster Energy Cup track map.
Well, this isn't the way you want it to happen, but this year's race has the added bonus of putting riders back in action for the first time in awhile, guys like Reed and Villopoto.
[Laughs] You're right, that's not the way we want it, but if you want to put it that way, it is a good thing for the Monster Energy Cup. All of the main players are coming back in off of injury, with the exception of Dungey. It's almost like the start of the 2013 supercross season a little early. But hopefully next year everyone will just get through supercross and outdoors healthy, and everyone will be coming into this race with some momentum instead of coming off of injury.
Do any of the riders or teams seem to treat this as a jumpstart for next year, or more of a stand alone deal?
I think it's both. Some of them look at it as a way to see where they are at for next year, but I think it's getting away from that. The U.S. Open seemed to be treated that way by most teams, as a preview, but this event is so unique, and fun that people seem to treat it as another race, another part of the year. It's more like getting just a little taste of supercross before Anaheim.
Last question. Is this event a test bed, or experiment, to see if some of these unique ideas—a joker lane, a three main event format, or having everyone race one class—will someday be used in Monster Energy AMA Supercross an FIM World Championship?
It's not necessarily the goal, it's not what we set out to do. We didn't say, "Hey, let's try these things and if they work let's put them in supercross." But obviously if they do work, we're going to think about that. Anything that we do differently at this race, if it works, it's an option for supercross in the future. If it makes things more exciting for the fans and everyone involved, then why not discuss these things in the future?
So if something is a hit, you never know?
You never know.