Sam Boyd Stadium
Las Vegas

,

NV
Monster Energy Cup
Monster Energy Cup
Monster Energy Kawasaki's Jake Weimer didn't have the rookie 450 season he wanted in 2011—in fact, he barely had a rookie season at all in supercross, with an arm injury keeping him out until the final two rounds. He didn't log the results he wanted in motocross, either, ending the year without a podium finish.
Jake is ready to get a fresh start, and that could begin this weekend at the Monster Energy Cup. We ran into Jake at the Kawasaki dealer show in Orlando to ask about what's next.
Racer X Online: Okay we are here in Orlando at the Kawasaki dealer show. Explain how these dealer shows work. There are so many other things that go into being a racer besides actually racing.
Jake Weimer: Yeah. We do a couple of different ones a year for different sponsors, and everyone does them. This one is Kawasaki's big show where they introduce all of their new product, and all the dealers get to come out and see it. They also get to meet us and ask us any questions they have.
Pretty busy schedule right now?
Yup, I'm going to race the Monster Energy Cup, so I'll fly out of here Monday night, try to ride Tuesday and Wednesday, drive to Vegas to do press day on Thursday, then we're racing. So it's pretty busy right now.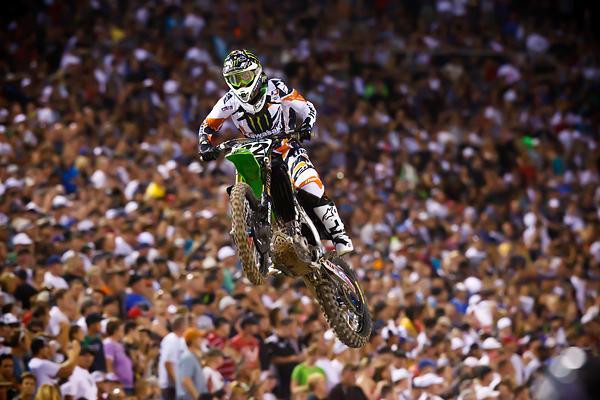 Weimer missed a majority of the 2011 SX season with a broken arm.
Photo: Simon Cudby
You haven't raced supercross on the 2012 KX450F yet, but you did get to bring the bike out for the last few motocross rounds. Where are you with your supercross setup?
I've been riding it for a couple of weeks now, and it has been good. Everything we learned outdoors has helped us transition into supercross, but we obviously have not had a lot of time on it yet. The time we have had, though, has been good.
How do you look at the 2011 season? Are you trying to build on what you learned there, or do you just throw it all away and start over? In supercross, you were injured and barely even got to race.
Yeah, it's more like what you said. For me, it's more of a throwaway. The whole year in general was a bit of a struggle, so for me, this is a year to rebound and try to get the ball rolling on a good note. I think last year could have been better than it was, but obviously with me getting hurt, and whatever it may have been, it didn't go how I wanted it to go.
Did you break your arm in Florida or California?
It was in California. We had just gotten back from riding in Florida.
I was hearing that you started showing your true speed right before you got hurt.
I was getting better, and I was obviously trying to get faster. I thought I was in a good spot, and the bummer was, the day before I got hurt, I was feeling awesome. I remember thinking, "Here we go, things are starting to happen now!" And then, you know, I broke my arm.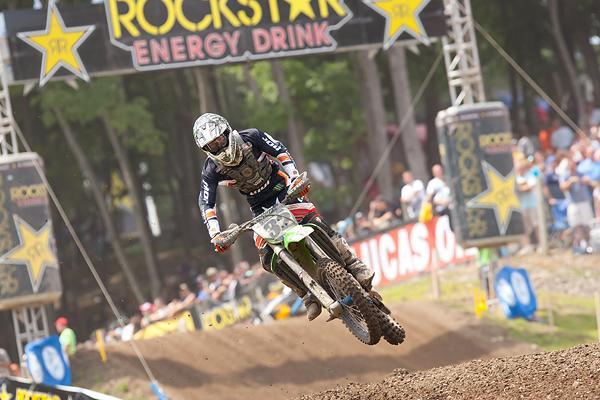 Weimer had his share of struggles outdoors, failing to reach the podium in '11.
Photo: Andrew Fredrickson
You're like the bike that runs at its best the moment before it seizes up.
I guess. That's exactly what happened.
So you came into the outdoors with what looked like a fresh start. But did all the downtime have an impact?
Anytime you lose time, it's not good, and I didn't have time to lose. I was getting on a new bike, a bigger bike, and trying to step up my game. Then I lost some time. But no excuses, I still felt like I probably should have been better than I was. So after Pala, I took a week off, and kind of drew a line. I needed to put that in the past. Since then I've been riding and feeling pretty good on the supercross track. The Monster Energy Cup is this weekend, which should be interesting. I think it will be a good race. Then the real work starts after that, you have almost three months before Anaheim.
Do you look at the Monster Energy Cup as a preview of 2012, or just an added race at the end of 2011?
No, it's really hard to look at it like a preview of the next year. There's so much time between now and January, and so much can change. All it takes is one idea, one day, by someone on the team. They'll come up with an idea on the bike, and it might send you off in a totally different direction—you end up with a totally different bike. So there's plenty of time for something like that to happen between this race and next year.
How do you prepare for the Monster Energy Cup? We've seen drawings of the track, but how do you know what it will really be like?
I don't know for sure! I rode supercross assuming I'm eventually going to have to be ready for supercross anyway. It's hard to say what it's going to be like until we actually see it in person.
So you don't have any extra inside information?
Not really. I talked to Dave Prater [of Feld Motorsports] to get an idea; I was trying to figure out if we should run supercross suspension or outdoors stuff. The track doesn't have traditional supercross whoops, but it does have a triple.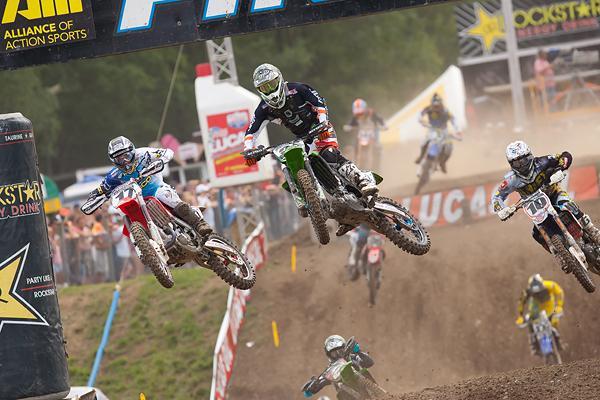 Weimer will debut the new 2012 KX450F for SX at the Monster Energy Cup.
Photo: Andrew Fredrickson
Can you do triples on outdoor suspension anyway?
Yeah, that's no problem. But I think I'm going to just treat it like a supercross. I know it's going to be a lot different than the regular supercross in Vegas in May, but, even at a regular supercross, you can look at the track map and then the track ends up being quite a bit different once you actually see it.
What about the format? Three 10-lap mains. And it's on what looks to be a very long track.
You kind of just wing it and learn as you go. If you're ready to race and in good shape, it shouldn't be a problem.
Last thing: I remember back at the old U.S. Open, a few years back, we had every bike racing against each other—250s and 450s. And I remember a young Jake Weimer having a spectacular result, winning the Saturday night main event on a 250. So you know how crazy these can get.
[Laughs] Well, that night I definitely had a little bit of help. But I was pretty young, still, and on a little bike, so that was cool for me. But yeah, the one off races always provide some good entertainment. Now they're throwing a million dollars on the table. I think everyone knows it's a long shot to win all three races, but the potential is there to win a million. It could happen. And Vegas always seems to provide good racing, then throw big money in there. From what I've heard, the track is going to be pretty easy compared to a full-blown supercross track, so that should just tighten everyone up even more. It should be fun to watch for the spectators, and I'm looking forward to racing it.