Sam Boyd Stadium
Las Vegas

,

NV
Las Vegas
Monster Energy AMA Supercross Championship

Former amateur standout Tommy Weeck has had a turbulent beginning to his career in the pro ranks. After graduating from the amateur ranks in 2009, Weeck hit the pro stage with a fistful of confidence and the ability to back it up. But bad luck struck Tommy during the last four nationals, leaving the Washington native out in the cold when it came to signing day. But Tommy rebounded last year competing in the final five nationals, placing 21st overall.
Tommy came into the 2011 supercross season with high expectations and through five rounds had struggled to fulfill his lofty goals. But a change in attitude and a return to his home state has revitalized Weeck. Tommy has made the last three Western Regional Lites mains and is starting to show the promise that made him a highly-touted prospect coming out of the amateur ranks.
We caught up with Tommy earlier this week to recap his supercross season and see what he has planned for outdoors.
Racer X Online: Tommy, you had your best ride of the season in Salt Lake City (eleventh). What has been the difference for you these last couple of rounds compared to earlier this season?
Tommy Weeck: I think the biggest difference has been the learning curve. I only got to do two races last season in supercross and I did them pretty blind. I only had one bike for that season, and kind of just went for it. This year I had expectations for what I wanted to see myself do and I put a lot on myself. And when I came into these last few rounds I went to the races like, 'Hey I know what it is like not to make the main and I know what it is like to be watching.' It's not that bad, but it is not where I want to be. So I tried to eliminate all the pressure from myself and basically tried to have more fun with it and go to the races happy and try to keep that excitement of racing in there, more or less, instead of the pressure and the stress of 'Oh, I have to beat these factory guys to get myself a ride.' I just went out and had some fun.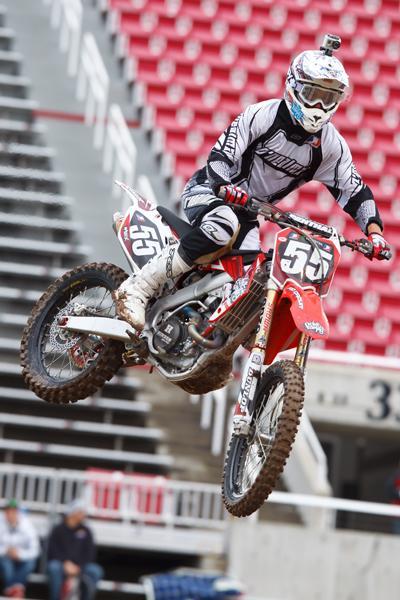 Weeck has his best finish of the year at Salt Lake City.
Photo: Simon Cudby
So basically you were just trying to get back to the love of the sport?
Exactly, just taking the pressure away. I am my number one enemy. Being a privateer, I don't have five guys at the test track doing lap times on me and testing things with me, so when I'm at the track it is just me beating myself to the ground. So when I get to the races it is the same thing. I'm my own critic at the races, I'm critiquing myself trying to get to the next level and get a ride.
Well, with your eleventh last week you earned a spot at the Dave Coombs Sr. East/West Shootout in Vegas.
Yeah, we moved into 19th in points and I'm ready to go for Vegas. Hopefully I can break into the top ten there, that's my goal.
Did that enter into your thought process at all last week, knowing that you had to get a certain number of points to qualify?
Believe it or not I already knew I was in for Vegas because Jimmy Decotis was in the top twenty and he was hurt and there was one other guy in the top twenty that go hurt. So going into this weekend I kind of already knew I was into Vegas as an alternate, but now I know that I am confirmed for sure. So there wasn't much difference, I wasn't really going into Salt Lake saying I have to do better. I just keep striving for the goal of trying to improve each week, that is my biggest goal when I'm racing. Every single week I want to make a step forward and show progress to these guys that I am learning and that I am moving forward.
I think through your results you have proven that you are progressing. I know that you mentioned the mental aspect, but have you changed anything else in your training routine?
Honestly it has been 100 percent the mental thing. My training has not changed at all. I worked with Ryan Hughes for about three years, so the training side of what his work ethic has developed into me. I figured out a good routine, good things to keep me physically active and in top-notch shape. It was just the mental side of things. I was lacking the confidence within myself. Like I said in the past, I have beat myself down when I'm at the track and when you're a factory guy you have guys saying, 'You did this really well today or you made progress here.' I don't have that. I now have a brighter outlook on things rather than being so negative and dark.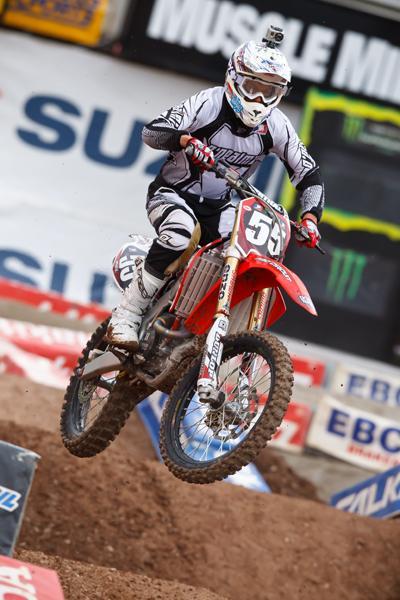 Tommy has made a change in his mental approach and it has showed up on the results page.
Photo: Simon Cudby
Well the mental change has definitely showed on the track as you've made three straight mains and positioned yourself with a spot in the East/West Shootout.
Yeah, two weeks in a row now I have come from 100 percent dead last in the first turn to eleventh place in both races. Unfortunately in Seattle I had a fall with two laps to go that put me back into fourteenth. If I can get a good start I believe that I can get in there and mix it up with some of those guys. A podium is a long shot, but just to get into the top ten and be like 'Hey I'm here and I'm not going anywhere' is what my goal is.
And I think you proved that last year at Pala with a thirteenth overall including a ninth in the first moto.
Yes sir. And that was my first national on factory equipment. I'm just trying to get myself better equipment now, and if I can get myself a little better equipment I know that I can take it up a notch.
What is your setup now? Who has been helping you out this year?
This is the biggest point I want to make right now. I can't thank Nate Adams enough. This year me racing would not be possible without Nate over at Deft Gloves. Without Nate I would not have had a race bike and I was going to be going to school. But Nate stepped up and decided that he wasn't going to be racing and he let me borrow his race bike, and that is what has got me through this Supercross season. It is incredible the opportunity he gave me. It was a really cool thing. He has an amazing heart. And that is when the Deft Family and the graphics came on board. I really wanted to make sure that he was getting something out of the deal besides just helping me out. It was an amazing opportunity he gave me and I can't thank him enough.
How did the deal with Nate come about?
More or less he was working with Ryan Hughes last year and we did a little bit of riding together and then this year he decided he wasn't going to be riding and I was kind of joking around and said 'Hey I'm trying to race, so do you want to sponsor me?' and it kind of all clicked together. It started out as kind of a joke but he ended up taking it serious and let me do it. I can't thank that guy enough, because I thought my racing career was over.
What are you plans for outdoors at the moment?
As of right now I have nothing. Nate offered to let me use the bike through outdoors if that is the route I want to go. As of right now I am planning on racing Hangtown, but after that I have no intentions of racing the rest of the series unless I can get a ride. Right now I don't have the funds to travel, especially with the way gas prices are. I have had a really limited budget this year; I have been basically running what I bring to the races.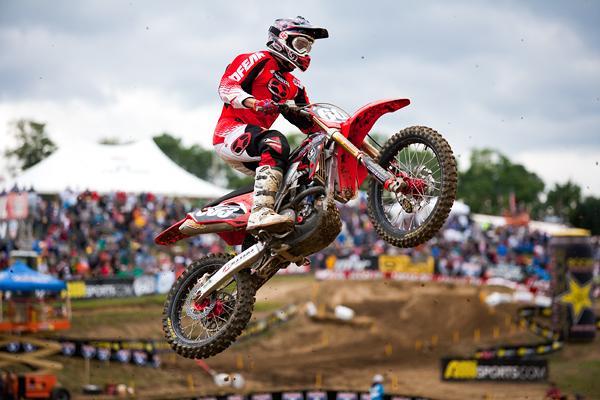 Weeck showed promise at the end of the nationals last year.
Photo: Andrew Fredrickson
Could you see yourself going the same route as last year where you began your season at Washougal and raced the last five events?
Absolutely. Washougal is a hometown race for me, so the goal is definitely to stick to the west coast. Washougal, Hangtown, Pala, and if I could get to Colorado I would do that. But definitely just stay west coast unless I can pick something up and get some support. Another opportunity that a couple people have come to me about is Canada. I am open to whatever opportunity keeps me on a dirt bike. That is all I care about. It could be in this country or Brazil or wherever, just as long as I'm on a dirt bike. My ideal goal for outdoors is to get a replacement ride and really show a team out there that I am willing to work as hard as anyone on that track.
You also raced the last four nationals your rookie year after Loretta's, right?
Yeah, I think my rookie year really set my back and probably why I didn't get a ride. I did the last four nationals and out of the eight motos I had a bike malfunction six times. It was one of those things that everything that could go wrong went wrong. That was definitely a big setback going into last year and that's why I believe I didn't get anything because I was never really able to show those guys that I was the real deal and that I have the capabilities of running up front. The kids that came from the amateurs the year I did all got to get in there and set that one race where they had a break out ride and had a top-ten finish. I was really never able to that because I was never able to have the level of equipment that put me there.
Well, hopefully someone takes notice and you can pick up some support for the nationals. In closing, who else would you like to thank, Tommy?
Nate Adams at Deft Family, Spy, O'Neal, Pro Circuit, TCX Boots, Shoei Helmets, Dunlop, National Oils, Mike Fedorow training, Mom and Dad, Asterisk Knee Braces, Enzo Suspension and my mechanic Josh Bartnik.