Sometimes, things just seem to be rolling your way. The two seasons where Ricky Carmichael won every single moto outdoors, or the season when James Stewart did the same, are good examples of this. Lots of things can happen on the track, and sometimes it just takes plain ol' luck to be on your side to keep things going.
One recent example? Chris Pourcel winning the 250cc class in Texas with a 1-5 score because Dean Wilson's brain got too cooked on the last lap. Pourcel got lucky. It's not to say Pourcel wasn't deserving of the win, but it's not like it was all in his control.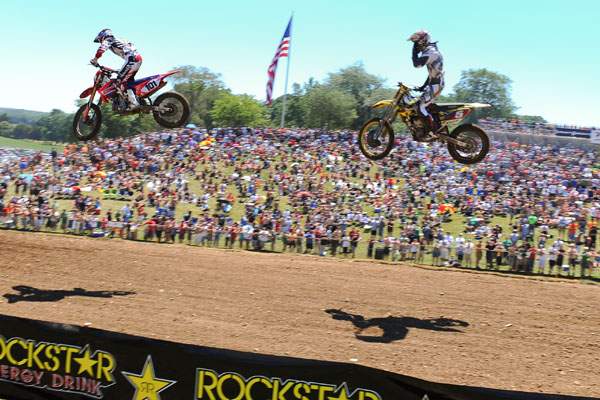 Ryan Dungey (5) was frequently even closer than this to Ben Townley (101) in the first moto.
Photo: Steve Cox
Rockstar/Makita Suzuki's Ryan Dungey has demonstrated this a couple of times this year. For example, after winning two overalls in a row, Dungey finished third in the first moto at Budds Creek, opening the door for first-moto winner Andrew Short to win the overall, but Short couldn't back up the first-moto win, while Dungey went out and won the second moto. That doesn't seem like much of a big deal, but then we go to Colorado, where Dungey is straight-up beaten by JGR/Muscle Milk/Toyota Yamaha's Josh Grant in the first moto. Grant was the fastest qualifier and flat-out passed Dungey and pulled away to win the moto. Then, at the start of moto two, Grant goes down in the first turn while Dungey cruises on ahead to take the win in the moto and overall.
Even when Dungey isn't the fastest guy, he's still winning. That's when you know things are going your way.
And in the first moto at RedBud, Dungey had made a couple of moves on TLD/Lucas Oil Honda's Ben Townley for the moto win, but Townley was able to hold him off with sheer willpower. That is until, on the last lap, Townley – exhausted – overjumped the back step-up and landed in the ruts, cross-rutting and going down. If his bike careened to the left, it would go into the path of defending champ Chad Reed of the Monster Energy Kawasaki team. If it careened to the right, it would head into the path of Dungey. Reed and Dungey were nose-to-tail, and Reed nearly had the pass completed a couple of times. It was a close race.
And which way did the bike go?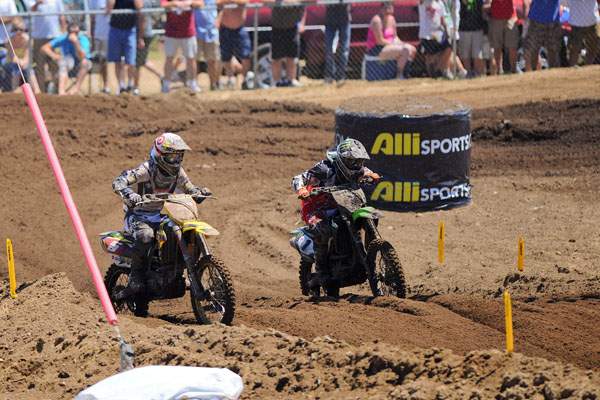 Chad Reed (1) was all over Dungey (5) throughout the moto, too. But in the end...
Photo: Steve Cox
Like I said, when things are going your way, they're going your way; the bike went left, into Chad Reed's path. Dungey took the win.
Now, this is not to say that Dungey is lucky. That would be overstating it a lot. You don't win five races in a row, or a supercross title in your rookie year, through luck.
But it can help a little...